Pick up Buffy #3 this week (which is selling amazingly well for us) and flip to about half way through. See, we're seriously happy about these sales, and gaining all these new readers and turning them onto other books, but every issue we sell creates a problem for us (mo money, mo problems). In the book itself is an advertisement for other graphic novels: DISCOVER DISCOVER HEROES DARK HORSE JOSS WHEDON BUFFY THE VAMPIRE SLAYER, and it lists three books: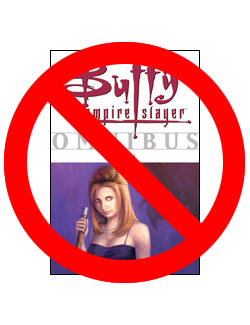 BUFFY THE VAMPIRE SLAYER OMNIBUS VOL 1.
NOT AVAILABLE UNTIL JULY 18.

SERENITY TP
OUT OF PRINT. BACK IN STOCK JUNE 13.

JOSS WHEDON'S FRAY: FUTURE SLAYER TP
OUT OF PRINT. BACK IN STOCK JUNE 27.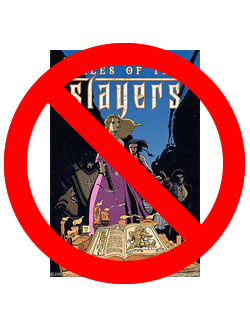 and previous letters columns have mentioned:
BUFFY THE VAMPIRE SLAYER: TALES OF THE SLAYERS
OUT OF PRINT. NO BACK-IN-STOCK DATE.
All of these are books with stories by or co-written by Joss Whedon. All of them are getting a huge promotional push right now, thanks to the phenomenal sales of Buffy: Season Eight. All of them are completely unavailable for at least a month, if not longer (and if not much longer in some cases).
I've bitched about Dark Horse's inability to use their trade paperback program to properly capitalise on media events in the past, lots, but after they were almost able to meet demand for 300 (periodic multi-week outages of product, but not so bad if you were expecting it and just front-loaded a few hundred copies of the book) I figured they'd turned a corner. Not so, as you may have noticed above. The thing is, Dark Horse have actually been really good about keeping the single issues in print, and new printings of Buffy: Season Eight #1 and #2 are due in this week! But every single Joss Whedon trade paperback they publish is gone-daddy-gone, and 5-8 weeks from store shelves. Not to belabour the point, but this is totally unacceptable when the heat for the series is on NOW.
A big part of the problem is overseas printing, which I'll be upfront and say I am totally in favour of. Better quality, lower prices, making the publishing of comics occasionally profitable: I'm on board. But the real root of the problem is inventory management and cashflow. Dark Horse's backlist has become far, far too big for them to keep in print, and in order to maximise the return on their investment they're needing to find cheaper, slower printing solutions. If massive outages of Sin City, Hellboy, 300, and now the Joss Whedon backlist haven't shown them that this solution is if not entirely untennable than at least massively unprofessional, I don't know what will.
Guys, please, find another solution. Do anything else. But please stop keeping your hottest product out of our hands for months at a time, you're fucking killing us over here.
- Christopher
P.S.: BUFFY: TALES OF THE VAMPIRES with a story by Joss Whedon in it is currently in stock at Diamond. I don't think it's been mentioned in the letterscolumn/advertising yet.