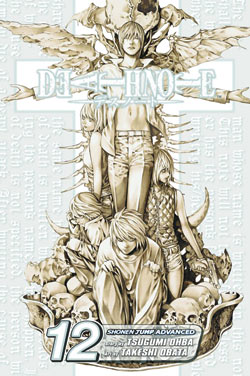 Hi there folks. Here are a few of the more interesting comics that are scheduled to ship to The Beguiling Books & Art in Toronto, Canada this week. These books may not show up at all retailers at the same time, but if you see a title here it's probably at least worth asking your local retailer about. Oh, and the full list of what's shipping is underneath the cut at the bottom of this post. There are like, 200+ line items this week! Yowzers.
APR074059Â DEATH NOTE VOL 12 TP (C: 1-0-0)Â 7.99
If you're not so much a fan of the manga, you probably don't differentiate the series DEATH NOTE–by creators Ohba Tsugumi and Obata Takeshi and published under Viz's Shonen Jump line–from the rest of the avalanche of titles that are dropped onto comic and book stores every week. No less than 42 brand new manga titles this week, speaking of which. But that really is a shame, as DEATH NOTE is a stand-out work in the field. It's certainly not perfect, and no one is going to hold it up and compare it to NEW TALES OF OLD PALOMAR #2, also out this week, as a superior work. But DEATH NOTE is a sterling example of excellent comics for a mainstream audience, the middle ground that everyone and their dad is shouting from the rooftops that the comics industry needs more of. DEATH NOTE is what Warren Ellis has been talking about for years, and what Kim Thompson was getting at, in his way, in that little essay about "crap" he wrote a while back. The series has a great high-concept (a notebook which will kill anyone who's name is written in it), just enough sci-fi fantasy to have widespread appeal, attractive young characters, beautiful art, and an actual considered aesthetic that's carried throughout the project. Oh, and every chapter ends on a cliffhanger, making it as addictive as crack.
DEATH NOTE ends on volume 12 this week (there is a 13th volume which acts as a guidebook to the series, but the narrative wraps up here) and I think it will easily enter the pantheon of great, lasting series that will define manga as a category as appealing to more than the 12-18 set. Literally anyone I've introduced the series to at The Beguiling has come back for more, and if you want to add something really good to your stack of comics this week, see about picking up the first volume for yourself. You'll curse me for it, 12 volumes and $96 later. :)
(Also of Note: Ever the opportunists, the Shonen Jump people had the smart idea of launching 2 new mature-themed series today, hoping to hook the readers who are buying their final Death Note's. GIN TAMA is a considerably more supernatural version of BLADE OF THE IMMORTAL, while STRAWBERRY 100% is… apparently about cute girls or something, I dunno. Out of my frame of expertise.)
JAN071929Â PHONOGRAM VOL 1 RUE BRITANNA TPÂ 14.99
I got lost on this series 3 issues in, partly because it started to hit some shipping delays and partly because, despite our best efforts, we kept selling out of the floppies on this supernatural exploration of britpop music. PHONOGRAM picked up readers seemingly with every issue, and our sales and sell-through just kept increasing as the series progressed. I've heard almost no word of the series' overall quality, but at least in terms of sales, the customers–including many new faces–kept showing up right through to the end.
Next time though, guys? Any chance of a cover design where the logo is visible over the top half of the book? It kind of makes racking a bitch.
APR071850Â REPO #1 (OF 5)Â 3.50
After a detour into a zombie-filled old west, creators of TEENAGERS FROM MARS Rick Spears and Rob G. are back with a new limited series from Image Comics featuring an AKIRA-style setting and repo-men versus an army of sex-clones named Wendy. It sounds like a hoot, and promises lots of mayham and exploding set-pieces, which is both refreshingly honest and will look great, if their past work is anything to go by.
MAY073126Â YOTSUBA MANGA VOL 4 TPÂ 9.99
Hah, apparently fan-whinging does accomplish something. The much beloved children's series gets a new lease on life, which is a victory for charming, funny comics everywhere. One hopes. A wierd little girl named Yotsuba moves into a new neighborhood, and is fascinated by everything she sees. It's a little like My Neighbor Totoro, but instead of adorable plush animals, there's an air-conditioner and some bewildered neighbors. Kids? Kids love it, we sell tons. But the grown-ups love it too, which is rare for any property, and it's nice to see that ADV have wised up and decided to continue releasing it.
For more on the appeal of YOTSUBA, and this volume in particular, check out Tom Spurgeon's review of this volume at ComicsReporter.com.
 
Shipping June 20th:Â 
APR074192Â 52 THE NOVEL TP (C: 0-1-2)Â 15.00
MAY073838Â ABSOLUTE BOYFRIEND VOL 4 GN (C: 1-0-0)Â 8.99
MAR073463Â AFTER SCHOOL NIGHTMARE VOL 4 GN (MR)Â 10.99
DEC063831Â ALEX TOTH EDGE OF GENIUS VOL 1 TP (C: 0-1-2)Â 25.00
APR071863Â ALIEN PIG FARM #3 (OF 4) (MR)Â 2.99
MAR070043Â ALIENS OMNIBUS VOL 1 TP (C: 0-1-2)Â 24.95
FEB072108Â AMAZING SPIDER-MAN #541Â 2.99
APR072289Â ANNIHILATION CONQUEST PROLOGUEÂ 3.99
APR070187Â AQUAMAN SWORD OF ATLANTIS #53Â 2.99
APR073391Â ARCHIE #576Â 2.25
APR070262Â ARMY @ LOVE #4 (MR)Â 2.99
DEC063748Â BALM IN GILEAD VOL 1 GNÂ 19.95
FEB070101Â BANYA EXPLOSIVE DELIVERY MAN VOL 4 TP (C: 1-1-3)Â 12.95
MAR073243Â BARRONS GRAPHIC CLASSICS KIDNAPPED SC (C: 0-1-2)Â 8.99
APR074076Â BASTARD VOL 15 TP (MR) (C: 1-0-0)Â 9.99
APR074055Â BLACK CAT VOL 9 TP (C: 1-0-0)Â 7.99
MAY073821Â BLEACH VOL 20 TP (C: 1-0-0)Â 7.95
MAR070197Â BLUE BEETLE VOL 2 ROAD TRIP TPÂ 12.99
MAR073614Â BONEYARD #25Â 2.95
APR074037Â BOOKS WITH PICTURES #5Â 2.95
APR070189Â BRAVE AND THE BOLD #4Â 2.99
MAY073827Â BUSO RENKIN VOL 7 TP (C: 1-0-0)Â 7.99
APR072294Â CAPTAIN AMERICA #27Â 2.99
APR074077Â CASE CLOSED VOL 18 GN (C: 1-0-0)Â 9.99
APR070164Â CATWOMAN #68Â 2.99
APR070191Â CHECKMATE #15Â 2.99
APR074078Â CHEEKY ANGEL VOL 18 GN (C: 1-0-0)Â 9.99
MAR074023Â CHOCOLA SELECTION 2006 KOGE DOBE ARTWORKS (C: 1-1-Â 33.99
MAY073828Â CLAYMORE VOL 9 TP (C: 1-0-0)Â 7.99
APR074114Â COMICS BUYERS GUIDE SUMMER SPECIAL 2007 (C: 0-1-2)Â 5.99
APR070014Â CONAN #41 (MR)Â 2.99
APR070182Â COUNTDOWN 45Â 2.99
MAY073128Â CROMARTIE HIGH SCHOOL VOL 11Â 10.95
MAY073829Â D GRAY MAN VOL 6 GN (C: 1-0-0)Â 7.99
APR072270Â DAILY BUGLE JULY NEWSPAPER (BUNDLE OF 50) (NET)Â PI
MAR073054Â DAVE SIM COLLECTED LETTERS VOL 2Â 22.00
MAR078299Â DC NEW FRONTIER SERIES 2 PROMO POSTER (NET)Â PI
OCT063735Â DEAD AT 17 VOL 2 #4 (MR) (C: 0-1-2)Â 3.25
APR074059Â DEATH NOTE VOL 12 TP (C: 1-0-0)Â 7.99
MAR073427Â DELPHINE #2Â 7.95
APR074052Â DEVI TP (C: 0-1-2)Â 14.99
MAY073822Â DRAGON DRIVE VOL 3 TP (C: 1-0-0)Â 7.99
APR073724Â EC ARCHIVES TALES FROM THE CRYPT VOL 2 HC (C: 0-1-Â 49.95
APR073724Â EC ARCHIVES TALES FROM THE CRYPT VOL 2 HC (C: 0-1-Â 49.95
APR070243Â EX MACHINA #29 (MR)Â 2.99
MAR072057Â FALLEN SON DEATH OF CAPTAIN AMERICA SPIDER-MANÂ 2.99
FEB073181Â FATHOM KIANI #2Â 2.99
JAN070079Â FEAR AGENT VOL 2 MY WAR TP (C: 0-1-2)Â 14.95
APR074080Â FIREFIGHTER DAIGO OF FIRE COMPANY M VOL 19 TP (C:Â 9.95
APR071894Â FIRST BORN FIRST LOOKÂ 0.25
APR070194Â FLASH THE FASTEST MAN ALIVE #13Â 2.99
APR070194Â FLASH THE FASTEST MAN ALIVE #13Â 2.99
APR070194Â FLASH THE FASTEST MAN ALIVE #13Â 2.99
FEB071930Â FRESHMEN VOL 2 PHIL HESTER & ANDE PARKS CVR A #5 (Â 3.99
MAR073768Â GAMEKEEPER JOHN CASSADAY COVER #3Â 2.99
MAR073767Â GAMEKEEPER MUKESH SINGH COVER #3Â 2.99
FEB073196Â GARTH ENNIS CHRONICLES OF WORMWOOD #4 (OF 6) (MR)Â 3.99
FEB073197Â GARTH ENNIS CHRONICLES OF WORMWOOD WRAP CVR #4 (OFÂ 3.99
APR073367Â GD SOURCEBOOK OFF HANDBOOK TO THE GD UNIVERSE #6Â 3.95
APR074085Â GHOST IN THE SHELL 2 INNOCENCE MMPB (C: 1-0-0)Â 9.99
APR072307Â GHOST RIDER #12 WWHÂ 2.99
APR073609Â GI JOE STORM SHADOW #2Â 3.50
MAR074533Â GIANT ROBOT #48 (C: 1-1-3)Â 4.99
APR074060Â GIN TAMA VOL 1 TP (C: 1-0-0)Â 7.99
MAY073840Â GODCHILD VOL 6 TP (C: 1-0-0)Â 8.99
APR073365Â GOLD DIGGER #86Â 2.99
APR073366Â GOLD DIGGER PEEBO TALES SUMMER FUN SPECIAL #2Â 3.50
JAN070059Â GRENDEL ARCHIVE EDITION HC (C: 0-1-2)Â 14.95
MAY073127Â GUNSLINGER GIRL MANGA VOL 4 TP (MR)Â 9.99
FEB072177Â HEDGE KNIGHT 2 SWORN SWORD #1 (OF 6)Â 2.99
APR072353Â HEDGE KNIGHT 2 SWORN SWORD YU VAR #1 (OF 6)Â 2.99
APR070269Â HELLBLAZER #233 (MR)Â 2.99
MAY074012Â HEROES DRAW YOUR OWN SUPERHEROES HC (C: 0-1-2)Â 12.95
APR072308Â HEROES FOR HIRE #11 WWHÂ 2.99
APR073315Â HICKEE VOL 3 #3 (MR)Â 2.95
MAR073347Â HIGHLANDER #8Â 2.99
APR070242Â HIGHWAYMEN #1 (OF 5)Â 2.99
MAY073823Â HIKARU NO GO VOL 10 TP (C: 1-0-0)Â 7.95
MAY073824Â HOSHIN ENGI VOL 2 TP (C: 1-0-0)Â 7.99
APR074061Â HUNTER X HUNTER VOL 15 TP (C: 1-0-0)Â 7.99
MAR073745Â IMAGE COMICS ROAD TO INDEPENDENCE SC (C: 0-1-2)Â 34.95
APR072306Â INCREDIBLE HULK #107 WWHÂ 2.99
APR074081Â INU YASHA VOL 30 TP (C: 1-0-0)Â 8.95
APR072309Â IRON MAN #19 WWHÂ 2.99
APR072311Â IRON MAN HYPERVELOCITY #6 (OF 6)Â 2.99
APR074062Â IS VOL 14 GN (C: 1-0-0)Â 7.99
MAR073461Â JANES WORLD VOL 7 TP (MR)Â 15.00
APR074050Â JOHN WOOS SEVEN BROTHERS TP (MR) (C: 0-1-2)Â 14.99
FEB073121Â JOHNNY THE HOMICIDAL MANIAC #6 (NEW PTG) (O/A)Â 2.95
MAY073831Â JOJOS BIZARRE ADVENTURE VOL 8 TP (C: 1-0-0)Â 7.99
MAR070209Â JSA PRESENTS STARS AND STRIPES VOL 1 TPÂ 17.99
APR070199Â JUSTICE LEAGUE OF AMERICA #10Â 2.99
APR070200Â JUSTICE LEAGUE OF AMERICA VAR ED #10Â 2.99
MAY073841Â KAZE HIKARU VOL 6 GN (C: 1-0-0)Â 8.99
MAR074026Â KERA MANIAX SPECIAL (C: 1-1-3)Â 16.99
FEB074074Â KERA MAY 2007 (C: 1-1-3)Â 9.99
APR073527Â KON KON KOKON VOL 1 GN (C: 0-1-2)Â 9.99
APR074067Â LA CORDA DORO VOL 4 TP (C: 1-0-0)Â 8.99
APR070226Â LEGION OF SUPER HEROES IN THE 31ST CENTURY #3Â 2.25
APR073629Â LETS DRAW MANGA YAOI (MR)Â 19.95
APR073630Â LITTLE CRYBABY GN (MR)Â 12.95
MAY073608Â LOVE AND CAPES #4Â 3.95
APR074068Â LOVE COM VOL 1 TP (C: 1-0-0)Â 8.99
APR073631Â LOVE RECIPE VOL 1 GN (MR)Â 12.95
MAR071865Â MADAME MIRAGE GREG HORN CVR A #1Â 2.99
MAR071866Â MADAME MIRAGE KENNETH ROCAFORT CVR B #1Â 2.99
MAR073841Â MANGA GREAT FIGURES IN HISTORY EINSTEIN GN (C: 0-1Â 14.95
MAR073842Â MANGA GREAT FIGURES IN HISTORY GANDHI GN (C: 0-1-2Â 14.95
APR074090Â MANGA GREAT FIGURES IN HISTORY MARIE CURIE GN (C:Â 14.95
MAR073843Â MANGA LITERARY CLASSICS LITTLE WOMEN GN (C: 0-1-2)Â 14.95
MAR073844Â MANGA LITERARY CLASSICS TREASURE ISLAND GN (C: 0-1Â 14.95
APR073953Â MANTLO A LIFE IN COMICSÂ 7.50
APR074082Â MAR VOL 14 GN (C: 1-0-0)Â 7.99
APR072366Â MARVEL ADVENTURES AVENGERS VOL 3 DIGEST TPÂ 6.99
APR072313Â MARVEL ADVENTURES IRON MAN #2Â 2.99
MAR072082Â MARVEL SPOTLIGHT CAPTAIN AMERICA REMEMBEREDÂ 2.99
FEB070079Â MAXWELL STRANGEWELL GN (C: 0-1-3)Â 19.95
APR074075Â MEGAMAN NT WARRIOR VOL 12 GN (C: 1-0-0)Â 7.99
APR073797Â METAL GEAR SOLID SONS OF LIBERTY #9 (RES)Â 3.99
APR072291Â MIGHTY AVENGERS MOST WANTED FILESÂ 3.99
APR074069Â MILLENNIUM SNOW VOL 2 TP (C: 1-0-0)Â 8.99
APR073695Â MOME VOL 8 GNÂ 14.95
MAY074015Â MONSTERS DRAW YOUR OWN MUTANTS FREAKS & CREEPS HCÂ 12.95
APR073634Â MOON & SANDALS VOL 2 GN (MR)Â 12.95
MAR072100Â MOON KNIGHT #11 CWIÂ 2.99
APR072283Â MYTHOS SPIDER-MANÂ 3.99
FEB071933Â NECROMANCER VOL 1 TP (C: 0-1-2)Â 14.99
MAR073431Â NEW TALES OF OLD PALOMAR #2Â 7.95
APR073370Â NINJA HIGH SCHOOL CLASS REUNION SPECIALÂ 4.95
MAY073825Â ONE PIECE VOL 15 TP (C: 1-0-0)Â 7.95
APR072354Â ORSON SCOTT CARDS WYRMS #5 (OF 6)Â 2.99
APR073632Â OTHELLO GN (MR)Â 12.95
APR074070Â OURAN HIGH SCHOOL HOST CLUB VOL 9 TP (C: 1-0-0)Â 8.99
JAN070078Â PERHAPANAUTS SECOND CHANCES TP (C: 0-1-2)Â 15.95
JAN071929Â PHONOGRAM VOL 1 RUE BRITANNA TPÂ 14.99
APR073633Â PICNIC GN (MR)Â 12.95
APR074056Â PRINCE OF TENNIS VOL 20 GN (C: 1-0-0)Â 7.95
APR074063Â REBORN VOL 4 GN (C: 1-0-0)Â 7.99
APR074066Â RED RIVER VOL 18 GN (C: 1-0-0)Â 9.99
APR071850Â REPO #1 (OF 5)Â 3.50
APR070032Â REX MUNDI DH ED #6Â 2.99
APR070167Â ROBIN #163Â 2.99
MAR073433Â SAMMY THE MOUSE GNÂ 7.95
MAR073340Â SAVAGE TALES #2Â 4.99
MAR073341Â SAVAGE TALES SUYDAM VIRGIN CVR INCV #2Â 4.99
MAR073059Â SCHULZS YOUTH HCÂ 21.95
MAR073058Â SCHULZS YOUTH TPÂ 14.95
APR070231Â SCOOBY DOO #121Â 2.25
MAR070243Â SEIMADEN VOL 9 (C: 1-0-0)Â 9.99
APR072282Â SENSATIONAL SPIDER-MAN #38Â 2.99
APR070215Â SHADOWPACT #14Â 2.99
APR073490Â SIMPSONS COMICS #131Â 2.99
APR074071Â SKIP BEAT VOL 7 TP (C: 1-0-0)Â 8.99
APR074051Â SNAKEWOMAN TP (MR)Â 14.99
APR073408Â SONIC THE HEDGEHOG ARCHIVES VOL 4 TP (C: 0-1-2)Â 7.49
MAR073182Â SOULFIRE NEW WORLD ORDER #0Â 2.50
APR072285Â SPIDER-MAN FANTASTIC FOUR #3 (OF 4)Â 2.99
APR073783Â SPIKE SHADOW PUPPETS #1Â 3.99
APR070218Â SPIRIT #7Â 2.99
MAR070079Â STAR WARS 30TH ANNIV COLL HC VOL 5 LIGHT & DARK (CÂ 24.95
DEC061872Â STRANGE GIRL VOL 3 TPÂ 15.99
MAR073061Â STRANGERS IN PARADISE COVER A KATCHOO #90Â 2.99
APR074064Â STRAWBERRY 100 % VOL 1 TP (C: 1-0-0)Â 7.99
MAR071855Â STRONGARM #4 (OF 5)Â 2.99
FEB070261Â SUPERMAN BATMAN VOL 5 THE ENEMIES AMONG US HCÂ 19.99
NOV063400Â TAG VOL 1 TPÂ 14.99
APR073894Â TALES FROM THE CRYPT #1Â 3.95
APR070256Â TEXAS CHAINSAW MASSACRE CUT (MR)Â 2.99
APR072376Â THUNDERBOLTS GUARDIAN PROTOCOLS TPÂ 10.99
FEB073670Â TICK 20TH ANN LTD SKETCH ED #1 INCVÂ 5.95
FEB073669Â TICK 20TH ANN SP ED #1 (C: 0-1-2)Â 5.95
FEB073669Â TICK 20TH ANN SP ED #1 (C: 0-1-2)Â 5.95
APR074083Â TOGARI VOL 1 TP (C: 1-0-0)Â 9.99
MAR070240Â TOWER OF THE FUTURE VOL 7 (C: 1-0-0)Â 9.99
MAR073465Â TRAIN PLUS TRAIN VOL 3 GNÂ 10.99
MAR073501Â TRANSFORMERS MEGATRON ORIGIN #1Â 3.99
APR073770Â TRANSFORMERS MOVIE ADAPTATION #3 (OF 4)Â 3.99
JAN071947Â TRUE STORY SWEAR TO GOD IMAGE ED #6Â 3.50
APR072361Â ULTIMATE FANTASTIC FOUR VOL 3 HCÂ 29.99
APR072367Â ULTIMATE FANTASTIC FOUR VOL 8 DEVILS TPÂ 12.99
APR074065Â ULTIMATE MUSCLE VOL 17 GN (C: 1-0-0)Â 7.95
APR072278Â ULTIMATE SPIDER-MAN #110Â 2.99
APR073716Â UNCLE SCROOGE ADV LAND PYGMY INDIANS WAR OF WENDIGÂ 8.50
FEB073272Â WARHAMMER 40K DAMNATION CRUSADE CVR A #5Â 2.99
FEB073273Â WARHAMMER 40K DAMNATION CRUSADE CVR B #5Â 2.99
FEB073269Â WARHAMMER FORGE OF WAR CVR A #1Â 2.99
FEB073270Â WARHAMMER FORGE OF WAR CVR B #1Â 2.99
MAY073234Â WARREN ELLIS BLACK GAS 2 #1 (O/A)Â 3.99
APR073882Â WASTELAND #10 (MR) (NOTE PRICE)Â 3.50
APR071916Â WEAPON #1 (OF 4)Â 2.99
NOV061854Â WEIRD WORLD OF JACK STAFF KING SIZE SPECIAL #1Â 5.99
NOV061854Â WEIRD WORLD OF JACK STAFF KING SIZE SPECIAL #1Â 5.99
JAN073531Â WITCHBLADE SHADES OF GRAY #2 (OF 4)Â 3.50
JAN073532Â WITCHBLADE SHADES OF GRAY B&W E-BAS CVR INCV #2Â 3.50
APR071904Â WITCHBLADE TAKERU MANGA MACK CVR B #5 (NOTE PRICE)Â 3.99
APR071903Â WITCHBLADE TAKERU MANGA SUMITA CVR A #5 (NOTE PRICÂ 3.99
APR073257Â WIZARD ANIME INSIDER BECKS KOYUKI CVR #46 (NOTE PRÂ 4.99
APR075085Â WOLVERINE BUST BANK (OCT064613) (C: 1-1-2)Â 9.99
FEB073104Â WONDERLAND #4Â 3.50
APR072271Â X-MEN ENDANGERED SPECIES ONE-SHOTÂ 3.99
APR072364Â X-MEN FIRST CLASS HCÂ 24.99
APR074084Â YAKITATE JAPAN VOL 6 TP (C: 1-0-0)Â 9.99
MAY073126Â YOTSUBA MANGA VOL 4 TPÂ 9.99
MAY073826Â YU GI OH DUELIST VOL 22 TP (C: 1-0-0)Â 7.95