Hi there folks. Here are a few of the more interesting comics that are scheduled to ship to The Beguiling Books & Art in Toronto, Canada this week. These books may not show up at all retailers at the same time, but if you see a title here it's probably at least worth asking your local retailer about.
FEB070077 ART OF BONE HC 39.95
APR060046 ARTIST WITHIN HC 39.95
MAR070019 BUFFY THE VAMPIRE SLAYER OMNIBUS VOL 1 TP 24.95
Looks like the slow-boat from the orient finally showed up this week, as Dark Horse is shipping a ton of trade paperbacks and graphic novels. These three are probably the most "Important", with the ART OF BONE hotly anticipated by a lot of folks. It's too bad that, for whatever reason, we were actually allocated on our order… We ordered an absolute ton of this one which means what we're getting might actually last us through new comics day, particularly as it's a heavy week for trades, but it also might not. Ah well. At least there's the year-late ARTIST WITHIN hardcover that, like the relatively-recently released IN THE STUDIO by Todd Hignite, lets us peer into the creative enviroments of the giants of graphic novel-dom. I guess we'll find out if it was the concept or the creators involved and the stellar execution that made Hignite's book such a strong seller for us. And that BUFFY OMNIBUS I mentioned a while back is out too, and a full four weeks earlier than originally planned! I'm tempted to say that someone over at Dark Horse is actually reading my blog, but more-than-likely they're reading the dozens of comics, buffy, and Joss Whedon blogs that picked up on my original post. I guess that counts for something!
APR072348 CRIMINAL #7 (MR) 2.99
So… Ed Brubaker popped up in my comments section last week (we had a nice chat in e-mail, he's a good guy), and now I feel a little like all comments on this book should be addressed directly to him rather than out into the ether like everything else that I write. So, here goes: "Ed? CRIMINAL #6 was top-notch, seriously. I have to admit that you lost me with the end of the last story arc… The ultmate planner playing all the angles just decides to charge in and start shooting people? It didn't jibe… jive… one of those two. Anyway, the first arc was solid but I didn't dig the ending, but this new arc, that first issue? It might have been stronger than the whole first arc. It took all the stuff I liked about SLEEPER and just dropped the dudes firing electricity out of their hands: good stuff. I'm looking forward to this one for sure, top of the to-read pile."
"Oh, and for extra kiss-ass points, I still have 1-6 AND the trade in stock at the store."
APR070195 GREEN LANTERN SINESTRO CORPS SPECIAL #1 4.99
DUDE! MY DC REP SAID THAT THIS ISSUE IS TWICE AS CRAZY AS THE FLASH THAT CAME OUT LAST WEEK! SWEET!
MAY073453 HUMAN DIASTROPHISM PALOMAR VOL 2 TP 14.95
MAY073451 GIRL FROM HOPPERS LOCAS VOL 2 TP 14.95

I don't know what's going on with Diamond, but we're getting this second collection of the Gilbert Hernandez L&R a week after everyone else, AND it's severely allocated, AND we're not getting the Jamie collection. Frustrating!
EDIT: Jason pointed out in the comments section that we actually are getting the second LOCAS book this week, and I just skimmed over it by accident. Sorry, my bad. And we're getting the full amount too, whereas we're only getting 1/3 of our Palomar order. I hope Gilbert and Jamie don't come by the store on Wednesday, notice that we didn't order as many of Gilbert's book, and then hate us forever. That would totally suck.

JAN070377 NEIL GAIMAN AND CHARLES VESS STARDUST HC (RES) (MR) 39.99
Early buzz on this film? Very, very good indeed. Someone compared it to an updated "The Princess Bride," which is much-beloved by many. And me. So you know? That's pretty high praise. While not technically comics, this one is heavily illustrated and features the work of two comics masters. I'm kind of excited to see a Gaiman movie opening soon (with CORALINE hot on its heels). According to the Vertigo website, this new oversized hardcover edition is… well, exactly the same as the first oversized hardcover edition. Unless this is really fucking big or something…? I guess we find out Wednesday.
MAR073755 TEZUKAS APOLLOS SONG SC (MR) 19.95
APR074035 TO TERRA VOL 3 TP 13.95
Yay! Vertical loves us and is blessing us with good manga! Thank you, Vertical!
APR072368 ULTIMATES 2 VOL 2 GRAND THEFT AMERICA TP 19.99
Who had three-weeks-after-#13 in the pool? Oh wait, I did. But there wasn't really a pool.
FEB071919 WALKING DEAD #38 (MR) 2.99
It's agony waiting for this book… I guess that's a good thing?
- Christopher
The rest of the shipping list is behind the cut:
Complete Shipping List, June 27th, 2007:
MAY073678 1-800 MICE #2 (MR) 3.95
APR070186 AMAZONS ATTACK #3 (OF 6) 2.99
APR072363 ANNIHILATION BOOK 3 HC 29.99
APR072365 ANT MAN VOL 1 DIGEST TP 9.99
FEB070077 ART OF BONE HC 39.95
APR060046 ARTIST WITHIN HC 39.95
APR073489 BART SIMPSON COMICS #36 2.99
MAR073311 BATTLESTAR GALACTICA #11 2.99
APR073396 BETTY #166 2.25
MAY073772 BLACK GHOST APPLE FACTORY 5.00
MAR072077 BLACK PANTHER #28 CWI 2.99
APR070190 BLUE BEETLE #16 (CD) 2.99
MAY073337 BOYS #8 (RES) (MR) 2.99
APR073851 BREATHE CVR A #3 (OF 4) 2.99
APR073852 BREATHE CVR B #3 (OF 4) 2.99
MAR070019 BUFFY THE VAMPIRE SLAYER OMNIBUS VOL 1 TP 24.95
APR072336 CABLE DEADPOOL #42 2.99
APR070229 CARTOON NETWORK BLOCK PARTY #34 2.25
APR073688 CASTLE WAITING VOL II #7 3.95
MAY073414 CHALLENGERS VOL 2 GN 12.99
MAY073415 CHALLENGERS VOL 3 GN 12.99
MAY073416 CHALLENGERS VOL 4 GN 12.99
MAR073406 CHINESE HERO VOL 2 TALES O/T BLOOD SWORD SC 19.95
JAN073999 CLASSIC MARVEL FIGURINE COLL MAG #12 IRON MAN 12.00
APR073745 CODE #1 (O/A) 2.99
APR073850 COLLECTED TOUPYDOOPS TP (MR) 14.95
JAN070063 CONAN HALL O/T DEAD & OTHER STORIES VOL 4 TP 17.95
APR070183 COUNTDOWN 44 2.99
APR072348 CRIMINAL #7 (MR) 2.99
APR070263 CROSSING MIDNIGHT #8 (MR) 2.99
MAR070267 CROSSING MIDNIGHT VOL 1 TP (MR) 9.99
APR072295 DAREDEVIL #98 2.99
APR070264 DEADMAN #11 (MR) 2.99
MAR073400 DISNEY JR VOL 4 PIRATES OF THE CARIBBEAN GN 3.99
APR073589 DRAGON EYE VOL 1 GN 10.95
MAR070026 DWIGHT T ALBATROSS THE GOON NOIR TP 12.95
APR073787 FALLEN ANGEL IDW #17 (MR) 3.99
APR072297 FANTASTIC FOUR #547 CWI 2.99
MAY073974 FATHER OF THE COMIC STRIP RODOLPHE TOPFFER SC 25.00
APR073412 FATHOM KILLIANS VESSEL ODAGAWA CVR #1 2.99
APR073413 FATHOM KILLIANS VESSEL TURNER CVR #1 2.99
MAR073608 FOREVER NUTS THE EARLY YEARS OF MUTT & JEFF HC 24.95
APR073617 FORGOTTEN REALMS STREAMS SILVER SEELEY CVR A #3 5.50
APR074013 FOX BUNNY FUNNY TP 10.00
APR071867 FRANK FRAZETTAS DEATH DEALER #3 (OF 6) (MR) 3.99
APR074044 GAMEKEEPER EXTENDED COLL EDITION #1 (MR) 2.99
MAR073190 GARTH ENNIS STREETS OF GLORY PREVIEW (MR) 1.99
APR073746 GENESIS FIVE #1 (O/A) 2.99
APR073591 GHOST HUNT VOL 8 GN 10.95
DEC063513 GI JOE AMERICAS ELITE VOL 3 TP (NOTE PRICE) 18.99
JAN073566 GI JOE SPECIAL MISSIONS VOL 1 TP 18.99
MAY073451 GIRL FROM HOPPERS LOCAS VOL 2 TP 14.95
DEC063601 GOOSEBUMPS GRAPHIX VOL 2 TERROR TRIPS HC 16.99
DEC063600 GOOSEBUMPS GRAPHIX VOL 2 TERROR TRIPS SC 8.99
APR070195 GREEN LANTERN SINESTRO CORPS SPECIAL #1 4.99
MAR073851 GRIMM FAIRY TALES #15 (RES) (MR) 2.99
APR074093 GRIMM FAIRY TALES RETURN TO WONDERLAND #1 (OF 7) ( 2.99
APR074094 GRIMM FAIRY TALES RTN TO WONDERLAND RIO INCV #1 (O 2.99
DEC063253 HAUNTED MANSION #6 2.95
APR070033 HELLBOY DARKNESS CALLS #3 (OF 6) 2.99
MAR073407 HIGH SCHOOL GIRLS VOL 8 TP (MR) 9.95
MAR073446 HILLS HAVE EYES THE BEGINNING GN 17.99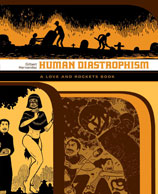 MAY073453 HUMAN DIASTROPHISM PALOMAR VOL 2 TP 14.95
MAR072087 IMMORTAL IRON FIST #6 2.99
MAR071844 INVINCIBLE #43 2.99
APR070266 JACK OF FABLES #12 (MR) 2.99
FEB070081 JACKSON 500 VOL 3 HC 14.95
APR073747 JOE & MAX #1 (O/A) 2.99
APR070205 JSA CLASSIFIED #27 2.99
APR073402 JUGHEAD #182 2.25
APR073593 KAGETORA VOL 6 GN 10.95
APR071914 KISS 4K #2 2.99
DEC064493 KITTY PRYDE MINI BUST 50.00
APR073835 KNIGHTS OF THE DINNER TABLE #128 4.99
APR073527 KON KON KOKON VOL 1 GN 9.99
APR073596 KUROGANE VOL 5 GN 10.95
APR073598 LE CHEVALIER DEON VOL 1 GN (MR) 10.95
APR072317 LEGION OF MONSTERS SATANA 2.99
MAY073607 LIVING STATUES (MR) 3.50
FEB073339 LONE RANGER VOL 1 PX CVR TP 19.99
FEB073338 LONE RANGER VOL 1 REG CVR TP 19.99
APR074040 MACEDONIA GN 17.95
FEB072178 MAGICIAN APPRENTICE #8 (OF 12) 2.99
MAR073639 MAINTENANCE VOL 1 ITS A DIRTY JOB TP (MR) 9.95
APR072314 MARVEL ADVENTURES AVENGERS #14 2.99
APR072275 MARVEL ILLUSTRATED LAST OF THE MOHICANS #2 (OF 6) 2.99
APR072356 MARVEL MASTERWORKS SUB-MARINER VOL 2 NEW ED HC 54.99
MAY070002 MARVEL PREVIEWS #47 JULY 2007 EXTRAS (NET) 0.99
MAY074000 MIRRORMASK LTD ED 125.00
JAN070377 NEIL GAIMAN AND CHARLES VESS STARDUST HC (RES) (MR 39.99
APR074121 NEWTYPE ENG ED JULY 2007 12.98
MAR073464 NIGHT OF THE BEASTS VOL 4 GN (MR) 10.99
FEB071910 NIGHTLY NEWS #6 (OF 6) 2.99
APR070255 NIGHTMARE ON ELM STREET #8 (MR) 2.99
APR070247 NINJA SCROLL #10 2.99
APR073833 PAINTINGS OF YOU GN (MR) 12.95
APR073599 PASTEL VOL 7 GN (MR) 10.95
MAY070001 PREVIEWS VOL XVII #7 (NET) 4.50
MAR073333 RED SONJA #23 2.99
MAR073334 RED SONJA SEGOVIA B&W CVR INCV #23 2.99
APR073801 RICHARD MATHESONS I AM LEGEND TP 19.99
APR073682 ROBERT KURTZMANS BENEATH THE VALLEY O/T RAGE #1 (O 3.99
APR073605 SHEENA #1 (OF 5) 3.50
MAR072110 SHE-HULK 2 #19 2.99
APR074054 SHONEN JUMP AUG 07 #56 4.99
MAR070219 SHOWCASE PRESENTS BATMAN VOL 2 TP 16.99
APR072330 SILENT WAR #6 (OF 6) 2.99
APR072331 SILVER SURFER REQUIEM #2 (OF 4) 3.99
APR074045 SNAKEWOMAN VOL 2 TALE OF THE SNAKE CHARMER #1 (MR) 2.99
APR073409 SONIC X #21 2.25
APR071876 SPAWN GODSLAYER #2 2.99
APR072284 SPIDER-MAN FAIRY TALES #2 (OF 4) 2.99
APR074258 STAR WARS DARTH BANE PATH OF DESTRUCTION MMPB 7.99
MAR073589 STARSHIP TROOPERS ONGOING CVR A #2 3.50
MAR073590 STARSHIP TROOPERS ONGOING CVR B #2 3.50
MAR073139 SUBCULTURE #1 (OF 4) (MR) 3.50
APR070216 SUPERGIRL AND THE LEGION OF SUPER HEROES #31 2.99
APR070175 SUPERMAN BATMAN #37 2.99
APR070176 SUPERMAN BATMAN VAR ED #37 2.99
APR073864 TALES OF TMNT COLL BOOKS VOL 3 TP 12.00
APR070217 TEEN TITANS #48 (AA) 2.99
APR070227 TEEN TITANS GO #44 2.25
MAR073755 TEZUKAS APOLLOS SONG SC (MR) 19.95
APR072333 THUNDERBOLTS #115 CWI 2.99
APR072334 THUNDERBOLTS BIANCHI VAR #115 2.99
APR074035 TO TERRA VOL 3 TP 13.95
APR073776 TRANSFORMERS MAGAZINE #1 7.99
APR073771 TRANSFORMERS MOVIE ADAPTATION #4 (OF 4) 3.99
MAR070226 TRIALS OF SHAZAM VOL 1 TP 14.99
APR072277 ULTIMATE FANTASTIC FOUR #43 2.99
JAN072351 ULTIMATE VISION #4 (OF 5) 2.99
APR072279 ULTIMATE X-MEN #83 2.99
APR072368 ULTIMATES 2 VOL 2 GRAND THEFT AMERICA TP 19.99
FEB071919 WALKING DEAD #38 (MR) 2.99
APR073958 WALLACE & GROMIT MAGAZINE #23 5.99
APR073603 WALLFLOWER VOL 12 GN (MR) 10.95
APR070253 WETWORKS #10 2.99
APR073375 WHITE PICKET FENCES #2 (OF 3) 3.50
JAN071953 WITCHBLADE #107 2.99
APR073470 WITCHBLADE TAKERU VOL 1 GN 9.99
MAY073084 WIZARD MAGAZINE GREG HORN NEW AVENGERS CVR #190 5.99
MAY073086 WIZARD MAGAZINE MIGNOLA HELLBOY CVR #190 5.99
MAY073085 WIZARD MAGAZINE TRANSFORMERS MOVIE CVR #190 5.99
APR072372 WOLVERINE BLOOD & SORROW TP 13.99
APR072342 WOLVERINE ORIGINS #15 2.99
APR070222 WONDER WOMAN #10 (AA) 2.99
APR072304 WORLD WAR HULK FRONT LINE #1 (OF 6) WWH 2.99
APR072305 WORLD WAR HULK X-MEN #1 (OF 3) 2.99
APR072339 X-FACTOR #20 2.99
APR072344 X-MEN 50/50 WRAPAROUND #200 3.99
APR072343 X-MEN FINCH GATEFOLD VAR #200 3.99
APR072345 X-MEN FIRST CLASS VOL 2 #1 2.99