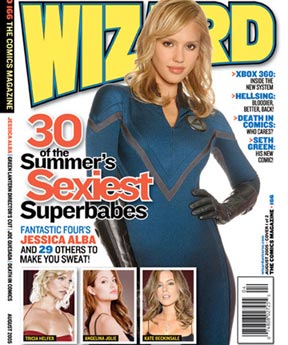 HEY THERE, CITIZEN! It's time for you to once again for you to participate in the democratic process: Which Of Wizard's Advertisers do YOU like the best!? Marvel? DC? Uh… Marvel?
THE WIZARD ADVERTISER AWARDS! 
Do you like Marvel or DC? You've got lots of choices! Was Brian Michael Bendis the best writer of the year for New Avengers? Or maybe Geoff Johns for Infinite Crisis? Best books, and therefore best writers? Of the year. Clearly.
Do you like Invincible? Cool! Why not vote for Invincible's colorist or letterer as best of the year? What, you wanna vote for the writer or the artist or even the character? No deal, fanboy! IT'S THE WIZARD ADVERTISER AWARDS!
The Walking Dead is elligible for best series of the year, but none of the creative team is. Seriously, Kirkman isn't even up for Marvel Zombies, which is also nominated.

No, seriously though. Who is your favorite publisher? Is it Marvel or DC? Or, you know, Image, or maybe Dark Horse? Those guys got a few nominations in other categories. Maybe your favorite publisher is Oni (not, say, Oni Press, like their name)? I mean sure, not one other nomination for Oni or any of their talent can be found on the ballot, but you can totally vote for them for best publisher… I dunno. I dunno WTF. Oni for best publisher for, apparently, no books. IT'S THE WIZARD ADVERTISER AWARDS!
Vote for your favorite Video Game, DVD, or TV Show! Maybe you're a big fan of the "Sexy Slave Leia Statue (Kotobukiya)"? Well it's your chance to vote! You can't complain if you don't vote, so get out the vote! ROCK THE VOTE! CRY INTO YOUR KEYBOARD WHILE CLICKING RADIO BUTTONS ON A WEBPAGE.
- Christopher
My Votes: Ed Brubaker, Steve McNiven, Dexter Vines, James Jean, Dave Stewart, Todd Klein, pass, pass, pass, The Governor, Foggy Nelson, The Walking Dead, pass, Goon 25-Cent issue, Oni, pass, pass, Superman Returns, Daniel Acuna, pass, pass, pass, The Legend of Zelda: Twilight Princess.