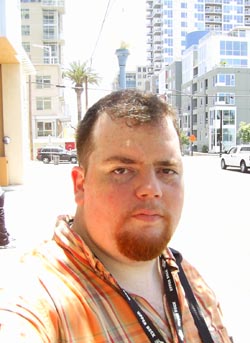 It's… so… bright! San Diego is brighter than Toronto… I don't know what these people do with all of this sun. Anyway, my schedule at the show is considerably less busy than Heidi's and Tom's, apparently, as I've run into neither of them but I hear stories about both. I've been busy enough that I haven't posted (sorry) but I've been doing interviews and stuff, and that'll mean actual content in the next little while.
The show is… interesting this year. Almost everyone I talk to is having a fantastic time (despite the size of the show) and sales across the board seem to be up-up-up! It's a very positive experience. I mean, it's a positive experience punctuated with a lot of shit-talking about the industry, but I'm glad people seem to be having a good time. The Oni party last night was a blast, and I totally behaved myself around all of the famous people. Seth Rogan is adorable. Anyway, it's all good. I even met a nice guy from Wizard and we chatted a bit: It's the convention of brotherly love.
Anyway, I'm gonna cut this short as I'm very late for the show today (stupid open bar, stupid Chris) and just hit you with a bunch of photos from the show floor. Enjoy!
- Chris
–
Miriam Katin, author of WE ARE ON OUR OWNÂ signing at the D&Q booth.
Bryan Talbot, author of ALICE IN SUNDERLAND and the new NAKED ARTIST at the NBM booth.
Artist Chad Michael Ward at the NBM booth.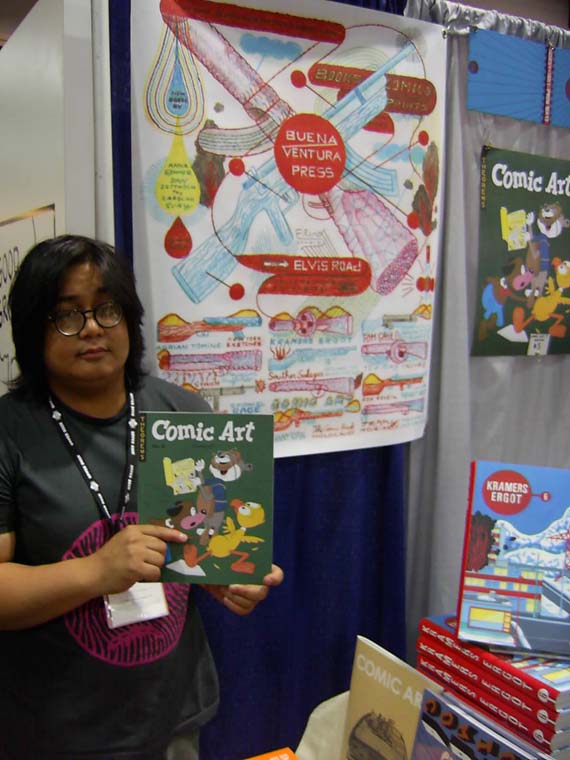 I made Alvin Buenaventura pose, and then he made this face and now I feel bad about it. But doesn't it make a great photo? Shown: COMIC ART MAGAZINE, KRAMERS ERGOT 6, a nifty print.
Those new BLUE MONDAY covers are nice, aren't they? At the Oni Press booth.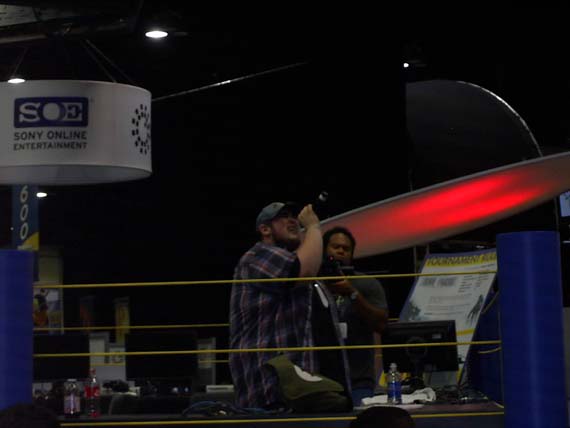 This dude was rapping about tabletop gaming. I'm not sure how I feel about that.
Webcomics… in print! The Dumbrella guys.
Ryu works the Udon Comics booth. Udon was having a great weekend, selling out of their brand-new UDON'S ART OF CAPCOM very early in the show.
Peter Birkemoe from The Beguiling and Tom Devlin from Drawn & Quarterly talking about one of D+Q's 2008 releases that I'm not allowed to discuss, but it's pretty awesome, manga-fans!
Guy Delisle, signing his SHENZHEN and PYONGYANG at the Drawn and Quarterly booth.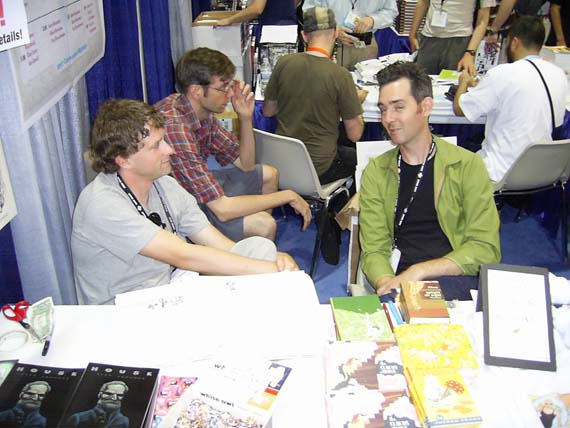 Josh Simmons (left) and Jordan Crane (right) talking about how disturbing Robin Bougie's comics are at the Fantagraphics booth. Simmons' HOUSE and Crane's CLOUDS ABOVE are both very different, but enjoyable graphic novels.
It's POKETO! Makers of my last two kick-ass wallets. The new line are super-damage proof and awesome. Poketo also just released a series of designer artist plates, that I covet:
This is a really great artist who I met in artist's alley who goes by the name PCP. He was recently feature on the cover of Giant Robot, and he has some gorgeous prints and a really amazing interactive music project. Check him out: http://www.hypehopewonderland.com/top_e.html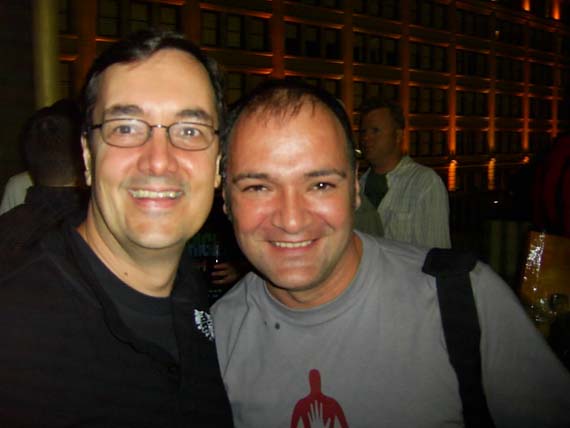 Mark Askwith of the SPACE channel in Canada, and colourist Jose Villarrubia at the CBLDF party.
It's a WHOLE BUNCH of Oni Boys. From Left to Right: Randy Jarrell (Editor), Antony Johnston (WASTELAND), Ian Shaughnessy (SHENNANIGANS), James Vining (FIRST IN SPACE), Scott Chantler (NORTHWEST PASSAGE) and Ande parks (CAPOTE IN KANSAS).
Quiznos Cosplay.
These bags are everywhere.
The panty-lines really ruin spidey's costume. Someone get that man a thong.
Cammy and Chun-Li: Who is the strongest woman in the world?
Half of the captions that I thought of for this are illegal.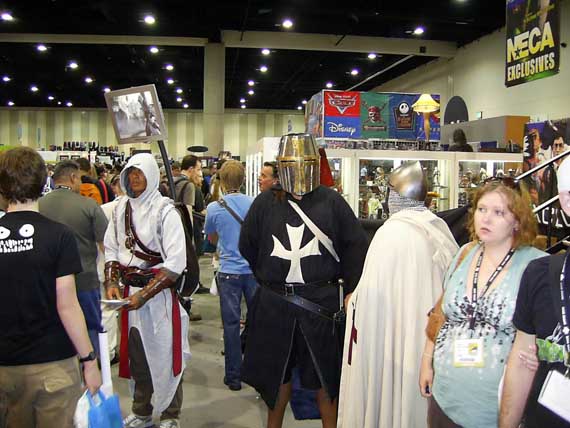 These dudes were cosplaying their online game characters. That dude on the left has a flatscreen tv coming out of his backpack, showing video footage of these guys killing things.
It's Jeff Smith, signing BONE!
It's the Comics Bakery! With Dave Roman (ASTRONAUT ELEMENTARY) and Raina Telegemeier (SMILE).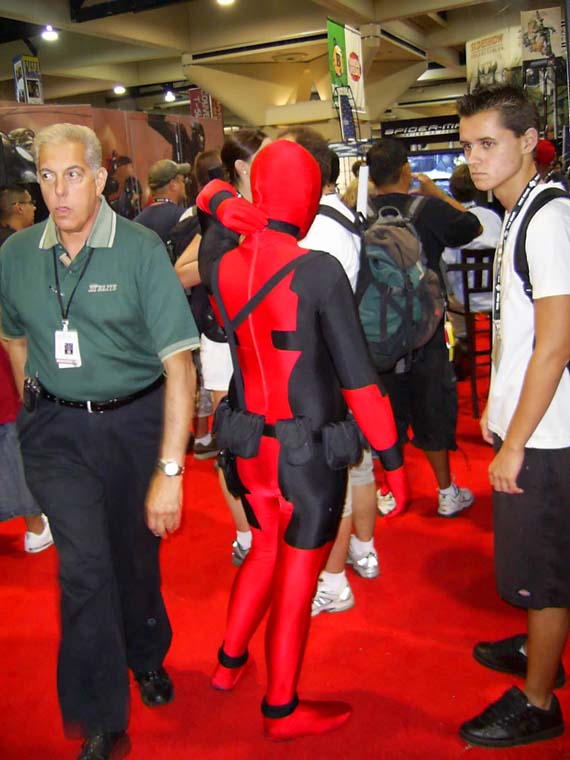 As impressive as this Deadpool outfit is, the little Deadpool that was clearly visible in his outfit was moreso.
Ghost Rider, Catwoman, and The Midnighter.
See ya next time!