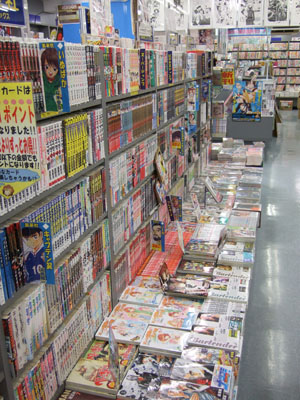 My anger is so fucking righteous.
Seriously though, I'm in Japan, everything's goddamned awesome. I don't even have an angry bone in my body at this point, let alone a righteously angry one (and for those of you who don't know what I'm talking about, click here).
But… did you see this? http://www.comicsreporter.com/index.php/cr_editorial_why_comic_shops_still_matter/. Go read that, it's really good. I wanna give Tom a big hug. Perhaps I will next time I see him, and won't that be awkward? Anyway, Spurge wants a new direction to the discussion about comic shops, and I think that's great… Anything to get away from the stuff the folks are saying in THE BEAT's comments section. So, let's go: topic starter.
I am in Japan, and there are comic book stores everywhere.
Seriously. Not American Comics, for the most part, but if you blurred your eyes a little you'd recognize many of the places I've been visiting as comic book shops. This is in a nation where, as I've already blogged, comics are readily (and volumously) available in standard book stores, at the 'news stand', at train stations, the 7-11, even in vending machines. Comics are everywhere, and despite that, there are still dedicated comic book stores…! The argument from a number of people is that comic book shops should go the way of the dodo, in favour of mass-market distribution in traditional book stores, and via the internet… But here I am in a country where comics ARE available in the mass-market, in fact, comics make up something like 40% of all published material in the country. And yet, despite that, there is a clear market for comic shops. Even when they have side-lines like used comics, dvds, statues, etc. Even when they don't, and it's all about the books… this happens in France too, btw.
The next message in my Japan travelogue is about the end of day 02, where I go to ANIMATE, an eight-floor comic book store. It's pretty neat, and I was totally inspired. I think you might be too?
In advance of my post, you can find out more about Animate at http://en.wikipedia.org/wiki/Animate.
The comic store doesn't need to go anywhere. We all just need to try a little harder, I think.
- Christopher