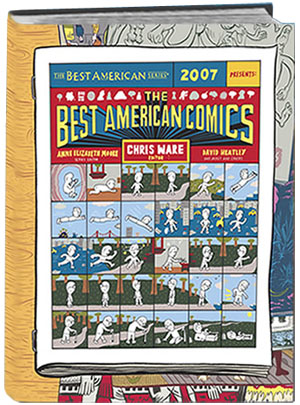 Though the official release date isn't until today, The Best American Comics 2007 can already be found on store shelves everywhere, be they 'comic', 'book', or virtual. In fact, even before this Chris Ware guest-edited volume was available, the vast majority of the works in this volume could be found on the bookshelves of any artcomix fan who was paying attention from August 2005 through August 2006. Even though the raison d'etre of the Best American series of anthologies is to scour the totality of printed material for good works, the 2007 Comics edition is particularly notable for drawing the majority of its material from the output of publisher Fantagraphics books, and in particular their anthology Mome makes a very strong showing. In fact, upon receiving the book a few days back one of my more outspoken retail compatriots remarked (with a good measure of actual anger) that there was nothing for him in this book, since he'd already bought all of the Mome volumes, Kramer's Ergot, and Charles Burns' Black Hole. It's actually that anger, which I've heard from more than a few people now, that made me want to review this volume and Mr. Ware's examples of the best of comics in 2006.
Ware's introduction to the book is interesting, as he writes about visual literacy and invention in the context of his own work and in the work of the artists he has assembled here. Of course (and in typical self-depreciating fashion) he throws the idea that this is the 'best' work in comics right out the window in the first paragraph: No matter how much you criticize Chris Ware, you can be sure that he has already beaten you to the punch in doing so. Instead he talks about the work in terms of "telling the truth," which he states to be the primary attribute in comics stories that he personally enjoys. This shouldn't be mistaken for an elevation of non-fiction over fiction or any other such fallacy, but instead Ware seems to best respond to works that seek to understand, explain, and celebrate the human condition, and that's evident in the book. More than half of the books' stories are outright biography or autobiography; the only real concession to the fantastic seems to be in Ware's appreciation of C.F.'s Blond Atchen And The Bumble Boys and Paper Rad's Kramer's Ergot; the hypercolour cute-brut works descended from the Fort Thunder collective and, in Ware's estimation, the work Gary Panter (Panter also included here via an excerpt from his Jimbo In Purgatory). If "Fiction,"as Mr. Ware has posited elsewhere, "allows details and doubts about actual events to be bypassed and the remembered essence of a person to suddenly 'come alive' again," then it seems very much like that fiction oughtta stay as close to plausible as possible, if the choices here are anything to go by.
The collection isn't a bad one, and seeing as it is produced and marketed for a 'general public' graphic novel reader it's a lot harder to fault it for being picked from a fairly small (though very deep pool). I'd have a hard time arguing against any of the included works as being undeserving of the "Best Comics" tag, and I probably wouldn't bother either because that kind of behaviour is kinda dickish. But even the briefest page-through of the book will show that while it is a coherent and considered opinion on comics, it also isn't representative of the North American comics publishing industry as a whole. Luckily Ware has already forestalled such criticism (told ya!) but it's still a little aggrivating that, for example, anything with a whif of genre about it is seemingly disqualified, despite its ability to get to get at "truth" in it's own way. Further absent are any comics that don't mark print as their primary medium. I wonder what kind of view of the industry this presents to the 'general public'?
Next year (and for the foreseeable future) the Best American Comics collections will feature new, permanent Editors in the tag-team power couple of Jessica Abel and Matt Madden. I feel fairly confident in saying that their vision of the Best Comics will look substantially different from Ware's, just as my own ideas about the best comics released this year do. Will that make for a better, more coherent or thorough anthology though? Will those opinions be any more or less correct? I quite honestly have no idea, but there's a much better chance I won't own previously released versions of 80% of what's in the book, and that's pretty exciting to me at least!
So my recommendation? Check out the table of contents for this one over at The Publisher's Website and see how many of the works–or creators–are new to you. If you haven't purchased much of this work already I'd strongly recommend you do so through this volume… but maybe keep the other eye open and on the rest of the graphic novel rack too.
Meanwhile, Chris, What Did You Think Were The Best Graphic Novels of 2006?
Well I'm glad you asked. Now that literally every award for graphic novels published in 2006 has been given out, AND they made a book out of it, here's what I thought were the best comics in 2006. I'm not limiting myself to works by North American creators as Mr. Ware is, but I am requiring English-language publication in 2006. I've included my (whopping) 28 choices behind the cut below. Let me know what you think:
Abandon The Old In Tokyo, by Yoshihiro Tatsumi. Published by Drawn & Quarterly.
Tatsumi was putting together sophisticated, humanistic, visually advanced stories at a time when those types of comics simply did not exist in North America. That his work, upon translation, is still as vital and unique more than 40 years after the fact is nothing short of remarkable and a testament to its strength.
Achewood, by Chris Onstad. Published at http://www.achewood.com.
A good comic strip, in my estimation, has a hint of the sublime to it. Achewood is drenched in it. Achewood was a compulsion for me in 2006, needing to find out what happens next throughout the Great Outdoor Fight, refreshing every hour on the hour waiting for a new installment. Inspired stuff.
Acme Novelty Library 17, by Chris Ware. Published by Chris Ware and distributed by Drawn & Quarterly.
I guess I can understand how Ware, as the consumate shy artist, would not include his own work in a book he edited called THE BEST AMERICAN COMICS 2007. But… come on. Someone should have just slipped in his work on Acme Novelty Library (or even his serialised Building Stories work) without telling him or something. The Rusty Brown narrative in Acme Novelty Library just destroys me every time I read it.
All Star Superman (Series), by Grant Morrison and Frank Quitely. Published by DC Comics.
Probably the point at which many of my audience quit reading this list, but this series is a shining example that even within the strict confines of mainstream comics, a work can be produced that is humanistic, both reverential and irreverant, and genuinely ambitious in both narrative and storytelling. That it's largely successful earns it a place on this list.
American Born Chinese, by Gene Yang. Published by First Second Books.
At one point this was my favourite graphic novel of 2006, following a lengthy wait for its completion that began several years prior when this webcomic stopped updating one day. I found the ending challenging and thought-provoking, which, once I had reconciled it with the rest of the book, made me enjoy the story even more. But I still feel that this is a flawed work, and it's something that I hadn't really thought about until a friend of mine pointed it out to me: The Monkey King of Chinese legend goes off to meet and pay tribute to the baby Jesus… which the more I think about it, the more it bothers me. Yang's relationship with God is his own, but introducing Christian mythology into a book that was until that point solely about Asian-American identity is off-putting, and clumsily handled. Still, nearly every other panel in the book is well-drawn and well-told, contributing to an over-all excellent graphic novel.
An Anthology of Graphic Fiction, Cartoons, and True Stories, edited by Ivan Brunetti. Published by Yale University Press.
It's probably cheating to include a 'best of' anthology that spans more than 3 decades in your "Best of 2006″ list, but as far as I'm concerned this massive, exhaustive tome takes-the-cake for anthologies of its type, and is a book that is phenomenally accessible and easy to recommend, even while the work it contains can be challenging or oblique. It is so Rich, dense, and diverse that there is literaly something for everyone in these pages. I'm glad to hear that there's a second volume on the way.

Casanova (series), by Matt Fraction and Gabriel Ba. Published by Image Comics.
While my commentary here at comics212.net may have lost steam due to a profoundly affecting editorial in the back of the seventh issue, my enthusiasm for the series remained high throughout 2006. While it is neither creator's "first work" in comics, so to speak, it certainly feels like it at times with a boundless enthusiasm and energy on every page. It's rare to see a series that is so smart, funny, and self-assured hit the stands, bending genres to fit its needs. While it's true that as a reader and critic I tend to place a high priority on ambition, and though Casanova ultimately did not wholely accomplish everything it attempted, it's still a remarkably strong effort by all involved and earns it's spot on the list.
Castle Waiting HC, by Linda Medley. Published by Fantagraphics Books.
Having gone through a number of publishers (including a lengthy stint self-publishing) and multiple formats, it's interesting to see that Linda Medley's Castle Waiting didn't hit a critical or sales 'breakthrough' until after it was published by Fantagraphics Books in their 2006 collection of more-or-less all of the material to date. I think it's because the series was an ill-fit for the world of floppy comics pamphlets and run-of-the-mill trade paperback collections. The lavish hardcover production and tome-like weight of Fantagraphics' collection added a much-needed gravitas to the proceedings, and encouraged readers to view the work in a different, and obviously more favourable light. While the last third of the graphic novel is definitely hurt by the constraints of the original serialisation of the work, the package as a whole holds up remarkably well, and has quite obviously spurred Medley to start writing for collection in her new series; a welcome change.
Death Note (series), by Tsugumi Ohba and Takeshi Obata. Published by Viz Communications, LLC.
Everyone I met in 2006 refered to this as the Crack-Cocaine of manga. Relentlessly plotted, beautifully illustrated, maddeningly compelling stuff. Volumes 1-7 of this series are a near-perfectly told suspense thriller, using the serialization/collection format to its utmost.  
Deogratias, by J.P. Stassen. Published by First Second Books.
Deogratias was the only graphic novel to move me to tears last year. It's a devestating portrayal of Rwandan genocide, and the level of artistry and sophistication in the storytelling makes it all the more affecting. When it came time to review this book I choked, I couldn't do it. Mostly because this book should be experienced, and I didn't feel anything I could say would have any bearing on it at all.
DC: The New Frontier: Absolute Edition, by Darwyn Cooke. Published by DC Comics.
Though it was originally published in 2004, Darwyn Cooke's epic period superhero piece didn't get the collection it deserved until the end of 2006, when the whole series was finally collected under one cover and expanded to include new key scenes. I know it seems a little strange, the way this list sandwiches a tale of Rwandan Genocide between a supernatural thriller and a brightly-coloured superhero epic, but books like The New Frontier help to remind me of the positive potential of mankind. I know that sounds kinda corny, but what are characters like Superman and Wonder Woman meant to be if not grand, inspiring icons? That's exactly what Cooke delivers here, and it's beautiful.
Dinosaur Comics, by Ryan North. Published at http://qwantz.com.
A secret joy I have in reading Dinosaur Comics is seeing Ryan North take the high-art snob argument AGAINST artistic craft to the Nth degree, every day of the week. Artistic Craft is so unimportant that he can just use the same stock-art every day for years and still tell funny, compelling little narratives with it. Put that in your pipe and smoke it, Frank Cho! Heh, seriously though, this is some pretty sublime stuff here, with a rythym and reward all its own.
Dork #11, by Evan Dorkin. Published by Slave Labor Graphics.
I'm kind of shocked that, not only did I not see this on many best-of lists, I didn't hear much about it at all after it had been released. The possibility exists that I was the only one who thought that this was the absolute funniest comic released to print last year, but that would be crazy. Dorkin reminds me a little bit of the lawyer in Chicago, he just gets up on stage and taps as hard as as fast as he can sustaining it to a crescendo in which the murderess goes free. Except Dorkin didn't walk away with the prize this time, which I find really, really wierd. All I can think of to explain it is a lack of overall visibility, and that sucks.
Dragon Head (series), by Minetaro Mochizuki. Published by Tokyopop.
Easily one of the best manga series being released in English, Dragon Head suffers from having consciously ugly (though exceptionally well-drawn) art and a dark and unsettling plot. It also got knocked out of the public discussion at the end of the year by the appearance of an earlier survival/horror manga, Drifting Classroom by horror master Kazuo Umezu. It's too bad because I do prefer Dragon Head and it's slow-reveal mystery plot to Umezu's Jenga of fuck-uppery, but with the release schedule slowing down dramatically, I'll still be able to talk about the last few volumes of this series on next year's best of list too. And the year after that.
Drawn & Quarterly Showcase Volume 4, by various. Published by Drawn & Quarterly.
Last year I had a bit of a crisis of conscience where I felt Sammy Harkham's short story in Drawn & Quarterly Showcase Volume 3, entitled "Somersaulting," was a truly exceptional piece of work, in an anthology that was otherwise enjoyable but inessential. This year I got over myself and am happy to count this as among the best works of the year, thanks to a short-story by Gabrielle Bell which I consider to be the best of her career (I liked this a lot more than the diary comics that Ware chose for BAC2007) and a surprising short biography by emerging cartoonist Dan Zettwoch (which actually WAS included in the Ware antho). The other contribution, a short by Martin Cendreda (whose work I enjoy) was also solid, making for an all-around winner of an anthology. I was disappointed not to see a volume 5 of this series in 2007.
Fun Home, by Alison Bechdel. Published by Houghton-Mifflin.
What can I say about this one that Time Magazine didn't when they named in the best book of the year in 2006? Not best comic, by the way. Best book. Granted, that issue with the stupid mirror cover was obnoxious as hell, but if it means that a talented, hard-working cartoonist like Bechdel can break through to the mainstream with a 1) gay 2) graphic novel 3) from a mainstream book publisher, then they can put as much foil on their covers as they like for all I care.
Get a Life and Maybe Later, by Philippe Dupuy and Charles Berberian. Published by Drawn & Quarterly.
A supreme effort by two genuinely nice fellows that I had the pleasure to meet last year, Get A Life collects several albums worth of stories from the French series Mr. Jean. These are fictions of course, but they're also stories of every day life. Love, loss, friendship, loneliness, it's wonderful and moving and tres francais. Beautiful art and colour, too. Then you get to read the story behind the stories in Maybe Later, a more sparingly drawn black and white autobiography by the two cartoonists and featuring the events that inspire and are inspired by the 'fictional' adventures of Mr. Jean (pronounced, by the way, as the French version of "John", as in Jean Valjean from Les Mis.). Both of these books failed to capture the public imagination upon their release, and I can only hope that those of you reading this will seek them out–they're utterly fantastic.
Huizenga, Kevin: Works of 2006. Published by Drawn & Quarterly, Fantagraphics Books, Centre for Cartoon Studies, self-published, etc.
Independent Cartoonist Kevin Huizenga had a banner year in 2006, as his early short stories were collected in the Curses hardcover from D+Q, and Fantagraphics Books released his Ganges #1 as part of the international Ignatz publishing effort. Kevin's work is narratively inventive and obsessed with the various ways that comics can conveny information; whether that's statistics, religion, emotion, or anything else for that matter. Huizenga continued to innovate in his ongoing series Or Else also from D+Q, in various self-published mini-comics, and even in a promotional brochure for the Centre for Cartoon Studies art-school entitled How to Think About Learning to Draw Comics.
Japan: As Viewed by 17 Creators, by Various. Published by Fanfare/Ponent Mon.
I've written extensively about this anthology already, but let me just say a collection of some of my favourite French and Japanese comics artists, paired with some wonderfully talented emerging cartoonists from those two countries, all creating comics on a subject of great personal interest… it's an obvious winner. The best manga release of the year (yes, even edging out Tezuka), and probably my favourite overall book of 2006.
Kramer's Ergot 6, by Various. Published by Buenaventura Press.
I like the Kramer's Ergot anthologies for the quality of work by known-commodities therin (Sammy Harkham's story was a highlight, this year), but also because they force me to stop and really consider the work I'm reading how I feel about it, something I rarely encounter in comics. Not the anthology I would come up with, and I'm quite happy with it because of that.
Mome (series), by Various. Published by Fantagraphics.
A frustrating anthology series that took several volumes to find it's feet, it was nevertheless filled with some fantastic comics shorts in 2006. The 2007 volumes on the whole though have been much more satisfying, with a heady mix of emerging talent and talented eurocomix creators.
Ode to Kirihito, by Osamu Tezuka. Published by Vertical, Inc.
Even after having read the 2007 release Apollo's Song by the author, a 'mature' work about sex and sexuality, Kirihito still feels like a more maturely-aimed and successful work. Genuinely surprising at times (the human tempura!?) and still marked by Tezuka's trademark melodrama, this is a handsomely produced book that sits quite nicely alongside the translated Japanese fiction that Vertical specialises in, and is a great example of the power and range of Tezuka's work.
Perry Bible Fellowship, by Nicholas Gurewitch. Published at http://pbfcomics.com/.
There's that 'sublime' again. PBF is a visualy ambitious and clever comic strip with a unique storytelling cadence. Really trying to sit down and write a "PBF-style" comic will show you exactly how difficult it is, and the high-degree of visual alacrity and twisted sense of humour combine into something that is unlike anything else being produced today, on a semi-regular basis even!
Phoenix (Series), by Osamu Tezuka. Published by Viz Communications, LLC.
As I mentioned a couple entries ago, Tezuka's works, however high their aspirations, are marked with a melodrama and humour that seek to make them as accessible as possible to the general public, but may undermine them in the eyes of more discerning and older readers here in North America. Phoenix is Tezuka's (unfinished) masterwork, and it brings all of his tics and strengths to the forefront of every volume. The cartooniness and the descent into fourth-wall-breaking slapstick, the marvelous background illustrations, the deeply-felt personal convictions that inform every story. Phoenix is the essence of Tezuka's manga creation, and every volume is a new window into his idea of what manga should, or could be. If that isn't worth reading, despite any hang-ups about 'cartooniness', I don't know what is.
Schizo #4, by Ivan Brunetti. Published by Fantagraphics Books.
Brunetti's journey through life and cartooning continued into Schizo #4, a collection of short strips primarily concerned with biography and autobiography. Brunetti is actively simplifying his cartooning style here and combining spare pen-and-ink with computer colouring for a bold, graphic effect that contrasts mightily with the strips that are partly or completely unfinished as the issue progresses. Schizo excels not only because of the material within, but also because of the picture it paints of it's own creator, beseiged by loathing and doubt.
Scott Pilgrim 3: Scott Pilgrim and The Infinite Sadness, by Bryan Lee O'Malley. Published by Oni Press.
Both the strongest and weakest of the series to date, Scott Pilgrim Volume 3 was nevertheless a little ray of sunshine for me in 2006. Despite working around comics 300+ days a year, it's rare to have a series come along that connects with people so deeply, that brings such utter and unmitigated joy to its readers. I read these with a giant goofy grin on my face from start to finish, and I imagine that's what everyone else who loves this series does as well.
Seven Soldiers (Series), by Grant Morrison and Various Artists. Published by DC Comics.
I said earlier that I value ambition highly… perhaps too highly… and nothing more ambitious has been published in superhero comics in at least the last 10 years as the Seven Soldiers series. Simultaneously a treatise on the nature of superheroes, the nature of storytelling, the reader's role in the story, and a rollicking adventure yarn, Seven Soldiers sought to explain the nature of the universes (both DC's and our own) in a whopping 30 semi-concurrently-released comics. Of course it failed, but it certainly did go out with a bang in one of the most satisfying and frustrating single-issue comics of the year, Seven Soldiers #1. As long as you'd read the first 29 parts, of course. The kind of comic that you can get lost for days in, and enjoyably so.
The Walking Dead, by Robert Kirkman and Charlie Adlard. Publshed by Image Comics.
You know, everyone talks about how Soap Opera is a bad thing, but this horror-themed extended character study is a strong piece of writing, perfectly served by its art. While the larger commentary it's making on society and the human condition is kind of nebulous at best (the "WE ARE THE WALKING DEAD!" speech in issue #24 was pretty damned cheesy), as a sustained narrative that explores 'real' people in a crisis sitution, it's a consistantly enjoyable read. Just don't tell the zombie fans that they're secretly reading a soap opera, it'd ruin everything.
We Are On Our Own, by Miriam Katin. Published by Drawn & Quarterly.
The last entry on this list but one of my top-five picks of the year, easily. Katin's first graphic novel on her and her mother's escape from the nazi occupation of Hungary during the second world war brings a fresh angle to the stories of hardship and peril that have come out of World War II, and her animated pencil renderings bring a lush, storybook quality pleasantly at odds with the harshness of the narrative (and occasionally changed-up to great effect). This is a graphic novel I've been waiting years for, ever since seeing the original art in Drawn & Quarterly's offices a long time ago. The finished piece is exactly what I'd hoped for, and I've spent a good year and a half now recommending this work to anyone who would listen.
–
So that's it, that's my favourite comics from 2006. I think it's pretty obvious where my taste differs with the esteemed Mr. Ware's, and where the boundaries of the BEST AMERICAN series butt-up against the realities of the North American comics publishing industry (hint: manga and euro comics), but all in all I'd put my list up against anyone's. But feel free to tell me how wrong I am in the comments section. :D
Tomorrow I'll scrounge up a list of honorable mentions that include worthy works like The Fate of The Artist, Vampire Loves, and more.
- Christopher