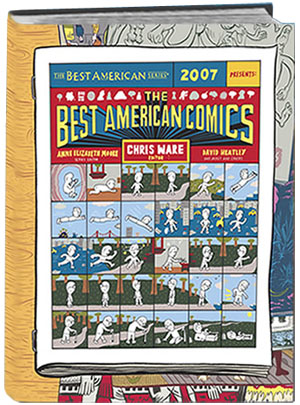 Hey there. I wrote a review of the Chris Ware-edited Best American Comics 2007 book this week, and I think it came out pretty well. In it, I was trying to walk a very fine line between respecting the vision and accomplishments of the people involved in that work, and looking at the larger North American publishing industry to see if, really, the book was indicative of what is on store shelves and what's "good". Over at Publisher's Weekly, Heidi has decided to obliterate that very fine line with a shotgun, and gives us one of the worst pieces of writing I've ever seen her put up on the blog. I understand her sentiments, but not only do I not agree with them I also think that she uses a series of outright untruths to bolster her arguments, which are muddy at best. 50% of the comics in The Best American Comics 2007 are not as good as a work published 10 years ago? Thanks for that, that's very relevant.
My friend Cameron Stewart pops up in the comments section (first post!) to agree with Heidi straight-away, and although I was reading Heidi's post with a growing sense of horror at the outlandishness of her statements (Really, Heidi? None of the literati are creating lasting characters or fiction? Then what the hell was Wimbledon Green? Which is excerpted in BAC2007 by the way…), seeing Cameron's response (as well as that of Jennifer De Guzman at Slave Labor Graphics a little further down) puts the whole thing into perspective for me; no one likes to feel unappreciated, particularly not in what they believe to be a systematic way. But this whole post is symptomatic of the absolute worst, stupid, old-school "small-pond" mentality as anything I've seen on the internet in years. The complete narrative ouevre of Seth and Chester Brown has nothing to do with the critical, fan, or sales response to Johnny The Homicidal Maniac or The Other Side. If someone else's artistic output is the recipient of critical or commercial success or acclaim, that is not a shot at anyone else's work (except in the case where it is a direct and obvious shot at someone else's work). You don't like Houghton Mifflin, Anne Elizabeth Moore, and Chris' Ware's take on the best comics of 2006? Hey, neither did I, but at least I didn't decide to blame a mysterious cabal of shadowy autobiographists/Art Spiegelman for it.
Heidi makes a passionate argument, and if the trackbacks in her comments section are any indication, there's a hell of a lot of agreement about it already (and more in the wings). But passionate arguments aren't necessarily intelligent ones either, and if I sat down and disarmed every single fallacy in this post I'd look like the world's biggest asshole. Sadly, that role falls to poor Tom Spurgeon in the comments section, doomed to be the voice of reason which sets him firmly against more-or-less every other commenter.
What a train-wreck.
- Christopher