Impressions of Odaiba: An artificial island set in the Tokyo Bay, Odaiba, to me, felt like a very calculated escape from the rigours and density of areas like Shinjuku (home of Tokyo Municipal City Hall) or Ginza ('old Tokyo'). It has the feeling of a massive theme-park, incorporating malls, rides, and bonified attractions. While much of our trip to Japan felt very specifically accomodating to tourism, Odaiba felt very much like a place for the locals to hang out and visit, particularly on a weekend. It also had a considerably more Western feel than many of the places we visited, thanks to it's "box store" archetecture, wide streets, and very deliberate-feeling street layout.
Our first stop on the way to "Good times island" was Asakusa, a lovely area of town that, again, felt like actual people lived there. Japan's transit system (as I may have mentioned) is awesome, and there are regular (and quick!) trains that head to Odaiba island regularly. But for our approach, we heard about a special little water-transport that would be worth investigating. Since we had two hours to kill before or trip, I figured we'd investigate the area. Right across from the ferry dock is the golden headquarters of Asahi (they make drinks, but are solely known in the west for their dry beers), and next to it is a building with a golden "flame" on top. Yeah.
Also, the water is not normally that sort of hideous brown colour. Because of the hurricane a day or two before, the mud at the bottom of most rivers and lakes was dredged up and moved around a bit.
Asakusa ("ah-sah-ku-sah") is home to a the famous Senso-ji temple. The outter wall surrounding the temple is the Kaminarimon Gate (shown here) with its giant celestial statues and even bigger lantern.
The path leading from the gate to the temple is a large covered shopping concourse. You can sort of see how it evolved from traditional shops and stalls into its current form, it's kinda neat. They sold everything there too, lots of souvenirs and food and stuff.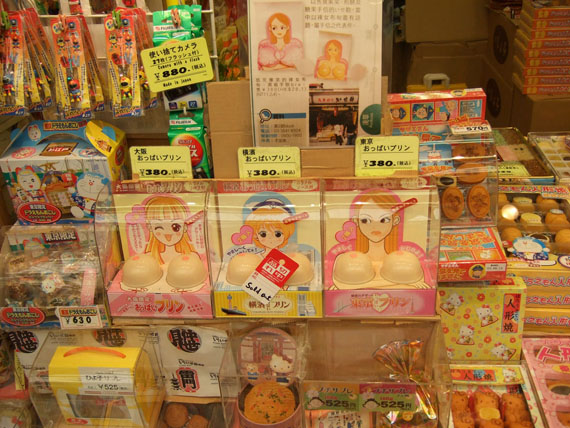 And boobs too.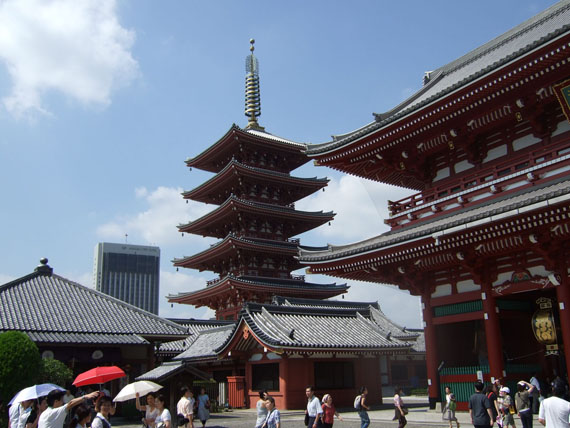 Pagoda!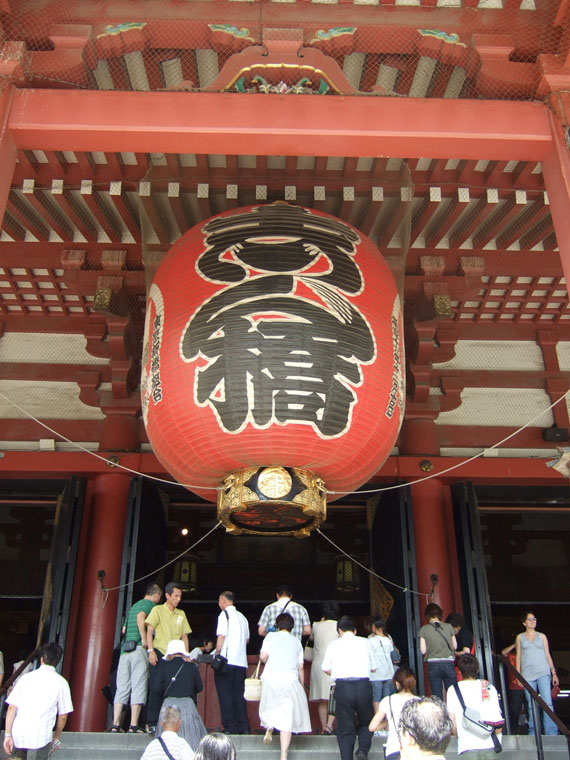 This was our first real encounter with old things in Japan, and it was fascinating to see the tug-of-war between contemporary and historical. Clearly it is important that these sorts of sites are preserved, but it seemed just as important that they be used and interacted with. Giant statues, but behind fencing. A huge historical walkway draped in retail stores. I'm really conflicted about this treatment, but at least I got to experience some lovely old temple and the grounds.
Then we headed back to catch our boat–a ferry custom designed by Galaxy Express 999 and Captain Harlock creator Leiji Matsumoto! The 'Himiko' water bus runs between Asakusa and Odiba on the Sanida River, and when I heard that we could ride this instead of the subway to our destination? No contest.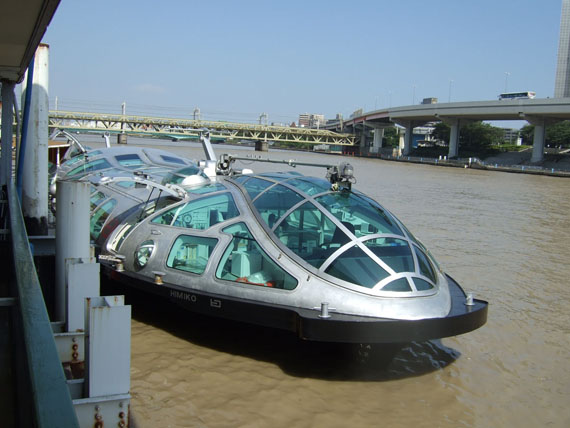 The inside of the ship was lovely but unspectacular, and it's too bad they couldn't find a way to integrate Matsumoto's characters (who narrated our trip down the river on loudspeakers) into the trip. Still, it was a very civilized way to travel, and short of adding a little more seating I'd recommend this trip as a wonderful way to approach Odaiba.
The ferry dropped us off on… the beach! Yes, that's right, Tokyo has a beach. …don't go in the water.
The bridge from Tokyo to Odaiba.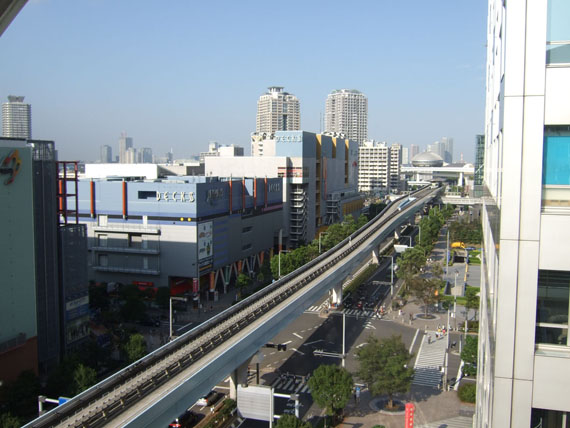 Right on the beach is the massive shopping complex DECKS. It's wierd, seemingly comprised more of big non-shopping stuff than what you'd normally think of when you think of a mall. There's a giant Sega-themed arcade called "Joyopolis", a sports-themed amusement area called "Muscle Park" and of course "Nostalgia Town", a loving recreation of Showa-era Japan, the period of time between the end of WWII and the economic crash in the late 1980s.
Nearly 50 years of history are compressed into a sprawling level of a mall, right down to a recreated train station.
A child's room perfectly preserved, with a very modern youngster sitting out front.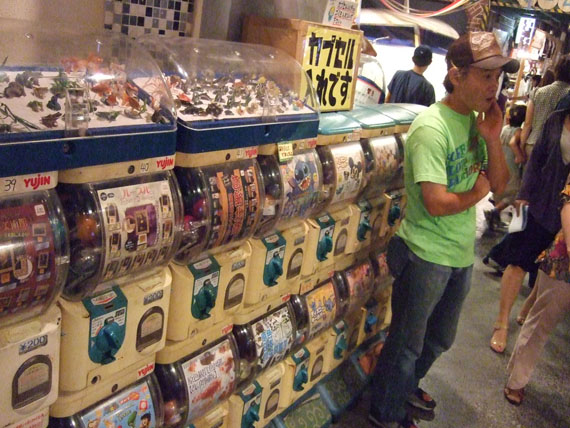 Older Gatcha machines, repaired and retro-fitted, but filled with recreations of toys from the time-period.
Several stores featured old-timey candy.
The most beautiful Candy I'd seen. I picked up some of this for gifts. :)
Classic Nintendo crap (and some new Nintendo crap as well). The Nintendo trading cards were going for a shocking ammount of money.
Did I mention that there was a booth selling anime cels? And I bought one? Featuring Tezuka and Astro Boy? And it cost $15? FIFTEEN DOLLARS.
Chris Notices Comics Culture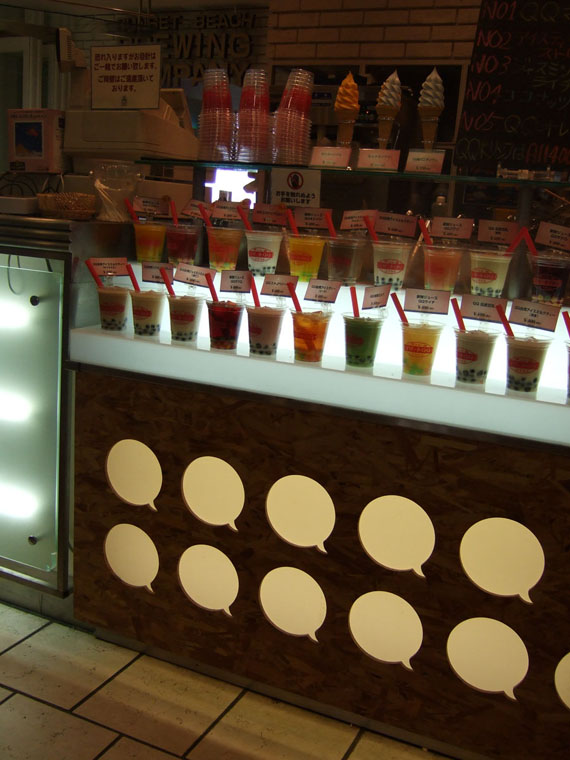 This cold drinks stand incorporated word balloons into its design. Meanwhile, the image to the right there is a pictographic narrative banner two or three stories high that told you about how good a time DECKS really is!!! Comics and their iconography seem to be integrated into much more of every day living than they are here in North America, and the implication is comics are simply ubiquitous in the culture–you wouldn't catch a Japanese national photographing the front of a cold drinks stand for no reason.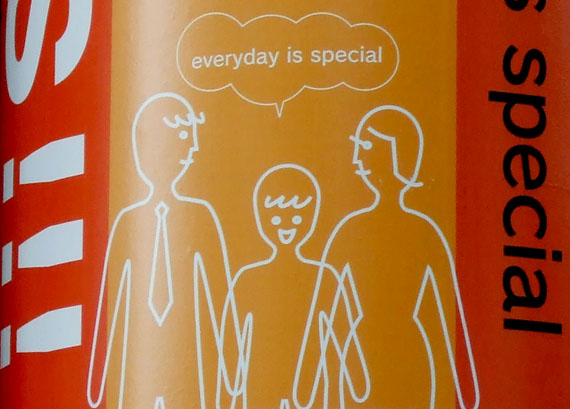 You said it, buddy!
Actually, heh, we visited one more store inside the DECKS complex: Condomania! This is the best thing we saw: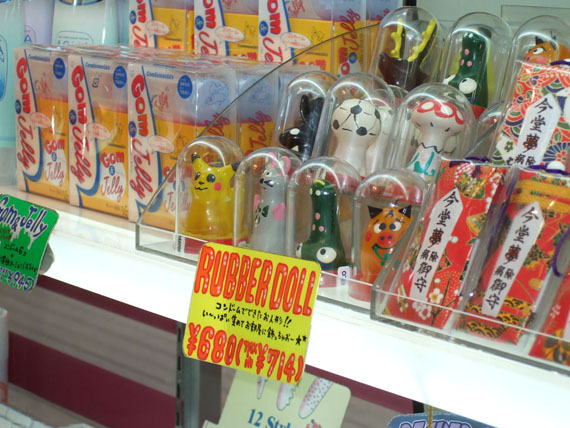 Yeah, that's right. condoms in the shape of monsters, soccer balls, and Pokemon. Japan.
I did want to mention that there really are amusement park rides on Odaiba.
One of the most distinctive-looking buildings in all of Japan is the Fuji TV headquarters building, which is located on Odaiba. The erector-set construction and massive suspended sphere are incredibly magnetic, and add to the over-all futuristic feel of the island.
The ground-level is the main entrance for the people who actually work in the building, but the multi-level great-glass-escalator brings visitors up to the observation deck level.
The main deck features a themed Fuji TV store that carries all kinds of stuff from there various shows. We didn't go in because it was absolutely packed, but I'm just realizing that Fuji TV produced IRON CHEF, one of my favourite TV shows of all time… There might have been cool Iron Chef stuff in there. :(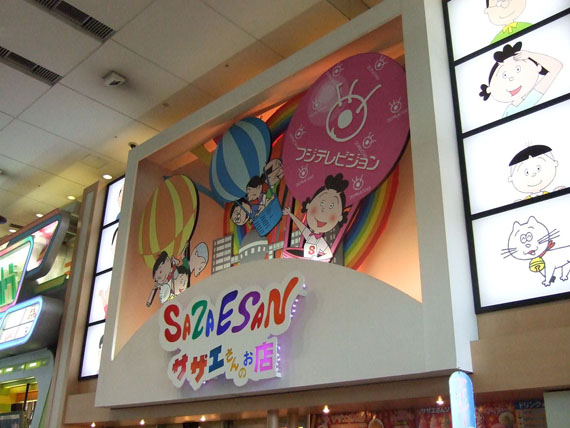 Also of note? Sazae-san, the gentle humourous Japanese comic strip has been popular for decades. In its animated incarnation, it rates its own large store in the Fuji TV complex, also filled to the brim with shoppers.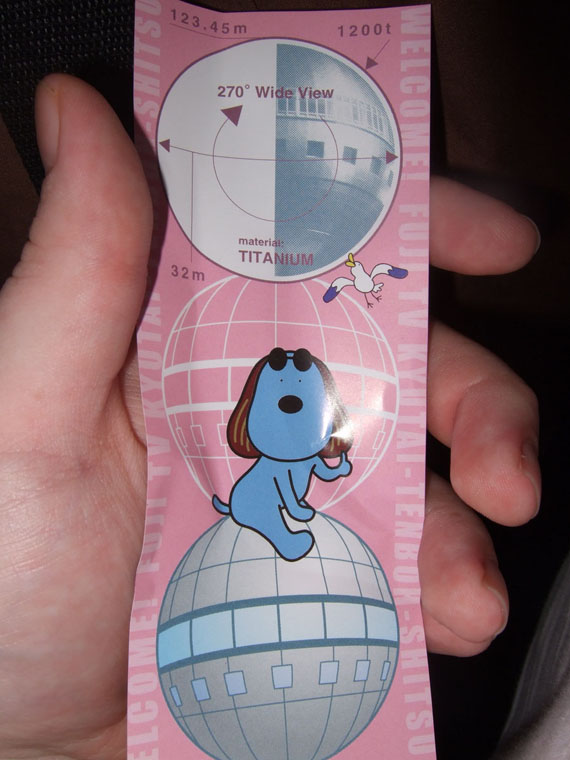 But we haven't stopped ascending. We handed our mascot-themed tickets to the lady, who took us right into the sphere itself…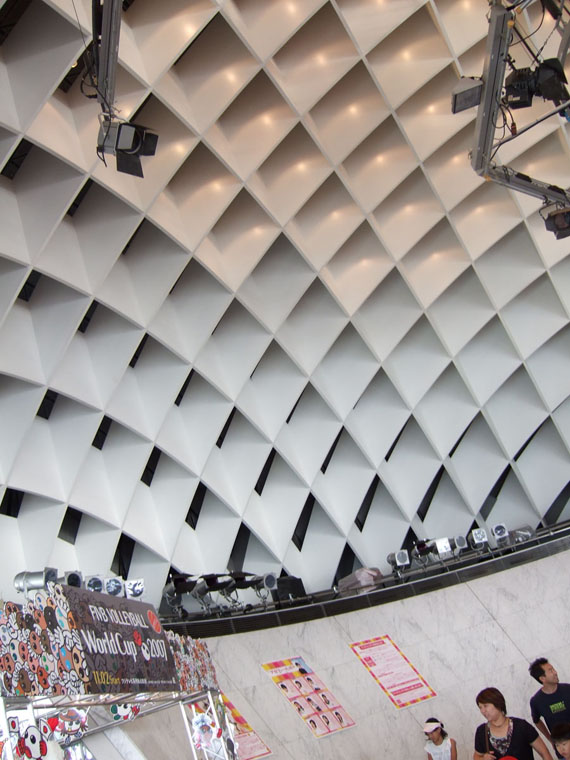 The inside of the sphere features a 360 degree view, and…
…the actual set of a show! They also had a demo set up, showing how green screens worked that you could try out.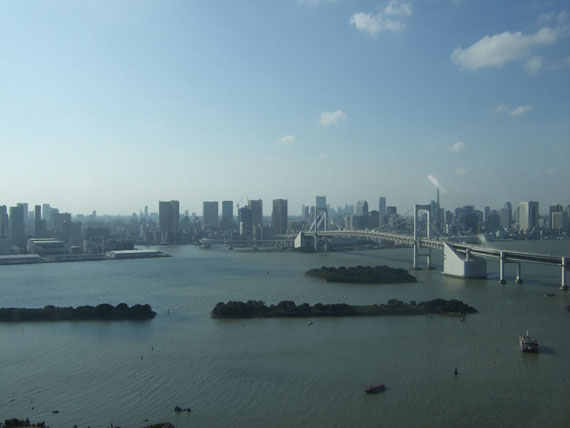 Did I mention that Odaiba had a scale model of the statue of liberty?
We hopped back on the tram that circled the island, on our way to a mysterious shopping centre I'd heard about.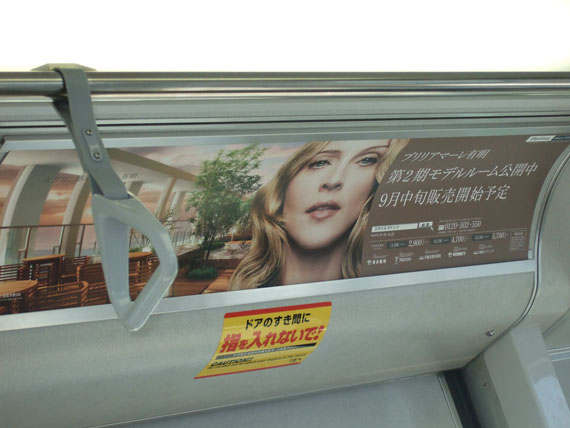 Madonna is EVERYWHERE, by the way. I couldn't even figure out what she was meant to by advertising, except MADONNA.
We arrived at our destination: VENUS FORT. Finally, a shopping centre just for ladies. Sure, it looks like a giant hideous warehouse on the outside, but on the inside?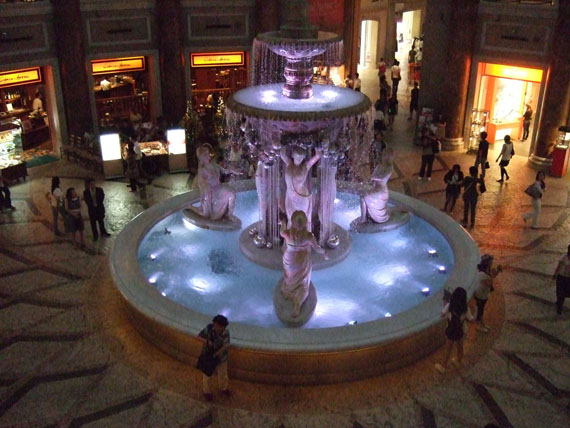 It was done up like a sort of faux-Italian street, complete with elaborate lady fountain in the centre.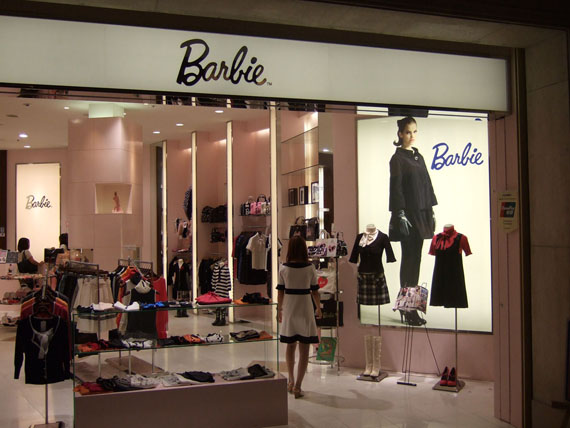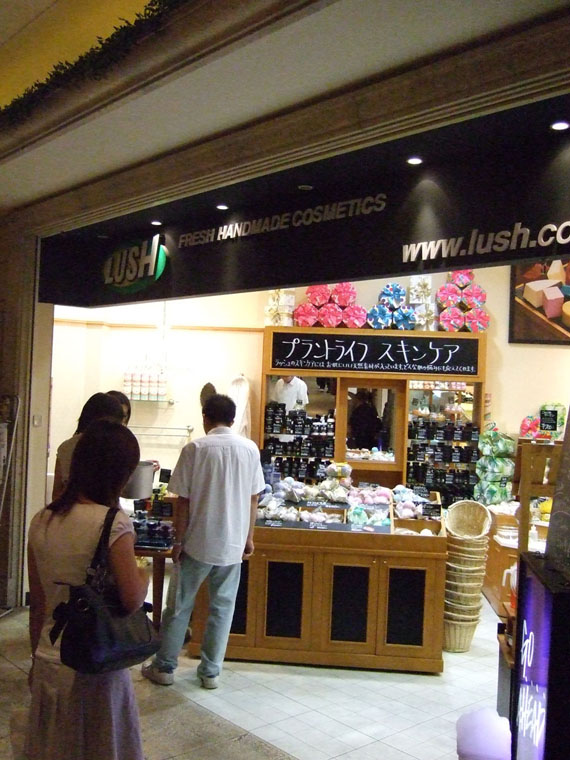 What faux-Italian, women-themed mall would be complete without an exhibit of dolls? Yeah, we stumbled into an exhibit of rare BLYTHE dolls.
I don't know anything at all about these dolls, but I do know that fans of them are intense, dedicated, and passionate.
And that this exhibit of rare dolls probably would have made their heads explode.
No photos, of course.
But what to do if you've got too much testoterone for Barbie-branded clothing, lush cosmetics, and a doll-show?
Head to the car show, across the way. A giant room full of rare cars.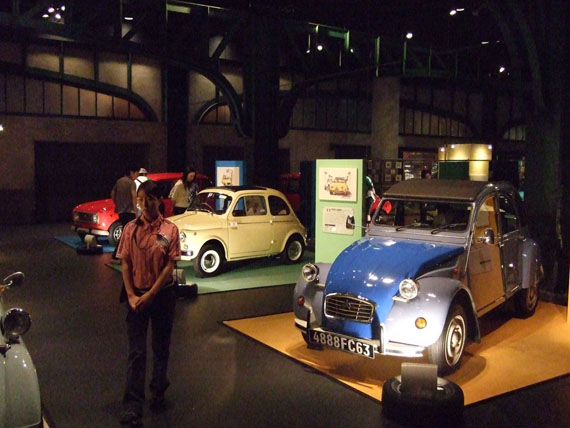 All Andrew could say was "What the hell? Who PAYS for all of this? What IS this?" over and over again. It was really, really weird.
The second and third floors of Venus Fort are for the ladies, but actually, the first floor is called VENUS FORT FAMILY, and features a few non-lady oriented stores. My favourite store, and probably my fav in all of Japan, is Village Vangard.
http://www.venusfort.co.jp/shop.cgi?sid=193
http://www.village-v.co.jp/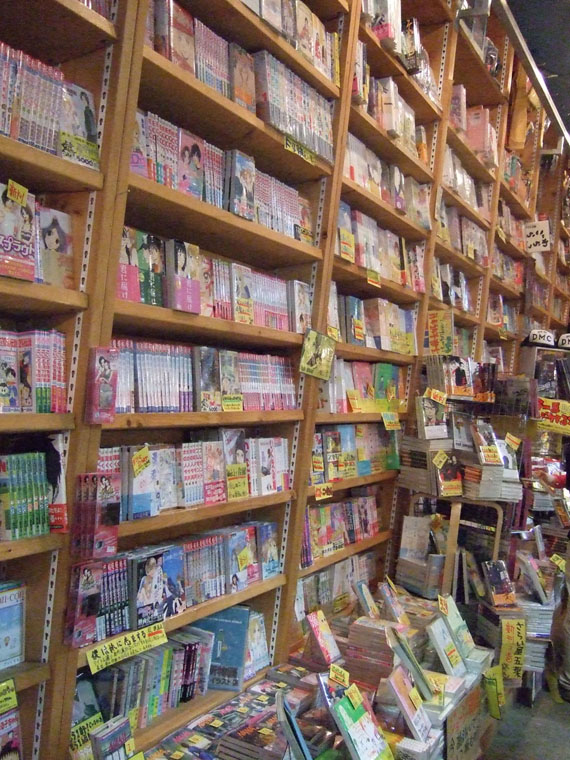 Village Vangard is called an "exciting bookstore" and I couldn't agree more. It focusses primarily on manga and art books, but takes a very cultivated, heavily boutiqued approach to the material it stocks. Everything about it is absolutely awesome, including lots of hand-written recommendations, excellent fixtures, energetic staff, and awesome, awesome themed or 'boutique' displays.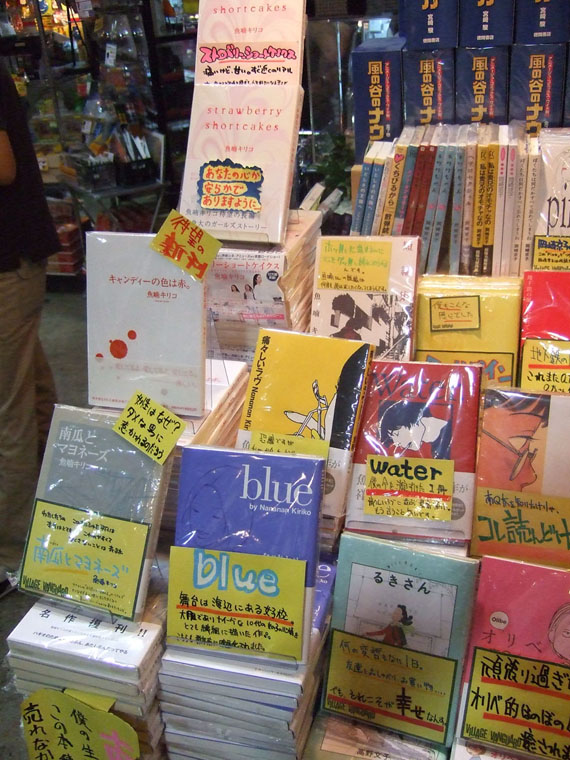 First up is a display of manga by Kiriko Nananan.
Then, a giant stack of the just-released box set of Hayao Miyazaki's manga classic NAUSICAA OF THE VALLEY OF THE WIND, for the bargain-basement price of about $25 for all 7 volumes.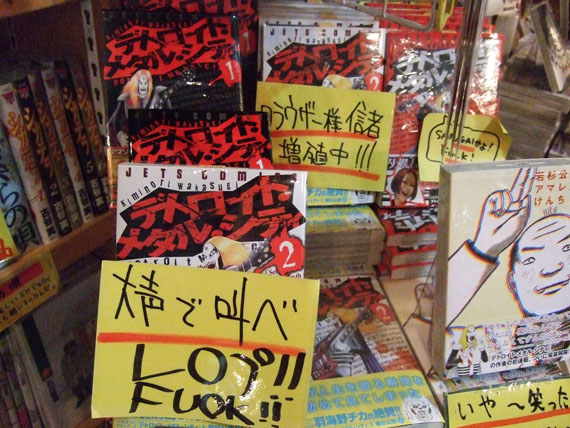 Hand-written FUCK!! on a sign? Probably an awesome manga.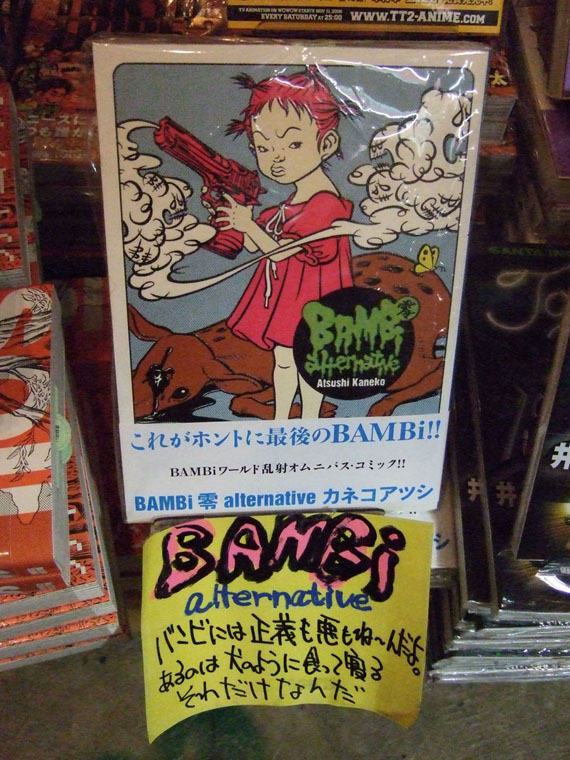 An alternate take on the popular series that's been discountinued by its North American publisher.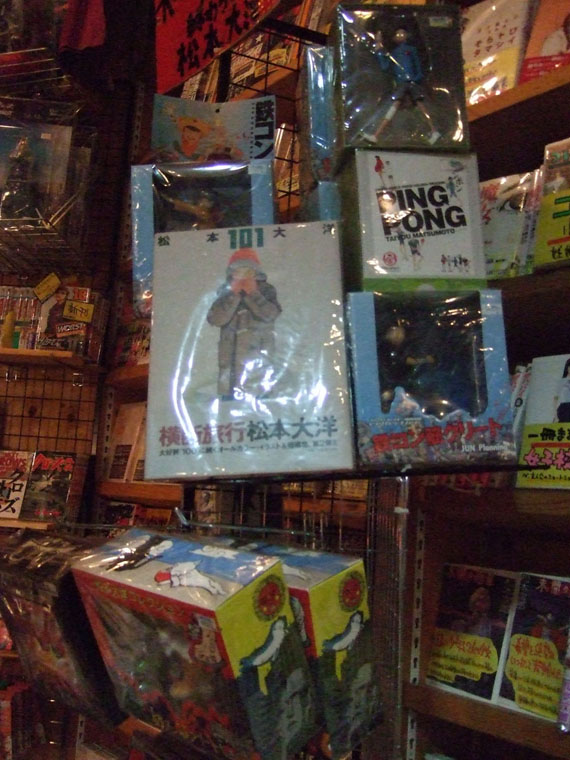 Two pictures showing a huge vertical display of Taiyo Matsumoto's work and toys based on it.
Damn, the Tokyo Tribes manga is bling in Japanese.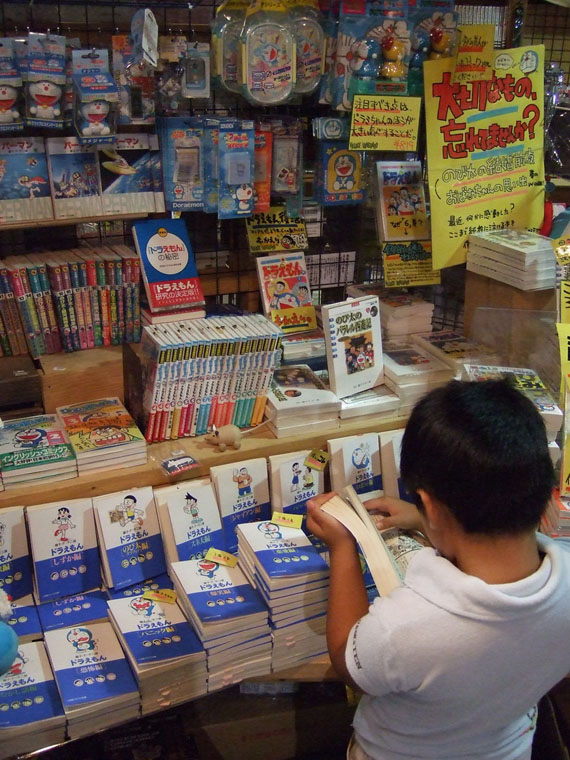 It's the Doraemon boutique!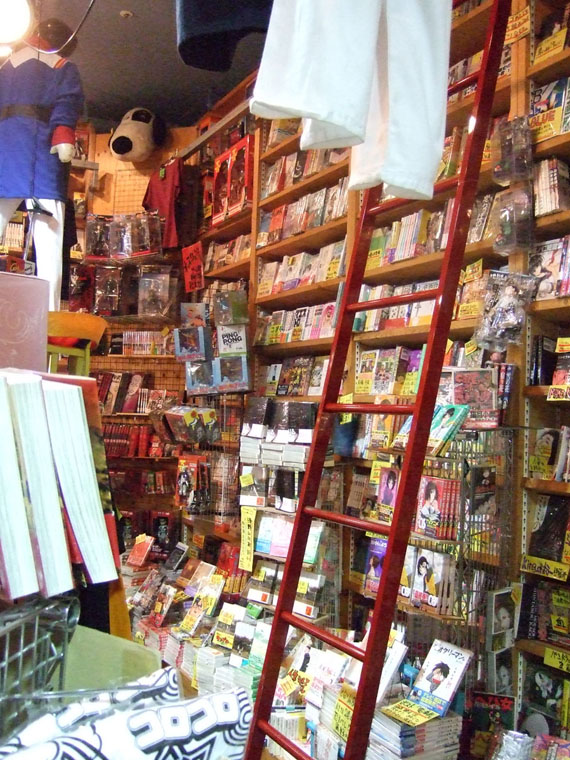 Kids books.
Mmmm. Art books.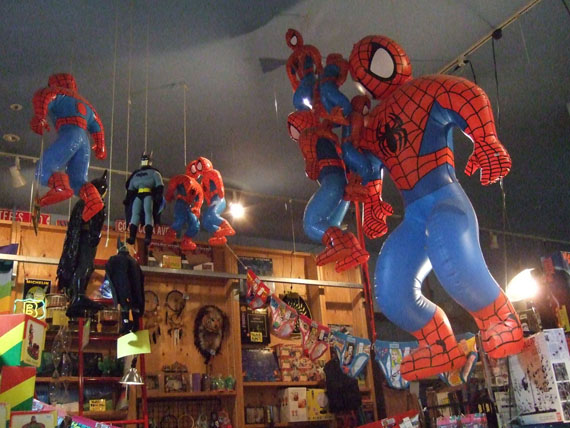 Inflatable superheroes and underoos. No actual comics though.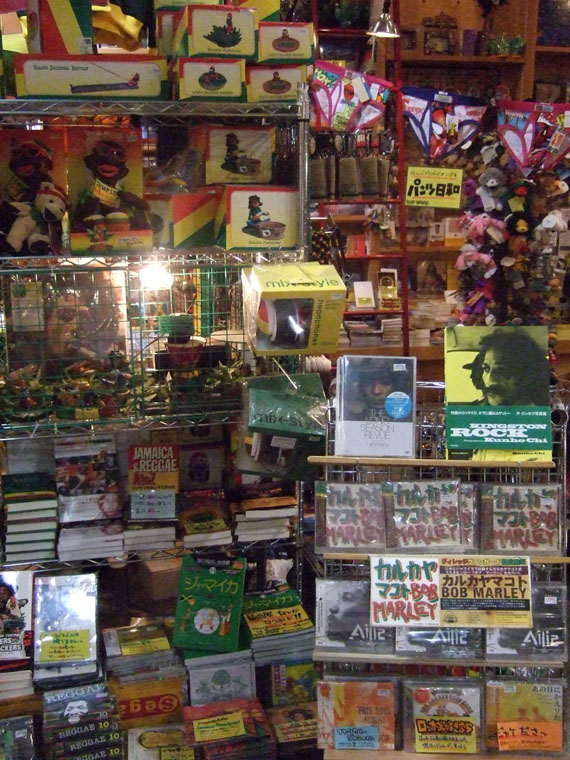 The reggae display.
The Smurf Display.
Remember this giant face from when we were in NAMJATOWN? Apparently it's like, a thing, called "The Mouth Of Truth". This is an official recreation of the original stone face, sent over as a gesture of good will from italy. It lives in the VenusFort mall.
And with that, we bid the lovely Venus Fort goodbye.
After Venus Fort, we headed to our rest-stop for the evening, a funky little place called "Ooedo Onsen Monogatari". Onsen are Japanese-style baths where you sit around in hot water, usually spring-water, whilst naked (!) and relax. This particular onsen is more like an onsen theme-park, made-over to look like old timey Japan. It features the baths and all that, but also a big area with restaurants, bars, midway games, and other entertainment. It's a lot of fun actually, and a much more easy-going way for westerners to acclimate themselves to the particularities of Japanese style public bathing. Luckily for all of you reading, cameras weren't allowed in the bathing areas, but I was able to snap a picture of me decked out in my Yukata at one of the restaurants.
We actually stayed overnight in the onsen, as they provided large public sleeping areas including tatami rooms and big rooms with comfy reclining chairs with their own teevees. It's a pretty unique experience, and something I can really imagine happening in North America. Anyway, the onsen was awesome, and highly recommended :)
The next morning we got up and made our way back to our host's house for lunch and a day out on the town, but not before I bought a pair of underwear from a vending machine… unused, of course, because who wants to wear the same undies two days in a row? Japan: They have everything in vending machines.
- Christopher