Shannon Gerard at TCAF 2007. Picture by Blake Bell.
Visitors to the 2007 Toronto Comic Arts Festival may be familiar with the works of cartoonists Shannon Gerard and Stef Lenk. In addition to both cartoonists (multi-disciplinary artists, actually) launching brand new comics as part of the lead-up to the festival, they also had one of the most interesting displays at the event. Comprised of a life-sized sculpture implying the classic board-game OPERATION and knitted and crocheted pairs of boobs and a penis' & testicles (alongside promotional images shown here), these pieces (and the brand new books that accompanied them) sat amongst all of their other comics work, and the cartoonists themselves were set-up across from Top Shelf and at an all-ages event with nary a peep of trouble. I did a double-take myself when I saw the handsomely-produced member hanging on the wall at the show, but then I've already dealt with my own fear of cock… I thought it was a great display.
Apparently at York University in the North of Toronto? That cock-stuff don't fly.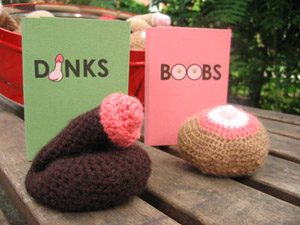 According to BlogTO.com, after a complaint by an anonymous YorkU professor a window display featuring the work of Gerard and Lenk was removed from the York University Bookstore. The display was promoting both the works themselves and a gallery display of art from both Lenk's and Gerard's projects, and while the work is certainly provocative, I don't think anyone expected this reaction.
Although it's not mentioned at BlogTO, Shannon Gerard is actually a YorkU alum and may even have taught there, I know that she sat on the TCAF 2005 Comics Academia panel alongside folks like Bart Beaty and Phoebe Gloeckner. I think it's important that this material not be characterized as the work of a University student still 'finding' themselves, particularly because Gerard's work is quite accomplished and even popular here in town. Also interesting? A version of the display featuring all of the same components hung in the window of bookstore Pages, right downtown on Toronto's busiest street (and at one of our busiest intersections) for weeks without any notable incident.
I don't mean to keep stealing all of the good bits from the BlogTO article, but let's tie the whole thesis together, shall we:
"Although no one knows if it was the nudity or the crocheted Boobs and Dinks, Chhangur suspects, "it was the piercing on the crocheted penis on the cut out male figure and the open discussion about testicular cancer. Breast cancer seems socially accepted as is the depiction, (real or crocheted) of breasts but not penis' or testicular cancer. Most of the complaints came from grown, white, heterosexual, men.""
- BlogTo.com
Huh, how about that? Where have I heard about ostensibly straight white dudes having a problem with artistic depictions of male genitalia before?
Anyway, let's keep it positive. Why don't you go and check out Shannon Gerard's site at http://www.shannongerard.org/, and Stef Lenk's site at http://steflenk.com/. Both are solid artists with excellent comics projects, and it's nice to have an excuse…despite the unfortunate nature of said excuse…to link them.
- Chris