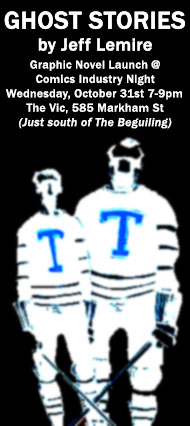 This Wednesday marks the return of Comics Industry Night at The Victory Cafe, just down the street from The Beguiling at 585 Markham Street here in Toronto. It's a chance for the city's burgeoning comics creative community to get together and socialise, maybe even network a little. It's usually a fun time.
We also like to spotlight the work of a local creator during these events, and for All Hallows' Eve we couldn't think of a more appropriately titled book than Jeff Lemire's GHOST STORIES, the second in his Essex County trilogy, which has been very well-received. Jeff is going to be doing a short reading from the third book in the series, giving all involved just enough time to duck in for a drink, a great comic, and a little schmoozing before hitting the town for the other spooky goings' on.
Hope we'll see you there!
- Christopher
(P.S.: It's on the second floor.)
.
.
.
.
Edit to fix the formatting problem…