The following comics and graphic novels (and things) are scheduled to ship to The Beguiling Books & Art in Toronto, Canada. All items may not arrive at all retailers at the same time, but if you see an item you want listed below, it's probably at least worth asking about.
Speaking of which, Diamond is not filling our LOEG order, as anticipated. Will we have copies Wednesday? Who can say. :)
Chris's Highlights:
JUN070172 ALL STAR SUPERMAN #9 2.99
That's pretty awesome. Even though it's a June code, I wasn't expecting another All Star Superman for a long time. That last storyline with Bizarro was fantastic, and I can't wait to see how Morrison and Quitely wrap the whole thing up over the next four issues.

AUG073995 ASIAN BEAT GN (MR) 9.99
"A negligent mother, an affair, a broken family, domestic abuse, and drugs are among the subjects in these Goth short stories that revolve around the lives of teenagers with complicated problems." - This sounds pretty great in a car-crash sort of way. The title just makes it so much better/worse as well.
MAY073664 COURTNEY CRUMRIN AND THE FIRE THIEFS TALE 5.95
Yay! As much as I appreciate Ted Naifeh as a diverse and multi-talented creator (with bills to pay), I kind of wish someone would drop a pile of money on him to just come up with new Courtney Crumrin stories for the next four or five years. Build up a nice library of fantastic, spooky material for kids (that adults enjoy too!).

AUG073984 FRUITS BASKET VOL 18 GN (OF 22) 9.99
I feel kind of bad that I stopped reading this after the second volume. It's so popular I feel like I should at least know what's going on, and reading it through Wiki feels like cheating.
AUG073419 GARTH ENNIS CHRONICLES OF WORMWOOD HC (MR) 27.99
Was this any good? It sold really well for us but I never really read any of it.
APR073696 PALESTINE HC 29.95
One of the weird things about working at a comic store, or having worked at a comic store for 13 years now, is that you're always kind of surprised by what you DON'T own, rather than what you do. I've read Palestine at least twice, met Mr. Sacco a few times, and have hand-sold at least a couple hundred of these books. But I went to go and grab it from my bookshelf the other day and it turns out I don't have it. I'll be remedying that this week with this HC, which looks absolutely gorgeous, is stuffed to the gills with new material, and is really an essential for any bookshelf, being one of the first long-form journalistic works in the comics medium.
JUN073779 SCOTT PILGRIM VOL 4 SCOTT PILGRIM GETS IT TOGETHER 11.95
I turned down the Advance Reader Copy, I haven't read any of the reviews or interviews, and except for a 4 or 5 page sequence that I actually performed live one day (that was a lot of fun) I have no idea what to expect, more or less, with this one. I can't wait. :)
AUG072225 WORLD WAR HULK #5 (OF 5) WWH 3.99
I can't get over how good this series is, when so much of what Marvel publishes these days is so terrible. Here's hoping that they don't cop-out on the ending.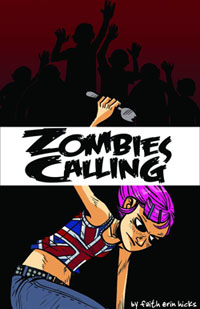 SEP073317 ZOMBIES CALLING GN 9.95
Canadian Faith Erin Hicks releases her first original graphic novel this week, and sure, it's about zombies, but there are actually lots of good zombie books coming out right now, even if you're not one of those hardcore WWZ-types. I like Faith Hicks' work a lot, she's been doing this great webcomic called ICE online for (I think…) a few years now, and she's been around 'the scene' longer still. I read a preview of this one somewhere and the dialogue, humour, pacing, and especially the art are all really excellent. If you get a chance, give this one a look because I think it's going to be something of a sleeper hit, and I'm sure that the author and the publisher (Slave Labor Graphics) would rather it was an out-and-out spectacular hit, you know what I'm saying? Anyway, if you're a Scott Pilgrim type looking for something else to pick-up this week, this is my pick for you.
…
Alright, like I said, League is also shipping this week, but only to U.S. Stores. I hope that as customers outside of the U.S. that you won't be pissed off at your local comic book guy or gal, the situation really is out of their hands. If Scott Dunbier, arguably the most beloved guy at Wildstorm, lost his job over defending this one and trying to get it into the U.K. and Canada, then believe me, there's nothing that the poor schmuck behind the counter at your local shop can do. Just try and be happy and understanding, make the world a better place, etc.
And with that, the full shipping list is behind the cut: SEP070267 100 BULLETS #86 (MR) 2.99
JUN073605 AFTER SCHOOL NIGHTMARE VOL 5 GN (MR) 10.99
SEP071948 AFTER THE CAPE II #1 SEASONS IN CHANGE (OF 3)(C:0- 2.99
JUN070172 ALL STAR SUPERMAN #9 2.99
SEP072180 AMAZING SPIDER-GIRL #14 2.99
SEP072282 AMAZING SPIDER-GIRL VOL 2 COMES THE CARNAGE TP 13.99
JUL072214 AMAZING SPIDER-MAN OMNIBUS VOL 1 HC (O/A) 99.99
JUL072215 AMAZING SPIDER-MAN OMNIBUS VOL 1 HC VAR ED (O/A) 99.99
SEP073671 AMERICAN BORN CHINESE COLLECTORS ED HC (C: 0-1-2) 29.95
SEP073361 ARCHIE & FRIENDS #114 2.25
SEP073532 ARMY OF DARKNESS VOL 5 ASH VS THE MONSTERS CAMMO E 19.99
SEP073533 ARMY OF DARKNESS VOL 5 ASH VS THE MONSTERS REG ED 19.99
AUG073995 ASIAN BEAT GN (MR) 9.99
SEP073551 ATHEIST (DP) #4 (RES) 3.99
SEP073914 ATOMIC ROBO #2 (OF 6) 2.95
AUG072210 AVENGERS INITIATIVE #7 2.99
SEP073761 BADGER BULL 3.99
AUG074074 BASARA VOL 25 TP (C: 1-0-0) 9.99
AUG070205 BATMAN AND THE OUTSIDERS #1 2.99
AUG070206 BATMAN AND THE OUTSIDERS VAR ED #1 PI
SEP070227 BATMAN STRIKES #39 2.25
SEP073364 BETTY & VERONICA DOUBLE DIGEST #156 3.69
SEP070169 BLACK ADAM THE DARK AGE #4 (OF 6) 2.99
SEP073299 BLACK DIAMOND #5 (OF 6) 2.95
SEP070164 BOOSTER GOLD #4 2.99
SEP070079 BPRD KILLING GROUND #4 (OF 5) 2.99
AUG072002 BRIT #3 2.99
JUL070029 BUFFY THE VAMPIRE SLAYER PANEL TO PANEL TP (C: 0-1 19.95
SEP070152 CAPTAIN CARROT AND THE FINAL ARK #2 (OF 3) 2.99
SEP072187 CAPTAIN MARVEL #1 (OF 5) 2.99
SEP070231 CARTOON NETWORK ACTION PACK #19 2.25
AUG073987 CHIBI VAMPIRE VOL 6 GN (OF 11) (MR) 9.99
SEP071947 CIRCLE #1 2.99
SEP072190 CIVIL WAR CHRONICLES #5 4.99
SEP070143 COUNTDOWN TO FINAL CRISIS 24 2.99
MAY073664 COURTNEY CRUMRIN AND THE FIRE THIEFS TALE 5.95
AUG074096 DARK PRINCE VOL 1 GN (C: 0-1-2) 12.95
SEP070273 DMZ #25 (MR) 2.99
MAY073386 DRAGONLANCE CHRONICLES VOL 3 ROBERTS CVR A #5 (OF 3.50
AUG074358 ES VOL 19 FALL 2007 (C: 1-1-3) 23.99
AUG070308 EX MACHINA VOL 6 POWER DOWN TP (MR) 12.99
SEP072285 EXCALIBUR CLASSIC VOL 4 CROSSTIME CAPER BOOK 2 TP 24.99
SEP070274 FABLES #67 (MR) 2.99
AUG072295 FANTASTIC FOUR NEW FANTASTIC FOUR PREM HC 19.99
JUL072216 FANTASTIC FOUR OMNIBUS HC (NET) (O/A) PI
JUL072217 FANTASTIC FOUR OMNIBUS HC VAR DUST JACKET (NET) (O PI
AUG074084 FIREFIGHTER DAIGO OF FIRE COMPANY M VOL 20 TP (C: 9.95
AUG074085 FLAME OF RECCA VOL 25 TP (C: 1-0-0) 9.99
AUG073984 FRUITS BASKET VOL 18 GN (OF 22) 9.99
JUL073775 FURRLOUGH #176 3.50
AUG073580 GARDEN DREAMS GN 12.95
MAY073150 GARGOYLES #6 3.95
AUG073419 GARTH ENNIS CHRONICLES OF WORMWOOD HC (MR) 27.99
SEP070258 GEN 13 #14 2.99
SEP073766 GENE SIMMONS ZIPPER #1 3.99
AUG073991 GET BACKERS VOL 21 GN (OF 37) (MR) 9.99
SEP072194 GHOST RIDER #17 2.99
SEP072193 GHOST RIDER ANNUAL #1 3.99
SEP071963 GIRLS COMPLETE COLLECTION DLX HC (MR) (C: 0-1-2) 99.99
AUG073999 GOOD WITCH O/T WEST VOL 1 NOVEL (OF 5) 7.99
AUG074361 GOTHIC & LOLITA BIBLE VOL 25 (C: 1-1-3) 25.99
AUG074362 GOTHIC LOLITA & PUNK BRAND BOOK SUMMER FALL (C: 1- 32.99
SEP073825 GRAPHIC UNIVERSE ARTHUR AND LANCELOT HC (C: 0-1-2) 26.60
SEP070155 GREEN ARROW BLACK CANARY #2 2.99
SEP070156 GREEN ARROW BLACK CANARY VAR ED #2 PI
AUG074086 HAYATE COMBAT BUTLER VOL 5 TP (C: 1-0-0) 9.99
AUG070018 HELLBOY ANIMATED VOL 3 THE MENAGERIE TP (C: 0-1-4) 6.95
AUG073468 HERITAGE BOOK SHOP ORIGINAL ART CATALOGUE (NET) 17.99
SEP074114 HI FRUCTOSE MAGAZINE QUARTERLY #6 (C: 0-1-2) 6.95
AUG073583 HIDEYUKI KIKUCHIS VAMPIRE HUNTER D VOL 1 GN (MR) 12.95
SEP072196 HOUSE OF M AVENGERS #1 (OF 5) 2.99
JUL074176 HTDM SKETCHING MANGA STYLE VOL 3 (C: 0-1-4) 29.99
SEP072199 IRON MAN POWER PACK #1 (OF 4) 2.99
SEP070197 JLA CLASSIFIED #46 2.99
AUG070276 JLA ULTRAMARINE CORPS TP 14.99
SEP074030 JOHN WOOS SEVEN BROTHERS SERIES 2 #3 (MR) 2.99
AUG070277 JONAH HEX ORIGINS TP 12.99
MAR070296 JUSTICE BOX SET (NET) PI
JUL074153 KERA OCT 2007 (C: 1-1-3) 9.99
SEP071999 KILLING GIRL #4 (OF 5) (MR) 2.99
AUG070324 KIMMIE66 9.99
AUG074001 KING OF HELL VOL 17 GN (OF 21) 9.99
JUL073750 LAND OF SILVER RAIN VOL 7 GN (C: 0-1-2) 9.99
AUG073982 LEGENDS OF THE DARK CRYSTAL VOL 1 GARTHIM WARS GN 9.99
SEP073757 LEGION ONE SHOT 7.49
SEP070075 LIVING WITH THE DEAD #2 (OF 3) 2.99
AUG073986 LOVELESS VOL 7 GN (OF 7) (TKP) (MR) 9.99
SEP070236 MAD KIDS #9 4.99
SEP070235 MAD MAGAZINE #484 3.99
APR074091 MANGA LITERARY CLASSICS GULLIVERS TRAVELS GN (C: 0 14.95
JUL073328 MARK MILLAR UNFUNNIES #3 (OF 4) (RES) (MR) 3.99
JUL073330 MARK MILLAR UNFUNNIES #4 (OF 4) (RES) (MR) 3.99
SEP072275 MARVEL ADVENTURES AVENGERS VOL 4 DIGEST TP 6.99
SEP072206 MARVEL ADVENTURES HULK #5 2.99
SEP072210 MARVEL COMICS PRESENTS #3 3.99
SEP072169 MARVEL ILLUSTRATED MAN IN THE IRON MASK #5 (OF 6) 2.99
AUG073989 ME & MY BROTHERS VOL 2 GN (OF 7) 9.99
AUG073649 MEAT CAKE #16 (MR) 3.95
SEP072003 MICE TEMPLAR #2 2.99
AUG074008 MILLION TEARS VOL 2 GN (OF 2) 9.99
AUG073998 MISSING VOL 1 STORY OF KAMI KAKUSHI NOVEL (OF 13) 7.99
AUG070303 MUSASHI #9 VOL 13 (C: 1-0-0) 9.99
AUG073894 MY INNER BIMBO #2 (OF 5) (RES) (MR) 2.99
JUL073773 NANCY DREW VOL 11 MONKEY WRENCH BLUES HC 12.95
JUL073772 NANCY DREW VOL 11 MONKEY WRENCH BLUES SC 7.95
SEP072216 NEW AVENGERS #36 2.99
SEP074032 NICOLAS CAGES VOODOO CHILD HYRAPIET COVER #5 (MR) 2.99
SEP074033 NICOLAS CAGES VOODOO CHILD TEMPLESMITH COVER #5 (M 2.99
SEP070176 NIGHTWING #138 (GHUL) 2.99
SEP072218 NOVA #8 2.99
AUG071994 OFFICIAL HANDBOOK OF THE INVINCIBLE UNIVERSE TP (C 12.99
APR073696 PALESTINE HC 29.95
JUL073332 PLAGUE O/T LIVING DEAD #6 (OF 6) (MR) 2.50
AUG074013 PRESIDENT DAD VOL 7 GN (OF 7) 9.99
AUG073996 PROJECT DOA VOL 1 GN (OF 3) 9.99
AUG073994 PSYCHIC POWER CHRONICLE NANAKI VOL 1 GN (OF 3) 9.99
SEP072246 PUNISHER #52 (MR) 2.99
SEP072222 PUNISHER WAR JOURNAL #13 2.99
JUL073757 QUEEN & COUNTRY VOL 8 OPERATION RED PANDA TP 11.95
JUL073610 RED SONJA #13 GCC EXCL HOLY HAREM SGN ED (C: 0-1-2 14.99
AUG073863 REMEMBRANCE THINGS PAST PT 3 LOVE OF SWANN VOL 1 H 16.95
JUN071946 RISING STARS VOL 5 UNTOUCHABLE VISITATIONS TP (C: 16.99
AUG074006 ROSE HIP ZERO VOL 4 GN (OF 5) (MR) 9.99
SEP070153 SALVATION RUN #1 (OF 7) 2.99
SEP070154 SALVATION RUN VAR ED #1 (OF 7) PI
AUG073988 SAMURAI DEEPER KYO VOL 25 GN (OF 38) (MR) 9.99
SEP073535 SAVAGE RED SONJA QOTFW PX CVR HC (RES) (C: 0-1-2) 19.99
FEB073341 SAVAGE RED SONJA QOTFW VOL 1 PX CVR TP (C: 0-1-3) 14.99
FEB073340 SAVAGE RED SONJA QOTFW VOL 1 REG CVR TP (C: 0-1-3) 14.99
JUN073779 SCOTT PILGRIM VOL 4 SCOTT PILGRIM GETS IT TOGETHER 11.95
JUN073623 SEEKERS #3 2.99
AUG074059 SHOJO BEAT DEC 07 VOL 3 #12 (C: 1-0-0) 5.99
AUG073699 SHOOTING WAR GN (C: 0-1-2) 21.99
JUL078177 SHOWCASE PRESENTS TP SGT ROCK VOL 01 16.99
SEP070181 SIMON DARK #2 2.99
JUL071961 SPAWN GODSLAYER #5 2.99
SEP072179 SPIDER-MAN RED SONJA #4 (OF 5) 2.99
AUG074039 STREET FIGHTER SAKURA GANBARU VOL 2 GN 12.95
SEP070168 SUICIDE SQUAD RAISE THE FLAG #3 (OF 8) 2.99
SEP070185 SUPERMAN BATMAN #42 2.99
SEP070187 SUPERMAN CONFIDENTIAL #9 2.99
AUG073997 SUPPLI VOL 1 GN (OF 5) (MR) 9.99
SEP072009 SWORD #2 2.99
AUG073848 TALES OF RAPHAEL BAD MOON RISING #4 (OF 4) 3.25
SEP070207 TEEN TITANS EAST SPECIAL #1 3.99
AUG070293 TEEN TITANS GO TITANS TOGETHER TP 12.99
AUG072256 THOR #4 2.99
AUG074091 TOGARI VOL 3 TP (C: 1-0-0) 9.99
SEP073258 TOYFARE MRS CLAUS BY MCFARLANE TOYS CVR #125 (C: 0 4.99
AUG073990 TRINITY BLOOD VOL 4 GN (OF 8) (MR) 9.99
SEP072173 ULTIMATE FANTASTIC FOUR #48 2.99
SEP072176 ULTIMATES SAGA 3.99
JUL072218 UNCANNY X-MEN OMNIBUS VOL 1 HC (O/A) 99.99
JUL072219 UNCANNY X-MEN OMNIBUS VOL 1 HC VAR (O/A) 99.99
SEP070278 UN-MEN #4 (MR) 2.99
AUG074018 UTOPIAS AVENGER VOL 4 GN (OF 4) 9.99
JUL070059 VAMPIRE HUNTER D VOL 9 NOVEL (MR) (C: 0-1-2) 8.95
AUG070298 VENUS IN LOVE VOL 1 (C: 1-0-0) 9.99
SEP072032 WANTED GN (NEW PTG) (C: 0-1-2) 19.99
SEP070261 WELCOME TO TRANQUILITY #12 2.99
SEP072240 WOLVERINE #59 2.99
SEP072278 WOLVERINE ORIGINS VOL 3 SWIFT AND TERRIBLE TP 13.99
APR070289 WOMEN OF THE DC UNIVERSE BLACK CANARY BUST 45.00
SEP070211 WONDER GIRL #3 (OF 6) 2.99
SEP070208 WONDER WOMAN #14 2.99
JUL070255 WONDER WOMAN LOVE AND MURDER HC 19.99
SEP070209 WONDER WOMAN VAR ED #14 PI
SEP070247 WORLD OF WARCRAFT #1 2.99
AUG072225 WORLD WAR HULK #5 (OF 5) WWH 3.99
AUG072226 WORLD WAR HULK ROMITA JR VAR #5 (OF 5) PI
AUG073579 WORLDS END GN (MR) 12.95
SEP072234 X-FACTOR #25 MC 2.99
SEP072235 X-FACTOR CAMPBELL VAR #25 MC PI
SEP072242 X-MEN DIE BY THE SWORD #3 (OF 5) 2.99
AUG074093 YAKITATE JAPAN VOL 8 TP (C: 1-0-0) 9.99
AUG073306 YURI MONOGATARI VOL 5 GN (MR) 15.95
AUG073985 ZIG ZAG VOL 1 GN (OF 5) 9.99
SEP073317 ZOMBIES CALLING GN 9.95