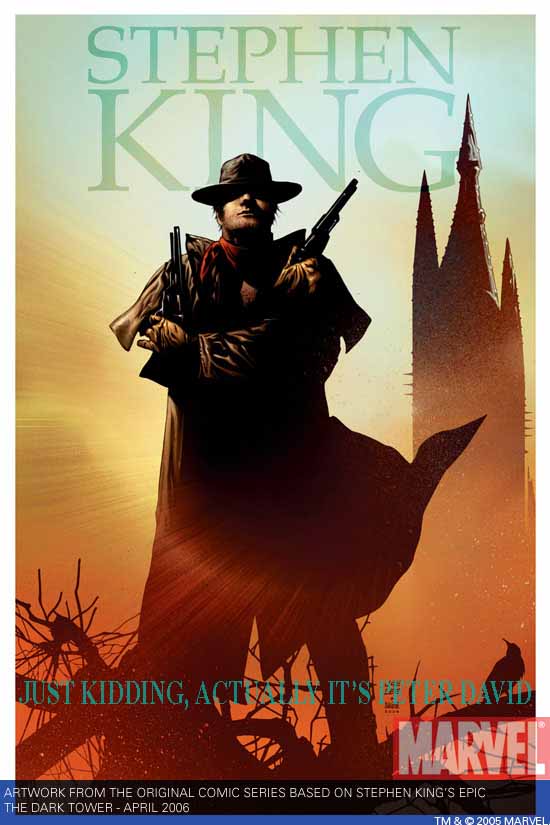 It seems like only yesterday that I picked my favourite comics of 2006, and a month and a half before the end of the year various media outlets are already making their "Best of 2007″ lists. Yikes. Today I managed to trip over Amazon.com's Best of the Year list, and they picked the Dark Tower adaptation as the best graphic novel of the year. I mean, yikes. So much for your literary comics conspiracy. The rest of the includes titles like the Joss Whedon Buffy collection, Tomine's Shortcomings, and a bevvy of strip collections for Perry Bible Fellowship, Peanuts, The Complete Mad: Don Martin, and Pearls Before Swine. I have to say that I'm kind of surprised to see Bryan Talbot's excellent Alice in Sunderland on there, but I'm glad it is. On the other hand? Nothing there from DC Comics or any of their imprints, which I find a little surprising given the diversity of DC's output and their deep pockets…
Meanwhile, as part of the new Publisher's Weekly Comics Week, the PWCW staff releases their picks for best of the year and, much like their 2006 list, it's a balanced, considered thing that speaks more to playing nice with every genre and outlet and less about a passionate collection of The Best Of 2007. Here's the list:
Adrian Tomine's Shortcomings, Bryan Talbot's Alice in Sunderland, Rutu Modan's Exit Wounds, Grant Morrison and Frank Quitely's All-Star Superman, Jason's I Killed Adolf Hitler, Nick Abadzis's Laika, Nick Bertozzi's The Salon, Marguerite Abouet and Clement Oubrerie's Aya, Bryan Lee O'Malley's Scott Pilgrim Gets it Together, Taiyo Matsumoto's Tekkonkinkreet: Black and White, Osamu Tezuka's MW, and Eiji Otsuka and Sho-u Tajima's MPD-Psycho Vol. 1.
Surprisingly, they didn't think Dark Tower was the best of the year, I wonder how that works?
Anyway, I really just posted this to remind myself to get my ass in gear and start reading more of this year's comics and graphic novels. Of the 12 books on PW's list, I've read 9, which is a pretty good average, but if I've only read 3/4 of that best of list, who knows how few of the actual best comics of 2007 I've read? Who knows how many more are still to come?! I need a vacation where all I do is read comics… not for fun, but for completeness.
- Christopher