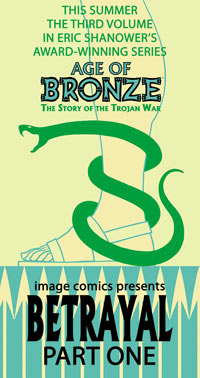 Happy Turkey Day, AMERICANS. Thanks to your little holiday, it seems as though we got The Beguiling's shipping list a day early. Since everyone has taken the day off, that means I'm probably THE ONLY PERSON UPDATING, and it's about next week's comics, which no one can resist! I've got 100% marketshare! Quick, bid on my Project: Wonderful ads while they're only 20 cents!
Ahem.
There's a fucking ton of comics coming next week. Floppies, manga, graphic novels… Something for everyone and then some. Here are some of the highlights:
MAY071857 AGE OF BRONZE VOL 3 BETRAYAL HC 27.99
MAY071856 AGE OF BRONZE VOL 3 BETRAYAL TP 17.99
Man, I haven't read this since half-way through the second trade. It's gorgeous, but it's so dense and detailed it takes me forever to get through a volume. That's not a complaint, it's more like intellectually psyching yourself up to read a real book after you've subsisted entirely on PEOPLE Magazine for 4 months… Age Of Bronze is an under-appreciated gem of a book, do your part by picking it up today!
SEP070172 ALL STAR BATMAN AND ROBIN THE BOY WONDER #8 2.99
SEP070173 ALL STAR BATMAN AND ROBIN VAR ED #8 2.99
I just don't understand how people don't like this.
SEP071981 CASANOVA #11 (MR) 1.99
This story-arc has been excellent. I've finally settled in to the Acid-Blue tones of the book, and all of the characters (new and old) are delicious. I hope you're reading this… it's only two bucks!
SEP074035 DAN DARE #1 (OF 7) 2.99
I'm really, really curious to see Ennis' take on this character. I really enjoyed his two WAR STORIES mini-series from Vertigo a few years back, and this feels very similar…
SEP073469 DOC FRANKENSTEIN CVR A #6 3.50
SEP073470 DOC FRANKENSTEIN CVR B #6 3.50
This whole line has been powerfully depressing, because these books are SO GOOD and they dribble out at no pace at all. Still, I'm happy to see a new issue at least.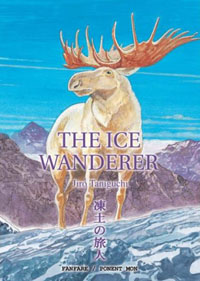 JUL073549 ICE WANDERER GN (RES) (C: 0-1-2) 21.99
Holy shit, a new Jiro Taniguchi book! Fucking yes. Thank you, Fanfare/Ponent-Mon, for continuing to translate this wonderful nouvelle manga. I wish it sold well enough that we could have a new book every single week. By the way, whether-or-not your local comic book store ordered this book is how you tell a poor-to-average store from a great store. This book, this publisher? They're the dividing line. Now you know.
From the Fanfare Website (with assistance by Jason Azzopardi:
Lost in the Great North, two men are saved by the appearance of an old hunter who divulges a strange legend to them…Surrounded by wolves and fighting for their survival, two explorers head for Alaska to bury their companion…A marine biologist begins a quest to fi nd the mythical graveyard of whales.

In total six shorts with as many stories of men confronted by savage nature which is sometimes cruel, sometimes forgiving but always vast. Through tales filled with respect for animal life, this splendid collection, which lies at the crossroads of poetry and adventure, shows master storyimager Taniguchi at his award-winning best.

THIS BOOK IS PUBLISHED IN IT'S ORIGINAL JAPANESE FORM THEREFORE SHOULD BE READ FROM RIGHT TO LEFT.
SEP073950 LITTLE SAMMY SNEEZE COMP COLOR SUNDAYS 1904 – 1905 55.00
From the Sunday Press Books website:
Before his remarkable Litttle Nemo in Slumberland, Winsor McCay created two strips starring young children. This book features all of the Little Sammy Sneeze color pages (1904-05) plus Hungry Henrietta, McCay's other comic, which appeared on the back of Sammy in the Sunday New York Herald. The unique style of this book presents two other "flipside" comics of 1904: The Woozlebeasts and The Upside Downs, along with the complete 27-chapter saga of Hungry Henrietta. All digitally restored in the original size and colors.
Sounds pretty great…
SEP073634 NEW TALES OF OLD PALOMAR #3 7.95
That's weird, usually the Ignatz books ship three to a week. Still, don't go looking a gift horse in the mouth…
Full shipping list behind the cut:
Shipping November 28th (or the 29th, if you're in America, I suppose.)
JUL073743 10 20 & 30 VOL 2 GN (MR) (C: 0-1-2) 9.99
AUG073881 100 PERCENT PERFECT GIRL VOL 4 GN (MR) (C: 0-1-2) 9.99
SEP070170 52 AFTERMATH THE FOUR HORSEMEN #4 (OF 6) 2.99
OCT073454 AFTER I WIN GN 12.95
MAY071857 AGE OF BRONZE VOL 3 BETRAYAL HC (C: 0-1-2) 27.99
MAY071856 AGE OF BRONZE VOL 3 BETRAYAL TP (C: 0-1-2) 17.99
SEP073577 AI NO KUSABI THE SPACE BETWEEN VOL 1 NOVEL (MR) 8.95
SEP070172 ALL STAR BATMAN AND ROBIN THE BOY WONDER #8 2.99
SEP070173 ALL STAR BATMAN AND ROBIN VAR ED #8 2.99
JUN073829 AMAZING AGENT LUNA VOL 4 GN (C: 0-1-2) 10.99
SEP070268 AMERICAN VIRGIN #21 (MR) 2.99
SEP071950 ARCHIBALD SAVES CHRISTMAS #1 (MR) 3.50
SEP073360 ARCHIE #580 2.25
OCT073279 ARCHIE COMICS FUN 3 PACK 3.59
SEP073362 ARCHIE DOUBLE DIGEST #184 3.69
SEP073530 ARMY OF DARKNESS FROM ASHES #4 3.50
SEP070251 AUTHORITY PRIME #2 (OF 6) 2.99
SEP072268 AVENGERS INITIATIVE BASIC TRAINING VOL 1 PREM HC 19.99
SEP073537 AVENTURA VOL 1 GN 10.95
SEP074091 BACK ISSUE #25 (C: 0-1-2) 6.95
JUL071942 BAD PLANET #4 (OF 6) (MR) 2.99
SEP070178 BATMAN #671 (GHUL) 2.99
SEP070178 BATMAN #671 (GHUL) 2.99
SEP070151 BATMAN AND THE OUTSIDERS #2 2.99
JUL070243 BATMAN RULES OF ENGAGEMENT HC 24.99
AUG073846 BEOWULF GN (C: 0-1-2) 8.95
JUL070054 BERSERK VOL 20 TP (MR) (C: 1-1-2) 13.95
AUG073639 BETSY AND ME GN 14.95
SEP073627 BEYOND PALOMAR PALOMAR VOL 3 TP 16.95
SEP072184 BLACK PANTHER #32 2.99
SEP070192 BLUE BEETLE #21 2.99
SEP071978 BOMB QUEEN IV #3 (OF 4) (MR) 3.50
SEP072244 CABLE DEADPOOL #47 2.99
SEP070232 CARTOON NETWORK BLOCK PARTY #39 2.25
SEP071981 CASANOVA #11 (MR) 1.99
AUG073805 CHUN RHANG YHUR JHUN VOL 4 GN (C: 1-1-2) 10.95
SEP072281 CIVIL WAR SCRIPT BOOK TP 24.99
SEP073868 CLICK VOL 5 GN (C: 0-1-2) 9.99
SEP074097 COMICS BUYERS GUIDE JAN 2008 #1637 5.99
AUG073764 COMPLETE DICK TRACY HC VOL 03 29.99
SEP073901 COMPLETE JACK KIRBY VOL 1 TP (C: 1 & 4) 25.00
JUL074074 COMPLETELY MAD DON MARTIN HC (C: 0-1-2) 150.00
SEP070150 COUNTDOWN LORD HAVOK AND THE EXTREMISTS #2 (OF 6) 2.99
SEP070147 COUNTDOWN TO ADVENTURE #4 (OF 8) 3.99
SEP070145 COUNTDOWN TO FINAL CRISIS 22 2.99
AUG073465 COYOTE RAGTIME SHOW VOL 2 GN (MR) (C: 0-1-2) 9.99
SEP070158 CRIME BIBLE THE FIVE LESSONS OF BLOOD #2 (OF 5) 2.99
SEP070074 CRIMINAL MACABRE MY DEMON BABY #3 (OF 4) 2.99
SEP070270 CROSSING MIDNIGHT #13 (MR) 2.99
OCT070023 CUT 9.95
OCT073456 CUTE BEAST GN 12.95
SEP074035 DAN DARE #1 (OF 7) 2.99
SEP072191 DAREDEVIL #102 2.99
SEP073580 DASH GN (MR) 12.95
SEP070157 DEATH OF THE NEW GODS #3 (OF 8) 3.50
SEP070256 DEATHBLOW #8 2.99
MAY073702 DESTINYS HAND VOL 2 GN 10.99
SEP073469 DOC FRANKENSTEIN CVR A #6 3.50
SEP073470 DOC FRANKENSTEIN CVR B #6 3.50
SEP074034 DOCK WALLOPER #1 (OF 5) (MR) 2.99
OCT073914 DRAGON SWORD & WIND CHILD HC NOVEL (C: 1-0-0) 16.99
SEP073538 ES VOL 7 GN (MR) 10.95
SEP072287 ESSENTIAL X-MEN VOL 8 TP 16.99
SEP070272 FAKER #5 (OF 6) (MR) 2.99
SEP070024 FEAR AGENT HATCHET JOB #1 (OF 4) 2.99
JUL071972 FIRST BORN CVR A #3 (OF 3) 2.99
JUL071973 FIRST BORN CVR B #3 (OF 3) 2.99
AUG073845 FLYING FRIAR COLOR ED SC (C: 0-1-2) 8.95
SEP072249 FOOLKILLER #2 (OF 5) (MR) 3.99
JUN071911 FRANK FRAZETTAS DEATH DEALER #5 (OF 6) (MR) 3.99
SEP070266 FREDDY VS JASON VS ASH #2 (OF 6) 2.99
SEP073582 FROM UP ABOVE GN (MR) 12.95
SEP073450 FUTURAMA COMICS #34 2.99
SEP073539 GACHA GACHA NEXT REVOLUTION VOL 5 GN (MR) 12.95
SEP074041 GAMEKEEPER VOL 1 TOOTH & CLAW LIMITED HC (MR) 29.99
AUG073316 GARGOYLES BAD GUYS #1 2.95
SEP070250 GEN13 ARMAGEDDON #1 2.99
SEP073768 GENE SIMMONS DOMINATRIX #4 3.99
SEP073540 GENSHIKEN VOL 9 GN (MR) 10.95
MAY078057 GIRLS & GODDESSES PROMO BOOKMARK (NET) PI
OCT073458 GLASS SKY GN 12.95
SEP070159 GOTHAM UNDERGROUND #2 (OF 9) 2.99
SEP070163 GREEN LANTERN CORPS #18 2.99
OCT073198 GUNSLINGER GIRL MANGA TP VOL 06 9.99
SEP073563 HACK SLASH SERIES CAMPBELL CVR B #6 (MR) 3.50
SEP073562 HACK SLASH SERIES SEELEY CVR A #6 (MR) 3.50
APR074377 HARVEY AND ETSUKOS MANGA GUIDE TO JAPAN (C: 1-1-3) 9.99
AUG070275 HAWKGIRL HAWKMAN RETURNS TP 17.99
JUL078014 HEROES HC ALEX ROSS COVER 29.99
JUL073549 ICE WANDERER GN (RES) (C: 0-1-2) 21.99
SEP073583 INVISIBLE LOVE GN (MR) 12.95
OCT070035 IT ATE BILLY ON CHRISTMAS HC (C: 0-1-2) 12.95
AUG072278 JACK KIRBYS GALACTIC BOUNTY HUNTERS HC 24.99
SEP070275 JACK OF FABLES #17 (MR) 2.99
SEP070198 JLA CLASSIFIED #47 2.99
SEP070198 JLA CLASSIFIED #47 2.99
SEP070199 JSA CLASSIFIED #32 2.99
AUG078500 JUNGLE GIRL CHO VIRGIN CVR INCV #3 0.00
AUG078087 JUNGLE GIRL PX ED #3 (NET) 2.99
AUG073575 KA SHIN FU GN (MR) 12.95
AUG070300 KEY TO THE KINGDOM VOL 2 (C: 1-0-0) 9.99
SEP073817 KNIGHTS OF THE DINNER TABLE #133 4.99
SEP073846 KONG KING OF SKULL ISLAND CVR A #1 (OF 5) (C: 0-1- 3.99
JUL073697 KYOHAKU DOGS VOL 1 GN (MR) 10.95
AUG073956 LAST UNIFORM VOL 2 GN (MR) 11.99
OCT073460 LAUGH UNDER THE SUN GN 12.95
SEP073870 LET DAI VOL 10 GN (0F 15) (MR) (C: 0-1-2) 9.99
SEP073581 LITTLE DARLING NOVEL 8.95
SEP073950 LITTLE SAMMY SNEEZE COMP COLOR SUNDAYS 1904 – 1905 55.00
AUG073577 LOVE BUS STOP GN (MR) 12.95
AUG073479 LUCKY LUKE CALAMITY JANE TP (C: 0-1-2) 11.95
JUL071956 MADMAN ATOMIC COMICS #5 2.99
JUL072210 MAGICIAN APPRENTICE #11 (OF 12) 2.99
SEP073541 MAMOTTE LOLLIPOP VOL 4 GN 10.95
SEP072204 MARVEL ADVENTURES IRON MAN #7 2.99
SEP072211 MARVEL ATLAS #1 (OF 2) 3.99
OCT070002 MARVEL PREVIEWS DECEMBER 2007 EXTRAS (NET) 0.99
SEP072212 MARVEL ZOMBIES 2 #2 (OF 5) 2.99
SEP072212 MARVEL ZOMBIES 2 #2 (OF 5) 2.99
AUG074053 MASKED MAGICIAN ONE SHOT 4.99
AUG073480 MELUSINE HALLOWEEN TP (C: 0-1-2) 11.95
AUG073484 MERCENARIES #1 3.99
AUG070313 MIDNIGHTER VOL 1 KILLING MACHINE TP 14.99
SEP072213 MOON KNIGHT ANNUAL #1 3.99
AUG070157 MPD PSYCHO VOL 3 TP (MR) (C: 1-1-4) 10.95
SEP073542 MY HEAVENLY HOCKEY CLUB VOL 3 GN 10.95
JUN073938 MYTHOS FANTASY ART REALMS OF FRANK BRUNNER SC (MR) 24.95
SEP073634 NEW TALES OF OLD PALOMAR #3 7.95
SEP074116 NEWTYPE ENG ED DEC 2007 (C: 0-1-2) 12.98
SEP073400 NIGHTMARES FOR SALE VOL 1 GN (MR) 10.95
AUG070297 ORFINA VOL 1 (MR) (C: 1-0-0) 12.99
AUG073886 PASSIONATE TWO FACE VOL 1 GN (MR) (C: 0-1-2) 9.99
SEP073631 PERLA LA LOCA LOCAS VOL 3 TP 16.95
SEP071958 POPGUN VOL 1 GN (C: 0-1-2) 29.99
OCT070001 PREVIEWS VOL XVII #12 (NET) 4.50
OCT070001 PREVIEWS VOL XVII #12 (NET) 4.50
SEP072004 PROOF #2 (MR) 2.99
SEP073543 PUMPKIN SCISSORS VOL 1 GN 10.95
SEP073845 RALPH SNART ADVENTURES COMIC COLLECTION #2 14.95
AUG073445 RAY HARRYHAUSEN PRESENTS #1 0.99
JUN073328 RAY HARRYHAUSEN PRESENTS 20 MILLION MILES MORE #3 3.50
JUL073423 RED SONJA VOL 2 ARROWSMITH ADAM HUGHES CVR TP (RES 14.99
JUL073424 RED SONJA VOL 2 ARROWSMITH JIM LEE CVR PX TP (RES) 14.99
FEB071914 SAVAGE DRAGON #134 2.99
AUG072202 SENSATIONAL SPIDER-MAN #41 OMD 3.99
JUL070069 SHAMAN WARRIOR VOL 5 TP (C: 1-1-2) 12.95
JUL078178 SHOWCASE PRESENTS TP SUPERGIRL VOL 01 16.99
SEP073451 SIMPSONS WINTER WINGDING #2 4.99
MAY078062 SPAWN COLL VOL 3 PROMO BOOKMARK (NET) PI
SEP070033 SPEAK O/T DEVIL #3 (OF 6) 3.50
SEP072283 SPIDER-MAN FAIRY TALES TP 10.99
SEP070098 STAR WARS KNIGHTS OF THE OLD REPUBLIC #23 (C: 1-0- 2.99
SEP072227 SUB-MARINER #6 (OF 6) CWI 2.99
SEP073544 SUGAR SUGAR RUNE VOL 7 GN 10.95
SEP070205 SUPERGIRL AND THE LEGION OF SUPER HEROES #36 2.99
SEP070183 SUPERMAN ANNUAL #13 3.99
SEP070186 SUPERMAN BATMAN #43 2.99
SEP073545 SUZUKA VOL 6 GN (MR) 13.95
OCT073361 TALENT TP VOL 01 (RES) 14.99
SEP073464 TAROT WITCH OF THE BLACK ROSE #47 (MR) 2.95
JUN071906 TECH JACKET VOL 1 BOY FROM EARTH TP (C: 0-1-2) 14.99
SEP070204 TEEN TITANS #53 2.99
SEP070230 TEEN TITANS GO #49 2.25
AUG070305 TENJHO TENGE VOL 16 (MR) (C: 1-0-0) 9.99
AUG073516 TERMINATOR 2 INFINITY #5 3.50
AUG070339 TESTAMENT VOL 3 BABEL TP (MR) 12.99
AUG073957 TETRAGRAMMATON VOL 2 LABYRINTH GN (MR) 11.99
SEP073747 TRANSFORMERS DEVASTATION #3 3.99
OCT073704 TREASURY VICTORIAN MURDER VOL 9 THE BLOODY BENDERS 9.95
SEP070210 TRIALS OF SHAZAM #10 (OF 12) 2.99
AUG073454 TWO GUNS CVR A #3 (OF 4) (RES) 3.99
AUG073887 TWO WILL COME VOL 1 GN (RES) (C: 0-1-2) 9.99
SEP072174 ULTIMATE SPIDER-MAN #116 2.99
JUN073725 UNBALANCE UNBALANCE VOL 2 GN 10.95
SEP070171 UNCLE SAM AND THE FREEDOM FIGHTERS #3 (OF 8) 2.99
AUG072061 UNIQUE TP 12.99
SEP070038 USAGI YOJIMBO #107 2.99
SEP073584 VANILLA VOL 1 GN (MR) 12.95
AUG073958 VENUS VERSUS VIRUS VOL 2 GN 9.99
OCT072044 WITCHBLADE TAKERU MANGA #10 (MR) 3.99
SEP074019 WORLD WAR 3 ILLUSTRATED #38 FACTS ON THE GROUND (C 5.00
AUG072228 WORLD WAR HULK FRONT LINE #6 (OF 6) WWH 2.99
SEP072238 X-MEN #205 MC 2.99
SEP072238 X-MEN #205 MC 2.99
SEP072239 X-MEN CAMPBELL VAR #205 MC 2.99
SEP072245 X-MEN FIRST CLASS VOL 2 #6 2.99
SEP072245 X-MEN FIRST CLASS VOL 2 #6 2.99
SEP072248 ZOMBIE SIMON GARTH #1 (OF 4) (MR) 3.99