Welcome back to the guided tour of my trip to Japan! For those of you just joining me, my husband and I took our first trip to Japan in September 2007, and I've been cataloguing the trip here at comics212.net, partly because there's so much comics content, and partly because it's my blog and I get to make decisions like that. :)
It turns out I took more than 300 pictures in 8 hours on our day-trip to Harajuku, so I'm going to break this day up into a couple of posts just so I don't crash anyone's browser.
First stop? Harajuku station. Looks kind of… Bavarian… doesn't it? Harajuku is considered the fashion-capital of Japan… or one of the fashion-capitals, anyway. Street style is the name of the game, and the area is divided into what seemed like three pretty distinct areas; the network of main and side-streets filled with fashion boutiques; the Meiji Shrine forest; Yoyogi park, a huge public park. We're looking at the Takeshita-dora entrance, which lets out into the fashion-district. Before tackling shopping though, we decided to visit the shrine and soak up some (old) culture. You can't do that, though, without running through a labyrinth of…
Gothic Lolitas! And their admirers, of course (see bottom-right corner). The bridge over the rail tracks is filled, Saturdays and Sundays, with 'rebellious youth' decked out in outre fashions of all stripes, though the 'gothic lolita' style (think: creepy babydoll) is the most famous. This wasn't actually the first costumed person we bumped into, though.
This was. Yes, those are live goldfish.
Continue Reading This Entry: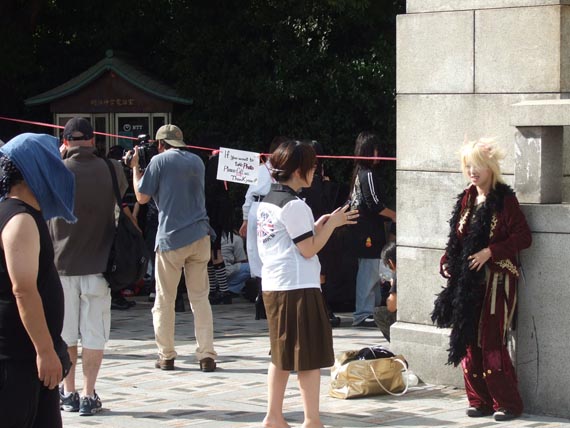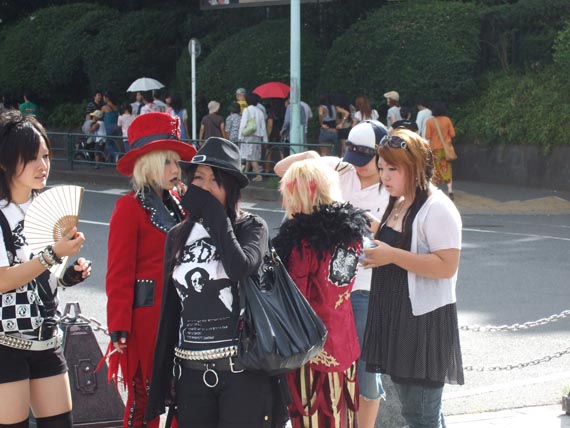 A whole culture has developed around tourists–both local and foreign–coming to take the pictures of the dress-up kids. You're not meant to take photos of anyone when they're behind that little hanging sign so that the kids don't always have to be "on" and can sit in the shade (it's like 90 degrees out, in this picture). It's kind of fascinating.
This dude is in nerd paradise.
Just around the corner from the bridge is the entrance to Meiji Shrine… Sort of. You see, it's really a trail that you walk for 20 minutes that gets you to Meiji shrine, punctuated by these giant tora (gates). It's the most amazing, serene, long walk. Apparently it's something you're supposed to do at New Years.
It's really a forest. It completely shuts out the light and noise of Tokyo.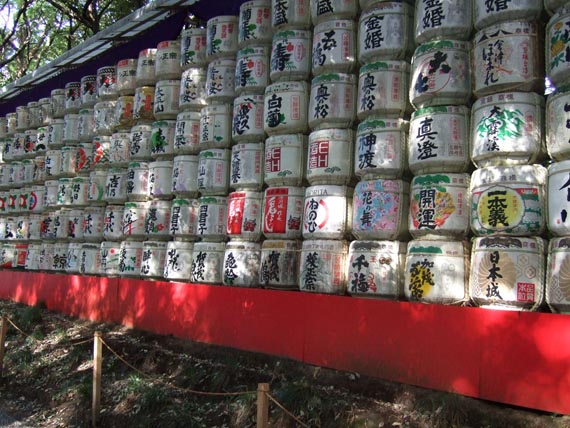 Along the way there are 1000 cases of consecrated wine.
There, you can juuuust see the entrance.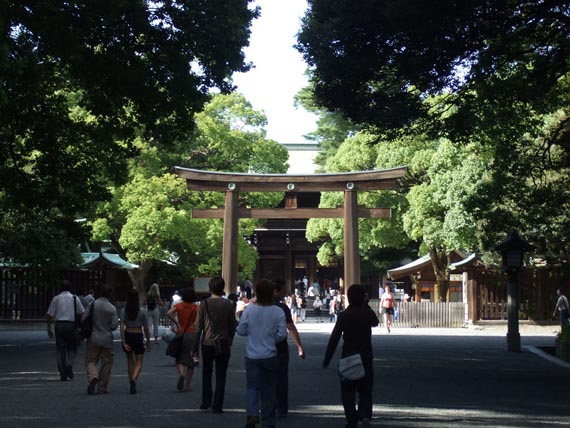 The gravel path ends in beautiful stone blocks…
…and an impressive entranceway. I know it's cliche to say this, but the pictures don't really do it justice. The scale is… off. Everything is too big, and it makes you feel small. It's hard to explain, but it really is the most lovely approach to a religious site I've seen.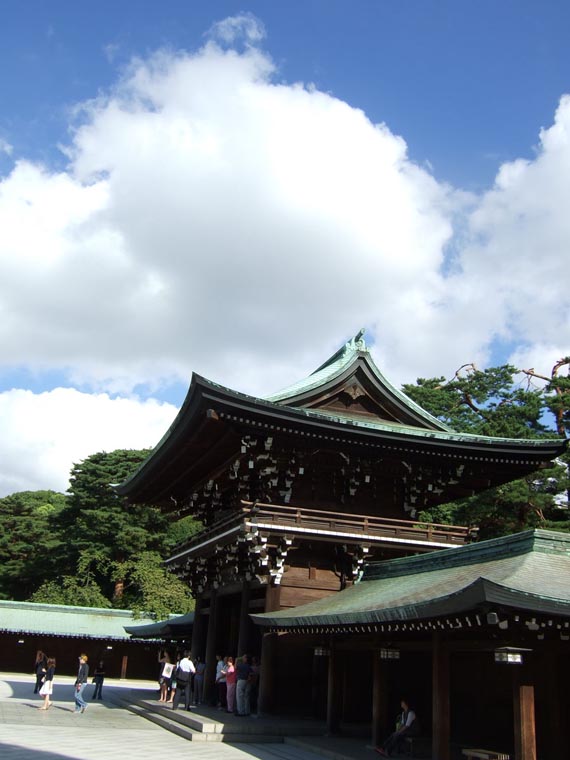 Once inside, the shrine really is impressive as hell. It's a frequent pilgrimage site and so while it may not be as 'authentic' as some of the unrestored sites, it's absolutely gorgeous.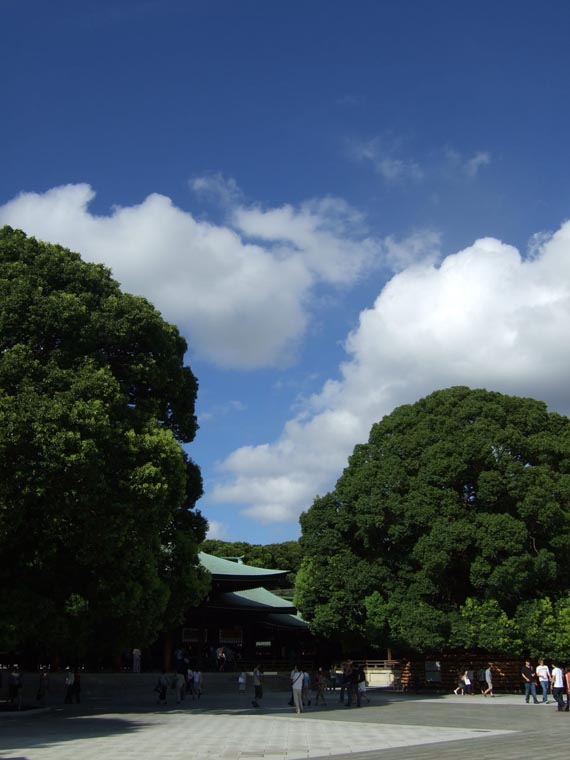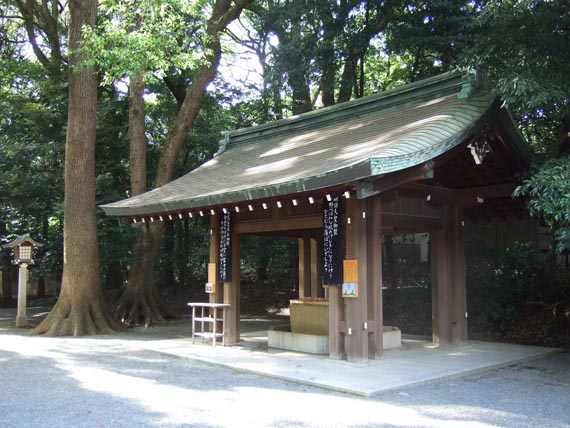 This is a purification area. Well/spring water is constantly bubbling up, and you do a special prayer and pour it over your hands and sip a little.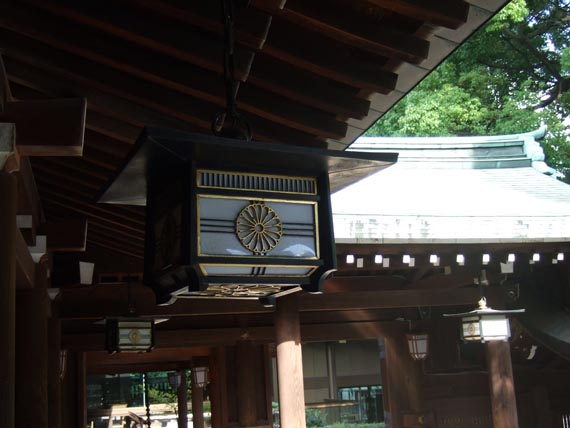 On the way back we took a different path, and ended up at an unused entrance to the train station. I love stuff like this. Apparently it's only opened for New Years, when thousands of people come to make pilgrimage to the shrine.
Then we went to Yoyogi Park. I don't think you'd believe what I'm going to tell you if I didn't have pictures. Actually, let's have a beer.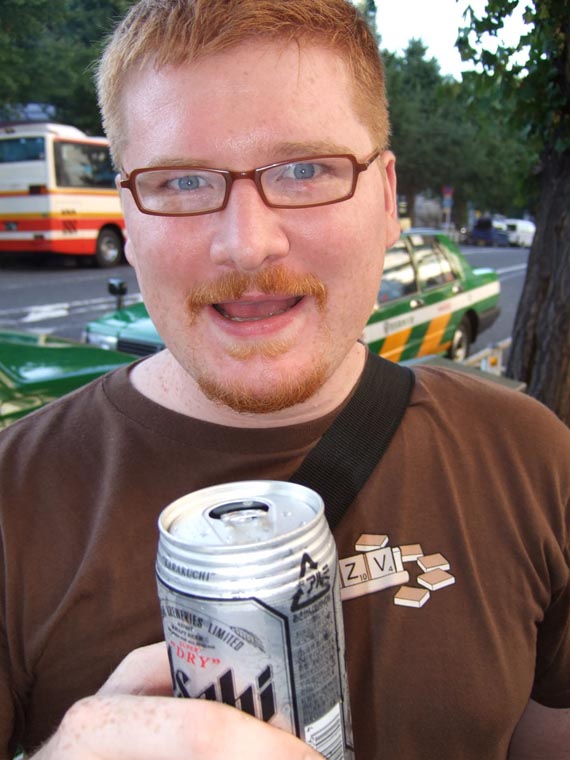 Andrew has a beer just WALKING AROUND ON THE STREET! OMG! Seriously, what's wrong with North America? Friggin puritan nonsense.
Okay so in Yoyogi Park, directly adjacent to Meiji Shrine…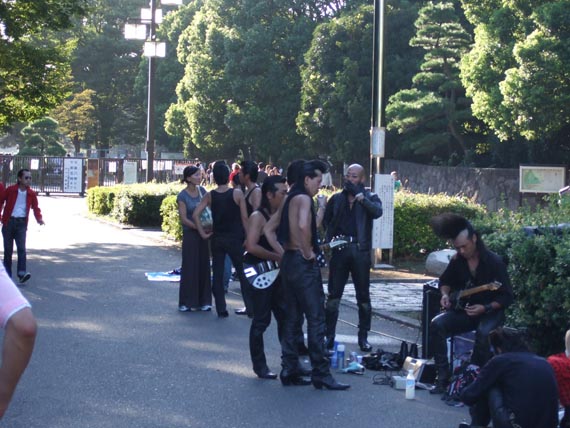 A group of 30 to 40-somethings get together and dress like 80s rockabilly throwbacks to 1950s greaser style.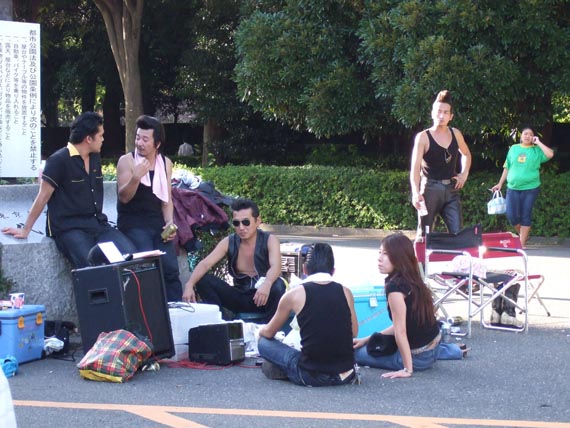 This includes dudes with slicked back hair, lots of leather, and their 'chicks'. Occasionally, there are motorcycles. On the boombox? Guitar-rock.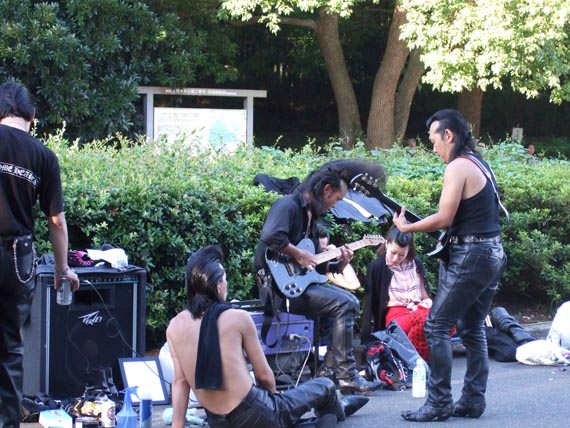 Can you see, just poking out from behind the neck of the guitar? Can you see his hair?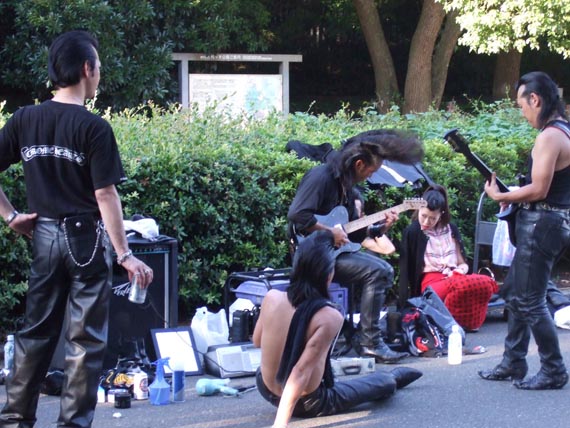 CAN YOU SEE IT NOW? You will never unsee it. That's real hair.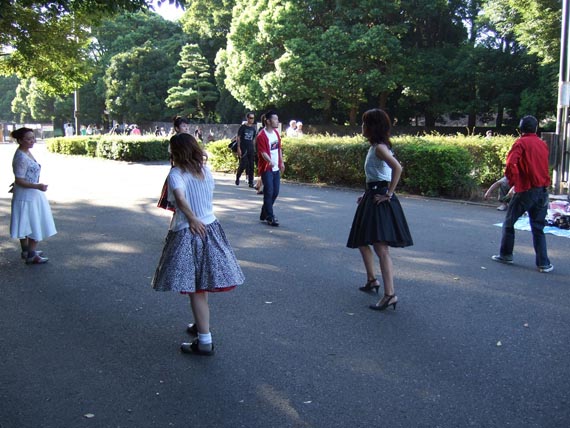 Then, this group of… squares… I guess… they literally did a complicated dance routine to "Rock Around The Clock". It was amazing, absolutely amazing.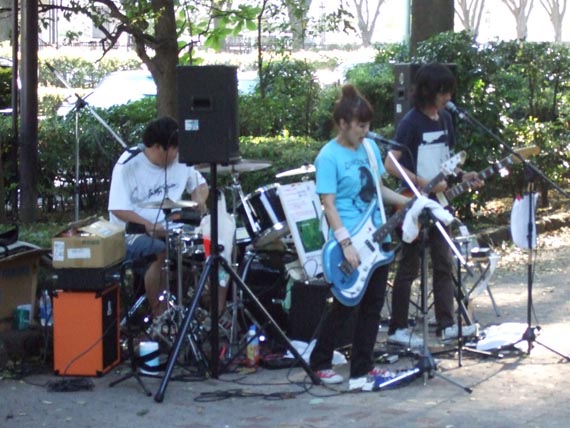 Elsewhere in the park, indy bands set up and just start playing on the street. The music is pretty much crunchy guitar rock, right across the board. The bands set up like 30 feet from each other, each trying to be louder than their neighbor.
I really, really wanted to see these guys play but they took forever to get their shit together.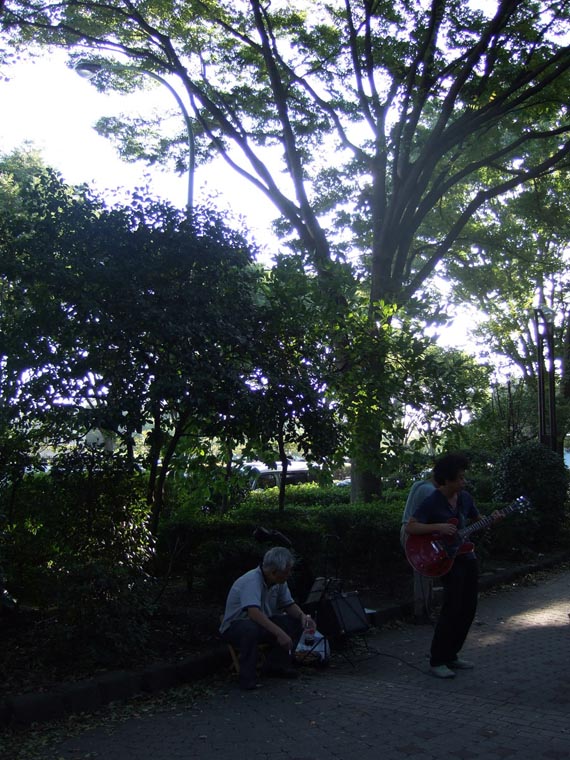 Our beer finished, we decided to head out into the wilds of the massive, blocks-wide network of streets that made up the fashioniest place in town…
…our first stop? The Snoopy store, where we spied this gothloli leaving her perch on the bridge to do some shopping of her own. But unfortunately, the inside of this magical shop will have to wait until next time…!
- Christopher