Thanks to everyone for the compliments on this photo-journal. The response has been pretty phenomenal, and I hope the Japanese government sees fit to throw a few kickbacks my way… I wake up every morning and I'm kind of angry that I'm not still in Japan. :-/
This time out, I gotta thank a friend of mine who helped me out of a fairly major blunder on my trip to Japan. Several of the photos this time out (including the one above) are by my friend Eric Kim, a budding amateur photographer and the artist of Oni Press' Love As a Foreign Language. All of the photos from the Tezuka display come courtesy of Eric, and you can check out the photos from his trip to Japan at his flickr page, http://flickr.com/photos/inkskratch/ .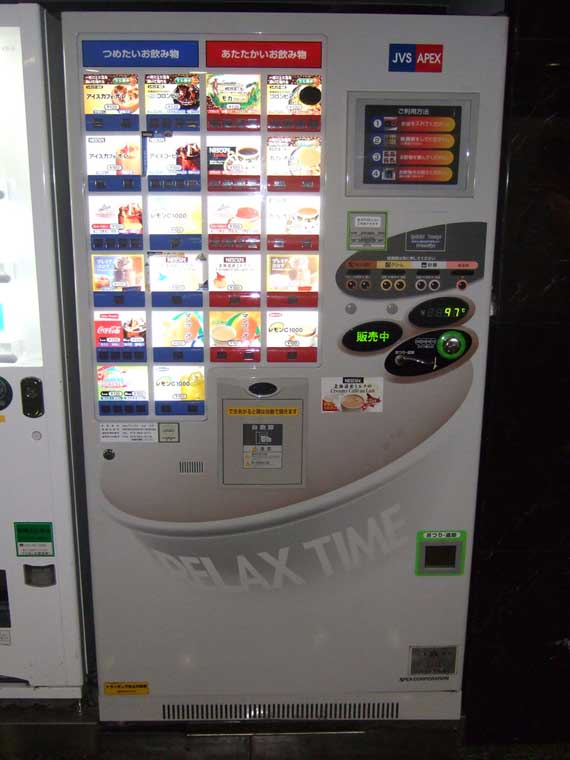 We arrived at Kyoto train station and it was really, really hot. Unfortunately there's no Relax Time for us, we've got a packed day of temples and shrines to see, plus the Kyoto Manga Museum and the Tezuka Museum and… Yeah. The Best Laid Plans are completely shot to hell by the presence of this:
Continue Reading After The Cut: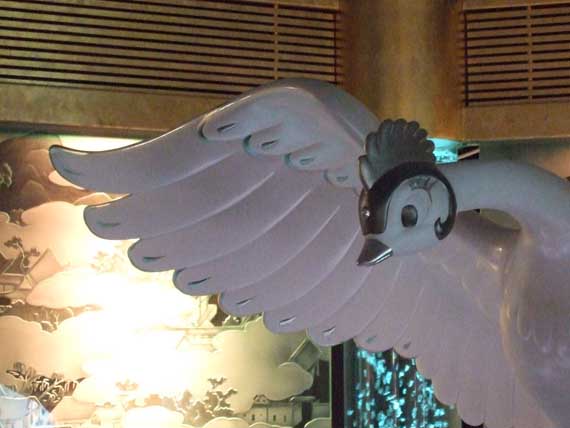 This is the Osamu Tezuka-designed waterclock in the Kyoto train station, featuring the mythological centerpiece of his PHOENIX series of manga. I have to say, I honestly wasn't expecting this and I was completely blown away by it. Everywhere we went in Japan offered wonderful little surprises like this, and it made taking in the country amazing… and slow-going. It took us an hour just to explore the train-station…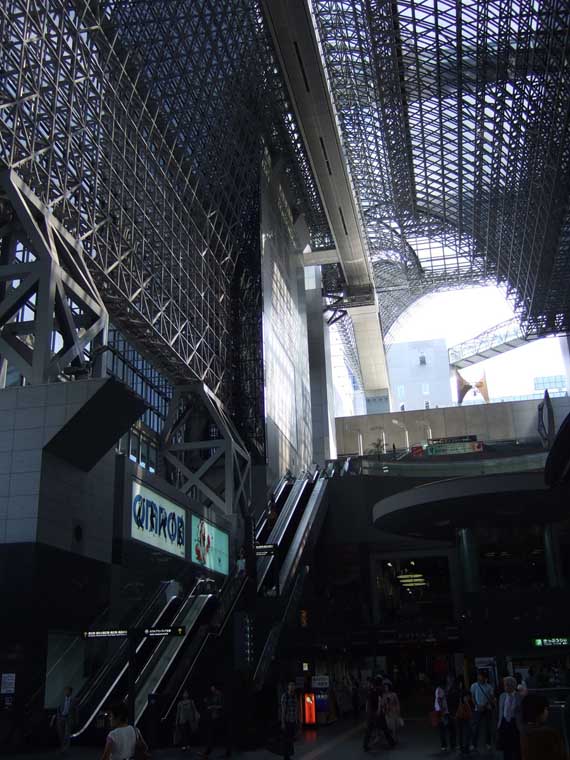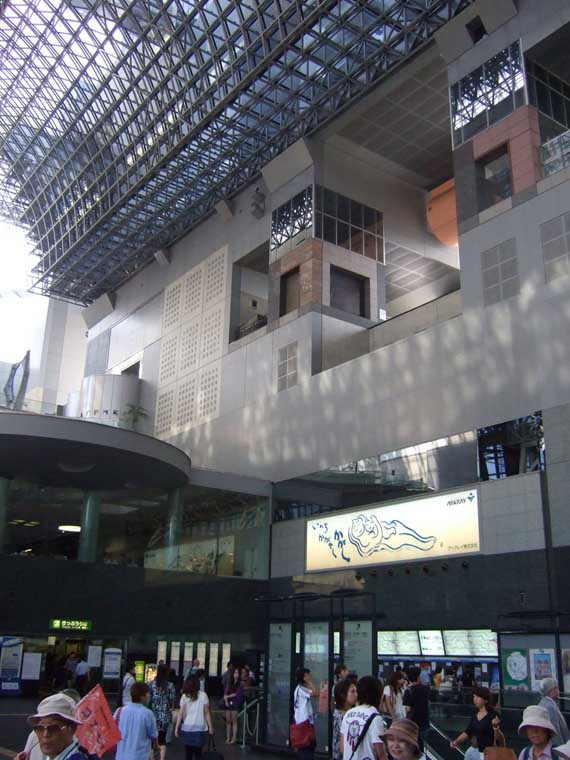 It's hard to describe the scale of the Kyoto train station… Kyoto is (one of) the old capital(s) of Japan, and as such it had an incredible weight to it, the city was full of history and absolutely none of it was present in the ultra-futuristic train station. Kyoto Station is one of the largest buildings in Japan and the second-largest train station in the country. It incorporates a shopping mall, movie theatres, cafes, government facilities, and… like 30 different train platforms? It's a half-kilometer long, and was opened in 1997 to celebrate the 1200th anniversary of Kyoto. It's stunning, the main area is as big as three football fields and there are tens of thousands of people around. The official site is even awesome. You come up out of this basement where the platforms are into this huge building and I was just completely floored.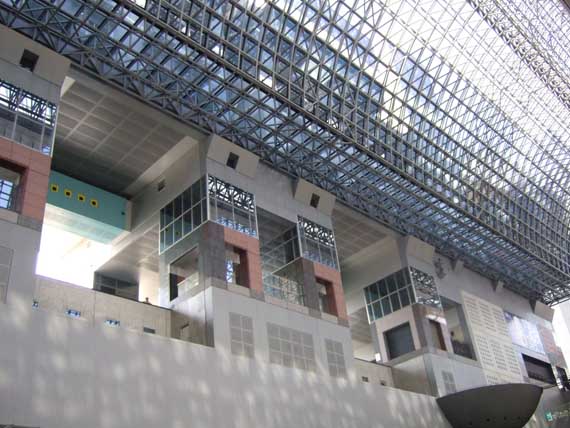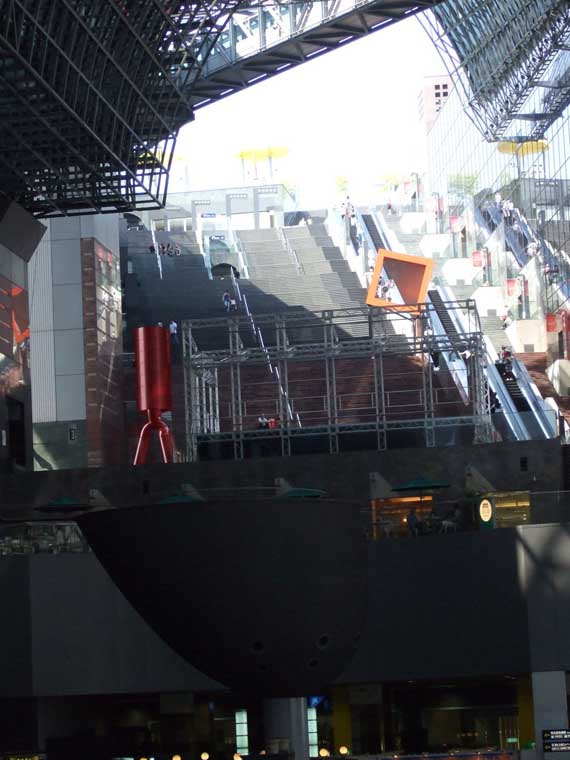 That's like the last 5 of 8 banks of escalators? Anyway.
Right about this time, we almost broke the camera. Well, something happened? It… it crashed? I don't know how the software loaded on your camera can crash, but it did, and I was in the middle of this giant, brilliant building, and maaaaaaaaaaaaybe I freaked out a little bit.
Success! Popped the battery out, counted to ten, popped the battery back in, and I've got an adorable photo of Andrew! Yay!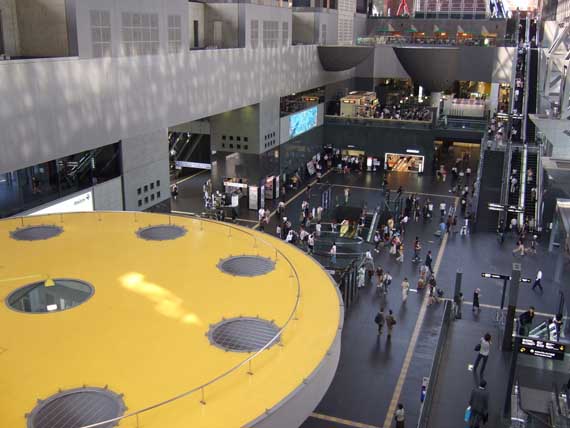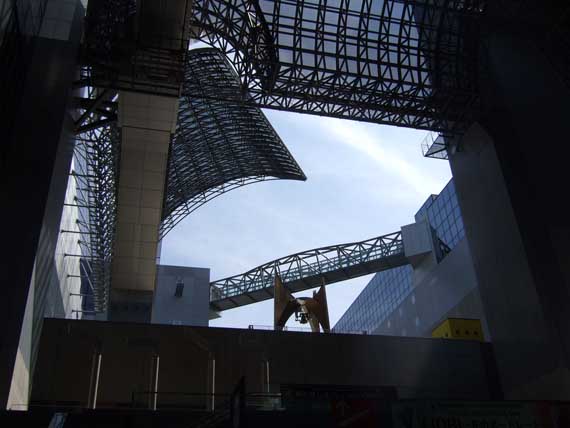 It's like the richest kid in town had his erector set explode.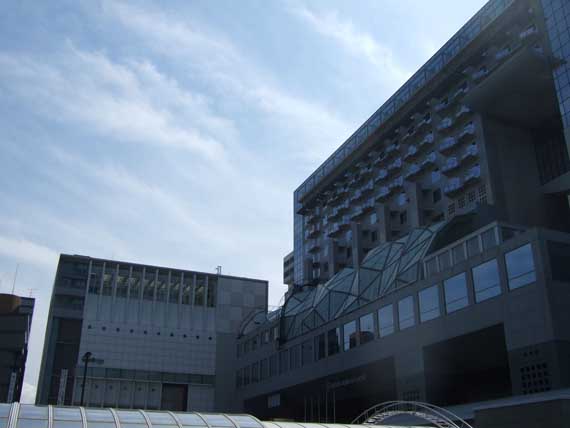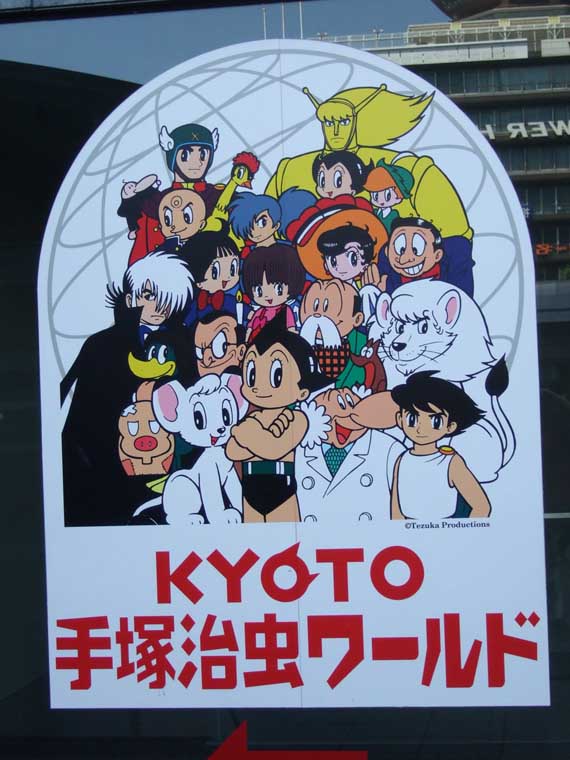 So! All over Kyoto Station, in addition to the awesome Tezuka Phoenix Water Clock there were pictures and art featuring Tezuka characters. We kind of figured out that there was a Tezuka exhibit somewhere in the station, but it's like 5 football fields wide and three times as deep and 9 floors and… Yeah. I couldn't figure that shit out at all.
And I'm like OMG! ASTRO BOY! HE'S ON THE INFORMATION KIOSK! HOW CAN I BE MISSING OUT ON THIS!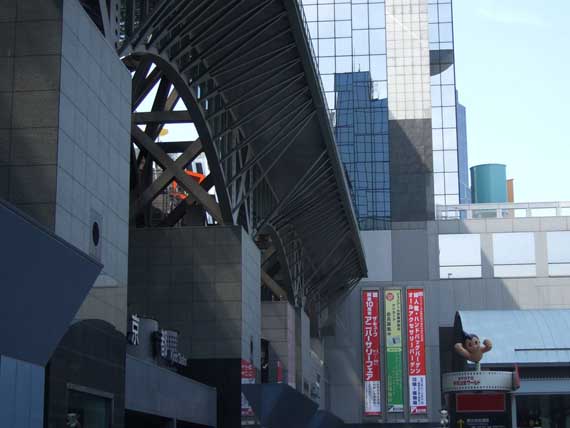 Kimba The White Lion Too! Depressing, right?
Then, when I was back in Toronto and going over these photos, I realised something. There are GODDAMNED ARROWS ON ALL THESE SIGNS. THE TEZUKA CHARACTERS ARE RUNNING TOWARDS THE TEZUKA EXHIBIT! AHHHHHHHHHHHHHHH! I swear to God, I thought the 'triangles' were just design accoutrement. But no, they were big fucking arrows pointing the way, the whole time, and neither Andrew nor myself figured that out until we were back in Toronto. (slaps forehead).
You know who's smarter than me though? Eric Kim, who found AND photographed the exhibit. It's called TEZUKA WORLD. Eric let me use his photos here, and he was even good enough to write up the following little essay on his feelings about Kyoto Station and the Tezuka exhibit. Thanks Eric!
Eric's photos start here!
Tezuka World is impossible. It would never happen over here. A miniature shrine that celebrates a comic creator's life and work on some extremely high-priced real estate in the heart of a major city? Whatever. Maybe a cute little weekend exhibition, a passing interest to a once great medium. But let's face it, folks: Tezuka World would never be here, let alone the much larger Osamu Tezuka Manga Museum. You'd be laughed out the door for suggesting such idiocy.
I had to console myself daily with this mantra: "It can only happen in Japan". But you can only say that for so long before you want to puke blood. At the end of my three week trip, I was starting to scream to myself, "Why just Japan? Why not back home too?!"
Initially, I thought the Japanese were crazy. Now I understand that they're not crazy: they're fearless. They'll try out ideas because there's an opening in the public psyche, and they'll keep trying it out because they believe in the idea. It's never "why?" over there; that's ridiculously defeatist. Rather, it's "why not?". That is, at the very least, more optimistic.
Tezuka World is a "why not". Tezuka has won the world over with his creations: why not have a shrine to him? Why not have a whole bunch of his artwork along the walls, annotated so that people can get closer to a creator they love? Why not have a whole showcase of toys from different eras? Heaven forfend that people might actually like this childish shit, or even worse; see the creator as being more important than his licensable properties.
Look at that kid. The kid standing there, posing alongside Mighty Atom and flexing his arms. That's the "why" to the "why not". That even after the store closes, when there's nobody left in sight on the streets surrounding Kyoto Station, that there should still be children both young and old wandering close to warm memories that sparked an imagination.
I want North America to be like this; a lot of people do. So you ask me about Tezuka World, and I give you a hope that one day it won't be impossible at all.
- Eric Kim.
Thanks Eric! That was dark, but perfectly summed up a lot of my frustrations with North American comics culture when viewed through a Japanese lens… All those photos were just awesome too. I've tried hard not to draw tooooo many conclusions in the body of these travelogues, but suffice'd to say that there will be quite a few 'wrap-up' posts in 2008 that really… detail… some of the things I've learned and decided since my trip.
…anyway, don't feel too bad for me, I got to live out all of my Tezuka dreams a little later on in the trip… Meanwhile! We were STILL IN THE TRAIN STATION!
So three more things about Kyoto Station. The first? I got a haircut in the station. Seriously. My hair had gotten shaggier and shaggier on the trip, and with the temperatures floating between 30 and 40+ degrees centigrade every day (that's like mid 80s to high 90s farenheight) I had decided that enough was enough. Sadly, I do not have any photos of the truly, truly bizarre men's hair salon in Kyoto Station (directly across from the Phoenix water-clock, btw), but I do have a good couple of before-and-after shots for you.
Not Shown: The massage via massaging machine I was offered during my haircut; the ear-cleaning service; the manicure; the eyebrow-plucking; the inability to tip someone for good service due to cultural mores. I don't know if you really got a feeling for the city-within-a-city feeling of Kyoto Station, but maybe the concept of a perfect, $20 haircut will help…
Also neat about Kyoto Station? The massive, massive bookstore with a huge manga/artbook section. You've all seen enough photos of bookstores by now, but I did want to show you a cool feature: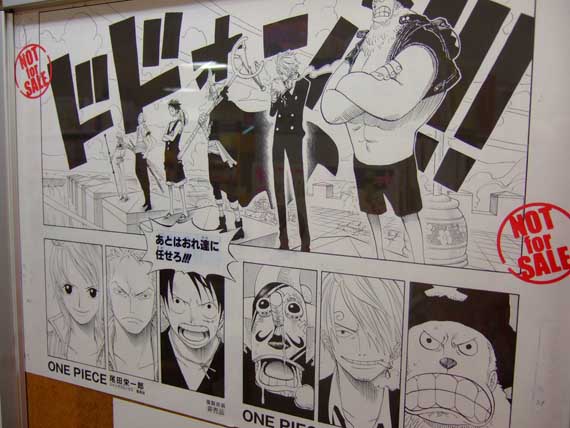 The store featured incredibly hi-res, full-colour, actual-size reproductions of manga art from a variety of series including One Piece (shown). That paste-up on the board? As far as I could tell, that was printed on the board. I was completely fooled at first, but then I realised that the NOT FOR SALE stamps weren't stamps… they were actually printed on the art. It was pretty neat, a sort of miniature gallery space and tribute to manga inside a fairly standard bookstore…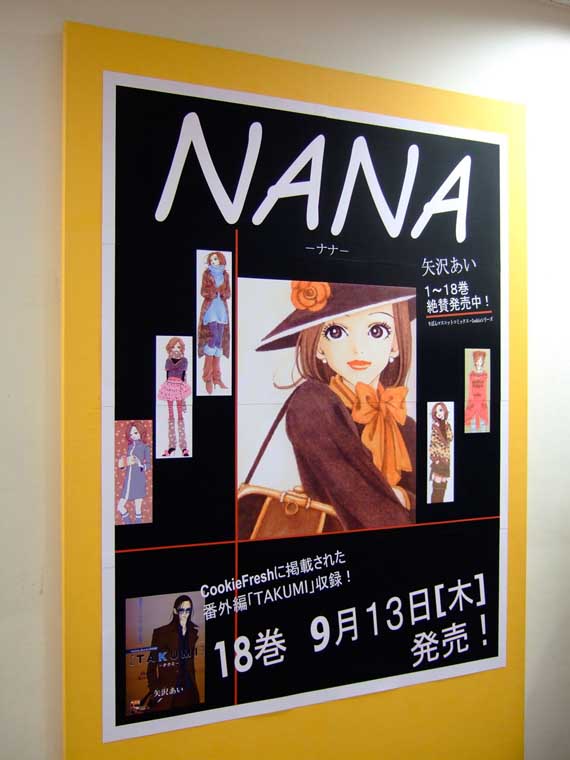 Also? Custom-made poster promoting the imminent arrival of the new volume of Ai Yazawa's NANA series. These guys really love manga, and it was heartening.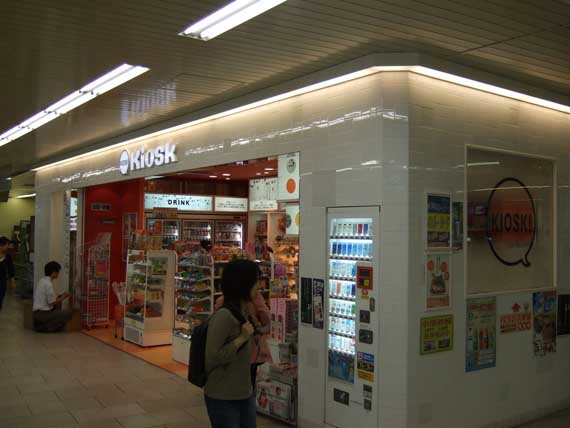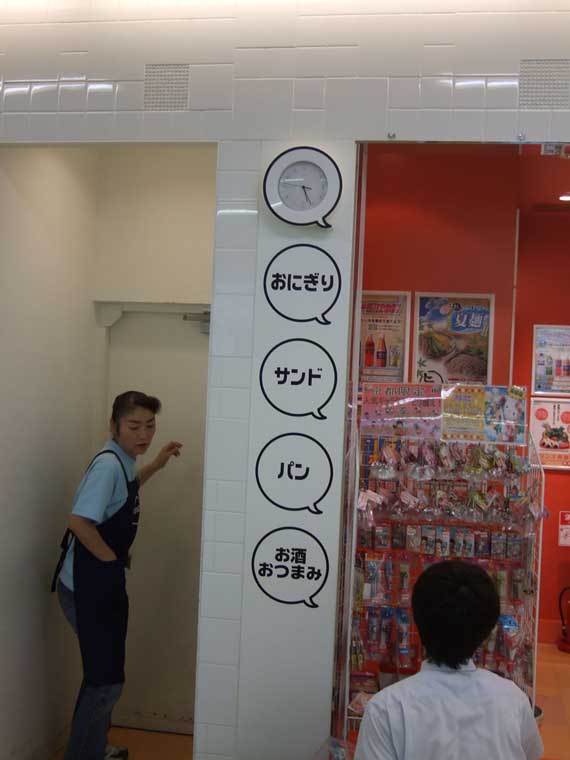 Chris notices comics culture: The KIOSK brand of variety stores? All done-up in word-balloons, which is tres cool. Also note that the top word-balloon is 3d and contains a working clock. Comics and manga iconography are a huge part of Japanese design, and it's interesting to see if reflected in so many places of every day life. You look at that and right away you realize what an effective information-conveyance icon it is, and wonder why it's used so sparingly in the west. As an icon it completely transcends comics, while never stopping to remind the viewer of them. I kind of want to do the whole front of my store in word-balloons now… We've got one so far, but we could certainly use more.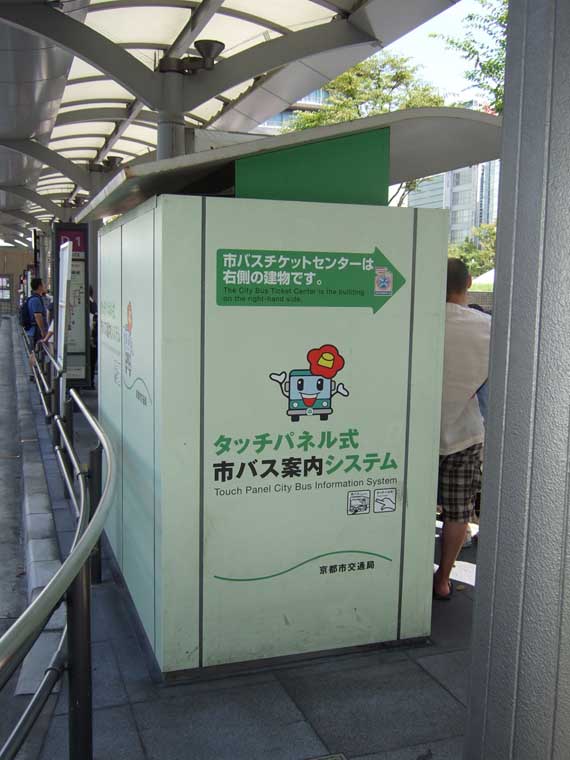 Okay, we're finally done with the station. Now to get onto the bus and go visit all the shrines and stuff… But you guys don't care about that, right? So next post? The Osamu Tezuka Museum!
- Christopher
Thanks again to Eric Kim for all of the great photos and essay! I love you guy! Check out Eric's website at http://inkskratch.com