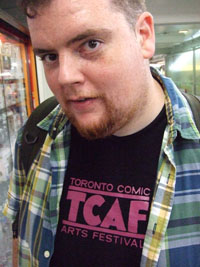 I've posted about 640 Japan photos to this blog since my first post on September 5th, when I was actually IN Japan. Man…
One thing I've noticed is that I started taking fewer photos as the trip went on, all of the strange and wonderful started to get a little more familiar, and therefore less-likely to make me stop and pull out my camera. Andrew and I had a wonderful conversation last night about all the stuff we'd seen that we didn't photograph, like some of the crazy department stores, or the restaurants, or the street fashion. Hell, you've only seen 640 photos of the more than 2000 I'd taken by this point in the trip. Seeing some of the wonderful photos in Amy & Kazu's photoset reminded me that there's so much more to this trip that didn't make it to the screen here (mostly because it is so far away from being relevant to comics I couldn't even pretend to post it).
Anyway, thanks everyone for continuing to read and enjoy these posts! I particularly appreciate all the links you've been sending my way too ;)
We're getting near the end, I think there are maybe only 5 posts left in the trip, but there's some good stuff too. Thanks for reading!
- Christopher
Photo: Representing TCAF at the Nakano Broadway Mall.