Copyright (c) 2006-2008 Kyoto International Manga Museum. All Rights Reserved.
One of the most interesting stops on my trip was on the relatively recently opened Kyoto International Manga Museum, located in Kyoto. I almost missed visiting the museum on my trip, but I'm very glad I attended; it's an essential stop for any manga afficionado or comics commentator visiting Japan. It is at once, a thriving commercial attraction, valuable historical record, and prime exhibition space. Consisting of thousands of manga (free to read with a paid admission), numerous permanent and rotating gallery exhibits, and all housed in a gorgeous converted elementary school in downtown Kyoto, the museum is an absolute wonder and tremendously inspirational.
In preparing this particular entry, I realised that I hadn't taken as many interior pictures of the museum due to copyright law and out of respect for the proprietors of the museum, and so I've had to fill in some of the gaps with pictures from the Museum website at http://www.kyotomm.com/international/english/. Copyright information for all photos that aren't mine is listed underneath each photo.
The sun was setting as we arrived at the Museum, a surprisingly substantial walk from Kyoto Station (despite how close it looks on the map provided on the museum's website!). Word to the wise: take the subway, unless the museum is one of many stops on your walking tour of the city.

Copyright (c) 2006-2008 Kyoto International Manga Museum. All Rights Reserved.
The manga museum is housed inside the former Tatsuike Primary School, which has undergone some extensive remodelling in sections, but in others has been wonderfully preserved. The school auditorium, for example, is entirely preserved and featured an art installation on early post-war manga(!) while I was visiting. The museum also features a completely preserved classroom, alongside information about the classes that used it, which is pretty neat.
The main entrance features an amazing gift-shop, jam-packed full of historical collections manga AND books about manga! All Japanese-language, sadly, and as this was nearing the end of my Japanese trip and I had already filled an additional suitcase with books, I had to pass, but any budding manga scholar needs to check that gift-shop out, I could've dropped a thousand dollars there, easy, on stuff I didn't see anywhere else on my trip!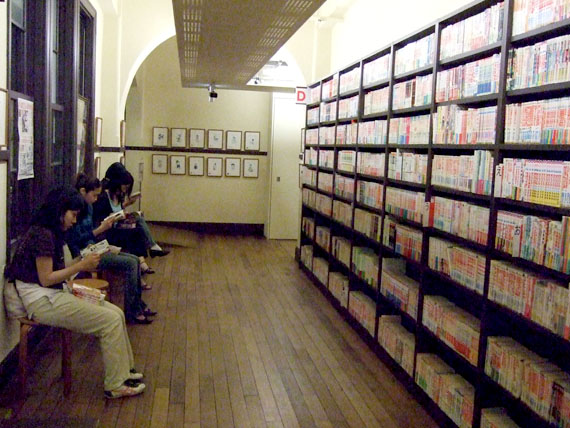 The main feature of the museum, for locals and visitors alike, is the "wall of manga" which is actually several walls of manga that span two floors and feature thousands and thousands of books to read, for free (with the purchase of admission to the museum at around $5 for the day). The museum was quite busy with teenagers and young adults quietly reading away on the evening we visited, and this cross between a traditional North American library, and the Japanese rental library model seemed popular. It also seems like something that would be easy to adapt for North American use, and would fund the day-to-day operations of the museum if not actually generate a little extra money.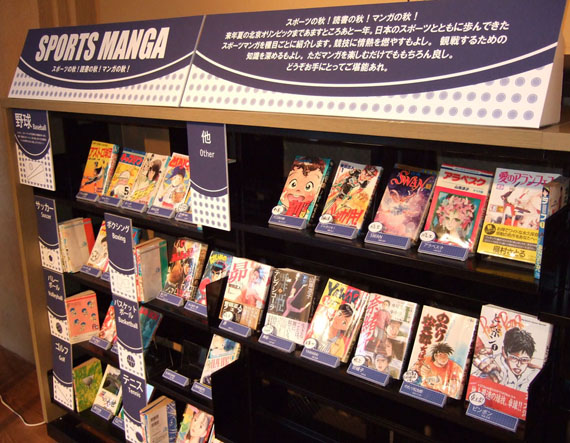 Themed displays of manga dotted the museum, including this SPORTS MANGA exhibit. I was happy to see Taiyo Matsumoto's PING PONG there… ;)
On the second floor we found a bookshelf that contained international comics, both original work from around the world as well as foreign-language translations of Japanese work.
I was kind of amazed to see someone had donated the (very expensive!) Absolute Watchmen… I can only imagine what Japanese readers think of that book. Still, Tatsumi is there with Goodbye, a little bit of Ashley Wood's Hellspawn. Heh. Quite the schizophrenic collection…
This shelf made a skootch more sense to me, with English language copies of Julie Doucet's My Most Secret Desire, Dave Sim's Cerebus, and Seth's Clyde Fans filling me with Canadian Pride.
I pulled out the copy of Clyde Fans to maybe take a picture for Seth, only to see that this particular copy came from… a store down the street from me in Toronto! A discount store at that… Heh. I travelled around the world to find a book from Bloor Street in Toronto, how about that?
…now I should point out that about this time a staff member from the museum dropped by to ask me why I was taking pictures of things that I clearly shouldn't be. After assuring her that I didn't take any photos of the inside of the books (I even scrolled through the camera with her) I introduced myself to her as being from The Beguiling, and mentioned that I was a friend of Seth and thought he might enjoy seeing a copy of one of his books in the International Manga Museum. We had a really good talk about the museum after that AND they didn't kick me out for taking photos, so it was win-win.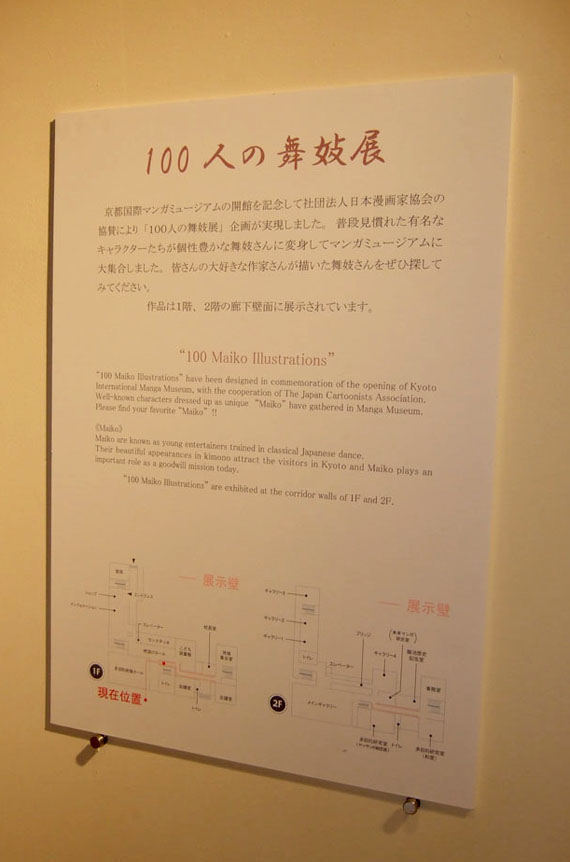 One thing that maybe hasn't come through from the rest of this report is that much, if not most, of the signage in the museum is bilingual. This is the only comics-related attraction that I visited in Japan that went to such lengths to make English speakers/readers comfortable, and both my husband and I really appreciated it. Getting to understand the information behind the art exhibits in particular was great, and I'd like to thank the folks at the museum for being so accommodating.
Another word on the exhibits: You couldn't ask for better exhibition space than we found at the museum. With at least three large gallery spaces and three-to-four smaller spaces (converted classrooms) every corner had something interesting to see. Although the success of these exhibits vary, it's clear that a lot of thought has gone into them. If I lived in Japan, I know that I'd be visiting this museum at least three or four times a year, thanks to the volume of new manga art and culture exhibits that they prepare.

Copyright (c) 2006-2008 Kyoto International Manga Museum. All Rights Reserved.
Then, unfortunately it was time to go, we had to leave not only the museum but Kyoto as well, in time to make it back to Tokyo for the last train to our hosts' house. Like I said, I didn't really get a lot of pictures because of all the original art that was hanging on the walls and the general… tenor… of the environment, but I hope this little essay has at least got you curious. If you're in Japan or on your way there, make sure to make a visit to this fabulous museum. If you're trapped outside of Japan, spend some time with the website, it's really well put-together.
The Kyoto International Manga Museum
http://www.kyotomm.com/index.php
- Christopher