I'd apparently fallen quite behind on reporting the Drawn + Quarterly books solicitations, so let's play catch-up and post a whole whack of great books all at once. These are the 'new' titles shipping in February, March, and April 2008, though I should point out that D+Q will re-offer many excellent books from their backlist every month as well, and that the actual ship dates don't always mesh up with Diamond's monthly solicitations, owing to vagaries of solicitation deadlines.
As to why I bother pointing out specifically Drawn + Quarterly's release schedule when there are other wonderfully deserving publishers that could use as the attention as much? Quite simply, there are precious few Canadian comics publishers, and none that I can think of whose primary goal is to publish the absolute best work in the medium, in the exact format that the creator would like. Canadians gotta stick together, yo.
Shipping in February 2008
Paul Goes Fishing
By Michel Rabagliati
$19.95, 204 Pages, 7×10, Softcover
Long lazy days stretch out while Paul's thoughts wander from the colorful characters at the fish and game camp to the lurking depths of childhood, a Holden Caulfield-esque adolescence. But the golden glow soon lifts off his vacation. It's not just the realization that outfitters have decimated the lake's indigenous species in favor of brook trout and are baiting wildlife for an easy fall hunt. According to Clément, Paul's brother-in-law, good fishing is all about knowledge and intuition, not sophisticated gear. So is storytelling, in Rabagliati's wistful and engaging account of everyday hopes and hardship. Beauty and meaning are even in the mundane in this compassionate story of expectation, disappointment and wonder.
[Chris' Comments: Every book by Rabagliati has been more accomplished than the last, and the Paul series are all wonderful stories that appeal to readers of all ages. This book had the additional honour of winning a Wright Award, I believe, upon its initial publication in French a few years back.]
–
Crickets #2
By Sammy Harkham
$4.95, Comic Book
Crickets #2 features the highly anticipated second installment in Sammy Harkham's new ongoing serial Black Death as well as a number of shorter strips that showcase the acclaimed young artist's sharp wit and quirky sense of humour. Begun in the first issue, Black Death follows the adventures of a curiously indestructable man shot full of arrows and a mute Golem as they wander in the woods together, blundering through their encounters with its strange and isolated inhabitants. In the unrelated shorter strips, Harkham, publisher of the influential comics anthology Kramer's Ergot, takes advantage of the opportunity to exercise his considerable imagination on a wide range of topics, from his autobiographical adventures on a signing tour to the frustrated comic aspirations of the emperor Napoleon.
[Chris' comments: In all the discussion surrounding the move to graphic novels and book-format comics, I hope we don't lose sight of the fact that there really are wonderful comic books being released to the market in the alt-comix/indy vein. More than just the lovely Ignatz books, anyway. Although it's been a bit of a wait between issues, the first Crickets was quite good, and I'm looking forward to this second issue.]
–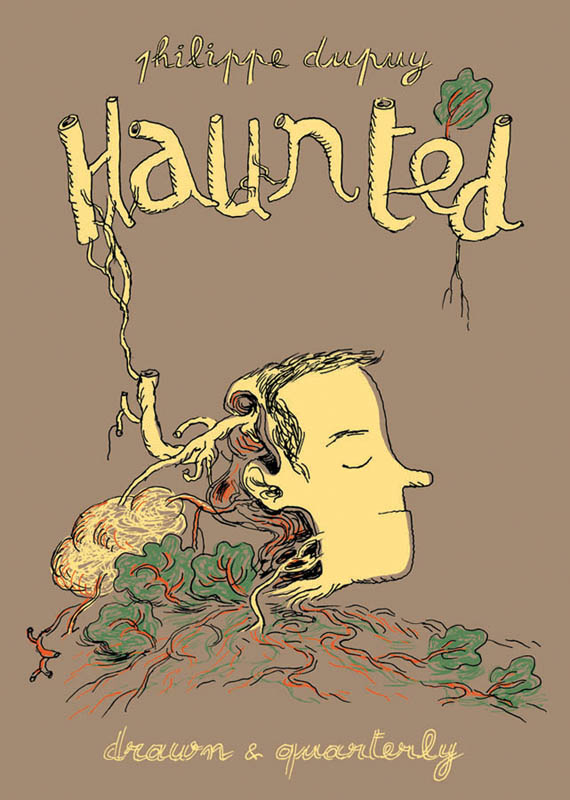 Haunted HC
By Philippe Dupuy
$24.95, 208 Pages, 7×10 Hardcover
Ten years after finishing the original French edition of Maybe Later—the book in which the French superstar cartooning duo Philippe Dupuy and Charles Berberian worked separately for the first time—Dupuy set out on his own again with Haunted. Gone are the tightly constructed narratives and urbane, elegant graphics of his projects with Berberian. In their place, roughed-in drawings give an urgent, spontaneous feeling to a series of hallucinatory stories and dreamlike sequences that register the raw distress of solitude and self-doubt—the dark core of the material held in balance by Dupuy's acid humor and lyrical sensibility. A jogging Dupuy runs around and sometimes through the stories of the misfit characters that haunt him: a self-amputating dog, a Left Bank artist in search of emptiness, an art-collecting duck, Lucha Libre wrestlers, and a group of single guys at the watering hole imagined as the anthropomorphic "Forest Friends." Heart pumping, gaze turned inward, the ground occasionally giving way beneath his feet, this alter ego concludes that sometimes you need to cross the line to figure out where it is. The original French edition of Haunted was nominated for the 2006 award for Best Comic Book at the Angoulême International Comics Festival, the most prestigious award in European comics.
An excellent companion to Maybe Later and Get A Life, both offered again this month.
[Chris' comments: Dupuy & Berberian's Get A Life and Maybe Later were, I feel, the overlooked gems of 2006. Beautiful cartooning, memoirs and fictional characters intertwine, it was all wonderful. This book looks to take the autobiographical work of Philippe Dupuy further-still, and the PDF preview available at the Drawn & Quarterly website is quite provocative. Hopefully this title catches on with readers.]
–
Shipping In March 2008
–
Berlin #15
By Jason Lutes
$3.95, 24 pages, Comic Book
The penultimate chapter to Berlin: City of Smoke, the second volume in Jason Lutes' trilogy about the decline of the Weimar Republic, finds its broad cast of characters searching for solid footing in a chaotic cityscape. The relationship between Pavel the scavenger and the orphaned Silvia Braun comes to a painful end, while tensions rise between the Cocoa Kids and their German manager. Meanwhile, Kurt and Marthe struggle to come to peace with their failed romance and the different ways they view changing world.
[Chris' comments: As glad as I am to see this being released again, I feel like everyone is really just waiting for the trade. It's too bad, because the last few issues of this have been phenomenal... though it looks very much like Berlin Volume 2 is on track for a release at the end of this year, if the frequency of these serialised issues is anything to go by.]
–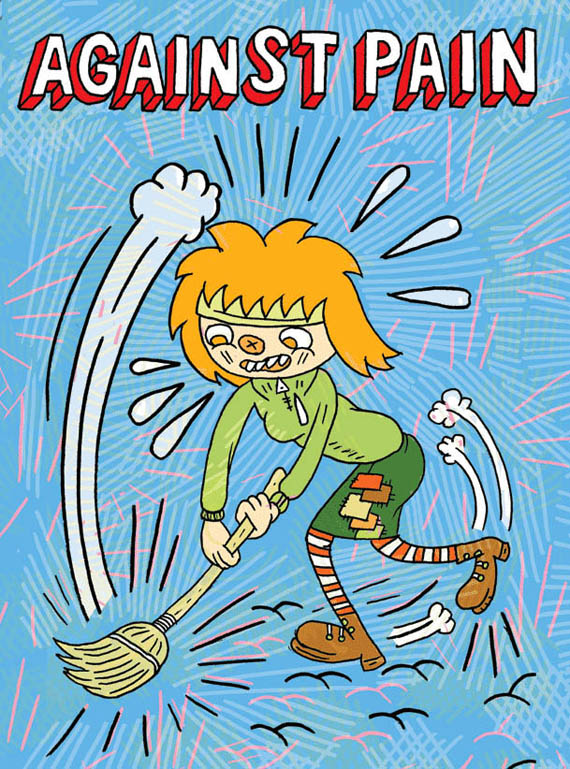 Against Pain
By Ron Regé, Jr.
$24.95

Against Pain is the first collection of multipage anthology pieces by Ron Regé, Jr. The storytelling side of his expressive work is featured in these comic strips gathered from McSweeney's, The New York Times, Kramers Ergot, NON, Rosetta, Arthur, The Comics Journal, and Drawn & Quarterly's anthology. Suicide bombers, art appreciation, a Lynda Barry "cover" and even a Tylenol-sponsored comic about pain are brought together under the theme of suffering and how people cope with it. Against Pain also includes the alt-comics zine classic Boys: a 22-page collaborative comic–considered by many to be Regé's finest work–illustrating the "lust life" of a friend in explicitly honest and hilarious detail.
"Ron Regé is one of a handful of cartoonists not only to reinvent comics to suit his own idiosyncratic impulses and inspirations, but also to imbue them with his own peculiar, ever-changing emotional energy. To me, he is unquestionably one of 'the greats.'" –Chris Ware
[Chris (Butcher's) comments: Ron Rege Jr. is a really nice guy, and I've enjoyed his comics and illustration, but I don't quite feel I've connected with them yet. I can quite-easily see what makes them great, I'm just not-quite there yet.]
–
Shipping in April 2008
–
Good-Bye HC
By Yoshihiro Tatsumi, designed by Adrian Tomine
$19.95, 208 Pages, Hardcover
Designed and edited by one of today's most popular cartoonists, Adrian Tomine, Good-Bye is the third volume in a groundbreaking new series that collects Tatsumi's short stories about Japanese urban life. Drawn in 1971 and 1972, these stories expand the prolific artist's vocabulary for characters contextualized by themes of depravity and disorientation in twentieth-century Japan. Some of the tales focus on the devastation the country felt directly as a result of World War II: a prostitute loses all hope when American GIs go home to their wives; a man devotes twenty years of his life to preserving the memory of those killed at Hiroshima, only to discover a horrible misconception at the heart of his tribute. Yet, while American influence does play a role in the disturbing and bizarre stories contained within this volume, it is hardly the overriding theme. A philanthropic foot fetishist, a rash-ridden retiree, and a lonely public onanist are but a few of the characters etching out darkly nuanced lives in the midst of isolated despair and fleeting pleasure.
An excellent companion to Tatsumi's first 2 books, The Push Man and Other Stories and Abandon The Old In Tokyo, both offered again this month.
[Chris' comments: I never would have imagined that underground and outside manga would ever make it to store shelves here in North America, but I'm incredibly heartened to see this third collection of Tatsumi's short stories, and hope that this won't be the end. This is in the top 5 for 'best manga available in the English language.]
–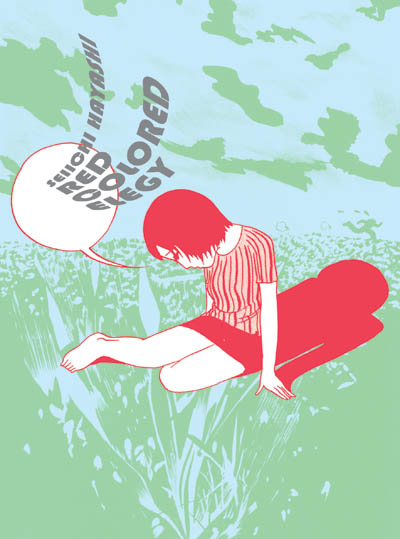 Red Colored Elegy
By Seiichi Hayashi
24.95, 240 Pages, Hardcover
A true cornerstone of the Japanese underground scene of the 1960s.
Seiichi Hayashi produced Red Colored Elegy in the aftermath of a politically turbulent and culturally vibrant decade that promised but failed to deliver new possibilities. With a combination of sparse line work and visual codes borrowed from animation and film, the quiet melancholy lives of a young couple struggling to make ends meet are beautifully captured in this poetic masterpiece. Uninvolved with the political movements of the time, Ichiro and Sachiko hope for something better, but they're no revolutionaries; their spare time is spent drinking, smoking, daydreaming, and sleeping—together and at times with others. While Ichiro attempts to make a living from his comics, Sachiko's parents are eager to arrange a marriage for her, but Ichiro doesn't seem interested. Both in their relationship and at work, Ichiro and Sachiko are unable to say the things they need to say, and like any couple, at times say things to each other that they do not mean, ultimately communicating as much with their body language and what remains unsaid as with words.
Red Colored Elegy is informed as much by underground Japanese comics of the time as it is by the French Nouvelle Vague, and its cultural referents range from James Dean to Ken Takakura. Its influence in Japan was so large that Morio Agata, a prominent Japanese folk musician and singer songwriter, debuted with a love song written and named after it. An excellent companion to the three Tatsumi books offered here.
[Chris' comments: I'd been hearing about how good this book by underground Manga-ka Seiichi Hayashi is for years, and like the Tatsumi releases, I almost don't believe that this is real. To say that I am anticipating reading this is a huge understatement. This is the early contender for 'most important manga release of 2008' and really, its only competition is Vertical's new editions of Tezuka's Black Jack.]
–
For more information on all of these books, visit the Drawn + Quarterly website at http://www.drawnandquarterly.com/.
- Christopher