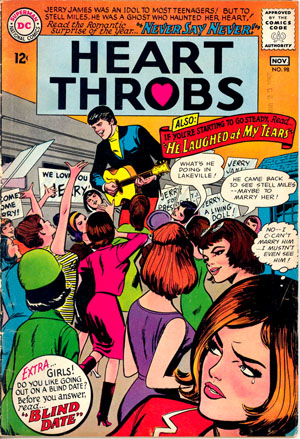 Being a gay dude who is at least nominally interested in the bears (not the sports team) I'm pretty-much spoiled for choice when it comes to eye-candy in the comic book store: chubby, hairy, muscley guys are the majority demographic. Granted: I am married now and so I don't have those thoughts anymore. But what about the poor, single, (ostensibly straight) nerds at the comic shop, where are they supposed to find love? Why, at Comic Book Singles Night!
This past Friday, February 8th, Brave New World Comics in Newhall, California held their first ever Singles Night, encouraging ladies and gents to head to the shop and maybe meet the nerd of their dreams. As you might expect, just dumping a bunch of folks that would describe themselves as 'socially awkward' into a room is not, necessarily, the best idea for a good time. It's to the credit of Brave New World owners Atom! and Portlyn Freeman that things went so smoothly, as they shored up the event with live bands, food, and booze. To be honest, I think the idea of getting a bunch of nerds drunk is kind of amazing, but probably for different reasons than the organizers intended… still, by all accounts the evening was a huge success.
I got a chance to talk to Atom! Freeman (his real name) about the event.
"My goal with most in-store events is to break-even, get an opportunity to say the store's name in public and see new faces," said Atom! "[For Comic Book Singles Night] we doubled our break-even number … our event got mentioned by 5 local radio stations including an interview on a highly rated morning program and we got a half-page write-up on the front page of the local newspaper!
"Business-wise it exceeded all of my expectations."
And how about romantically? Anyone hook up at the event? "I hope so," said Atom! "Because the point of this was to find our friends someone they could enjoy being with. Turns out, more then just our friends responded. I know a lot of numbers were exchanged."
According to Atom! more than 100 singles showed up to the event, with a 60/40 gender split weighed towards the guys… a hell of a lot better than I, for one, was expecting. Personally I'd worry about setting up too many of my existing customers with each other… what if they decided that they only needed one copy of a given comic that they could share? I know it's blasphemy, but apparently when two comics nerds get married they actually start mixing their respective comics collections! Heresy! Apparently the key to events like this is involving the larger community and bringing new faces into the comic book store to pair off with your shoppers. Of course, I think the fact that Atom! referred to his customers as his friends says a lot about the very genuine community-driven motivation behind the event, but he also figured out the key to getting a whole bunch of potential customers to see all that Brave New World had to offer: Local Bands.
"[My biggest surprise was] what a draw local live bands are," said Atom! "At one point in the evening, just looking over the crowd I guesstimated that it was 50% fans of the band who just came for the music. While we didn't do huge sales numbers that night, the weekend was huge because for the next couple days, people came back to buy things they had seen that night.
"I'm now looking into what it will take to have a live music night every 6 weeks."
What struck me most about this event, and what made me want to write about Comic Book Singles Night in the first place, is that the language used to describe the event in the press was very open-ended regarding gender and sexuality. Brave New World made it pretty clear that whether you were a guy or a girl looking for a guy or a girl, you'd be welcome to come and try your luck at the comic book store.
"This was one of the first factors that we felt needed resolution before we went ahead with the event," said Atom! "Our intention was never to exclude anybody. The only way that we even made it gender specific was the raffle and even that was "put your ticket in this box if you want to be paired with a boy, in this box if you want to be paired with a girl."
"I see a major part of my job as a retailer is creating a community. To create a place where people with similar interests can gather and interact. I don't see gender or orientation as major components in that job. Our store is located in a Victorian-styled strip mall with a bridal shop, hair salon, yoga studio, and antiques boutique. If we wanted to focus on the single white straight male comics fan, we could be much more profitable in the industrial center with a roll-up door that only went up 4 times a week. Our goal is to reach as many people as possible and expose them to art, culture, and entertainment that they wouldn't normally run across."
In the past I know that Eisner Award-winning comic shop Zeus Comics in Dallas, Texas has done social 'mixers' for their clientele, including a specifically queer-themed mixer in late 2005.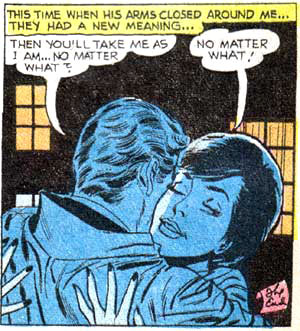 My experience with the comics industry is that it's no more or less homophobic than the general public (and those that disagree should hang out on X-Box Live some time to see what fandom-oriented homophobes really sound like…), but that doesn't change the fact that the comic store is generally a very heteronormative environment. Superhero comics in particular (the bread and butter of most comics shops) are notorious for this. Check out my Afraid Of Cock post for more. Many queer customers still don't feel safe being 'out', so any actions that are taken to really include and engage gay comics fans I feel are worth noting. Would BNW ever sponsor a Gay Singles Night? "I would need more convincing that there would be a need for a more queer specific event," says Atom! "But, a lot of our single queer customers and friends were here and some met each other for the first time, so who knows?"
That leads into the most pressing question of all, will there be more Singles Nights for the friends of Brave New World? "Without question… We'll probably try it again in 6 months to see if it still draws and then quarterly and so on. [It was] easily one of the best events we've ever had."
- Christopher Butcher
Images stolen from: http://www.keef.net/, http://www.comics.org/, http://thatsmyskull.blogspot.com/, and http://www.scottsaavedra.com.