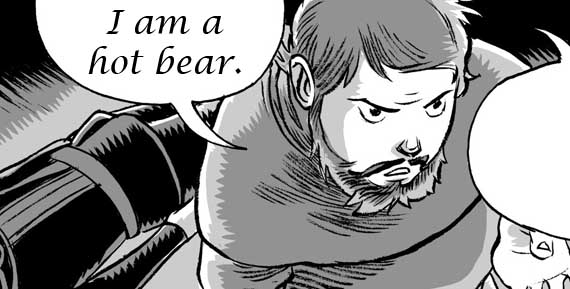 + Flight contributor and graphic novelist Neil Babra recently completed an adaptation of Shakespeare's Hamlet for the "No Fear Shakespeare" line of graphic novels published by an arm of B&N. The "No Fear" line basically "translates" Shakespearian English into more direct or contemporary English, to make the stories more approachable for young readers. I have a complex array of feelings on the idea of changing the language of Shakespeare without a full modernization, particularly because I don't think the plot of Shakespeare is as important as the actual language… But that said, I think there's still value to this approach, both as a study guide and additional learning tool for readers who need a way "into" the works. Luckily Neil has lots of ideas on adaptation, translation, and Shakespeare's language as well, and he addresses them all on the just completed information page on the No Fear: Shakespeare graphic novel adaptation of Hamlet. It's really wonderful reading.
Also, I have included a more literal adaptation of my own to My reading of the classic; Neil draws Horatio hot all the way through the book.
+ Has anyone noticed that the new colours on the remastered hardcover edition of Batman: The Killing Joke are kind of boring? Check out this side-by-side comparison of the original colours and the new edition over at PopCultureShock. I think my problem with it is that while artist Brian Boland brings a high degree of craft to the new colouring, he's drained all of the emotion and… art… out of the work. Little touches like the cast-shadows on the cuffs of the Joker's sleeves, for example, added more personality and depth to the art than all of the soft airbrush modelling in the world could hope to accomplish. At work my opinion is in the minority, with the majority of customers loving the hell out of the new look. Enh.
+ I'm really glad that Johanna Draper-Carlson put the leg-work in to try and peel away some of the secrecy surrounding comics' only national holiday (or outreach event…), Free Comic Book Day. I've never understood the lack of transparency or accountability that surrounds this event, and I find it incredibly frustrating every single time it rolls around. This time out? The organisation mandated that all books had to be all-ages appropriate, thus reflecting a vision of the industry that doesn't actually exist. They disallowed the participation of a publisher and then apparently lied about the reasoning (see the comments section). Getting answers is like pulling teeth. They stopped answering. And then somewhat mysteriously retailer Joe Field, the founder of FCBD (before turning it over whole-hog to Diamond), a man who has made very specific mention in the past of his arm's-length from FCBD, ends up responding to questions that were sent to Diamond.
I'm not one to critisize without putting the work in myself; I do lots of comics outreach. But I think you can do it without the secrecy and misdirection, and a damn site better than what's gone on. And if Mr. Field wants to ask me for suggestions that generally aren't followed up on, again, here's one: Name the people and organizations on the FCBD comittee. Who's making the decisions, specifically? I'd feel better about the organization and more inclined to support it if decisions weren't being made behind closed doors, and without any more general consultation of the direct market.
+ My friend Mr. Bryan Lee O'Malley was interviewed on NPR's "Fair Game" last week about Scott Pilgrim. It's a fun little interview and it's the last segment, so fast-forward until there's about 10 minutes left in the program.
+ The New York Times' "Papercuts" blog offers up The 7 Deadly Sins of Book Reviewing. In keeping with the form, the 7 sins are particular words that are overused by reviewers and critics to the point of uselessness… Are the standards in comics criticism high enough that something like over-use of word "poignant" is something we have to worry about? I mean, how often are we likely to see the word "lyrical" in the latest plot-recap of last week's Avengers? Or am I just being a bitch? Or both?
+ At Gay Pop Culture Website AfterElton.com, prominent gay comics fan/writer Lyle Masaki has been covering comics and geek culture turning on the broader gay audience to all that's gay in comics (though mostly the superhero and Buffy set). "Six Gay Geeks Who've Improved Popular Culture" is a recent piece from Lyle that tags comics mainstays like Phil Jimmenez and Andy Mangels for their comics-centric contributions to geek culture. It's a solid read.
+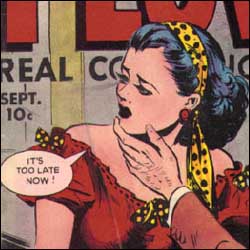 I found myself needing to write a short history of comics in North America recently, and found the website The History of Romance Comics to be a really useful compendium of knowledge on some of the most popular and bestselling comics North America has ever seen. Who knew that they also feature a great collection of romance comics reprints as well? Check out their fantastic collection of pre-code romance comics and history articles.
+ Thank you John Jakala for pointing out that Paul Levitz isn't so hot at the math. Unfortunately, the platform for Mr. Levitz' creative accounting is the blog & Newsarama, and the comments section there is such a fucking pit that any legitimate criticism of the facts presented in the column is likely to get drowned out by mouth-breathers still angry that every DC comic doesn't come with bound-in $50 bills. Le Sigh.
+ Finally, though it isn't specifically about comics I wanted to talk a little bit about bookstore culture… Here in Toronto the bookstore landscape is a-changing. Our neighbors at Ballenford Books on Architecture will be closing their doors in the next few months. They're currently working to liquidate inventory which means some nice sales on some beautiful books… I really like this store and bookstores in general. It's always sad when one decides to close their doors.
Meanwhile, one of my favourite indy bookshops is closing as well, but with a happier ending. "This Ain't The Rosedale Library" will be closing their 22 year old spot in Toronto's Gay Village, and moving to a smaller (and likely much cheaper) space in Kensington Market. They're also having a pretty amazing sale right now, with 50% off of the already low prices on remaindered books. I'm going to try to get over there first thing tomorrow…
And that's it for this post. Thanks for reading!
- Christopher