Kazu Kibuishi signs the movie contract for his graphic novel Amulet. The movie has been optioned by Will Smith's production company. Kazu is pretty excited to meet him. :)
There's 3 announcements in this picture, if you look carefully. The big one is the exceptionally good news that Stephen Robson of Fanfare/Ponent Mon has signed the contract to do the English-language adaptation of Jiro Taniguchi's masterful graphic novel series "Faraway Neighborhood" (transliteration, it could be translated a number of ways). This is, from people in the know, the Taniguchi book. In the background you can see poster promoting two new works, including Disappearance Diary by Hideo Azuma and My Mommy, by Jean Regnaud and Emile Bravo. This is great news, more on this later.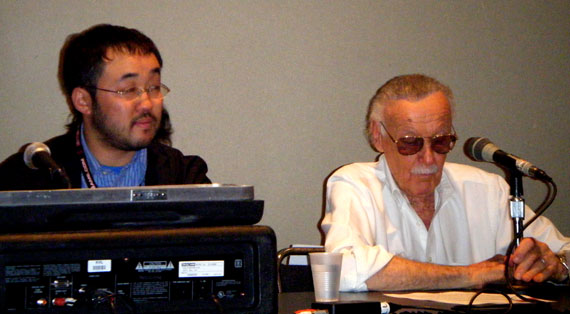 Asano-san and Mr. Lee talk about cross-continental collaboration, in advance of the new Shonen Jump series Ultimo!
Having a great time, wish you were here.
- Chris