Over at The Comics Reporter, Tom Spurgeon's "Five For Friday" feature solicits reader reaction on a specific theme, like your five favourite superheroes, five important moments in comics, or this past Friday's "Name Five Archival/Translation Projects That Aren't Happening Right Now (As Far As You Know) That You'd Love To See." CR writer and blogger David Welsh at Precocious Curmudgeon opened up the question to his own readership for some more manga-oriented reactions after Tom had posted his final list.
As soon as I saw the question I thought "It'd probably be a neat blog post to actually compile all of the suggestions and see what projects are the most popular and most-demanded" because I'm weird like that. So I did, and the biggest surprise is that there's remarkably little overlap in the requests of fans. Despite about 200 suggestions, there are only about 20 projects that netted at least 2 votes, and less than 5 that netted three or more. The big trend though was that many more requests were made for specific works than there were requests for artist-centric projects, with the former outnumbering the latter around 5 to 1.
So what are the top fan-requested Archival/Translation projects? Here's the list:
Various works by Sergio Aragones
Barnaby, by Crockett Johnson
Barney Google, by Billy De Beck
Cornered Mouse Dreams of Cheese, by Mizushiro Setona
Corto Maltese, by Hugo Pratt
Various works by Steve Ditko
EC Comics Reprints by Artist
The Fabulous Furry Freak Brothers, by Gilbert Shelton
GeGeGe No Kitaro, by Shigeru Mizuki
Gokusen, by Kozueko Morimoto
King Aroo, by Jack Kent
Moyashimon: Tales of Agriculture, by Masayuki Ishikawa
Various works by Usumaru Furuya (Music of Marie in particular)
Nancy (specifically by Ernie Bushmiller or John Stanley)
Various works by Osamu Tezuka (Princess Knight in particular)
Various works by Alex Toth
Touch, by Mitsuru Adachi
Trots and Bonnie, by Shary Flenniken
Wash Tubbs, by Roy Crane
White Boy, by Garrett Price
Works of Al Williamson
Yokohama Kaidashi Kikou, by Hitoshi Ashinano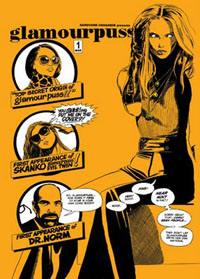 I hesitate to draw any major conclusions about this from such a limited sample pool… I do think that choosing a major reprint project is risky for any publisher, because every fan has their own particular favourites, and fans find different value in different projects. For example, despite everything he has done to turn me off of his work, Dave Sim is single-handedly responsible for making me want to dig deeper into the work of Al Williamson thanks to Glamourpuss #1 a few weeks back. It's an oddball project, for sure, but if you can divorce Dave Sim the person from Dave Sim the guy who created a pretty solid comic book talking about the history of illustration and illustrators, it's a good read. If not, please promise me at least to not wreck the copies I've got on the rack.
There's also, I feel, a real balancing act between something that has enough exposure to create a large fanbase (and demand) for the material, and something that has so much exposure that it actually sates the demand of the public. On that note, the gap between retailer demands is quite different than consumer demands. For example, if you ask a group of retailers what they want in collection, the unanimous answer will be (I shit you not) Sugar and Spike, the children's comic from DC. However out of all of the suggestions for reprint projects, only one was put forward for those adorable little ragamuffins… Is it economically viable to publish something that only hardcore fans (retailers in particular) will publish?

But the one thing I can definitively draw from the responses I saw? Everyone, everyone, wants complete collections. Not "best ofs" or retrospectives, but every single strip, every single page, every single work, PLUS bonus material. Some people (lookin' at you, Dorkin) were particularly emphatic about that. I totally understand of course, there's that Obsessive/Compulsive part of my brain that is irrationally angry as soon as I realize something I purchased is "incomplete". I'm trying to work through it in therapy, but it's going poorly. Which isn't to say that sometimes a best-of or retrospective can't be downright magnificent, the Sunday Press Little Nemo: So Many Splendid Sundays and Sundays with Walt and Skeezix are best-of collections, specifically chosen for their suitability to be printed at that huge 16″ x 21″ size, and I can't think of anyone arguing against them being fuck'n cool. I could think of a good argument against how essential they are, however, which is something that a "complete" collection will never be.
On that note: We are living in a wonderful time for the North American comics medium, where more of our history is coming back into print every day, and in progressively more affordable ways. The care and attention to detail being given to these reprints is phenomenal as well, and I couldn't be happier that these projects are able to find good publishing homes, and so many of them are selling well enough to warrant their continued release.
- Chris
P.S.: My top 5: Complete Works by Taiyo Matsumoto, Complete Works by Usumaru Furuya, Complete Works by Katsuhiro Otomo, Complete Journals by Fabrice Neaud, and the entirety of Ralf Konig's catalogue, in colour (or with a better print-job than it has received in North America to date).