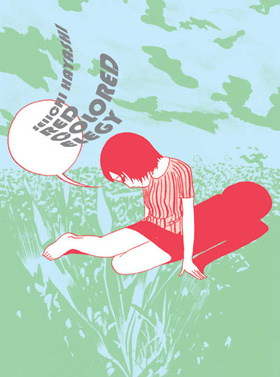 I haven't linked to Adam Stephanides site Completely Futile for a while, but his recent post on D+Q's manga initiative made me think, so I wanted to respond. Here, I'll let Adam explain his problems with D+Q's manga releases in his own words:
Drawn & Quarterly's edition of Red Colored Elegy, a Japanese-language edition of which I reviewed here, is finally out. (Note that the D&Q book contains only the title story from the edition I reviewed, not the shorter stories that were also collected there.) Unfortunately, I can't greet this occaion with unalloyed joy, because Drawn & Quarterly did the same thing that they did with their Yoshihiro Tatsumi collections: rearranging the panels on each page so that the page (and the book) reads left-to-right, but not flipping the original panels.* Why do they do this? If they aren't going to publish it unflipped, which they should, I'd much prefer that they just flipped everything. That way the relationships between the panels, and the overall design of each double-page spread, would be preserved. I really don't understand. Drawn & Quarterly is clearly publishing this as a labor of love, so why do they deliberately mutilate it? - Adam Stephanides, Completely Futile blog

I really enjoyed reading Red Colored Elegy in the D+Q edition, and if you enjoy a work that challenges you as a reader I'd recommended it. That said, I am bothered by the ideology of the D+Q release, of selectively flipping panels or cut-and-pasting pages. I even advocated against such back in the day, back when I heard the first Tatsumi Yoshihiro book The Push Man and other stories was on its way. But despite my problems with this method of formatting manga for North American release, as onerious as this production method is, a) it has the approval of the actual author of the work, and b) every other method for translating manga into English is potentially worse.
I don't like flipped manga because mirror-imaging original art tends to reveal imperfections in drawing, that's just the way it goes. It also makes manga-ka practically die of embarassment, seeing work with all of its flaws revealed to the world. I also think that, should someone like D+Q release a manga unflipped, the commercial possibilities of the work are practically halved. Any time a prominent blogger talks about a new manga release, Ed Brubaker (love ya Ed!) pops up in the comments to mention that he can't read unflipped [backwards] manga. Just can't read it. And he's not alone… it's one of the things that makes unflipped manga so attractive to younger readers by the way… it's like visual pig-latin. So yeah, I mean, we get the Tatsumi books rearranged ("translated") for Western audiences and the sales are great because the older, not-necessarily-manga-reading crowd that the books are aimed at can actually read them, and most importantly the original creator of the work is happy with it. Or, at the worst, he is at least happy enough (though having met Mr. Tatsumi, I can in fact confirm he is extremely proud of the D+Q editions of his work).
So, yeah, Adam, I really empathize with you on this one, because I'd love to read the work in a format as close to the original as possible. But I can't, because I don't read Japanese, and I'd rather the books come out and find a measure of success to ensure that more come down the pipe as well. And it's not like D+Q doesn't do a good job–they just don't do the job we'd like them to do… a crucial difference.
On that note, Tom Devlin dropped in on Completely Futile to explain D+Q's position:
Officially, we do this to reach as wide an audience as possible. We don't view these books as specialty fiction but as stories that everyone should read. We realize that many people will view this as "mutilation" but we always run the English version past the artist before publication. In fact, Tatsumi actually rearranges the panels himself. I personally think of this approach to editing as somewhat similar to putting subtitles on a foreign film–it clearly alters the experience but it's often the only way for many of us to experience the storytelling art of different cultures. - Tom Devlin, D+Q, on the Completely Futile blog
I think it's just a matter of fingers crossed, waiting for the industry to change at this point. But it'll be… shit, 10 years minimum before the readership base comfortable with reading unflipped manga is large enough to support niche or artcomix releases. Keep hope alive, Adam!
- Christopher