Hey, I actually got a chance to check out some of Kramers Ergot 7 while I was in San Diego. It was already on my buy list, honestly, because I've got all the other ones and the creative line-up sounds amazing. But the stuff that I've read and glanced at is really is top-notch… It's probably going to make things worse, not better, if this thing is really good right? Like, people will be more upset that they can't afford it? I can't tell if it being good will make people more or less angry about the price. Maybe if it's bad they'll be happier, because that'll justify their insane hating? Or passive-aggressive non-opinions?
Actually, haha, actually the whole argument reminds me of an Achewood comic where roast beef gets a new shirt. He gets this shirt from a girl who likes him and he tries it on and feels pretty good. Then: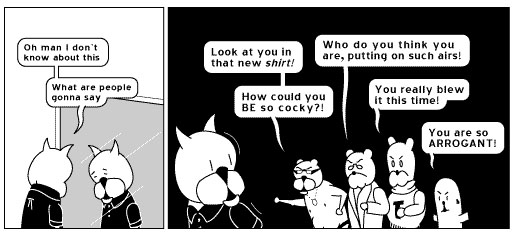 Except it's not just in his head, those are real people doing that. For tonight's performance, the roles of the angry cartoon animals that exist inside the depressed cat's imagination will be played by people in the comics industry. It's kind of amazing and awful at the same time? Like, people gathered down to shout-down a project that they personally feel is too ostentatious? Can you imagine if this happened in other media? Like people protesting The Batman movie because Christopher Nolan didn't remake the Adam West one? Haha… So sad/awful/amazing.
Keep hope alive, guys.
- Chris