Urgh: So, I forgot when I started writing this review that I said I'd only recommend stuff that would actually be in stores for you to buy… And I think this is still a couple of weeks away. So, uh, sorry. I'll probably re-run this review when the book comes out. Hope you don't mind? I'll try and come up with a little something that you actually CAN pick up in stores this Wednesday.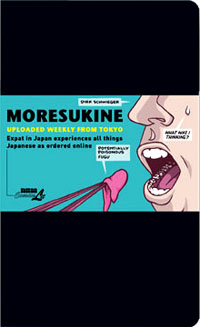 Moresukine
By Dirk Schwieger
$15.95, 176 pages (with foldout), Paperback
ISBN: 978-1-56163-537-5
Published by NBM Publishing
Reviewed by Christopher Butcher
I was lucky enough to grab an advance-advance copy of Dirk Schwieger's Moresukine at this summer's Comic Con International in San Diego, direct from the artist himself. I paid full price, and it's the only book I got signed while I was there. That should tell you that I liked it. Even though I was already a fan of the work from its serialization online in 2006, I have to admit a little bit of disappointment at the print edition, which saw many of the pages suffer unfortunate cropping and printing problems. Many of the densely-packed pages of art and text were bleeding right off the edges of the page, more-or-less legible but incredibly distracting. But it's with great joy that I can announce that the review copy that arrived today is free of those problems, which may account for the book's exceptional lateness (it was originally due in July). It looks like NBM might have gone back to press on this title, to provide a better edition. If so? Bravo for them, for their commitment to quality! And… maybe sometimes it's better not to get one of the first copies off of the press.
Moresukine is how you pronounce "Moleskin," as in the notebook, in a Japanese accent. The book is named after the diary that German-in-Japan Dirk Schwieger used to chronicle his adventures in the city of Tokyo, comics-style. But he took the casual observation of his temporary home a step further, offering his comics' online readers a chance to shape the comic and his coverage in the most direct way possible: tell him what to do, and he will do it, and draw a comic about it. And people did just that from January to June 2006, each week with a new installment and a glimpse into life in Tokyo. We get to see first hand almost as it happened what Harajuku fashion is really like, the terrifying truth about Japanese toilets, and discover the deadly fugu fish in a way heretofore only afforded by The Simpsons.
It's funny, when I first start to tell people how much I enjoy this strip and this new collection, they do a little politically correct-minded wince at the strip's title, worried that it might be drawing humour from an uncomfortable place. I understand those concerns, but I can't really see anything in Schwieger's stories that are mocking or denigrating Japanese culture; Dirk takes great pains to engage Japanese culture on its merits, whether serene or seemy, and to present his experiences as honestly as possible. It's really not until the end of the book when the reader is exposed to more… uncomfortable attitudes towards "foreigners" (and let's not forget: Dirk is the 'foreigner' in this book) that you realize the careful way in which Schwieger has presented his experiences in this culture. More on that a little later, though.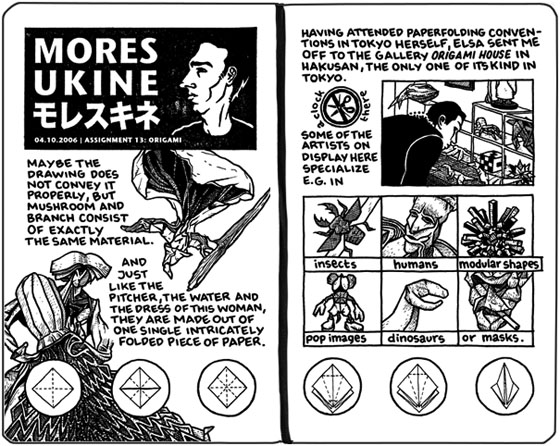 At first flip Moresukine is a bit of a mixed bag…Schwieger's thick line impressively diagrams the food and architecture that make Japan so alluring, but it seems uneasy and occasionally awkward depicting the human form. Each entry ("assignment") starts off with a singularly unflattering and perhaps even ugly profile portrait of Schwieger, and considering that both North America and Japan love their clean, attractive human forms when it comes to comics, I can see how it might turn off potential readers. The ugliness of those portraits belies how accomplished Schwieger's cartooning really is, as Schwieger is called upon to chronicle a startling array of objects, and situations. He displays a high level of craft in his depictions of the intricate folds of origami, or in the heavily-rendered and detailed (and photo-referenced) can of coffee that sits at the center of one assignment. His depictions of his human characters tighten up noticeably when working from photos, and his drawings of a friend taking him to his first okonomiyaki restaurant, or of the trance-music pioneers Sam & Valley are miles away from his cartoonish self-portraits thanks to the photography. In fact, it's in Schwieger's illustration of popular Japanese slang that you get a peek at where I feel his true passion may lie; expressions like "Working with your ass on fire" or "All of America wept" are illustrated in a broad, cartoony style more at home in satire rather than reportage. A few stories in, though, and I feel that these competing styles coalesce into a whole. It's a bit like Tintin or other clear-line art styles, with intense and detailed backgrounds and objects and cartoonish characters laid over top… give it a few stories and you'll grow to love it.
Schwieger's a real formalist too, which serves the reportage aspects of the stories well. In one assignment he spends the night in an infamous Capsule Hotel, a cramped outing for the 6'4" Schwieger told through a similarly cramped 12-panel grid, each panel in the shape of the coffin-like capsule rooms. In another assignment he attempts to diagram the relationships of gender and sexuality in modern Japan, and the book folds open and out: A 4-page map trying to connect masculinity and femininity and male and female genders in a series of overlapping, crossing, and messy lines; as fluid, confusing, and wonderful as the real thing. His depiction of the lofty bliss of eating great sushi is matched side-by-side, panel-for-panel with the creeping horror of ingesting natto, and is particularly effective. Schwieger's narrative experimentation gets the better of him a couple of times: A tier of panels randomly reading from right to left to fit design rather than function is distracting, the cacophony of imparted cultural knowledge occasionally overwhelming the reader, but these are minor complaints. Ultimately, Schwieger takes great pains to match the interest of the experiences with a similarly interesting visual narrative; another success.
Of course, I'm coming at all of this from the point-of-view of being an avowed Japanophile, and it's small wonder I feel that the experiences of a Westerner discovering Japan are fascinating…Schwieger's experience inspired parts of my own trip to Japan last year. But you'd have to be pretty hard-hearted not to share in the humour and joy of discovery that Moresukine offers… particularly if you got that Simpsons reference that I made up top. Moresukine is a prism, refracting equal parts fuzzy pop-culture impressions and learned Japanese cultural knowledge into a first-person man-on-the-street travelogue that anyone could enjoy.
A last note to those groaning at the thought of adding another book to their already-stuffed shelves when the content is available freely online; the print edition of Moresukine features Dirk Schwieger making a challenge to his fellow cartoonists, to discover the Japanese culture around them: "Meet a Japanese person in the city you are living in and have a conversation with him or her. Document whatever you deem noteworthy." A range of poplar webcomics answer his call, and 10 comics responses from Dinosaur Comics, Pokey The Penguin, and American Elf amongst others are reprinted in this book. It makes for a fascinating corollary to Schwieger's experiments, particularly an extended and "un-politically correct" story from Monsieur Le Chien that makes you realize just how far afield Schwieger's own presentation of Japanese life could have gone.
- Christopher