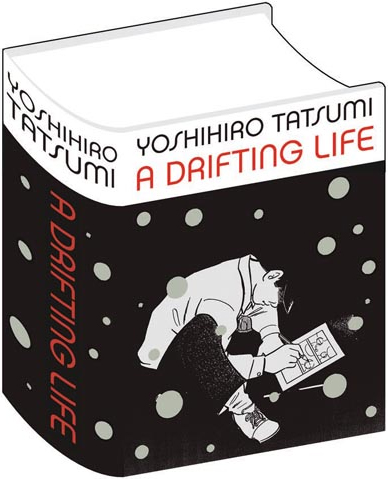 A Drifting Life
By Yoshihiro Tatsumi
$29.95, Trade paperback, 6.5 x 8.75 inches, 840 pages, b/w.
978-1-897299-74-6
The 840 page epic autobiography of a manga master, edited and designed by Adrian Tomine.
Over four decades ago, Yoshihiro Tatsumi expanded the horizons of comics storytelling by using the visual language of manga to tell gritty, literary stories about the private lives of everyday people. He has been called "the grandfather of Japanese alternative comics" and has influenced generations of cartoonists around the world. Now the visionary creator of The Push Man and Good–Bye has turned his incisive, unflinching gaze upon himself. Over ten years in the making, A Drifting Life is Tatsumi's most ambitious, personal, and heart–felt work: an autobiographical bildungsroman in comics form, a massive 840 page book edited and designed by Adrian Tomine. Using his life–long obsession with comics as a framework, Tatsumi weaves a complex story that encompasses family dynamics, Japanese culture and history, first love, the intricacies of the manga industry, and most importantly, what it means to be an artist. Alternately humorous, enlightening, and haunting, this is the masterful summation of a fascinating life and an historic career.
[Chris' Note: This is so awesome.]
********
Shortcomings: New Trade paperback edition
By Adrian Tomine
$ 14.95, Trade paperback, 6.5 x 9 inches, 104 pages, b/w
978-1-897299-75-3
The 2007 New York Times Book Review Notable Book, now in a new paperback.
Lauded for its provocative and insightful portrayal of interpersonal relationships, Adrian Tomine's politically charged Shortcomings was one of the most acclaimed books of 2007. Among many interviews and reviews in outlets around the country, Tomine was interviewed by Terry Gross on NPR's Fresh Air and also in The Believer, New York magazine, and Giant Robot. Shortcomings landed on countless "best of" lists, including those in Entertainment Weekly and The New York Times; was praised by Junot Díaz in Publishers Weekly; and was the subject of a solo review in The New York Times Book Review that drew comparison between Tomine and Philip Roth. The groundbreaking graphic novel now returns in paperback.
********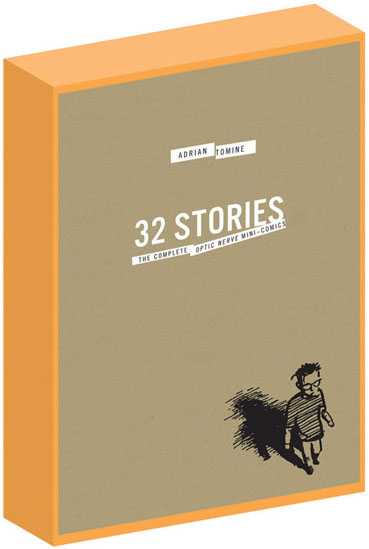 32 Stories: Special Edition
By Adrian Tomine
$ 19.95, Box with 8 facsimile mini comics, 5.5 x 8.5 inches, varying page lengths for each mini comic.
978-1-897299-76-0

Adrian Tomine's first book, now redesigned in a special box set edition.
Redesigned to coincide with the release of Shortcomings in paperback is a brand new edition of Adrian Tomine's first book, 32 Stories, that collects his inaugural mini-comics in a special edition. This onetime printing includes facsimile reprints of the seven mini-comics packaged in a slipcase, as well as an additional pamphlet containing a new introduction and notes by Tomine. Between the ages of seventeen and twenty, Adrian Tomine self–published a series of "mini–comics": small, hand–assembled booklets that he wrote, drew, and distributed himself. Entitled Optic Nerve, these comics were comprised of short vignettes and stories which displayed a youthful energy, an unabashed sense of experimentation, and the first hints of the distinctive, realist style that Tomine would go on to perfect. Over the course of those three years, word of mouth spread about these comics, and something that began as a teenage hobby was recognized as the arrival of a promising new talent. This special edition of 32 Stories presents those rare, early mini–comics for the first time in archival facsimile form: all seven issues in their entirety, faithfully reproduced and collected in one box.
********
Backlist Offered Again
********
Abandon The Old in Tokyo (New 2nd printing)
By Yoshihiro Tatsumi
$ 19.95, Hardcover, 6.5 x 8.75 inches, 224 pages, b/w.
978-1894937-87-0
New printing of one of Yoshihiro Tatsumi's key titles.
Abandon the Old in Tokyo is the second in a three-volume series that collects the short stories of Japanese cartooning legend Yoshihiro Tatsumi. Designed and edited by Adrian Tomine, the first volume, The Push Man and Other Stories, debuted to much critical acclaim and rightfully placed Tatsumi as a legendary precursor to the North American graphic-novel movement. Abandon the Old in Tokyo continues to delve into the urban underbelly of 1960s Tokyo, exposing not only the seedy dealings of the Japanese everyman but Tatsumi's maturation as a story writer.
********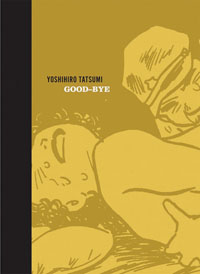 Good-Bye & Other Stories (O/A)
By Yoshihiro Tatsumi
$ 19.95, Hardcover, 6.5 x 8.75 inches, 224 pages, b/w.
978-1897299-37-1
Yoshihiro Tatsumi's recent book.
Good-Bye is the third in a series of collected short stories from Drawn & Quarterly by the legendary Japanese cartoonist Yoshihiro Tatsumi, whose previous work has been selected for several annual "top 10" lists, including those compiled by Amazon and Time.com. Drawn in 1971 and 1972, these stories expand the prolific artist's vocabulary for characters contextualized by themes of depravity and disorientation in twentieth-century Japan.
Some of the tales focus on the devastation the country felt directly as a result of World War II: a prostitute loses all hope when American GIs go home to their wives; a man devotes twenty years of his life to preserving the memory of those killed at Hiroshima, only to discover a horrible misconception at the heart of his tribute. Yet, while American influence does play a role in the disturbing and bizarre stories contained within this volume, it is hardly the overriding theme. A philanthropic foot fetishist, a rash-ridden retiree, and a lonely public onanist are but a few of the characters etching out darkly nuanced lives in the midst of isolated despair and fleeting pleasure.
********
The Push Man & Other Stories (O/A)
By Yoshihiro Tatsumi
$ 19.95, Hardcover, 6.5 x 8.75 inches, 224 pages, b/w.
978-1896597-85-0
Groundbreaking first book by Yoshihiro Tatsumi.
Designed and edited by one of today's most popular cartoonists, Adrian Tomine, The Push Man and Other Stories is the debut volume in a groundbreaking new series that collects Tatsumi's short stories about Japanese urban life.
Tatsumi's stories are simultaneously haunting, disturbing, and darkly humorous, commenting on the interplay between an overwhelming, bustling, crowded modern society and the troubled emotional and sexual life of the individual.
*******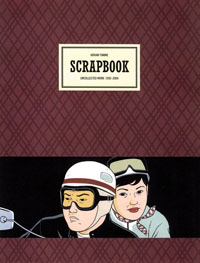 Scrapbook (O/A)
By Adrian Tomine
$ 24.95, Trade paperback, 8.5 x 12 inches, 204 pages, color
978-1896597-77-5
The ultimate collection by one of the most recognized talents in graphic novels.
This essential book includes over a decade of comics and illustrations Adrian Tomine, from Pulse to The New Yorker and Esquire, collected together for the first time in one sharply-designed book. Scrapbook is the first comprehensive Adrian Tomnie collection. here you'll find the complete run of strips which was originally published in Tower Records' Pulse Magazine which Adrian started when he was only 17, along with comics originally published in Details and a host of other magazines of the past decade. A large section of Scrapbook is dedicated to Tomine's extensive illustration and design work, featuring his best material over the years from virtually every major publication in America including The New Yorker, Details, Esquire, and the late JFK Jr.-edited George. Tomine's art has also graced popular album covers and posters for bands such as The Eels and Weezer and posters and it's all included here in this beautifully packaged book.
*******
Sleepwalk & Other Stories (O/A)
By Adrian Tomine.
$ 17.95, Trade paperback, 7.5 x 10 inches, 102 pages, b/w
978-1896597-12-6
An early key title by Adrian Tomine.
Collecting the first four issues of Adrian Tomine's acclaimed comic series Optic Nerve, this book offers sixteen concise, haunting tales of modern life. The characters here appear to be well-adjusted on the surface, but Tomine takes us deeper into their lives, subtly examining their struggle to connect with friends and lovers.