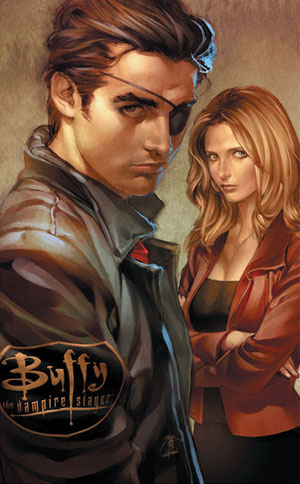 Today the Gay & Lesbian Alliance Against Defimation, or GLAAD, announced the nominees for their 20th Annual Media Awards. Included again this year is a category for comic books:
OUTSTANDING COMIC BOOK
The Alcoholic by Jonathan Ames (Vertigo/DC Comics)
Buffy the Vampire Slayer by Drew Goddard, Jeph Loeb and Joss Whedon (Dark Horse Comics)
Final Crisis: Revelations by Greg Rucka (DC Comics)
Secret Six by Gail Simone (DC Comics)
Young Avengers Presents by Ed Brubaker, Brian Reed, Roberto Aguirre-Sacasa, Paul Cornell, Kevin Grevioux and Matt Fraction (Marvel Comics)
The awards are handed out to media and media-makers who provide compelling, honest, and visible portrayals of GLBT people.
I've often felt that the intended aims of the media awards were awkward, giving a pat on the back to straight people who are good to gays rather than recognizing the achievements of… you know… actual gay people who also inspire and create great work and are visible and honest and etc.  But since I haven't read 4 of the 5 books on my list up there I'll hold my tongue until I get through them… if I ever get through them.
(Maybe Scott Pilgrim will finally get nominated next year when the movie comes out, eh?)
- Chris