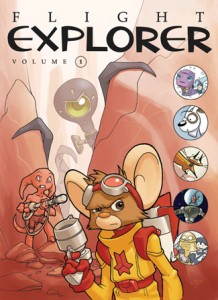 Last week I saw two tweets come up from Kazu Kibuishi, author of the Amulet and Copper graphic novels from Scholastic and the Editor-in-Chief of the Flight anthologies:
Flight Explorer is still looking for a publisher. The first one did well, but publishers seem hesitant to take a chance on this. Explorer sold through its 20k copy first printing with little to no support. I have heard from so many people that kids and parents love it, yet the project remains orphaned. I really feel there is a need for a book like this. - Kazu Kibuishi, @boltcity on Twitter
I have to admit to being more than a little surprised that neither Villard/Random House (its original publishers) nor any of the pubs that Kazu has a relationship with would be willing to pick up Flight Explorer. A little-brother to the popular Flight anthologies, Explorer was designed to be a high-quality anthology of comics stories for younger readers in the 8-12 age, safe from the often older-reader centric material in the main Flight anthology.
Since Explorer was published in early 2008, I've been hoping for a follow-up and was kinda bummed to hear that there wasn't one in the works from Kazu and Amy at that year's San Diego Comic Con. I tried my best to give them a pep-talk, citing the strong sales we'd had with the title at The Beguiling and the relative lack of good comic books for young readers. Explorer was kind of a God-send for us at the time–a totally kid-safe graphic novel, at the right size for little hands, and with a ton of creator-owned and original IP. It was quite-literally the "What's Next?" when a kid got done with the Bone series by Jeff Smith, and a great introduction to tons of new series. There's more stuff for kids out on the market now (18 months later) but much of it is licensed stuff that doesn't find as much favour with some parents or hardcore librarians (seriously, the librarians that HATE Disney are plentiful… and angry).
The other thing that kind of weirds me out a little about this situation is that despite a 20k sell-through on the book (which is great news!), of the stories in the first collection, 4 of them have ALSO been picked up as full-fledged graphic novels: Kazu Kibuishi's Copper and Jake Parker's Missile Mouse will both be coming out from Scholastic/Graphix in early 2010; Kean Soo's Jellaby just finished up at Hyperion; Zita The Space Girl by Ben Hatke is due sometime in 2010 as well.
I realize that it's a truism that 'anthologies don't sell', and I'm fairly certainly it's easier for publishers to get behind less-complicated publishing contracts (particularly when it comes to sequels, right-of-first-refusal, ancillary rights, etc.), but you know…  Flight does well, Flight Explorer did well, the spin-off projects are all great-looking books! A Kibuishi-edited Flight Explorer seems like a slam dunk for any publisher. Here's hoping it finds a home soon.
- Christopher
PostScript: I was at a party last night, and bumped into Kean Soo, creator of Jellaby and one of the authors featured in F:E. We were talking about the situation and my husband, a manager at Indigo Books in Toronto (kind of like Canada's B&N) overheard and he was shocked (shocked!) that there was no new Flight Explorer on the way. "It's such an easy sale!" he exclaimed. Hopefully a smart pub gets on the ball soon…!
Post-PostScript: Congrats to Kazu and Amy on the recent birth of their son Juni!