Continuing to scour the November Previews for all of the best stuff, and cataloging my off-the-cuff, immediate reactions to it.
4:58pm: I missed this in the front half of the catalogue, hope you'll forgive the indulgence, but: Let me point out that Marvel's $25, 128 page "premiere hardcover" collection of Geoff Johns' Avengers run AVENGERS: WORLD TRUST is ridiculous (Marvel Previews page 100). It is nearly 20 cents per page for that collection, which makes it the most expensive collected edition that Marvel is publishing in the month of November on a price-per-page basis, for work from the most popular writer in superhero comics right now. I wouldn't have even noticed it either, if it weren't for the fact that it's on a facing page with the IRON MAN: DEADLY SOLUTIONS HC by Kurt Busiek from the same time period, with 70 more pages, for the same price. So if I might offer a piece of advice? If you want the early Geoff Johns AVENGERS issues…? Wait for the trade.
5:06pm: The back half of the catalogue brings out more extreme emotions in me. There's a more consistent level of mediocrity in the front-half of the catalogue that just forces my eyes half-closed, and fills me with sighs. But the back half inspires joy! And Terror! And Bewilderment! It's pretty neat. It started on the first page of the section (178) with MEANWHILE: PICK ANY PATH. 3856 STORY POSSIBILITIES, the new graphic novel from Jason Shiga! Known for his awesome mini-comics and his first "major" release BOOKHUNTER from Sparkplug, this new graphic novel is a tabbed-story, a mathematically complex Choose-Your-Own-Adventure type book in full colour from ABRAMS/Amulet! I had no idea at all this was coming, or coming so soon! I kinda feel like it's flown under a lot of radars, actually. We'll be ordering a bunch, good stuff!
5:13pm: Staying on page 178 for a moment, we've got Accent UK's WHATEVER HAPPENED TO THE WORLD'S FASTEST MAN? ONE-SHOT, which I got a preview copy of and didn't grab me at all. It wasn't bad exactly, but it was kind of unremarkable.
What I did like much more, particularly for being as weird as they are, are Gene Yang's two graphic novels Gordon Yamamoto and The King of the Geeks and Loyola Chin and the San Peligran Order. Two short graphic novels about Asian-American teenagers that interact with one another, and paint a larger picture of strange happenings in their young lives. If you liked American Born Chinese or Eternal Smile, then I recommend the new omnibus collection that contains both of these graphic novels under a brand new cover from Yang. ANIMAL CRACKERS: A GENE LUEN YANG COLLECTION drops this January, 216 pages for $14.95, from SLG Publishing/Amaze Ink. Oh, and according to the SLG website it includes a new 12 page story and an introduction by Derek Kirk Kim as well. Neat!
5:35pm: Forgot to mention, one more from this page: CHIMICHANGA #2, Eric Powell's new comic for fans of Eric Powell and "All Ages". But mostly fans of Eric Powell. Looks weird as hell.
5:39pm: I kinda like APE Entertainment above and beyond their product line, but why are they doing novels (page 180)? Novels by people I've never heard of, and with no particular sales features for a direct market comics store to latch into. Hm. I don't get it.
5:43pm: Oh Antarctic Press. I do love ripping on your Previews section (p182), but it seems like this might be the cleanest design you've offered up in months. It's still bad though, I wonder if any of your designers are actually formally trained? You seem to have no idea how to design on a grid. This month you even screwed the margins, so that your solicit text is bleeding off the bottom of the page. It's all a little embarassing, and that's before we get to the OBAMA/MCCAIN ELECTION 2008 TPB, which weighs in at a massive 48 pages for $10 of black and white… something. Hrm.
5:54pm: Canadian publishers Arcana are putting out a brand new quarterly comics magazine, ARCANA MAGAZINE, 96 pages, full colour, $3.50 (p184). Seems like a hell of a deal if the writing is any good. I haven't seen it yet, but with lots of big bright colour art we'll give the first issue a go. I just did a quick Google search and it looks like they've got a blog for the magazine at http://arcanaquarterly.com/. I'm gonna spend 15 minutes eating dinner and reading the blog, see what the skinny is. See you at quarter-after-six.
6:15pm: Update! So apparently this is the print-version of an online 'zine that I'd never heard of, and whose aesthetic could charitably described as 'underdeveloped'. I can only hope there is a heretofore unseen heavily editorial and artistic hand reigning in the excesses of these guys… cuz… well, yeah. After seeing the previous product I will be adjusting my orders down considerably.
6:20pm: Big-ups to friend-of-The-Beguiling Noel Tuazon, returning to work with his ELK'S RUN partner Josha Hale Fialkov on the new original graphic novel TUMOR, $14.95, 224pages, Full Colour, p184. $15 for an original colour hardcover…  I don't know how Archaia is doing it (taking ownership?) but they're doing it. ELK'S RUN did well for us, and Noel is a good guy who will hopefully agree to a signing, so I'll give this one a solid initial order.
6:26pm: So Archie ends the What If marriage storyline with Betty giving birth to twins as well! Apparently Archie is pretty virile, must come from having blue-balls for the last 70 years.
6:36pm: meanwhile, pn page 187, we have THE KIDS OF WIDNEY HIGH one-shot, a feel-good comic with art by folks like Jim Mahfood and Chuck BB. According to the solicit it's about the titular group, a rock-act comprised of graduates of a special-ed high school in LA. The stories are written by the band members. Sounds like an utterly weird thing to show up as a comic book, but pretty cool nonetheless. $4.99, 36 pages.
6:41pm: So it looks like Warren Ellis's recent take on superheroes NO HERO gets collected editions, with a simultaneous release of the softcover, hardcover, and signed-hardcover editions. According to Diamond they all ship the same day too. I can't believe I'm saying this, but thanks to Avatar for having a sane and sensible collected editions program. Much appreciated. As for NO HERO, I enjoyed the first 4 issues quite a bit, but the shipping schedule went wildly off track and I never caught up with the series as it finished. I suppose that's what trade paperbacks are for though, aren't they? Good stuff.
7:08pm: So it looks like I found something that tops the Geoff Johns Avengers book for awful mark-up. BOOM! is charging $24.99 for a 112 page, 6×9 hardcover of Walt Disney's Comics and Stories issues, DISNEY'S HERO SQUAD VOLUME 1. The thing that kills me about this is that the issues are so reasonable priced at $3 a pop, and the softcover collections they've been doing of the kids material have only run $9.99 each. Why are they charging an extra $15 for two pieces of cardboard? Why is this collection more than twice the price of the issues it contains? On kids material?
Really, I don't want to go through the catalog yelling about books being too expensive, but unless this is a glued-and-sewn, library-quality hardcover collection that is gonna last forever, $25 for this book is… unreasonable. I know the BOOM guys read the blog: you're welcome to respond in the comments.
7:20pm: Whoa, this Stephen Segovia guy seems to have learned to draw from tracing Lenil Francis Yu drawings with the sort of devotion that only monks can usually muster. Granted, that doesn't mean that the cover to Dynamite Entertainment's ROBOCOP #1 (p214) isn't good, it's actually a striking image. It just looks like a composite of 3 or 4 different Yu drawings. Anyway, I have no strong feelings about Robocop returning to comics. I liked Robocop a lot as a kid, seeing the movie when I was FAR too young to have done so, and then participating whole-heartedly in the toy/cartoon/comics for kids that followed. But… yeah. Unless this in some way rises far above Dynamite's littany of other licensed properties, it's not for me. But if you want to see a cyborg shoot a lot of people, bu all means, I am excited for you.
7:35pm: Page 222 gives us THE SPLENDID MAGIC OF PENNY ARCADE, a 208-page "best of" and celebration of the comic strip from the team's new publishers, Del Rey/Random House. A career retrospective from their 11 1/2 year careers as webcomics creators, and a savvy move to introduce the creators to the wider world rather than starting with the oldest (and weakest) material like they did with their first few collections at Dark Horse. Should be good.
7:38pm: Oh lovely, Drawn & Quarterly is bringing Dylan Horrocks' HICKSVILLE back into print in a "New Definitive Edition" (260 pages, $19.95, p223). This one has a new cover and a new 16-page drawn introduction by Horrocks, which will be a lovely edition to an already phenomenal book. HICKSVILLE is a classic as far as I'm concerned, and it belongs on every serious comics reader's shelves, regardless of the sorts of comics that they like.
7:43pm: Ah.. ahahaha. Page 230-231. If you've been reading these little Liveblogging rants for any length of time you'll know that I haven't been particularly kind to Fantagraphics' eye-catching-but-also-eye-searing Previews spreads. Well this month, they have put together a lovely, readable, straight-forward solicit page, so ordered and organized I almost feel like they're poking fun at me for my complaints. Sure, it's enormous hubris to assume that Fanta is altering their Previews ads to suit my tastes, but I can tell you that's exactly how it feels. Hah. Here's a picture:
I mean, wow.
So as a reward, here's me talking about all of their new books:
KING OF THE FLIES VOL 1: HALLORAVE is an English translation of a European album by two fairly popular prolific creators, Mezzo & Pirus. I'm not familiar with these guys but the 5 page preview at TFAW looks good, and the art is genuinely unsettling. Go check it out.
MOME VOLUME 17 continues the quarterly anthology with the last installment of Paul Hornschemeier's Life With Mr. Dangerous, and new work from Dash Shaw and Tom K, Oliver Schrauwen, Derek Van Gieson, Renee French, Ted Stearn, T. Edward Bak, Kurt Wolfgang, Laura Park, and Rick Froberg. MOME's generally a good investment and great exposure to talented young creators, worth checking out.
Oh and hey, yeah! It's a new omnibus collection of the out of print Jason graphic novels You Can't Get There From Here, Meow Baby, The living and the Dead, and Tell Me Something in one omnibus hardcover. ALMOST SILENT weighs in at 292 pages for $25, and his a hell of a deal and full of great stuff. Jason's stuff is an amazing read and a particularly solid recommendation for folks who've never read comics before at all. Highly recommended.
Finally, there's the third HOTWIRE COMICS anthology of weirdo short comics without a thematic link that recalls alternative anthologies of yesteryear, and the second UNLOVABLE collection from Esther Pearl Watson.
So, good, readable month for Fantagraphics. Nice!
8:19pm: I am running out of caffeine here, that's not good. Maybe there's a short break in my future. Anyhow, we've got a bunch of neat comics here. First up, the fantastic and underrated manga TOWN OF EVENING CALM, COUNTRY OF CHERRY BLOSSOMS by Fumiyo Kouno and published by Last Gasp gets an all-new hardcover edition (p248). It's got a great binding and is actually available from Last Gasp now, for retailers that wanna jump on it. This is a wonderful graphic novel, I highly recommend it.
On the facing page (p249) is LITTLE NOTHINGS VOLUME 3: UNEASY HAPPINESS by Lewis Trondheim, published by NBM. I've previously blogged about this new release so go read that for a full description of why I love it, but if you're too lazy to click over let me just tell you that these collections of Trondheim's diary comics are wonderful reading, and lovely, and you should be reading them.
Also on page 249, I had no idea that the incredibly talented Les McClaine (Jonny Crossbones, tons of other stuff) was drawing THE TICK NEW SERIES. McClaine's great, and the first issue is available now with issue #2 in Previews. I'm totally going to go pull that first issue off of the racks and read it tonight. Awesome. Check out Les' stuff at http://www.evilspacerobot.com/ if you're not familiar with him.
Okay, I'm running to the convenience store for energy drinks. Back in a bit.
8:43pm: And we're back. I got a Guru and a V8 Fusion and some bananas. Should provide me with the energy to get through the rest of the catalogue. And hey, POTASSIUM!
So we're at page 251 and the Oni Press section. This month Oni's leading off with RESURRECTION VOLUME 1, the collection of Marc (Amazing Spider-Man, Hollywood) Guggenheim's monthly genre fiction series. Oni's really been throwing a ton of promotional weight behind this series, like offering the first b&w mini-series as a tpb for just $6 to promote the launch of the colour ongoing series. Well it seems like they're upping the ante, with this collection containing the complete "volume 0″ trade AS WELL AS the first 7 issues of the colour series, 368 pages in total, for just $25. Granted, there's no hardcover on it, but that's still a hell of a deal. RESURRECTION is an enjoyable, straight-forward genre action series about the aftermath of a worldwide apocalypse. It guest-stars Bill Clinton, apparently. It's been a hoot so far, if you were thinking of giving it a shot this would be a hell of a way to do so.
Also from Oni, Stumptown #4 from Rucka and Southworth, and a new printing of that gorgeous oversized HC edition of Local. We've sold over 50 copies of that, btw. Did you know that? Over 50. That's an evergreen product, just saying.
8:55pm: HAUNTED is the graphic novel collection of the YA webcomic series about a group of junior high kids who sneak into a Halloween party at a haunted house. It's a full colour graphic novel with really great art, 104 pages, for $12.95. It's also self-published with assistance from the Xeric Grant. So not only is it a great-looking book that's more-or-less exclusive to the direct market, it's also one of the most commercial projects The Xeric has ever supported. It looks GREAT. You can read either a preview or an earlier incarnation of the story (I can't tell which) online at http://www.joshuasmeaton.com/Haunted/HauntedHomePage.htm.
Congrats to author Joshua Smeaton, we're really looking forward to your book
9:03pm: Because of Diamond's ADULT PREVIEWS ghetto (which is now virtual, with no print-version of Adult Previews being produced), you'd be forgiven for missing Radio Comix's GENUS #92, the first version in the new 48 page squarebound format. It's a bit steep at $9.99, but with higher quality paper, top-notch contributors, and it being the longest-running adult publication out there, fans will be very happy to see it return.
9:09pm: One day I'm gonna go through here and count just how many pages of Diamond house-ads are in Previews, because it's just short of ridiculous. I'm in the "S" comics section and there are full-page ads for Ghostbusters mini-mates and Star Trek replica toys. I have a feeling there are 20-30 pages of house ads in this thing, and I dunno about you but I would _love_ another 30 pages taken out of this catalogue.
Also, big-ups to TANK GIRL: SKIDMARKS #3 from Titan on page 260. The new series looks great, Tank Girl fans should be thrilled with it…!
9:13pm: You know I'm getting tired when I just start quoting whole swaths of solicit text, but read this, it sounds great:
Ten years have passed since the Great Tokyo Earthquake, and the people's memories of the disaster have faded. Ganta Igarashi, a middle school evacuee, has finally begun to live a normal life…That is, until the day "Red Man" appears at his school and Ganta's fate is changed forever. His entire class is brutally murdered, and although innocent of the crime, Ganta is sentenced to death and sent to the bizarre prison known as "Deadman Wonderland." An insane and brutal game of prison survival begins!
That's for DEADMAN WONDERLAND VOLUME 1, a new manga series from Tokyopop (p263) by writer Jinsei Katoaka and artist Kazuma Kondou. That sounds surprisingly excellent for a random Tokyopop series. I hope the first volume lives up to the hype, I'm gonna check it out.
9:16pm: Also from Tokyopop on p265 is REMEMBER, an original graphic novel by the digital painter "Benjamin", and the first colour graphic novel from Tokyopop's much-touted colour line I've seen in quite some time. Unfortunately Benjamin's first book for the line, ORANGE, has been unavailable since shortly after it was released, with no reprint announced by Tokyopop (and none solicited this month alongside the new book). If you want this one, pre-order it, as it seems TP has no intention of keeping this material in print, sadly.
9:21pm: I don't remember UDON ever officially announcing it, but they've scored the license to a bunch of Mega Man manga, based on the popular video game character. Viz was releasing one of the more recent, cartoon-based series called MEGA MAN NT, but this series will appeal to older readers and non-manga fans alike, I think. MEGA MAN MEAGMIX VOL. 1 is $12.95 for 220pages, on page 270.
9:24pm: Hey, Vertical's got BLACK JACK VOL 9 by Osamu Tezuka. Nice.
9:27pm: Hey we're at VIZ (p273)! Oo and look, they've got the first trade paperback collection from the SIGIKKI website, BOKURANO: OURS VOLUME 1 by Mohiro Kitoh! 15 kids pilot a giant mecha, but the whole thing is hyper-intense and creepy. I'm not caught up on the series at SIGIKKI (I am so behind on comics reading I need a week off just to read…) but I've really enjoyed what I've read so far. I was also really digging Kitoh's series SHADOW STAR, which was published by Dark Horse who just… stopped… knowing what to do with it. Like, entirely. Until they stopped publishing it in the middle, leaving tons of people hanging. Lame. Still: BOKURANO OURS!
It's a good month for "new works by creators previously published by other companies", as BLAME! and NOISE! creator Tsutomi Nahei (ex-Tokyopop) comes to Viz with BIOMEGA VOLUME 1. It's like an even tighter, more-intense version of his art on BLAME! by all accounts, and definitely for mature readers. Nihei should have some traction with North American comics fans, as he illustrated a 5-part Wolverine mini-series called WOLVERINE: SNKIT! that had his signature art-style and setting, and went out of print pretty-darned-quickly as far as I can remember.
Oh, also: NAOKI URASAWA'S 20TH CENTURY BOYS VOLUME 7, one of the best serialized comics being released.
9:36pm: None of the books at Yen look particularly inspiring, and as always I'll be visiting their website at http://yenpress.com to find out what they're actually releasing in January. I generally don't comment on the Zenescope pages either, as I find the layout to be really unplesant to read, but I will say that they seem to understand how columns and grids work, which is more than I can say for Antarctic… but these pages are usually the most colour-saturated in the entire catalogue. There's nowhere to rest your eyes, and as such I want to flip past these pages as quickly as possible.
…and that completes the comics section. Le's see if there's anything good in the rest of the catalogue.
Page 284 has two dinosaur books by acclaimed illustrator William Stout, which seem to be new/newish. WILLIAM STOUT DINOSAUR DISCOVERIES (144 pages, 8×11, $24.95 SC /$39.95 HC) is a collection of all new drawings of 'specimens discovered in the last 20 years', and WILLIAM STOUT NEW DINOSAUR DISCOVERIES A-Z (64 pages, 6×9, $14.95) seems to be a kid-friendly edition using the same batch of images. Fans will eat that up.
Page 286 has a Previews-Exclusive edition of the forthcoming WONDER WOMAN ENCYCLOPEDIA, in hardcover with a different Adam Hughes cover. Huh, it's co-written by Phil Jimenez, which is kind of neat, and at $35.95 this hardcover is only 6 bucks more than the softcover. Sounds like a pretty good deal for Wonder Woman fans, though be warned, the book isn't actually coming out until May 11th, despite being in the January catalogue. Also on this page is the new DK guide to Iron Man, IRON MAN: THE ULTIMATE GUIDE TO THE ARMORED HERO ($24.99), and a comics academia book on Russian comic books called KOMIKS: COMIC ART IN RUSSIA ($38.00).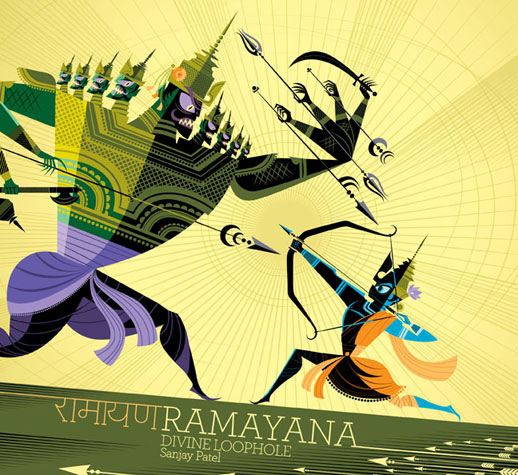 Page 288 features RAMAYANA: DIVINE LOOPHOLE ($29.99, 100 pages, HC), an illustrated artbook by Pixar animator Sanjay Patel. He's the fella behind the awesome "Little Book of Hindu Deities" from a few years back. RAMAYANA is a gorgeous looking vector-illustrated version of the story of Vishnu and other Hindu Gods, and it looks pretty cool. That price tag is a little steep though, particularly for a book that's going to measure 4″ x 6″. I'm going to want to see this one first before picking it up. The fine folks at Chronicle can feel free to send me a copy, of course…
Actually, I just checked the Chronicle Books site, and it looks like it's actually going to measure 8 3/4″ wide by 8″ tall, much bigger than the "4×6″ that Previews lists. That's still pricey, but it's back down into the range of "extravagant" rather than "ridiculous".
Okay, I think that does it. I'm knee-deep in the Toy Section here, so I think it's time to call it a night. Thanks to everyone who read-along or linked the first part of this. Hope you enjoyed it, and we'll be back again next time… Here's hoping, anyway!
Jeez that's long, like 3600 words.
- Chris