So last time I went to Japan (2007), one of the first things we did is visit NAMJATOWN, a theme park inside a mall. Except it's not just any theme park, it's the weirdest theme park I've ever been in. And it's not just any mall, but the Sunshine City shopping complex, a huge collection of malls and shops and a 60-story skyscraper. It's all exactly what you want out of a truly overwhelming, immersive, alien experience. I highly recommend it.
So we found ourselves in Ikebukuro in 2009, and so we went back and got us some gyoza, and decided to chronicle a few more things. We've tried, wherever possible, not to double up on photos we took in 2007, and most of this stuff is going to go uncommented-upon, because really, what needs to be said? It's Namjatown.
Namjatown
Photos by Christopher Butcher and Andrew Woodrow-Butcher
June 2009
2007 Namjatown Photo Gallery: http://comics212.net/2007/09/14/day-02-part-3-namjatown/
Namjatown Website: http://www.namja.jp/ / http://www.namja.jp/img/pdf/guidemap.pdf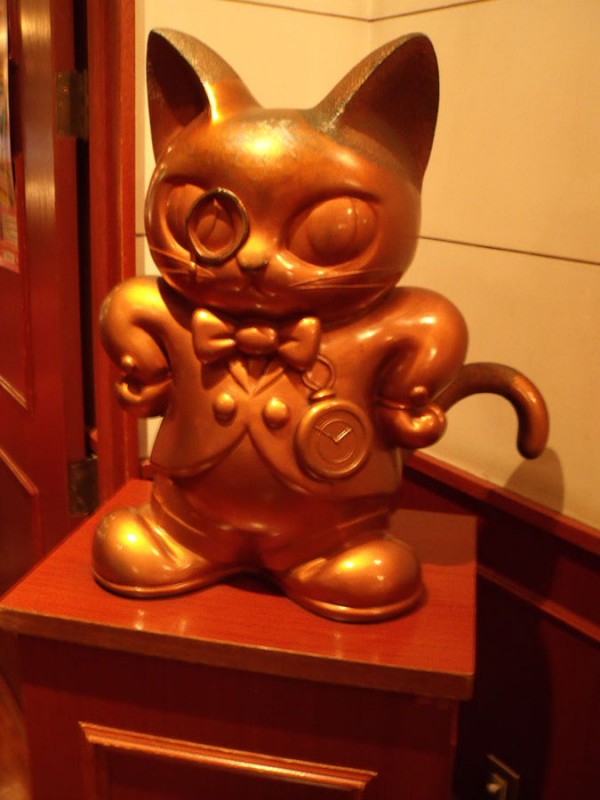 He's cross that we haven't been back to visit in a few years. We are sorry, Mr. Namja.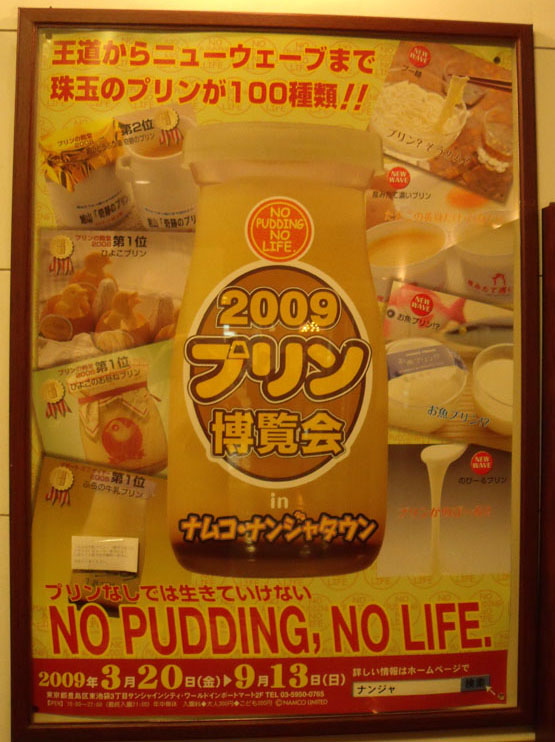 This year's theme is: Pudding Festival, with pudding's from around the world. This festival's slogan is NO PUDDING, NO LIFE. Needless to say, we got ourselves some pudding.
Andrew stands outside The Massage Forest ("Healing Forest"). Cheese Shirt by Lucy Knisley.
Sadly they did not sell restroom paper lanterns. Cuz? Awesome.
So right outside the washrooms in the ghost village is this special little surprise, a dilapidated old milk fridge. But could it be… haunted?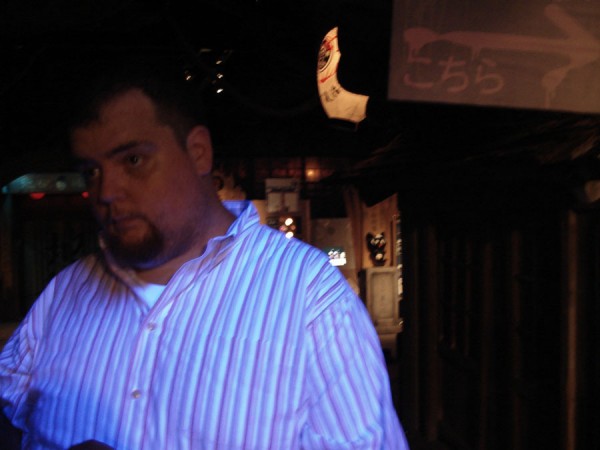 Black-light!
It's actually much darker with more pin-pointy black-light effects. This is a long exposure.
No idea.
We got hungry so we headed off to Gyoza Stadium (also known as Gyoza Bazar). Outside of the stadium they sell beautifully packaged gyoza for you to take home and enjoy!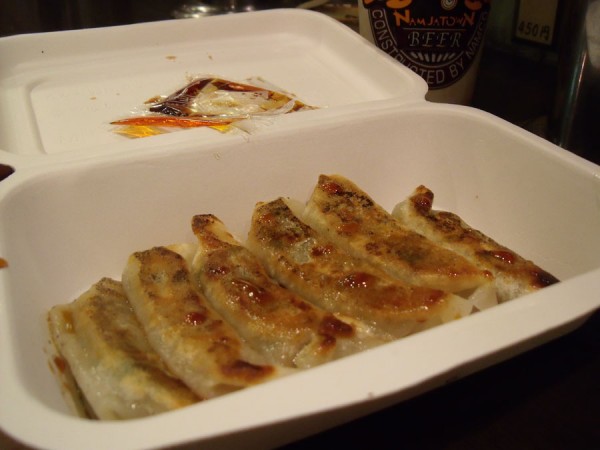 Delicious beer and fried dumplings. Beer by the creators of Pac-Man.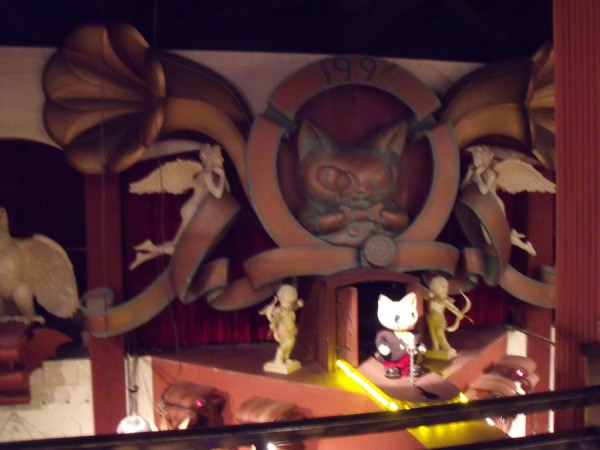 At the top of the stairs, there's this whole animatronic show with a little stage and Mr. Namja and some eagles. Actually, why don't I just show you?
There's a sort of jukebox where you can put in a few bucks and bring this stage-show to life. Except the control panel is in Japanese, and I do not read Japanese. So I picked a song that is a terrifyingly creepy 'western' with no voices.
Then we went to the Christianity-themed portion of the theme park.
Notice the cross as his hat, and the little baby angel things.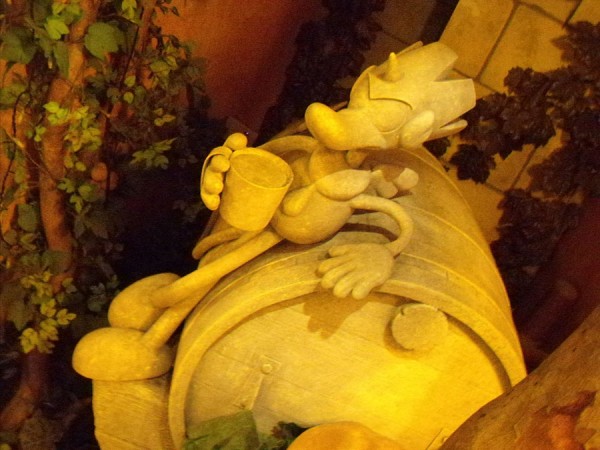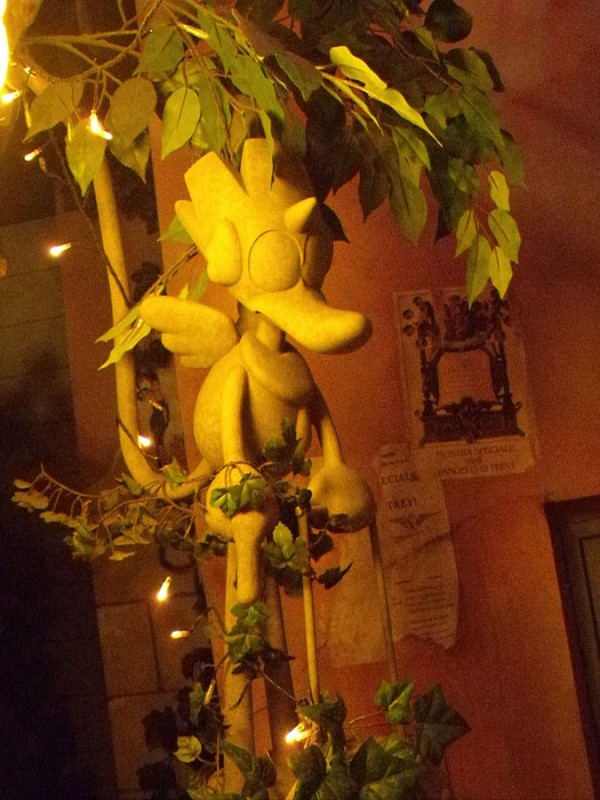 One of the animatronic angels on top of the gate surrounding the Merry-Go-Round in religious-themed area (also a weird conflation of French and Italian too). This one plays violin, the others play other instruments like harps and things.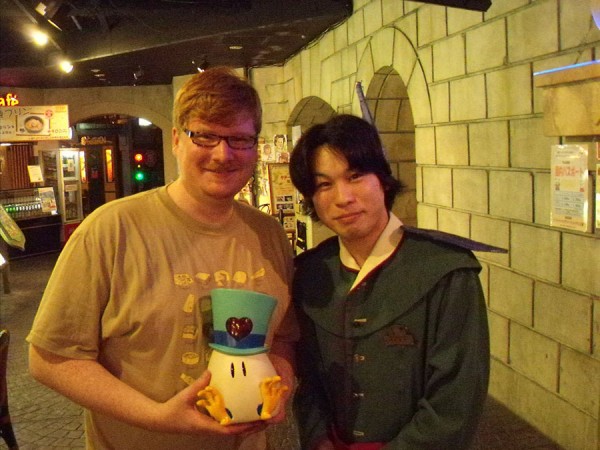 One of the Namjarians was nice enough to pose with us, alongside the baby angel egg(?) that you bring around with you to play the games in the religious area. He was dressed as a sort of techno-elf.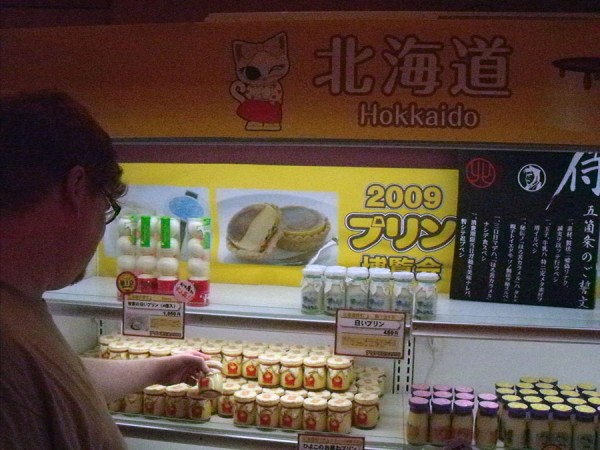 We visited the Pudding installation, where there were refrigerator cases with all kinds of pudding from around Japan. Seeing as Hokkaido milk is highly prized, we decided to sample a Hokkaido pudding. After all, No pudding, No Life. Which we took as a bit of a threat.
They also sold the incredibly popular boobie-pudding there. The boobs are filled with pudding.
We did not buy any.
Our pudding choices. The one on the left was a pudding-drink. The one on the right was a traditional thick japanese milk pudding with syrup. I've never found them outside of Japan, even in import stores (they do have short expiry dates). They're AWESOME.
The little container is ceramic, with a pretty lid. The pudding was delicious, in case you were wondering.
Then, some creepy fucking marionettes.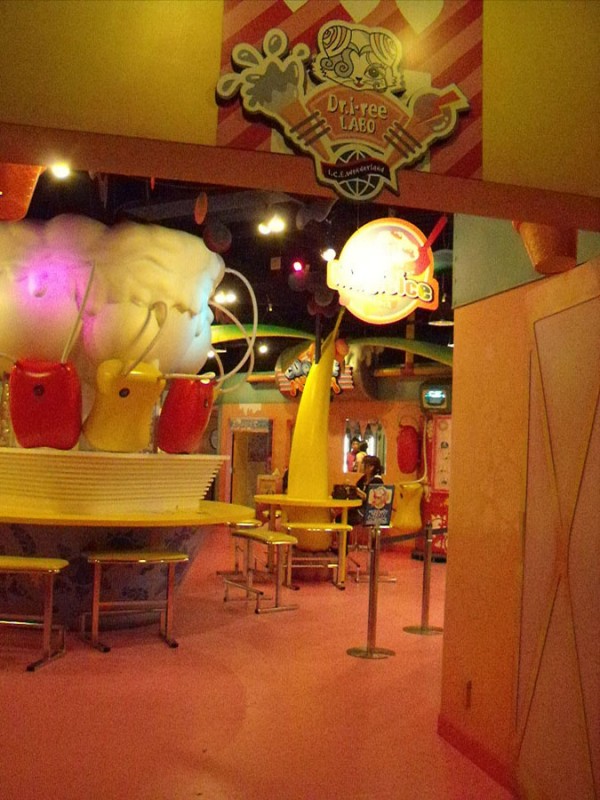 There is no better way to follow up pudding than with Ice Cream, so here's the Dairy Lab, a deserts-only food court.
Here is the mascot of desert. Rowwwwrrr!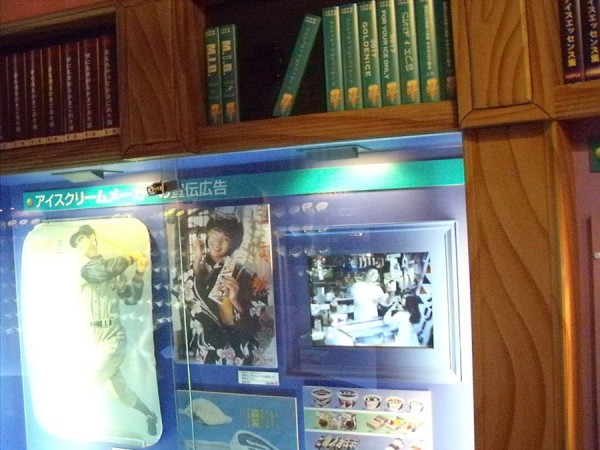 Adjacent to Desert Lab is the Ice Cream Museum, which has lots of displays and information on ice cream in Japan. They are in Japanese. There are, however, lots of videos that are neat, and some English puns. Zooming in on the top there…
I think these are supposed to be video-cassette cases. Which is funny in a different way. :)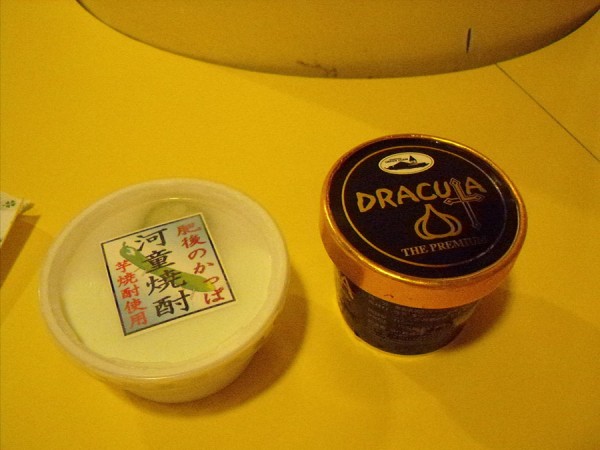 I didn't show it, but they had a huge selection of little cups of ice cream like this. Hundreds of flavours, including Horse. Which I did not try. Instead we settled on Shochu (rice-liquor) and Cucumber (left), and Garlic (right).
It even had a slice of cucumber frozen in it. Anyway, our complaints about both were that they weren't STRONG enough. Last trip we had a curry-ice-cream that'd knock your socks off. These ones barely tasted of their professed flavours (and were a little freezer-burned to boot!).
That's not to say we didn't finish them, however. But the puddings were better. After all, no pudding, no life.
Then it was time to go. A quick trip to the gift-shop evidenced some of the worst merch I've ever seen. This was a t-shirt that we elected not to buy. I mean, it's great in a truly awful way, but I prefer my ironic t-shirts professionally crafted.
Forget about it though, it's Namjatown.
- Christopher