I am a comic book retailer in Toronto, Canada. I do lots of my ordering from Diamond Comics Distributors' PREVIEWS catalogue, which solicits products coming 2 months (or more) down the road. This month's order, the February catalogue for items beginning to ship in April, is due in a little more than 24 hours. I have not yet cracked the spine of the catalogue, despite my orders being due. Join me now for my rushed, off-the-cuff reactions to what the comics industry has to offer this April.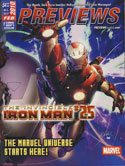 6:55pm: The Covers this month are… well the Iron Man one is nice, the Brightest Day one is meh, but at least they're both tied to salable product. And have no doubt, both of those products will sell well.
It is nice when the ordering catalogue I order my comics from is interested in helping me sell comics…
7:01pm: Man, I'm not even going to pretend to read those front pages of the previews catalogue this month. I can't deal. I will just jump right into Page 25: Dark Horse!
Page 26 actually. We got an original series from DH called "HELLCYON" which is… a dude in an orange Kaneda-from-Akira jumpsuit on a bitchin motorcycle that ALSO turns into a robot. Looks like a sort of "sum of its parts" thing for people that are livid that there isn't a volume 7 of Akira. I am not against this, but it doesn't look like it's bringing a lot to the party.
Meanwhile, Page 33 sees a resolicit for THE END LEAGUE VOLUME 2, which now collects the entire last half of the series. I have no idea if this series ended well, or if it even ends rather than just… stops… due to lack of sales? Ihope it's a good conclusion, I really liked the first half.
7:09pm: Still on DH, page 35: 600 page omnibus featuring ALL of Frank Miller and Dave Gibbons' MARTHA WASHINGTON? For $30? Sounds like a plan. THE LIFE TIMES OF MARTHA WASHINGTON IN THE TWENTY-FIRST CENTURY drops June 30th.
Hahaha… oh shit, I totally just laughed out loud. Apparently on page 36 they are, in fact, re-soliciting Jim Steranko's RED TIDE, which may have been solicited during the very first month I worked as a comics retailer…. in like 1997 or something? Hey, I hope it comes out, don't get me wrong, but I'm not holding my breath.
7:19pm: Page 44 has a brand new HELLBOY collection! VOL 10: THE CROOKEDMAN AND OTHERS collects the Mignola/Corben mini-series, and a couple of short stories and one shots not previously collected. All for $18, June 23rd.
7:21pm: Flipping the page reveals one of my favourite books of the month…! BEASTS OF BURDEN HC collects the recent 4-issue mini-series from Evan Dorkin and Jill Thompson, one of my favourite minis of 2009 and a gripping, funny, beautiful adventure story on the whole. It also includes all of the "Dark Horse Book Of…" prequel short stories and maybe some extras. 168 pages for 20 bucks in hardcover, coming June 16th.
Seriously, one of the best books in the catalogue this month! Pick this one up, or at check out the single issues still available from better comic book stores everywhere…
7:27pm: In the category of delightful extravagances comes THE ART OF BLADE OF THE IMMORTAL on page 50, a 160 page hardcover for $29.99. BotI creator Hiroaki Samura is an amazing illustrator as well as being a great comics guy, should be a lovely book…
7:30pm: And now we're onto the DC COMICS section, page 63. I don't really have a lot to add about the Brightest Day stuff. It's gonna sell to fans of the material, we've got really good tracking on it thanks to 9 or 10 months of BLACKEST NIGHT. I will say that I appreciate DC offering full-returnability (with a small penalty) on the first 6 issues to build up interest, that's definitely the right way to launch a series like this… and That recentlyannounced white ring dealy isn't going to hurt either. Ultimately, it looks like a successfully-positioned launch. Good for them. (Likewise, I have little to add about Flash or JLA, though at least they managed to get some cover art for JLA this month…)
7:37pm: Meanwhile, I do think it's very interesting that they're putting out BLACKEST NIGHT DIRECTOR'S CUT (page 68), which seems to be a bunch of the trade paperback bonus material in its own book. I actually can't figure out how much to order, because it seems like all the secret-reveals it promises are gonna end up on the internet within hours of being printed… Still, there are a lot of completists out there. I'll order low and bump it up if we've got a lot of pullfile customers who want it.
On page 69 comes the original Joker graphic novel ARKHAM ASYLUM: MADNESS by Sam Kieth. Given how well Arkham Asylum-anything stuff is selling thanks to the game, and with the JOKER ogn firmly in mind, we'll be doing a solid initial order on this one.
7:46pm: So the FIRST WAVE stuff. I dug that Batman/Doc Savage crossover from a while back, I thought Phil Noto's art was a nice fit for Azzarello's script. It updated the characters but didn't pull things too far away from what people like about them… But the cover for DOC SAVAGE #1 by JG Jones just looks… Stiff? Old? I dunno. I think about how John Cassaday updated the character in Planetary, and that really worked. This… I'm not feeling it.
That said though, THE SPIRIT #1 with a cover by Ladronn? That looks great, really contemporary but still gritty and energetic, and I absolutely love what Tony Harris did for the variant cover on FIRST WAVE #2. I think paying homage to the pulp past but updating the books is the way to go… I'm just not convinced that Jones' look suits the new direction. Got my fingers crossed though.
8:02pm: I haven't forgotten about you guys, there was just a whole-lotta nothing in the middle section there. Well, nothing worth pulling out and noting, I guess.
All of that changes on page 87, with the long, long-awaited COVER RUN: THE DC COMICS ART OF ADAM HUGHES. In work for a very long time I believe, this will collect all of Hughes covers in one place, alongside prep-work, commentary, and more. Should basically sell-itself, so long as the presentation and printing are up to snuff. $40 for 208 pages, page 87, HC.
Also on Page 87 is the Deluxe HC collection BATWOMAN: ELEGY, collecting the first 8 issues of Rucka and Williams' Detective Comics run. The oversized HC will show off Williams' art very nicely, and at onl $24.95 for 192 pages it's actually pretty reasonably priced. I'm not usually one for HCs, but given the size and price-point (and Williams being awesome) I might just pick this one up.
8:10pm: Huh, page 90, it looks like starting with the Willingham run onJustice Society, they're going to skip the ridiculous premiere HCs and go straight to the trade paperback. Our sagging shelves thank you, DC. JUSTICE SOCIETY: BAD SEED is the first out of the gate.
Meanwhile, on the opposite page [91] comes the oversized HC collection of Grant Morrison & Co's SEVEN SOLDIERS OF VICTORY VOLUME 1, weighing in at $40 and 400 pages. Collecting the first half of the series. I'll be picking that one up.
Ooo, and on page 94 it looks like DC are doing a whole new round of WHAT'S NEXT samplers to introduce people to their trade paperback lines. Anything with a media-tie in it looks like. Check out $1 introductory issues of BATMAN & ROBIN, HUMAN TARGET, GREEN LANTERN, THE LOSERS, and EX MACHINA.
8:19pm: Well that certainly took long enough. Now on issue #15, BILLY BATSON AND THE MAGIC OF SHAZAM finally gets a trade paperback collection of the first six issues. 144 pages for $12.99. DC, guys, step it up a little if you can eh?
And while I am speaking to DC's kids collected editions dept (heh), where are the rest of the themed collections from CARTOON NETWORK ACTION PACK? You guys must've done 2 or 3 hundred pages of BEN10 by now. Do you think you could manage a trade paperback collection? Or a new Looney Tunes maybe? It's a little depressing, given your wealth of material and your vast resources how few kid-oriented collections are coming out. I know the digests didn't pan out the way that you wanted, but… still…
8:29pm: Apparently it's THE month for long, long delayed projects! NEIL YOUNG'S GREENDALE HC has been in the works since at least 2007, although the rumours extended back even further. While originally Joe The Barbarian artist Sean Murphy was on board for the book, in between concept and execution the art chores were handed to Cliff Chiang, one of my favourite mainstream comics illustrators. As for the book itself, there's no previews up online anywhere I could see, but I trust Chiang to deliver a pretty-looking book. I can't say I've enjoyed Dysart's work, but I'm willing to give it a shot. Either way, it's going to make a hell of a media splash, particularly here in Canada. We'll be invested in it. 160 pages of original graphic novel for 20 bucks, drops June 9th.
8:43pm: Page 112, does anyone else think it's wierd that CODENAME KNOCKOUT VOLUME 1 is getting collected? Did it get optioned somewhere and I missed it? Still, big ups to Robert Rodi for the royalties that'll get sent his way. :) 160 pages, $19.99, ships May 19th.
8:47pm: Wow, very good month for Vertigo…! On page 118 they've got SWEET TOOTH v1: OUT OF THE WOODS, collecting the first 5 issues of Jeff Lemire's new ongoing series for just $10. Same page has Lemire's original graphic novel THE NOBODY in softcover for $15. I'm just going to insert a little plug here, and mention that Jeff Lemire will be one of our featured guests at The Toronto Comic Arts Festival, may 8-9 in Toronto Canada. For more visit http://torontocomics.com.
Ahem, that out of the way, let's look at the opposite page (119) and see a brand new edition of Howard Cruise's STUCK RUBBER BABY, an incredibly, visceral semi-autobio account of the civil rights movement, the gay rights movement, and women's librartion in 1960s America. It's a great, great graphic novel and deserves considerably more acclaim than it's ever gotten. I certainly hope that this new edition (with an introduction by Alison Bechdel!) will draw it some deserved acclaim.
8:53pm: Well how about that! It's the long-awaited sixth volume of Fred Gallagher's hit webcomic MEGATOKYO! This one collects chapters 9 and 10 of the online series 240 pages for 11 bucks. Not that I'm DC or Fred Gallagher, but if I WERE DC or Fred Gallagher I'd maybe do more frequent, thinner collections of this series so it isn't 3 years between new collections. Just a friendly bit of free advice… (Page 122)
9:09pm: Okay! We're back and on page 138, THE IMAGE COMICS SECTION! What wonderful stuff as Image got for us this month? Why, it's TURF #1, the first issue of the mini-series by UK television presenter, documentarian, and comics-uberfan Jonathan Ross. Showing excellent taste, Mr. Ross has brough Tomy Lee Edwards along for the ride, in this cross between 1920s gangsters, vampires, and a crashed spaceship. I came across a preview of this one in last week's THE WALKING DEAD #70 and I dug it, and it turns out the same preview is duplicated here in the Previews starting on page 140. It's really solid, and then a spaceship lands (which is a little jarring) but, all-in-all, it's a pretty compelling first few pages (a little dense though…). Definitely going to be a neat first issue.
9:14pm: Wow, it looks like everyone's getting on the dollar-comic bandwagon, and Image Comics is releasing 10 different first issues for just a buck a pop (p144-145). I… I don't think I'm down with most of'em, to be honest. I'd say we're going to do really big orders on The Walking Dead, Chew, and Invincible, solid orders on Age of Bronze, Girls, and Proof, and… well, it's nice that the Image-founder superhero books are there, I just don't see their usefullness to me and my store. Of course, maybe those are the four that are going to net the highest sales. Diff'rent strokes.
9:39pm:THE LIGHT #1 is… it reminds me a lot of the current apocalyptic road trip fiction that's going down right now, with The Road and Book of Eli and Blindness and all that. I can't tell if it's too close, and it's not going to appeal, or if it's just into that niche of contemporary fiction and will, instead, do awesome. Then again, maybe it's more of a trade paperback book anyway? Hmm. Conservative order, hope for reorders.
9:42pm: So, let's play a little game where we look at the last few issues of in-store dates for Spawn, in honour of the Due-April-2010 solicitation for SPAWN #202.
Spawn #191 – Due April 09, Shipped April 29th (so far, so good)
Spawn #192 – Due May 09, Shipped June 3rd (oops, slipped a week or two)
Spawn #193 – Due June 09, Shipped July 1st (almost picked up the slack!)
Spawn #194 – Due July 09, Shipped July 29th (way to go, back on schedule!)
Spawn #195 – Due August 09, Shipped October 21st (Uh oh).
Spawn #196 – Due September 09, Shipping March 3rd, 2010 (oh noes…)
There's just a tiny peek into my world.
Now, ask me how many times I've been asked for WALKING DEAD VOLUME 5 HC in the last week, due out before Christmas (seven).
9:53pm: Meanwhile, in happier news, Jeff Parker and Steve Lieber have hit every on-sale date for their new mini-series UNDERGROUND, a spelunking adventure comic with great characterization and art. If you somehow passed on the mini-series (the final issue ships this week), definitely don't miss out on the UNDERGROUND TP, coming this April. 126 pages, $15, fine fine adventure comics. (page 158)
10:00pm: Okay, and we've just finished out the Image section and we're on to MARVEL! Kids, switch over to your Marvel Previews.
Page 1 and… Dude, I'd really like to be on-board for "Leonardo Da Vinci, Agent of S.H.I.E.L.D." but I do not think I am. I'm sorry. Though kudos to Dustin Weaver for doing a bang-up Traves Charest impression with that cover. Really, bravo, that's some very good Charesting.
10:04pm: Page… 4. "Iron Man by Design Variants". Every issue this month will have a variant cover with artists doing their take on the Iron Man armour. I'm not really blown away by any of the art on display, sad-to-say.
Flipping the page and we get to the actual comics. SIEGE #4 wraps up the mini-series with the return of Iron Man. The following pages seem like epilogue after epilogue, which makes me wonder if they're going to make any attempt to collect this in a way that makes sense to the story, or if they're going to go the normal route of a half-dozen inter-related collections that add up to "what happened". Because, it would be nice if they could just put out "stories" every once in a while.
10:08pm: Ultron looks fun to draw. (page 10)
10:09pm: I can't be the first person to say this, but here goes:
"Bryan Hitch is drawing NEW AVENGERS FINALE? Here's hoping that that the first issue of that new Avengers series doesn't give away what happens in it. Or the second issue. Or the third issue."
Ba-dum-bum.
10:14pm: Huh, Marvel's adapting Philip K. Dick's ELECTRIC ANT with a five issue mini-series. That's pretty cool.  I think I'd seen reference to that, but didn't realize it was coming so soon. Written by David Mack, cover by Mr. Paul Pope, though I'm not familiar with interior artist Pascal Alixe.
10:18pm: So… Marvel is solciting the second printing of "Deadpool Corps #1″ alongside the first printing of that issue. That's… well, whatever.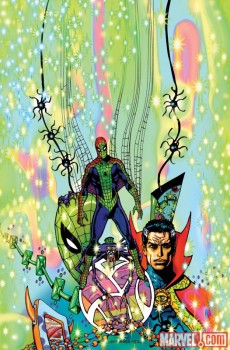 10:20pm: Oooo! Page 34 has the first issue of Brendan McCarthy's three-issue Dr. Strange story, cleverly called SPIDER-MAN: FEVER #1 so that people that think they don't like Dr. Strange will pick it up. McCarthy's a great artist and has a truly unique voice in comics, it's frig'n bizarre to see him doing a mainstream marvel book but shit, why not right? Awesome days. Another one of my picks of the month.
Oh, 32 pages, $3.99.
10:26pm: So FALL OF THE HULKS leads into WORLD WAR HULKS? But FALL OF THE HULKS: SHE HULKS is still going on when the WWH book starts. Poor planning, or just a mini-series redundant to the main 'through' of the series?
10:30pm: Page 56 and 57 have Marvel relaunching their young-readers line, with SPIDER-MAN #1 and SUPER HEROES #1, both with a "Marvel Adventures" tag on the cover, but seemingly not in the solicit description. Still, that cover by Karl Kerschl is lovely on Spidey #1, and the books sell consistentlyhere at the store. Here's hoping that the relaunch will see a boost in sales.
10:37pm: I know it's for a good cause and all, but the fact that NEMESIS #2 by Mark Millar, solicited for April, wasn't so far along in the production schedule that Millar could auction off the name of the character? It does not fill me with confidence that this series will come out on a schedule any different than Kick-Ass, which is to say a sort-of pathetic schedule.
10:47pm: Okay, that's it folks! Thanks for reading! We'll pick it up tomorrow morning with the back-half of the catalogue, and all of the wonderous new books sure to be contained within!
- Chris