I think it's fair to say that on my Summer 2009 trip to Japan, I spent a lot of time in stores that sell manga. I'm a pretty manga-specific guy actually. Sure, I'll get suckered in for some cool looking toys, and I've got no resistance to Gashapon at all. But generally, the other otaku goods fall a little flat with me–given the choice I'm filling up my suitcase with books. Manga mostly, a few artbooks, and the occasional oddity. :) So when I say that my favourite manga displays in Japan were found at the Shibuya location of Tsutaya–the country wide chain of media stores–well, I hope you'll consider it a 'considered' opinion. The Shibuya Tsutaya has an enormous depth and breadth of selection, well-organized and with lots of creator and series-specific displays, lots of hand-written recommendations and decorations, and the taste of the staff seems to be exactly the same as my own.
For example, it's where I found this mini-shrine to Tekkonkinkreet creator Taiyo Matsumoto:
Everything in one convenient place? Don't mind if I do.
To get to the Shibuya Tsutaya (and I'm sure it's just one of dozens), take the Hachiko exit from Shibuya JR Station. Hachiko is the name of the dog up top there. Directly across the scramble crossing, in the same building that houses the Starbucks, is Tsutaya. Actually, I covered it briefly on my 2007 trip, if you wanna go check it out: http://comics212.net/2008/02/24/japan-2007-shibuya-ginza-ramen-museum-macadonaru/
I enjoyed it so much I went for another spin and came away just as impressed at their manga retail acumen! Here are some shots from inside the store.
The elevator to B1 drops you in the middle of the shoujo section, and a large poster promoting the work of Fumi Yoshinaga, amongst others…! Zooming in to the top of the post there?
A signing card/poster by one of my favourite mangaka, Paradise Kiss and Nana creator Ai Yazawa!
The English editions of Paradise Kiss from Tokyopop were sort of awful approximations of the elegant Japanese designs–complete with metallic inks. Gorgeous. On the very edge there, you can see 2 copies of the Paradise Kiss postcard set and "Welcome to the Gokino World", an artbook of Ai Yazawa's pre-Parakiss work. I have both of these items, I'll try and blog them at some point in the future… they're amazing!
This is one of the new-release tables, which features giant stacks of manga, hordes of manga… and the cool, fashionable young people checking them out. I really dig the interior page reproductions, I think that's a cool idea that I wish we did more of here… that I wish we had more space to do at The Beguiling where I work…! :)
A closer look at the new releases sees a two-volume best of edition of OISHINBO, "Maverick" and "Tycoon" for the opposing father and son culinary enemies! Also, some sort of ridiculous salaryman manga, and another cool-looking food manga in the upper-left corner.
Some more new releases.
The magazine-wall of new releases. Love the full-face display too.
This month's Shonen Ace Monthly Gangan comes with a DVD!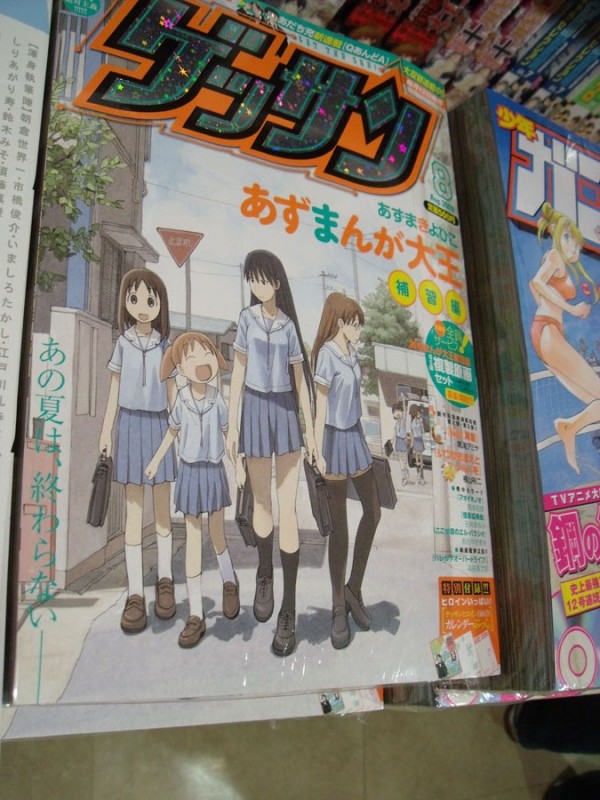 Meanwhile, it looks like the Azumanga Daioh gang make a return engagement…?
I loved these fat Golgo 13 collections. Note the complete run of Golgo 13 also on the shelf around it… 120+ volumes.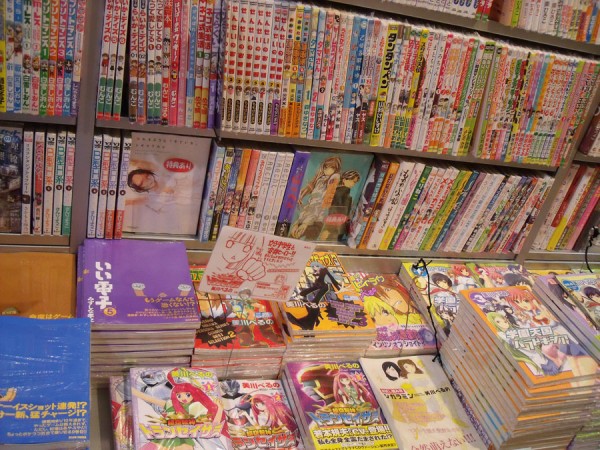 I guess with all of these close-ups, it's kinda hard to get the best idea of just how big this place was…? Apologies, I don't seem to have taken a reallllly wide shot. Still, trust me, it's a pretty big floor :)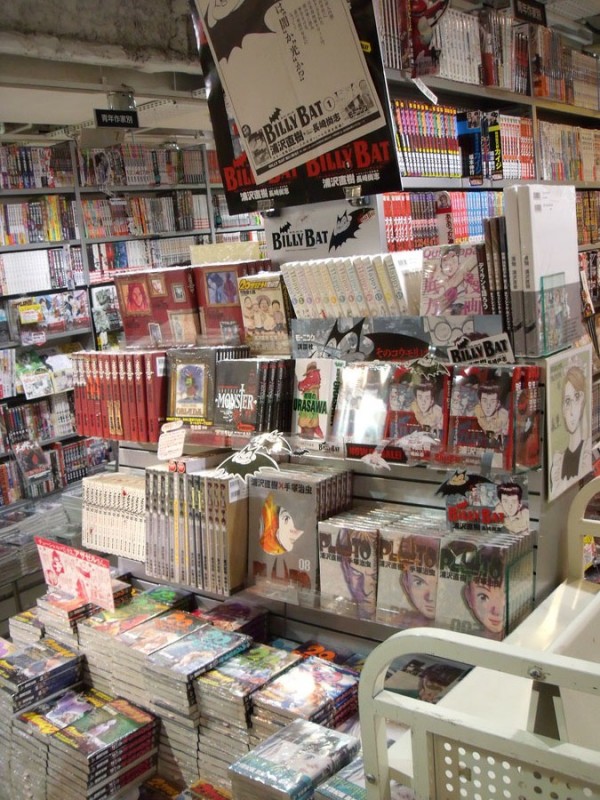 Here's another one of those 'shrines' I was talking about… this time to Naoki Urasawa, creator of the then just-completed PLUTO series! As you can see, Pluto is prominently featured, but it's his (then) brand new manga series BILLY BAT that really took the cake!
Oh and a signing card from the creator of  Emma, Kaoru Mori, peeking through on the right hand side there… I may not have even seen that in store. Good thing I took photos eh?
This weird food manga looked fascinating too. Love the display signage of the sardine on the plate.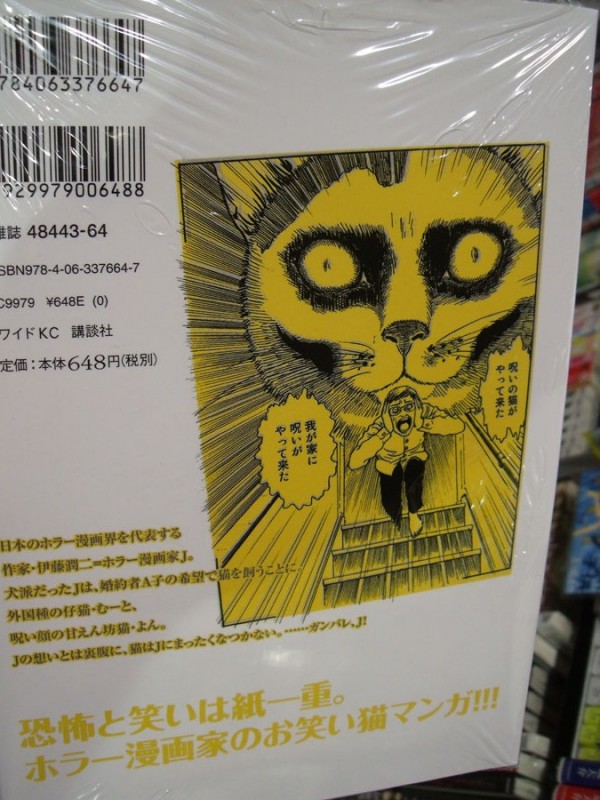 So here's something weird. Junji Ito did a very strange cat-manga…? The horror guy, you know, Uzumaki and Gyo? Yeah, I had to buy it. I haven't read it yet though, but it's kind of amazing that it exists. I'll try and blog that too.
Here's the shrine to all-things Takehiko Inoue. I love that Slam Dunk STILL has more facings than his 2 current series, Vagabond and Real.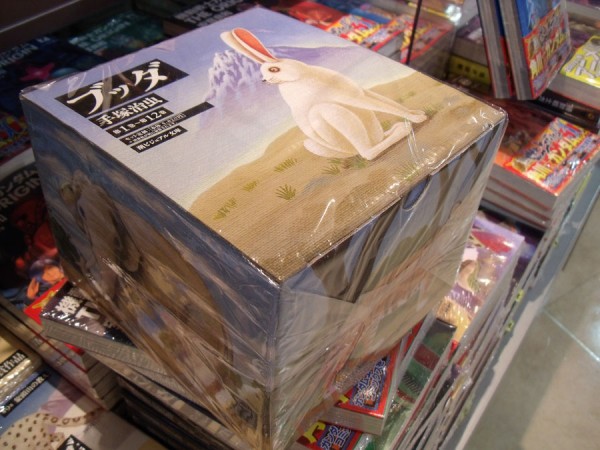 So I just wanted to post this–this is how BUDDHA by Osamu Tezuka is sold in Japan. As a box of 12 manga, each with a different weirdo animal illustration on the cover. I… I don't get it.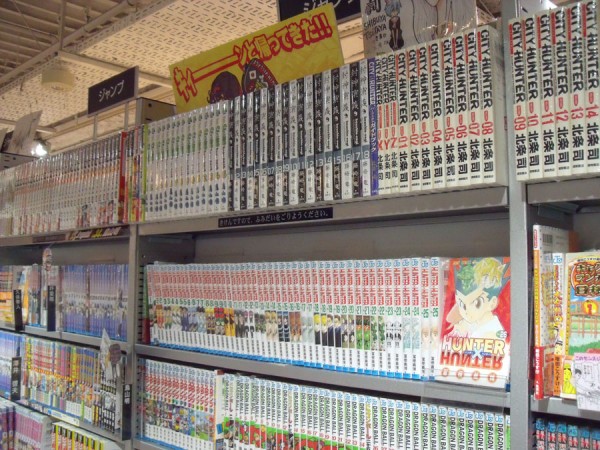 An amazing collection of some of the awesome signing cards they've got in store from the folks who've visited! That's Junko Mizuno up top, followed by Suehiro Maruo in the middle. And the bottom is familiar to me, but I can't make it out. Feel free to let me know in the comments, and I'll correct it!
Speaking of which, this hand-made sign for Suehiro Mauro's adaptation of Edogawa Rampo's "Mysterious Tale of Panorama Island" is awesome!  Make sure to check out the English-language edition when it gets released this fall from Last Gasp!
How it all works: These manga shelves are the most fantastically designed things I have ever seen. Stroke of genius, really.
How it all works: Have a standing special order? Supposed to get a toy with your magazine purchase? Want something really thefty? You can find that material behind the counter, ready for pick-up when you're ringing out.
That's it for this time! Look for the last post in this travelogue very, very soon. We're visiting one more Tsutaya before we leave the country…
- Chris