My friend Jim Zubkavich is a good guy. He works primarily as the creative director at UDON here in Toronto, and he organizes all of their creative services and manages all of their artists and heads up all kinds of projects for them, most notably the very successful Street Fighter Tribute and Darkstalkers Tribute volumes, which saw him organize over a thousand submissions from professional and amateur artists into two very handsome artbooks.
I'm the Best Man at Jim's upcoming wedding, so it's pretty clear that it is difficult at best for me to be unbiased about his work, and tbh the work of Udon in general. Difficult but not impossible of course, when they get something wrong I will tell them and Jim is gracious enough to accept criticism well (he may occasionally argue, as is his right).
Jim's got his own creative ambitions outside of working on licensed material at UDON, in fact he had been producing a webcomic called Makeshift Miracle well before he started at UDON, and after much prodding at my behest he finally got it together and released a book collection of Makeshift 3 or 4 years ago. It's a nice looking book, we had a launch party for it, it was a great time.
Jim's next major creative project was actually just solicited last month, and due to the insanity surrounding San Diego and Scott Pilgrim I never got a chance to mention it here on the blog. It's called SKULLKICKERS, and it's a full-colour 5-issue mini-series coming out from Image, with the first issue dropping September 22nd. Jim's been a project manager and creative director for a while now, he's got his act together and with this series and he's put together an amazing creative team with artist Edwin Huang knocking the art out of the park on his first go. The first issue is totally complete. The second issue (in the Previews now) is totally complete. The third issue is underway. The series is gonna come out on time, in full colour, and it looks great. You can see a bunch of stuff at the SKULLKICKERS website, http://www.skullkickers.com/.
So SKULLKICKERS. It actually launched out of two short stories in Image's POPGUN anthology over the past few years, and they were short, sharp, funny little pieces. The premise of the series is basically "What if Army of Darkness had two Ash's, and it was set inside a Dungeons and Dragons game?"  I've read the first issue thanks to Jim providing me with a preview, and it's just as good as the shorts, maybe better as the longer format allows for some longer set-up… and follow-through on the jokes, and the action has more room to breathe. It's a really solid first issue, and I enjoyed it as a reader, and I'm proud of my friend for following up on his creative ambitions and making this book happen. I think it's going to be one of those surprise hits that Image has been publishing lately.
As I mentioned, the first issue was in the last Previews. Issue #2 is in the current Previews.  The item codes are, if you are so inclined:
SKULLKICKERS #1, $2.99, JUL10 0392
SKULLKICKERS #2, $2.99, AUG10 0490
We ordered 50 copies of the first issue, to support the work and to entice Jim into doing a signing at the store, and because I feel like we can probably sell a bunch of copies of a very solid new indy book. Hell, it's even $2.99, cheaper than most of Marvel's and DC's stuff, and with their deep pockets they could almost assuredly afford to lower their prices… Anyway.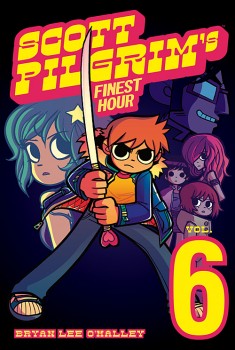 So the reason I'm telling you all of this is because I've got this blog here, and for the last 13 years or so I've used my web presence to direct as much attention and energy and sales and good fortune as I've been able towards comics I like, and comics by my friends, and those are usually both the same things. I have spent a lot of time telling all y'all about how good things like Scott Pilgrim are, because I believe in Mr. Bryan Lee O'Malley and I believe in his work, and now this weekend a major motion picture based on the work of my friend is opening across North America. It is amazing. My friend is now a bestselling author, and has a measure of financial security not often afforded to people in the comic book industry, and while I don't pretend to take credit for the incredibly hard work he's put in over the last six years, I am quite happy to have done my part to get that work into as many peoples' hands as possible.
That's the reason I'm telling you about SKULLKICKERS. My friend Jim did a really fun book, and it's coming out soon, and what do I have this small measure of internet fame for if not to sell some good comics and help my friends out? Well, that and to get on comp lists.
So in closing, if you are a reader who would like to take me at my word and check out this comic, I strongly recommend you talk to your local retailer and make sure they've ordered it. They may not have–there are a lot of books in every given PREVIEWS. If you are a comic book retailer, I would urge you to pick this book up as it is likely to be underordered, and likely to receive some very positive attention in stores. Retailers can increase their orders until the FOC date of September 2nd, and for every 10 you order, you get 1 free as an ordering incentive!
Congrats to my buddy Jim on the first issue of his new series. Best of luck on the next and the next.
- Christopher