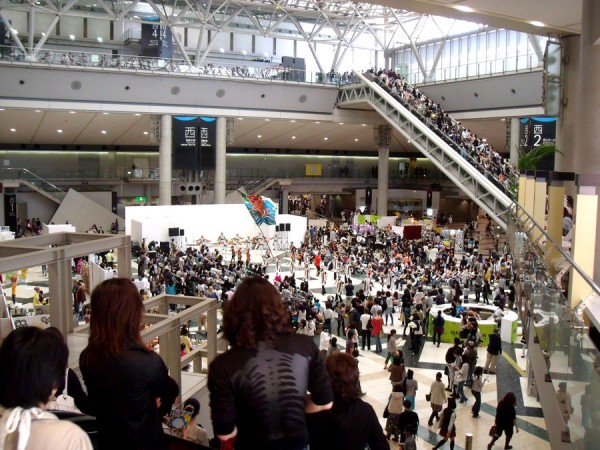 So I went back to Japan in May of 2010! That was trip #3, and since I'd crossed the vast majority of ohmygodImustdothisthing things off my list, I dug a little harder into what was "going on" while I was in Tokyo, to see if there were any cool events, gallery shows, or comics things that I could visit while I was there. It turns out that Design Festa vol. 31 was all three!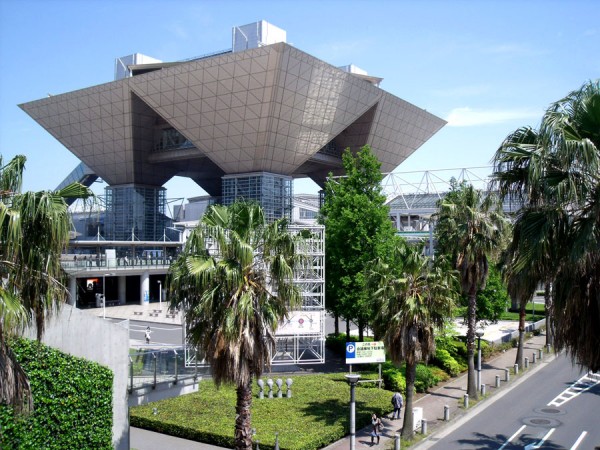 Design Festa is a twice-yearly… Design… Festival… held at Tokyo Big Sight, the massive convention centre on the artifical island floating in the middle of Tokyo Bay (Odaiba) that also houses the world famous Comiket doujinshi convention, also twice yearly. Design Festa was started by Takeshi Murakami and friends in 1994, to give aspiring artists in Tokyo a chance to put their work on display in a commercial context… or as the website says "Making an artistic impact is not easy, regardless of talent but if many people get together and make an art movement, the possibilities expand infinitely!"
The event is comprised of more than 2500 "booths" of artists, with about 8500 individual artists participating in some way. Painting, sculpture, drawing, crafts, performance, commercial products, it's all sort of smushed together to create one of the most vibrant spaces I've ever visited… and I attend comic book conventions for a living.
I think what was most surprising to me was the range of material on display. Though it tended to be very contemporary in scope (and often post-modern), there were still real elements of traditional Japanese arts that tended to come through. It was a pretty amazing thing to do on my first day in Japan, to be dazzled by all of these wonderfully talented young artists. I plan to visit Design Festa Vol. 32 when I go back to Tokyo this fall.
To see the full gallery, without all of my blabbing on, you can check out my Flickr set at http://www.flickr.com/photos/comics212/sets/72157625080240231/.
At the entrance to Design Festa, cosplayers, crossplayers, crossdressers, and people who just like to dress up congregated to see and be seen. Artistic events draw out artistic people of all stripes…
Click to keep reading! :)
One of the great things about Japan are the intelligent liquor laws, that don't mind if you wanna grab a beer at 11 in the morning to walk around seeing the outre underground art. Here my friend Jim shows us his Corona , already in progress.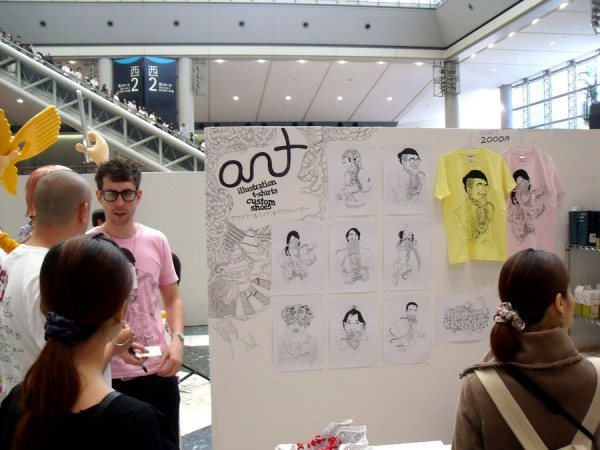 The festival is an international affair, with the website and applications for the show available in 3 or 4 languages. While the show was primarily about Japanese young artists, it does really appreciate and promote artists worldwide, which is very cool.
And while there is a lot of illustration particularly influenced by manga and comics, there were almost no comics or manga at the event at all…! It seems that the integration of amateur manga (doujin) and aspiring artist are still pretty far apart. I do think if 10 people were at this event selling something approaching narrative, they woulda cleaned up though…!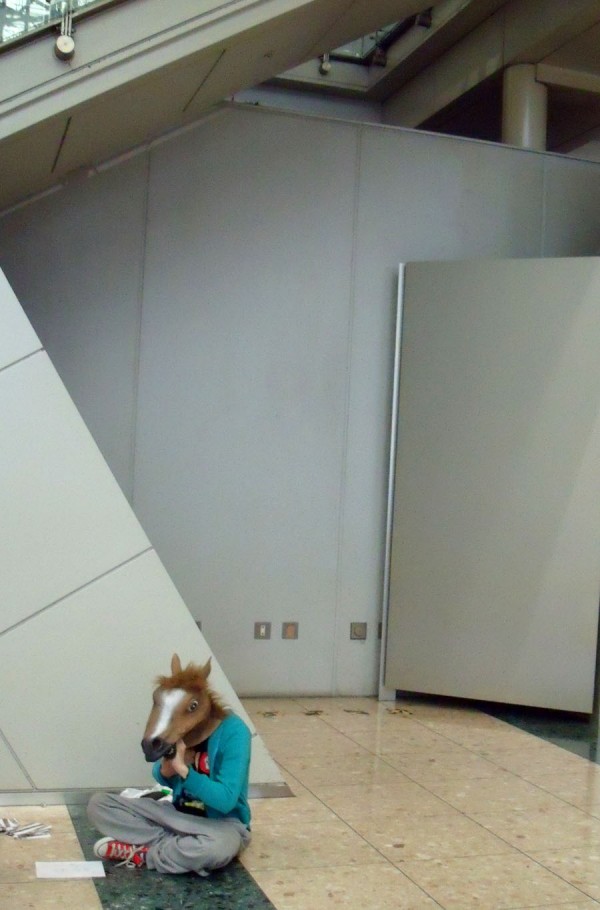 No caption.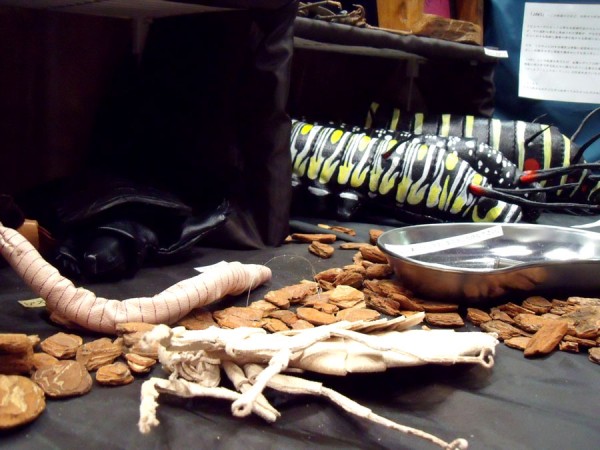 Finally, fetish costumes for my stuffed animals!
Seriously though, this is Gloomy Bear, the creation of a near-homeless young dude which became a huge chara-goods phenomenon, with toys, shirts, charms, and all manner of goods now featuring the character across Japan and across the world. I think it's pretty amazing that someone has 'remixed' the character like this, creating $100 vinyl fetish wear to take the implications of the character to the next level. This sort of appropriation/transformation was really rare at the show btw, with many artists creating wholly original characters, works, and designs.
I liked it, but I didn't $30 like it.
It's kind of a Japanese joke, but it also works because babies are lazy.
One of the neat things about Design Festa is that they worked hard to incorporate all different kinds of art, and the live stage was located just outside the second-floor food court. This was a pretty amazingly awesome rockabilly band, and they did an amazing job. The crowd seemed as into them as they could possibly be without moving or even nodding along to the music. :)
Speaking of the food court, this is… Taco Rice. It's rice with the contents of a taco dumped on it, sort of, including a slice of avocado and a whack of Japanese mayonnaise. It was… interesting. It wasn't bad, it was just a little bland, which I'm going to chalk up to the differences that come from the appropriation of another culture's food.
This was entirely animatronic, btw.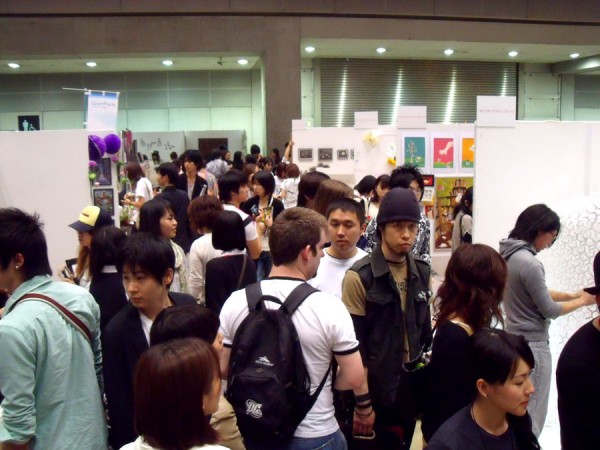 It was a bit of a crowded event. :)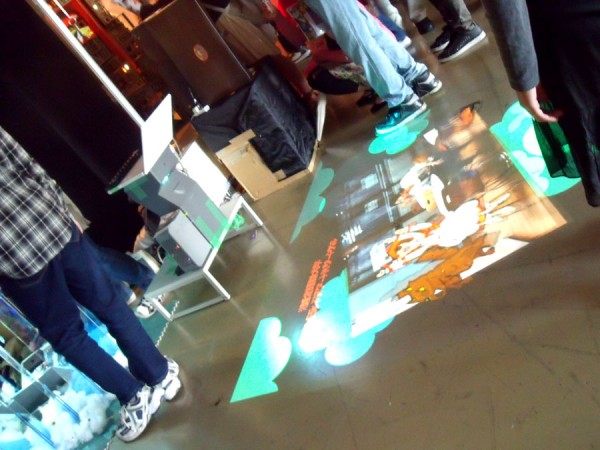 At the edge of the second floor, the organizers created a "dark" area with low-to-no lighting, for projection and light-oriented at. It was super cool, and added an entirely different flavour to the work. Unfortunately my own camera was not adequately prepared for low-light shooting, so I've borrowed some of my friend Jim's shots from this area.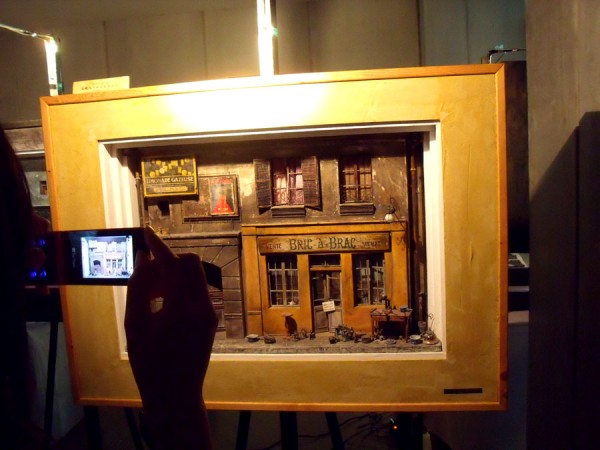 Amazing miniature, on the scale of the object above.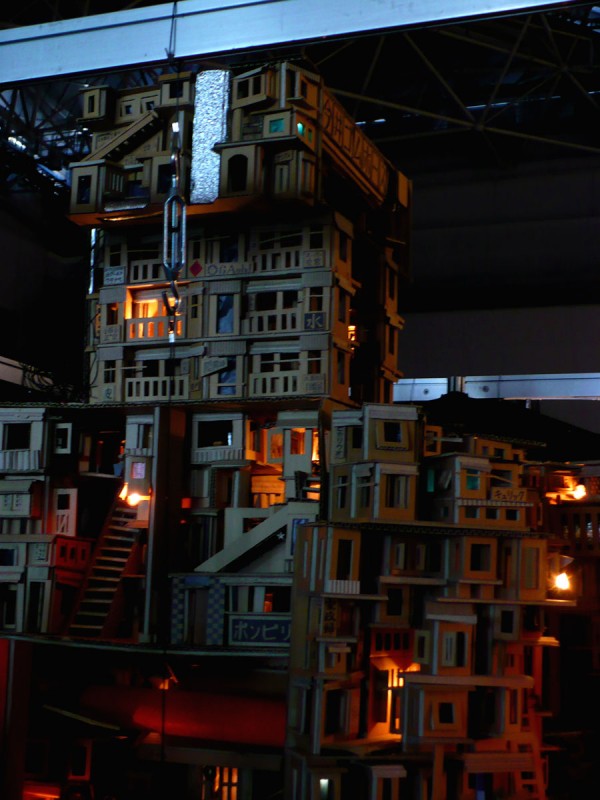 The spirit of Umezz lives on… ;)
Now we get to the performance aspect of the show. This is a young woman who likes to wear a sailor-suit bathing costume, wearing a rubber-duckie ball-gag, writing around in a children's pool full of plastic balls. She prefers it when you take pictures of her.
As you might imagine, she was very popular.
This is Shintaro Kago! He's an amazing manga-ka and illustrator, a favourite of folks like myself and Scott McCloud(!) for his brilliant formalist invention and playing with the medium of comics. As I said there was _almost_ no manga or comics at Design Festa, but there was Shintaro Kago, and that's absolutely amazing as he's been one of my favourite mangaka ever since I saw his work in Viz's sadly out-of-print Secret Comics Japan.
Kago was primarily selling plastic toys and prints of his work, but he had both original art(!) and self-published manga and books(!!) for sale, and I was happy to go home with some of both…! It was, in a word, super-awesome to meet him and although I had an amazing time at Design Festa, this totally made the show for me.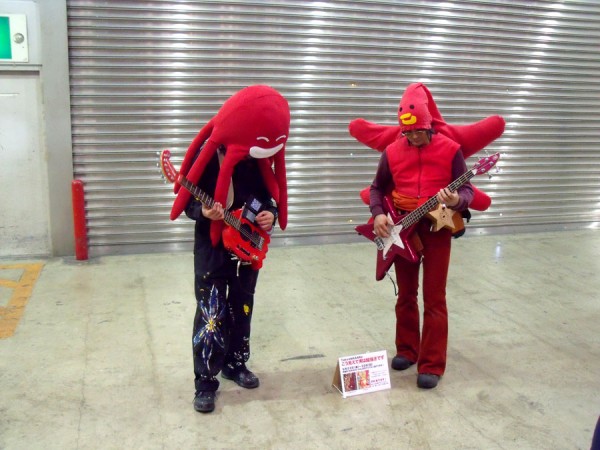 I managed to record a little bit of this completely insane Japanese noise-band. So why don't I play them for you?
I'll come back and edit this with their info once I find that postcard they handed me.
So that was Deisgn Festa Vol. 31! Actually, to be completely honest, that wasn't even a tenth of the experience, nor a quarter of the photos we took. As I mentioned up top, you can see the full-ish gallery over at Flickr, http://www.flickr.com/photos/comics212/sets/72157625080240231/.
Thanks for reading, and look for more Japan Travelogues very soon!
- Christopher Butcher