So, surprising no one (I guess) I am heading back to Tokyo today for a business trip with as much 'pleasure' as I can cram in there as well. Buying more stuff for The Beguiling, hopefully doing a bit of TCAF business, that sort of thing. As always it's going to be a hoot.
The big change is that all of my photo-taking, and subsequent photo-blogging, will now be done with this beauty of a camera–the Olympus PEN E-PL1–which I am test-driving for the trip. Thanks to various folks for helping me set that one up, I should have some great photos to share this week and next.
Meanwhile, before I had a chance to break out the Olympus (shot with my Fuji Finepix), I spotted this rack at the exceptionally well-stocked-for-graphic-novels airport bookstore. Archie Marries…, Bone and Amulet on the bottom shelf, and… is that?
…yes! This is an airport bookstore that actually stocks Jason Shiga's MEANWHILE…. That is awesome! I mean, it's on a shelf with "Herman Classics", which is less awesome, but still! And just around the corner on the same display…
Scott Pilgrim! Pokemon! And… THE NEW CHARLES BURNS!? This airport bookstore has more copies of these books in-stock and displayed than _most comic book stores_, which is why _most comic book stores_ make me incredibly sad. But wait there's more!
The staff picks! Since they're 95% DC, I'm tempted to say that DC's Cdn distributor bought and paid for this section, but either way, that's some great, prominent display for these books! That's pretty incredible and an auspicious start to this trip…
On that note, let me share a couple more pics with you.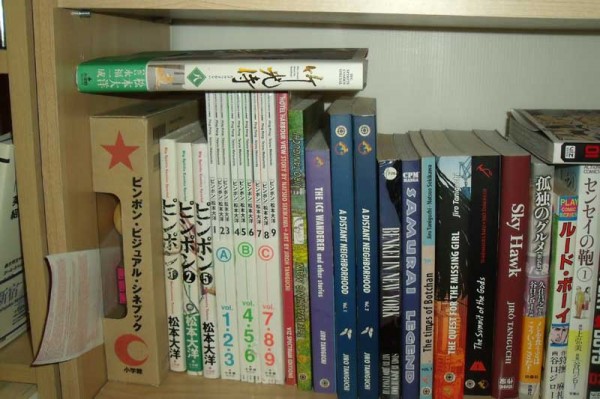 These are two pictures that I took of the Taiyo Matsumoto section of my bookshelf, just so they'd be on the camera when I was out shopping and I'd know what I already had!
Top photo (l to r): TekkonKinkreet Animation Book 2-pack, PEN magazine with comic article, 5-issues "Black and WHite" mini-series, Tekkon Kinkreet All-In-One Edition, GoGo Monster, Black & White 1-3, ZERO 1-2, "Brothers of Japan", a novel Matsumoto did the cover for, Hana-Otoko 1-3 Special box set, Hana-Otoko v1, Blue Spring, Le Samurai Bambou 1-2 (French), Number 5 Omnibus Editions 1-2 & 4, No. 5 v3 (French), No. 5 1-2 (English), No. 5 volume 1 Gift-box edition with figure (Japanese), Cosmic Comix Magazine with Matsumoto interview, 100 & 101 Matsumoto art books, Something(?), French colour comics album.
Bottom photo (l to r): PING PONG Film book box-set edition with Paddle & Rubik's Cube, Ping Pong 1-2 & 5, Ping Pong Special Edition Oversized version 1-3, and then a bunch of other stuff. Oh, and Bambook Samurai Volume 7 is on the top there, laying on it's side.
Click for larger!
Alright, I've got a plane to catch. Expect lots of blogging this week! Take care!
- Christopher