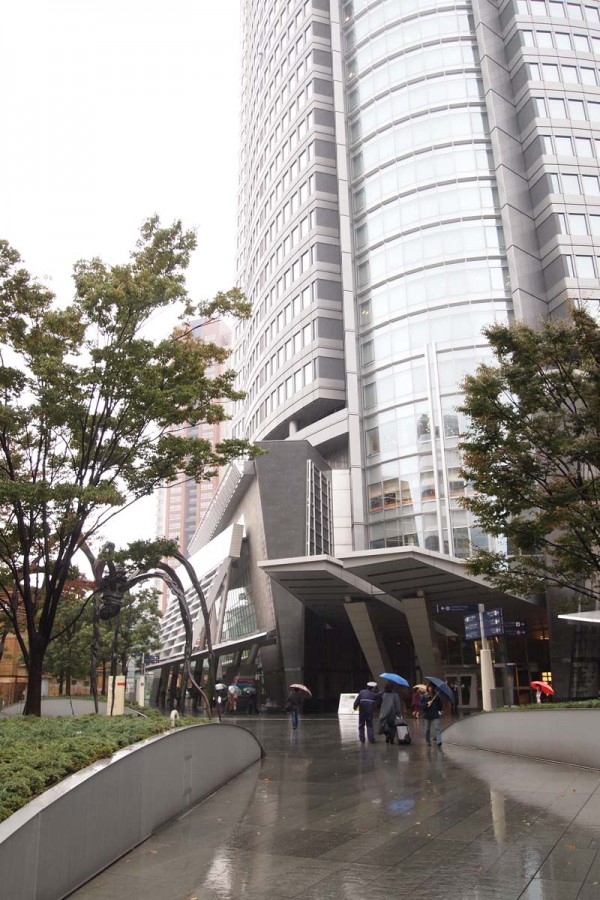 For my October 2010 trip to Japan, I wanted to go to places I'd never been before, but also explore places I'd been more thoroughly. Really get a rich experience out of this trip. Roppongi is the former–a Tokyo neighbourhood that I'd consciously avoided on past trips. Frankly, the alternative descriptions of Roppongi as a soulless shopping district for the wealthy and a playground for drunken foreigners and the military… dissuaded me. But on a rainy Saturday afternoon, travelling to a massive indoor shopping mall appealed more than being outside (or staying in the hotel), and so off we went.
Oh, and I should mention, all photos in this post taken with my new Olympus Pen E-PL1, which I am learning to use and loving.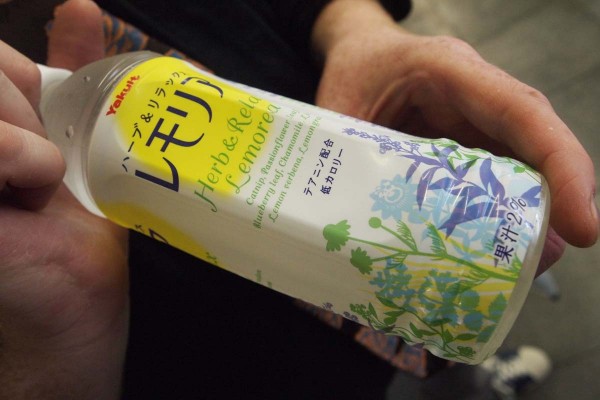 We took the subway (rather than the JR trains) to get to Roppongi, because you can't really get there any other way. The subways are more complicated and intimidating than the JR, but honestly once you get the hand of them they're phenomenal. Cheaper, they go to far more locations in Tokyo, and best of all the subway companies sign different vending machine contracts than the JR companies, and so there's all kinds of never-before-seen drinks!
Herb & Relax Lemorea, for example, lists (seriously) CATNIP as an ingredient/selling feature. So we had to buy it. It tastes… Herbacious. And weird. Not unpleasant on the palette, but it seems to be flavoured with artificial sweetener, which leaves an unpleasant viscous feeling on the tongue and has an unfortunate aftertaste. Still, now I can say I've had a drink with catnip in it.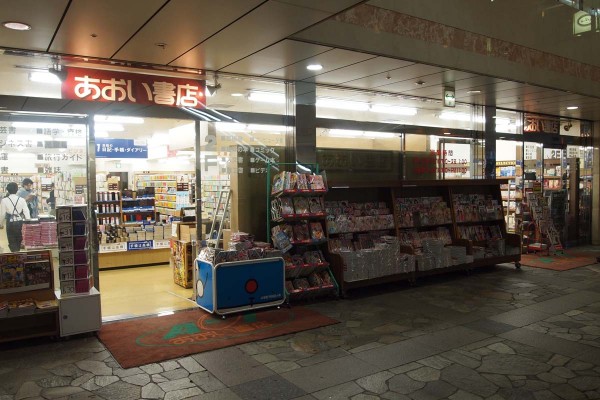 I'm sort of convinced we took the long way around, but this is the exit to Roppongi Hills shopping complex that the signage told us to take. It let us out at a bookstore, and a rain-drenched city street.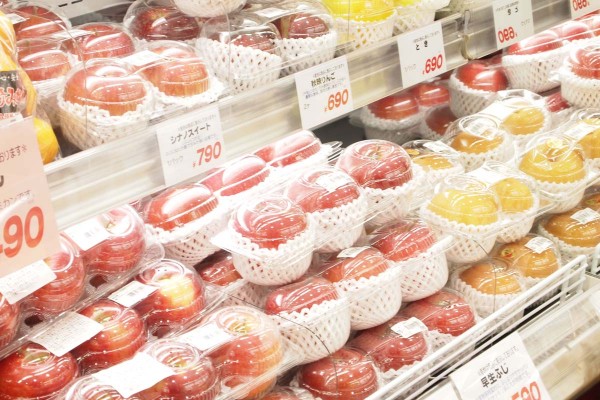 On the way into the complex, we spotted a little grocery store selling these ridiculously packaged apples. We got the least-expensive of the bunch, just to the right, at 490 yen for 3 apples–or about $5.50.
This is the photo where Andrew remarked "look at all the insane architecture you can build if you don't have crazy Canadian weather!" It's hard to explain, but imagine a large underground mall, with this three-or-four-storey escalator coming up out of the middle of it into a covered-but-open-to-the-air dome filled with advertising billboards; breathtaking in its excess.
And that led out into the courtyard of the West Walk and the Mori Tower, basically the main part of the Roppongi Hills complex. Lots of dramatic architecture here as well.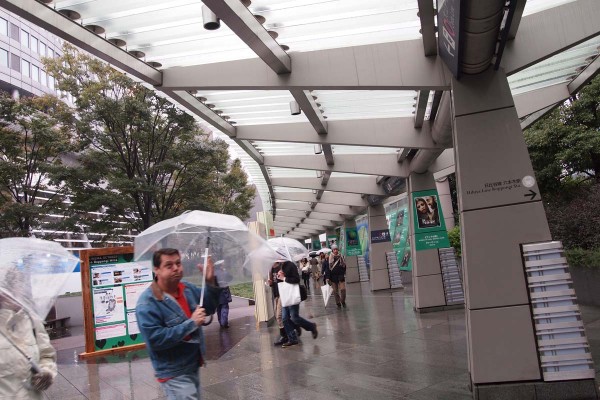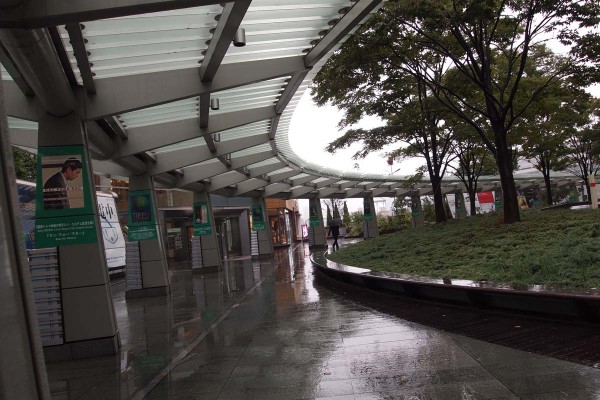 And pouring rain, and gusting winds up to 70km an hour. Did I mention that there was a typhoon off the coast of the country, making for ridiculous rain and wind? There was. Even this short open-air walk was a little gross.
Safely ensconsed inside, you can get an idea of the drama they were going for. Big spaces, lots of verticality and natural light. It's really impressive.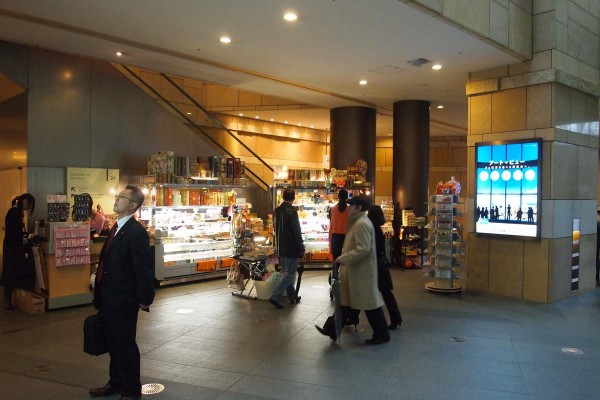 Clean lines, polished and textured surfaces interacting… Hyper-contemporary. The whole thing felt like a rich-person's bathroom.
I love this photo because it feels so warm and inviting. That's more to do wit the camera than the space though.
The center of the space featured this amazing halloween display, simultaneously brilliant with its bent wood and real pumpkins, and kind of crappy by tacking dollar-store decorations all over it. Happy Halloween?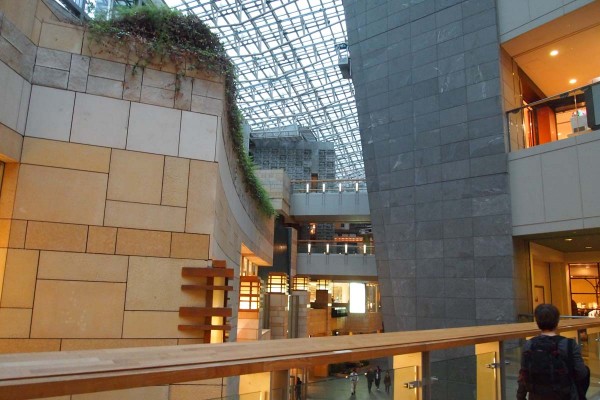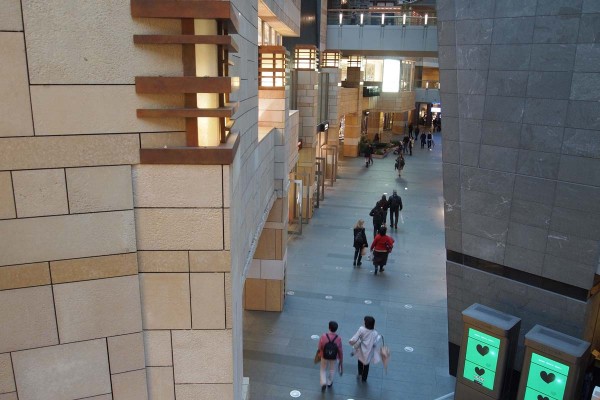 Up from my vantage point I was able to capture… off in the distance…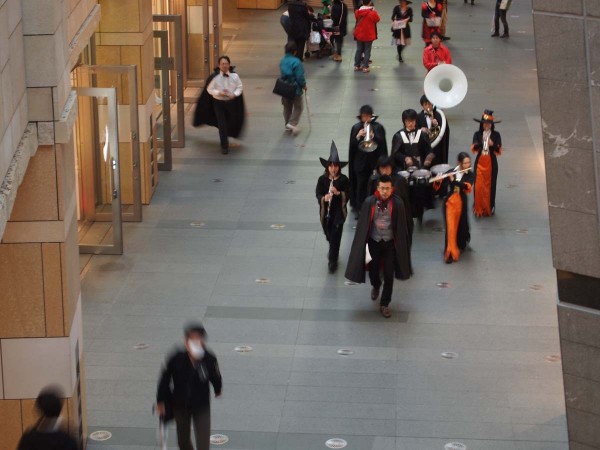 The Halloween marching band.
A group of costumed children have congregated around the pumpkin… What will happen?!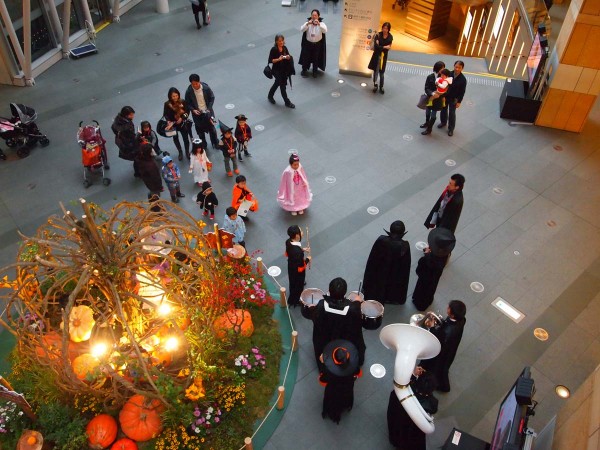 The band smacks right into the kids! The kids send their princess out as official envoy. One of the band's assistants dutifully passes out candy to all of the children, before they take up their instruments and continue on, parading through the mall with their halloween songs.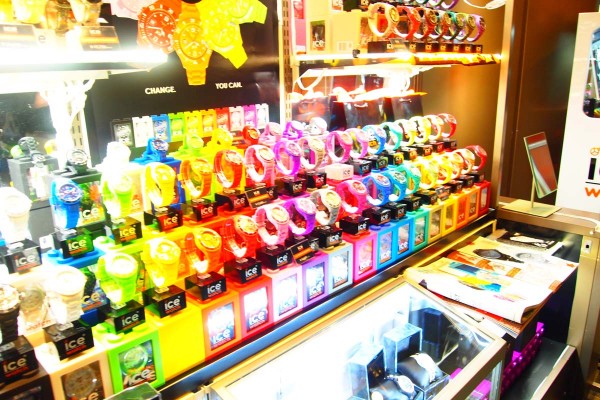 Loved this display of watches, hated the design of the individual watches.
Joel Robuchon has a restaurant and bakery here! OMG! OMG! We had to check it out.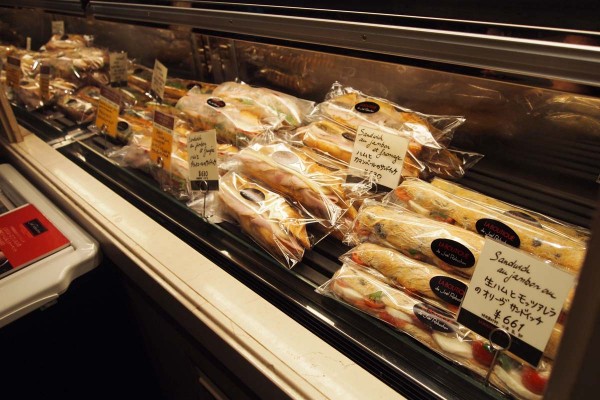 So delicious-looking! Aiee1 Sandwiches with real, fresh, delicious-looking ingredients. Sliced buffalo mozerella and more.
We bought 4 things. The first, a croissant. We devoured almost all of it before I got a picture, it was that good.
Then, a gorgonzola-dolloped bun, but the bun was a hearty bread… Omg so good. Just… just amazing.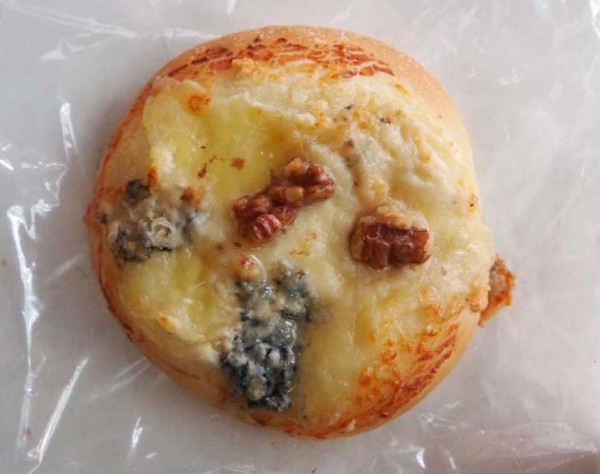 Fearing a repeat, I immediately photographed the last two items before we inhaled them as well. On top was a truly amazing four-cheese, honey, and walnut pastry, and on the bottom is the single greatest croque monsieur I've ever had. It's pretty hard to fuck up ham and cheese, but no one has ever gotten it this right before either. It exploded with flavour, and was still warm too.
Actually, here's the video we took where I was over the moon about our experience:
Basically, the bakery at Atelier by Joel Robochon is amazing, inexpensive, and delicious. Get to it. It might even be worth going back for the actual restaurant, just to see if it's as awesome.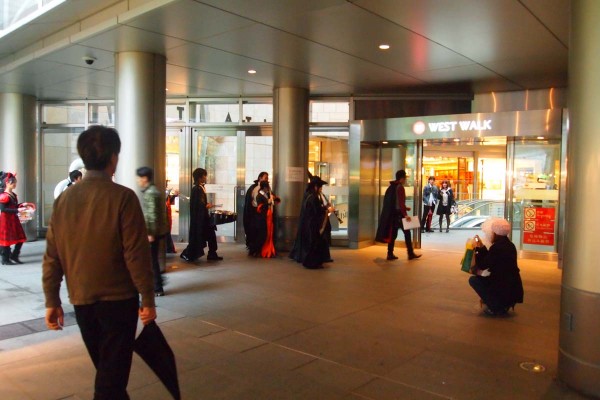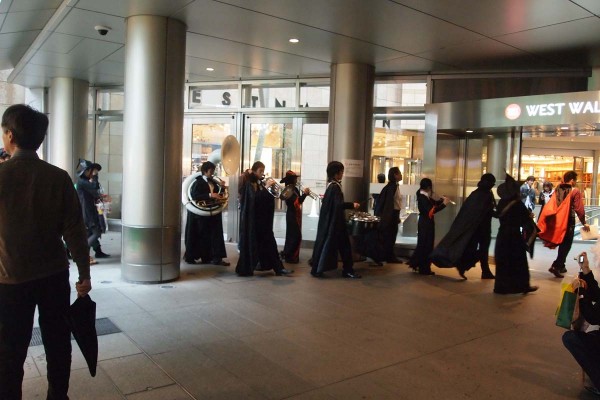 The marching band played through our seating area.
Oh, on that, you'll see all the green carpet and flags above, that's one of the sponsor-spaces for the Tokyo International Film Festival, going on right now and taking place entirely within the Roppongi Hills complex.
Then we went to the Roppongi Hills Art & Design Store, conveniently located at the entrance to the Mori Art Gallery.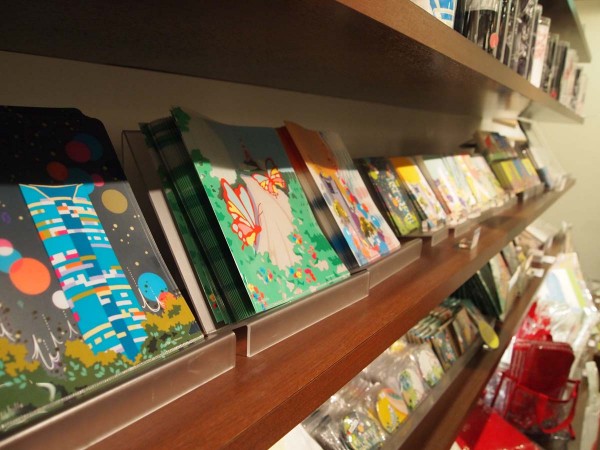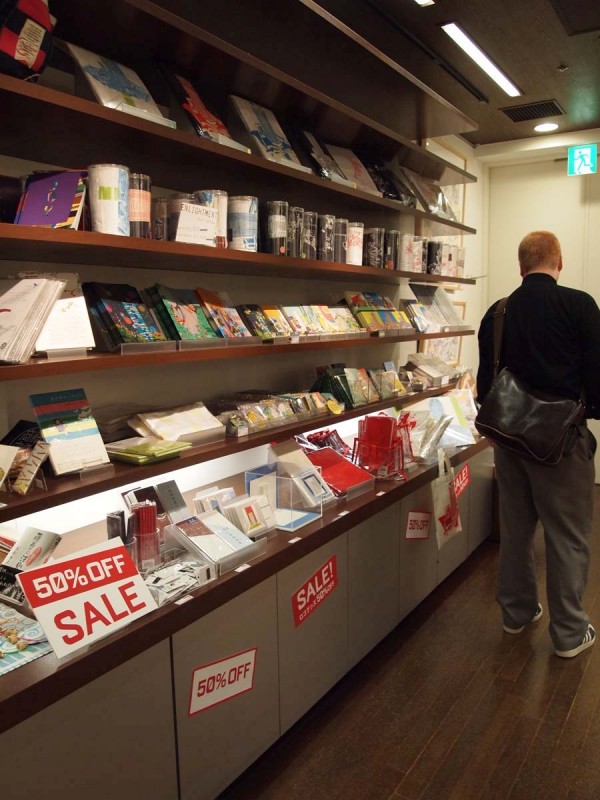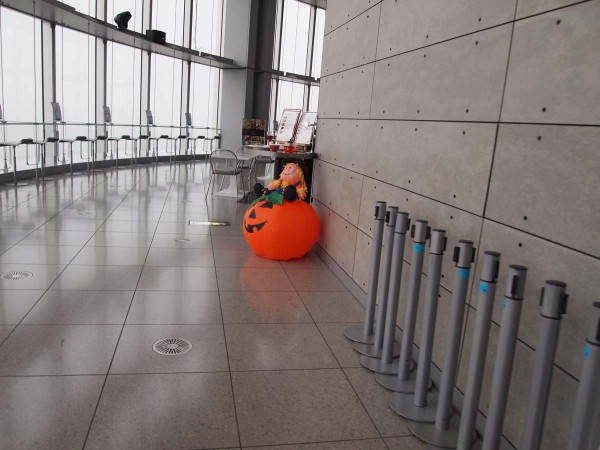 So way up on the 52nd floor of the Mori Building is the Mori Art Gallery and the "Sky Deck". For $20 you get access to the regular gallery, the special exhibition, and the whole skyview thing. Not a bad deal if the art is good and the view is clear. But as I mentioned…
…the typhoon made for some mediocre views. Still, you get a real feeling that 52 stories up is pretty far…!
The skyview area was decorated sporadically with Halloween-related decorations and items, though it really felt kind of sad and awful, honestly. Above you can see a waste of $20–the cost of dressing up your kid in one of the available costumes and having them photographed in front of that scene. Considering it cost at least $5 just to get up to the top of the tower in the first place, you'd think they'd let people take pictures for free but…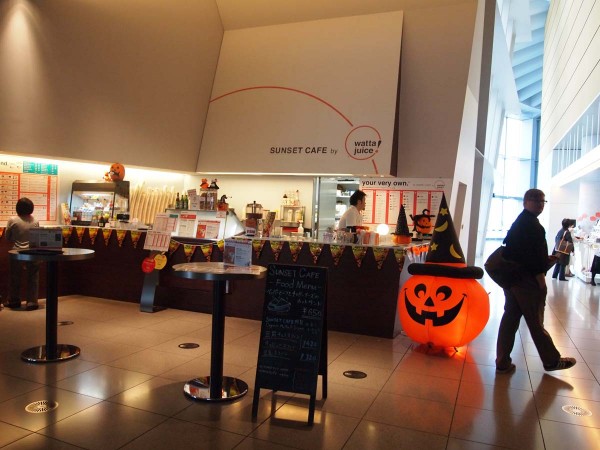 The architecture is no less impressive though.
No words.
The classy entranceway into the ritzy 52nd floor bar.
The Mori gift shop…
You're being subjected to a bit of blogging trickery here, I'm going to put the Mori gallery exhibition into it's own post, up next. So let's just pretend 2 hours have passed, and check out the gift shop!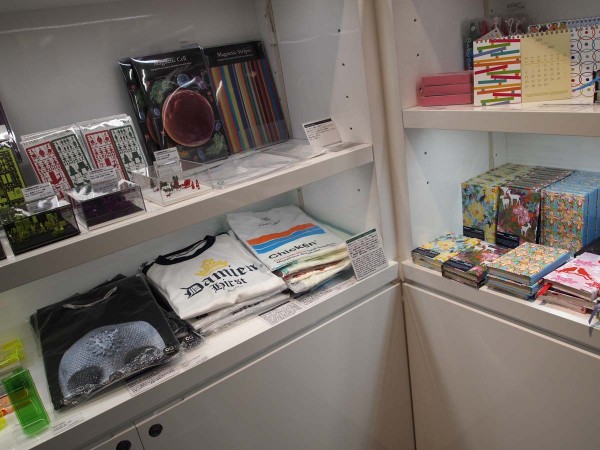 Oooh!
Ahh! Famous art in plastic miniature, distributed via specialized vending machine!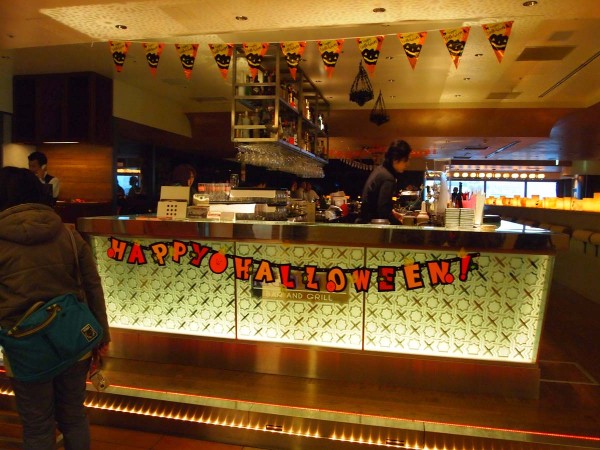 Then we headed to the restaurant floor for a bite to eat. Every public building has a whole floor devoted to restaurants, sometimes 2 or 3. It's awesome, you're spoiled for choice.
We almost ate here, but the unmoving crowd of slack-jawed yokels blocking the menu–so we could see what they actually served in addition to just looking fun–prompted us to continue onward. We instead went to a very classy vegetarian shabu-shabu restaurant…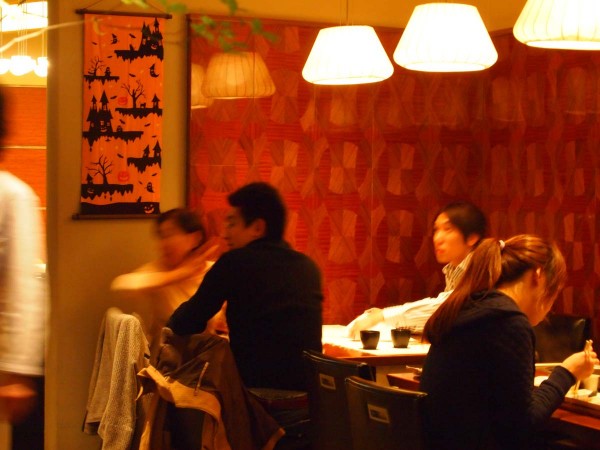 …that none-the-less spared no expense decorating the walls for halloween. :)
A gloomy view on a gloomy day, with Tokyo Tower obscured by the low-cloud-cover in the middle-right.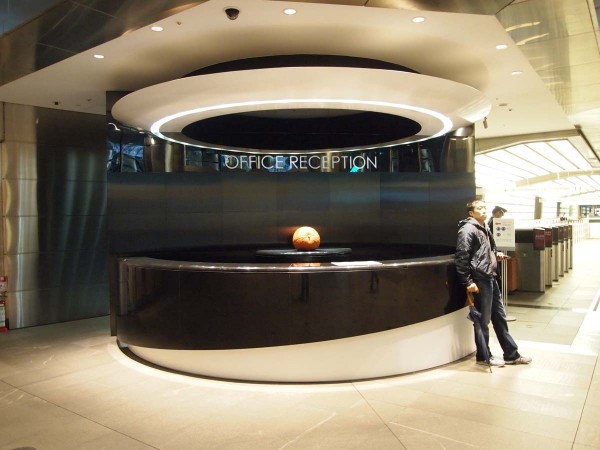 On the way out, we spotted possibly the greatest Halloween decoration yet. The office reception desk was vacant, save for this lone, unadorned pumpkin, watching over all of us. It summed up my feelings about the Roppongi Hills complex really–it's all very impressive, imposing, but soulless and not-quite-there… in a way that I don't think the folks in charge can even _see_. Still it was busy even on a rainy Saturday afternoon, they most be doing something right…
More Japan travelogues to come. :)
- Christopher