In observance of World AIDS day December 1st, I thought it might be appropriate (and fun!) to dig out some of the "souvenirs" of my last trip to Japan.
I'm a comics guy, and if I'm out at a bar and see an illustrated club advertisement, I'll grab it. I like illustrations, and I particularly like Japan's specific brand of hot-chubby-bear illustrators, and so I came home with a treasure-trove of cool flyers and booklets. Unfortunately, new cases of HIV and AIDS are seeing a dramatic upswing in Japan right now (and amongst gay men in particular), and a number of organizations are doing great work to make people aware of the disease, how to prevent it, and how to live with it if you become HIV positive. And one of the many ways they're doing so is by enlisting a huge selection of amazing gay comics artists, in a variety of different ways.
First up you see this collection of 9 illustrations and an info card called, so far as I can tell, "FACE TO REAL", put out by the folks at http://www.hiv-map.net/. This was actually available as a bagged set of 'postcards' at a bar I visited (it was actually a gift from the bartender, once he found out I liked comics…!), and it features some of my favourite comic artists doing original pieces of work, including Jiraya (top left) and Sansuke Yamada (top right). You can click on the image for a slightly bigger-view, but to see the images in all of their glory, I strongly recommend you head to the Real Living Together portal at http://www.real-lt.net/dekiru/ and click on the image in the center. You'll see an interactive Flash index of all of the images, and each image features information about HIV and AIDS. Unfortunately it's all Japanese text, but the images are great.
I think it's kind of amazing that this thing was mass-produced as a collectable, available at distribution points like bars! What a wonderful idea.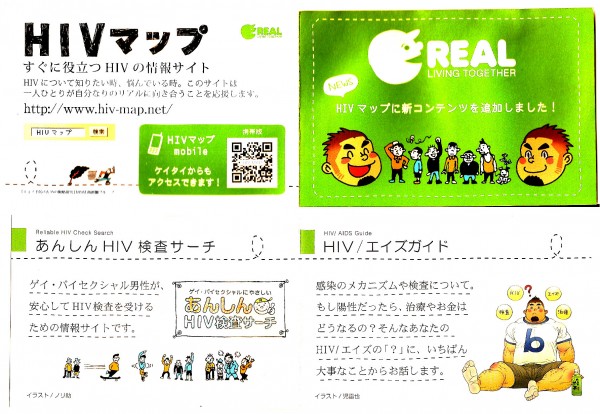 This next image is of the outside and inside of a little flyer with just the most adorable illustrations on it. Click to see it larger. Again, it's a cool flyer with basic HIV/AIDS info on it, as well as a QR code that you can scan with your phone to get more info.  Unfortunately I don't have any idea who the illustrator is on this one, and I apologize for the quality of the scan. If you can believe it, all of those illustrations are even cuter on the original. :)
For more information (in Japanese) and to see more of these illustrations, head over http://hiv-map.net/.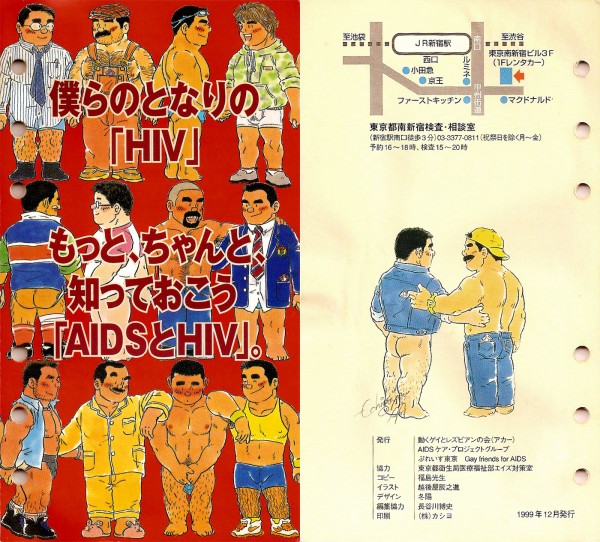 This last one though? This is utterly amazing. This is an HIV/AIDS info guide, but also a fully illustrated safe-sex guide. Better still, they enlisted the artistic skills of renown gay/bear manga-ka Echigoya Shinnosuke to illustrate the whole thing! Unfortunately most of the interior illustrations take this blog from "Not Safe For Work" right into "Oh, he's posting actual porn now" territory, so I'm gonna err on the side of caution and stay away for now. Which isn't to say that an instructional image of a little cartoon man rolling a condom onto his erect little cartoon dick is porn. It's not. But the images of the dudes fucking is, albeit highly relevant and entertaining! So, yeah, until enough of you cry foul and demand scans, I'm going to hold off posting for now.
Did you notice the hole-punches by the way? This booklet is 30 pages (including the covers), with detatchable pages, and it's meant to be inserted into a day-planner! Just because you're a workaholic salaryman dropping by the gay bar on your way home from work doesn't mean that you shouldn't have a bunch of illustrated guides to putting on a condom, safe anal intercourse, and std info at your fingertips…!
Also? Printed in 1999. There's no website info in the contact information. Pre-web!
I couldn't resist, that image was adorable.
This is just one of the ways that comics (manga) and illustrated art are a part of daily life in Japan, in a way that they wouldn't be here in North America. There's a push-and-pull between fans who think the streets are paved with manga, and been-there-done-that-fans who insist that anyone who still likes comics, even in Japan, is a big old ostracized nerd (otaku), but the reality is somewhere between those two extremes. Comics are everywhere, illustrations are everywhere, and incredibly popular at conveying information in a direct and fun way.
And they make for some pretty amazing souvenirs! (Don't worry, I made sure there were plenty of pamphlets left and got permission from the bartenders first).
So remember to play-safe out there folks, whether you're in Japan, North America, or anywhere else for that matter. And tomorrow I'm going to post some club advertisements that also use illustrations.
Cheers,
- Christopher