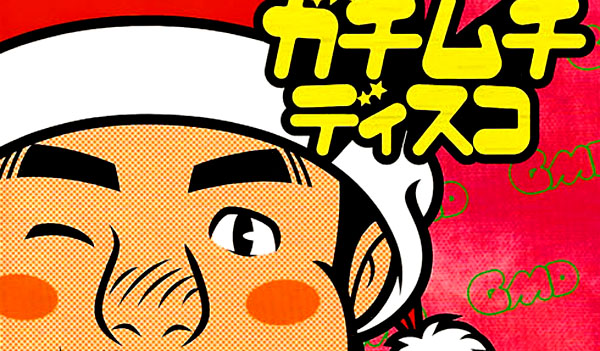 It occurs to me, this being a comic-book website, that not all of my readers may be familiar with club flyers, and may think them to be a mysterious gay-Japanese invention. Let me assure you–clubs all over the world advertise themselves and upcoming events with bright, colourful flyers. But the Japanese ones tend to use manga-style illustrations as a primary attention-getting tool in a way most North American clubs don't, and that's awesome.

What we have here is a big (8.5×11″ or so) flyer for an upcoming party at the gay club Arch, a surprisingly big club space in a Tokyo district where most bars comfortably fit 6, and max out at 12. You know it's a big deal because I was there the first week of November, and they already had the glitz-and-glam advertisements out for a party happening December 11th…!
This is a party for "Gachi-muchi", or chubby-muscly, a sort of Japanese-only gay subculture that's kinda like bears but kinda not, too. It's the type or look typified by the characters in Jiraya manga or in G-Men Magazine, and occasionally by notable names like Genoroh Tagame. The reverse of this flyer features all kinds of photographs–real life versions of the idealized figure shown here. But since there are no illustrations I left it alone. After all, some of those gents might want their privacy.
For more, check out http://www.clubarch.net/schedule/index.html.
Speaking of which, one of the sponsors of the Gachi-Muchi disco party is BIG GYM, a gay bookstore chain (!) specializing in gachi-muchi, bears, and manly men. As such, their stores aren't generally found in the Shinjuku gay district, but out and about around Tokyo. This here is a free pamphlet they were giving away illustrating the proper way to tie and wear Fundoshi, or traditional Japanese underwear. Check out Big Gym online at http://www.biggym.co.jp/, they're an awesome, awesome store.
This flyer was picked up from a tourist-friendly shop in Shinjuku ni-chome, and it talks about Rokushaku, a specific type of Fundoshi, and with English instructions…! Interestingly, while a chubby guy is shown here this shop was very 'twink' oriented (look it up if you don't know), I dunno if they'd ever seen anyone this size walk through the door… heh. Until we showed up anyway.
Ah, I totally loved this flyer. This is for a bar in Okinawa called "clutch", with accounts for the Pacific-islander theming. Basically just a great big fun party scene with all different kinds of guys, letting you know that everyone's welcome. That's the bartender, or master/mama, in the center there. I learned that owners of similar bars across the continent will send each other packages of flyers to display and distribute. It's kind of confusing when you don't speak the language and see an ad for a bar that you've never heard of before, and find out its a thousand km away. Still, it's only ever a thousand km away…!
Here's a picture of the flyer that Andrew took, hanging up at a bar. I think this was in a washroom, so… uh. This photo could be worse? :)
Finally, here's a very cool thing. This is a free-giveaway from Big Gym (mentioned above) of an illustration by Gengoroh Tagame. They did this neat thing last year, where every month they gave away a free calendar with an original illustration by a famous gay manga-ka. It encouraged people to come back at least once a month, and hey, free calendar!
Totally gonna steal that idea.
Alright, that's everything I grabbed on the last trip. Hope you enjoyed, folks!
Best,
- Christopher