The following books appear in the March 2007 PREVIEWS catalogue, and will begin shipping in in May 2007 to better comic book stores everywhere.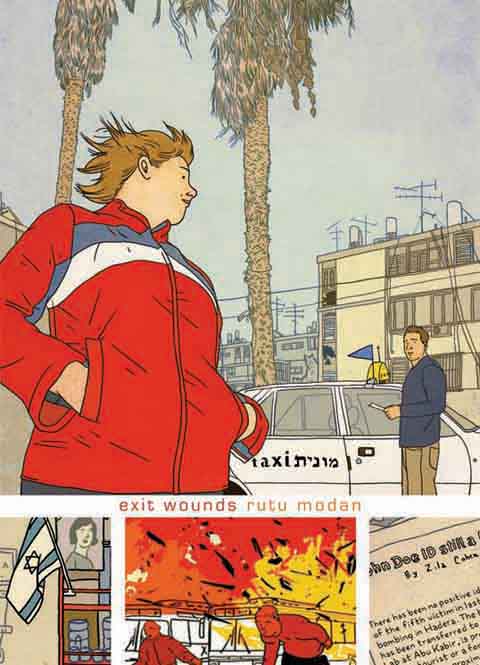 Exit Wounds
By Rutu Modan
Mature Readers
Hardcover book, 6.5 x 9 inches, 176 FULL COLOR pages.
$19.95
978-1-897299-06-7
In modern-day Tel Aviv, a young man, Koby Franco, receives an urgent phone call from a female soldier. Learning that his estranged father may have been a victim of a suicide bombing in Hadera, Koby reluctantly joins the soldier in searching for clues. His father's death would certainly explain the empty apartment and disconnected phone line. As Koby tries to unravel the mystery of his father's death, he finds himself not only piecing together the last few months of his father's life, but his entire identity. With thin, precise lines and luscious watercolors, Modan creates a portrait of modern Israel, a place where sudden death mingles with the slow dissolution of family ties. Exit Wounds is the North American graphic novel debut from one of Israel's best-known cartoonists, Rutu Modan. She has received several awards in Israel and abroad, including the Best Illustrated Children's Book Award from the Israel Museum in Jerusalem (four times) and the Young Artist of the Year by the Israel Ministry of Culture. She is a chosen artist of the Israel Cultural Excellence Foundation.
******************
James Sturm's America
By James Sturm
Mature readers
Hardcover book, 7.5 x 10 inches, 192 pages, partial color.
$ 24.95 USD
978-1-897299-05-0
Focusing on less sensational times in U.S. history (non-war and pre-Depression) James Sturm's America draws a portrait of the people and their dreams that make up this country. Comprised of three chapters—"The Revival," "Hundreds of Feet Below Daylight," and "The Golem's Mighty Swing"—the story grows as the country grows; from pioneers searching for a place to call home, to ghost towns gutted by greed and racism, to the distractions and fantasies of popular entertainment. James Sturm is one of the most important figures to have emerged in comics in recent years, both as a cartoonist and as the founder and director of the Center For Cartoon Studies. The work collected in this book has been praised by numerous cultural luminaries, from novelists Jonathan Lethem and Russell Banks to Doonesbury's Gary Trudeau. Sturm won an Eisner Award for his Fantastic Four graphic novel, Unstable Molecules.
******************
Look for Offered Again titles behind the cut.
******************
Continue reading Drawn & Quarterly Solicitations: May 2007 →