In October 2010, we touched down in Japan, settled into our hotel, and then decided to head out into the night to see what the city had on offer. We were in Shinjuku, a bright, big, wonderful area of the city that tends to party hard until dawn, pretty much every night of the week. Granted, your favourite retailer, restaurant, or game center will still close at 9, 11, or 1am, but the bars, karaoke, and other engagements are open all night.
The majority of photos in this entry were taken with the Olympus E-PEN Digital Camera, which turned out some great pictures despite my inexperience–these are basically the first photos I took in Japan! :)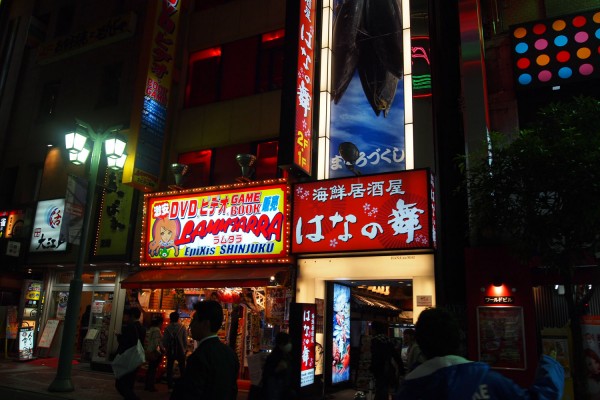 We're at the south exit of Shinjuku JR station, heading North, and just east of the station here. The street behind Green Peas, if you're familiar with the area. It's a densely packed strip, some phenomenally expensive real estate ensures skinny little properties, and buildings 7 or 8 floors tall. Shown just at the entrance to this area is the awesome LAMMTARRA, famous/infamous porn store. Whether you'd like your sinfully delightful images on DVD, in games, or even "book" format, LAMMTARRA has you covered.
Restaurants abound in this area, and even the pickiest eater with the least command of Japanese can usually just pull the restauranteur out onto the street and point at what they think they want to eat. This is a fairly touristy area though, finding a restaurant owner that speaks enough English to get by probably wouldn't be too hard. This shop offers a bunch of different noodle and rice dishes.
I love Tokyo.
Here's a look back down the street, towards Takeshimaya Times Square, which you might remember from previous posts. Don't worry, we'll visit there again later this post.
To keep reading the rest of this post, click: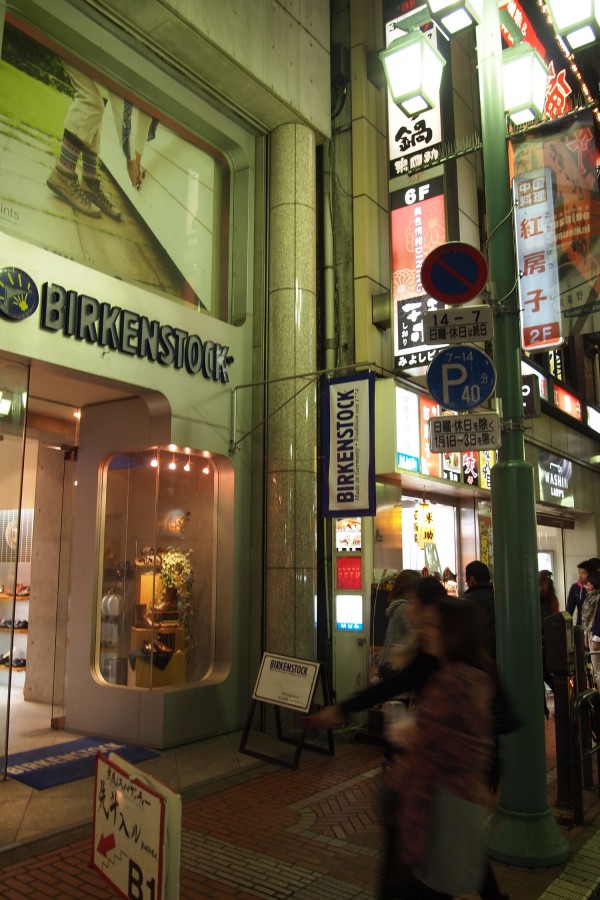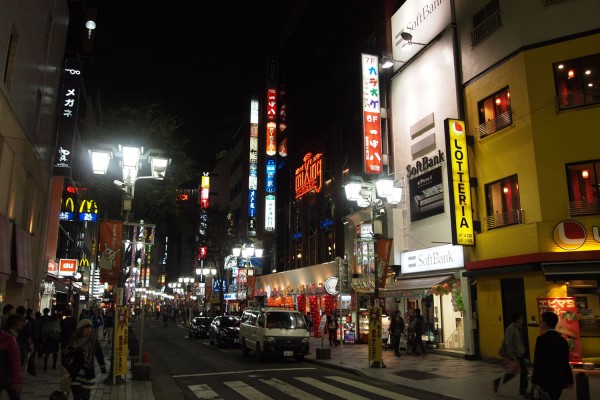 Lotteria on one corner, McDonalds down the street, and a massive dirnking establishment called MIXING in the middle there. Seriously, for a place to be that big in this area, they must be doing major business.
Another drinking establishment, LION BEER HALL.
The east side of Shinjuku JR is a fun, and somewhat 'safer' place to go out and grab a drink after work, or with a pretty date, which would account for just how many bars there are. It's a mixed space for men and women of all ages. People who like to drink. Usually if you're looking for a bit more of an intense good time, or a little bit of trouble, you'd get out at the Kabuki-Cho exit, visit the "Kabuki-cho" neighbourhood, just north east of the station. It's the red-light district (though like Times Square, not quite what it used to be). That place is a little edgy, a little more male-oriented, and much younger. As a result the crowds where we were walking are generally a little more reserved, and a little bit more business-oriented (lots of group after-work drinking) than in Kabuki-cho.
It also means no one is going to yell at me for waving around a camera, because there's nothing shady going down.
Oh, on that note, this is like the 20th photo I'd taken with the camera, and I was learning a lot of its features. Apologies for the quality.
Bikes parked everywhere. Love hotel in the background, complete with fairy-tale castle roof.
The main drag, Yasukuni-dori. The buildings are built higher, and even the businesses on each floor start to subdivide, the real estate is so expensive.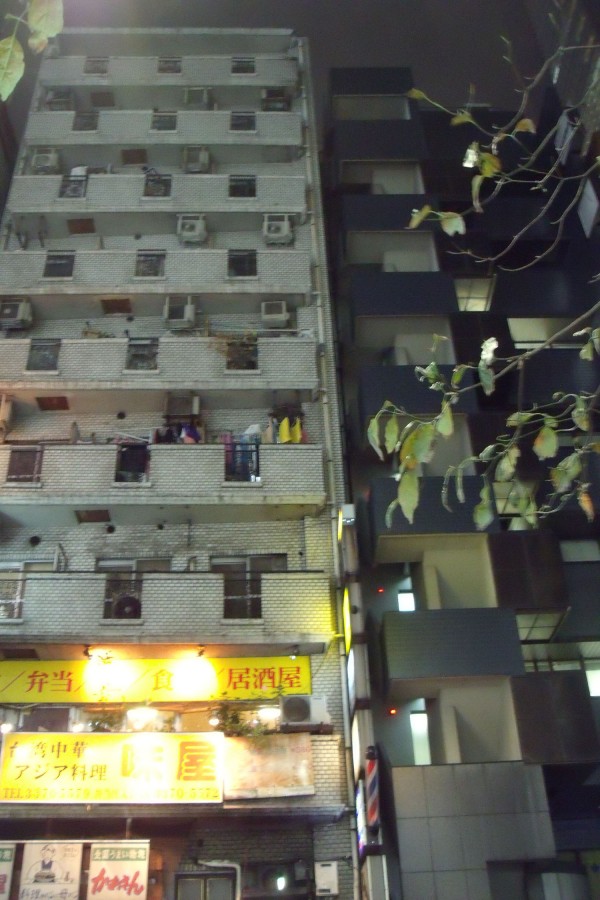 Walking through an alley, taking a look at new and old residences side by side. This and the next couple photos with a Fujifilm Finepix.
We went to a game station, and I failed to win this giant stack of KitKats that I really, really wanted. COLA AND LEMON SODA DOUBLE PACK!
I spent Eighteen Dollars failing to win this. -___-;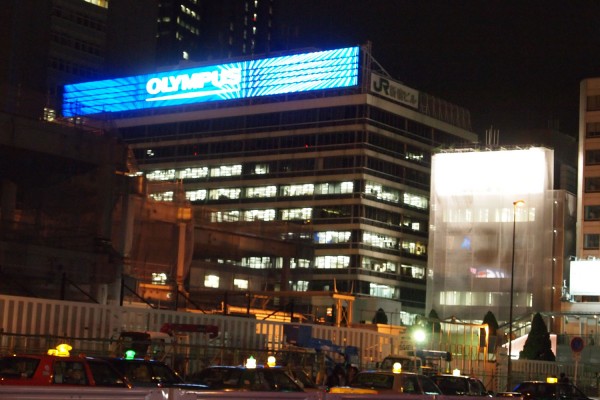 A little bit of product placement for the folks nice enough to lend me a camera! This is the south side of JR Shinkuku station.
So's this. Remember this building, Takeshimaya Times Square? It's got that Tokyu Hands from the Christmas post, and that massive Kinokuniya Books is behind it.  Now, on this particular evening this photo marked the end of our adventure–we'd been out walking for a few hours, grabbed dinner, and decided to walk back. But through the magic of the internet, let's keep walking around Shinjuku, shall we? First, let's whip around to the side of the building, to orient you.
There you are! Now let's pretend we're walking into the building and coming out the other side.
You end up on a walk way, between Times Square and the Kinokuniya building, looking directly at me! These photos are taken over a week later, in November, on our second last night in Tokyo.
Turning back around, we're now looking at the other side of the Times Square building. Cabs cue up to carry the army of employees departing and the folks populating the various high end restaurants in that massive building. I thought it might be a fun time to take some pics using the Tilt/Shift function on my camera. So does it look like a scale model to you?
We're down at ground level where we were just looking, and this side of the building is even ritzier than the other side. Gorgeous trees. Andrew told me what they were but neither of us can remember now.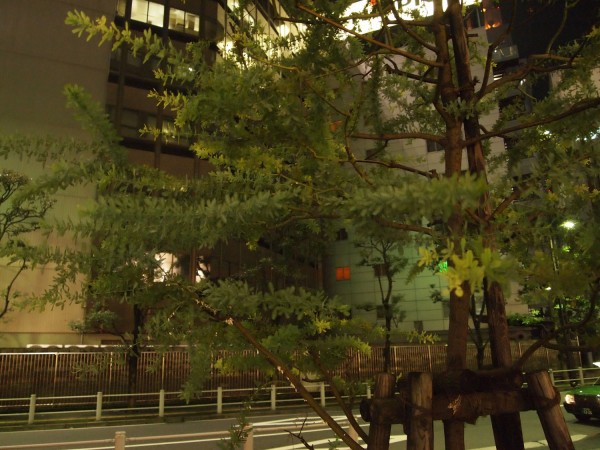 The leaves on this tree were blowing my mind. They looked photoshopped.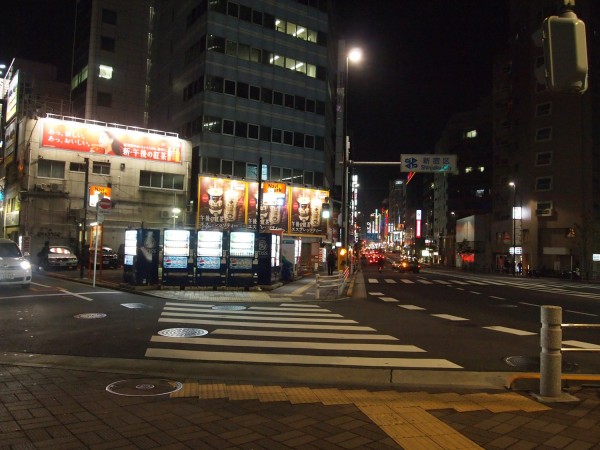 Looking up the street we can see Shinjuku City, off in the distance. I have no idea where that means I'm standing, but then addresses and locations are kind of fuzzy in Tokyo anyway. Note the veritable army of vending machines on the corner, taking up space that couldn't possible be used as parking spaces in that lot. No wasted space…
Let's go there.
Looking back down the street at Takeshimaya Times Square. Apparently, that's Shibuya City. Huh, who knew?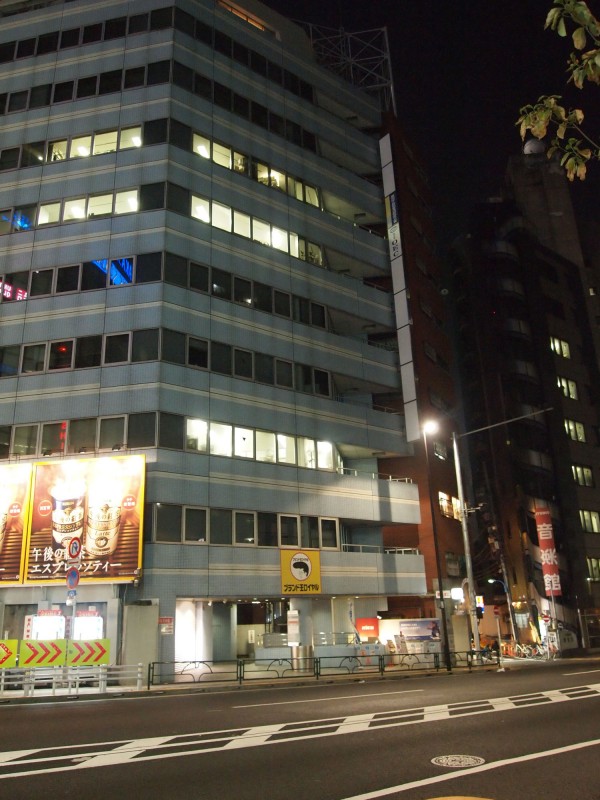 Whu…?
I have no idea what they're selling, but it must be good.
I imagine those are very expensive apartments.
Walking by, this bar looked amazing. Pop-Punk bar with a cool name and logo. The 1700 yen cover charge didn't do much for me though.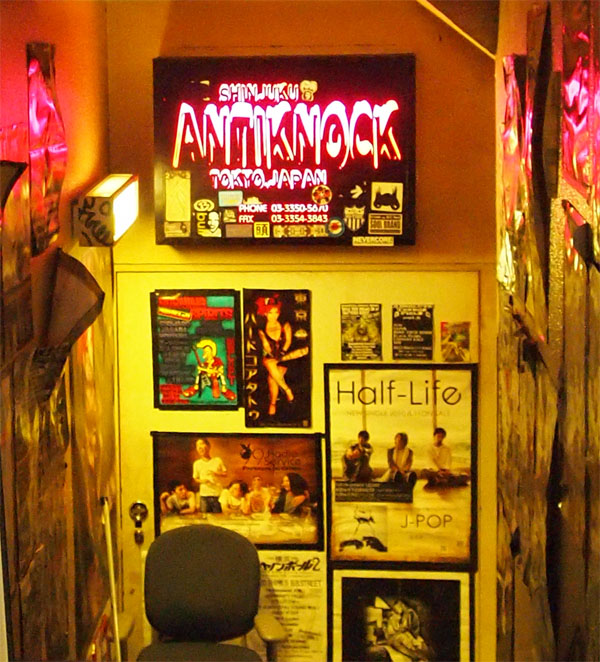 Neat
Right next door was a private residence with a bunch of old building: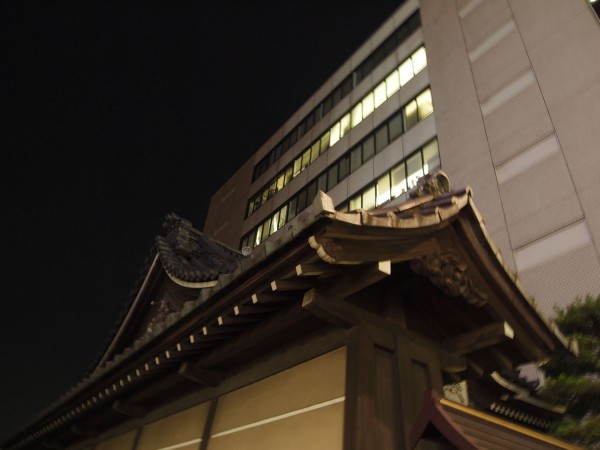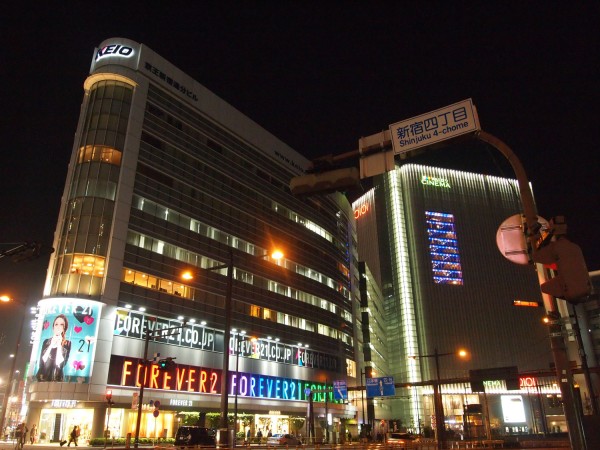 Forever 21 is a massive retailer, and this is a massive Flatiron style building. What I liked in the distance though? That MASSIVE tower, with the cut-aways in the side to show the escalators. That's a cinema, and that's what 9 stories looks like cut out the side of a building. The scale here is great.
I think we decided to head down towards it.
We stopped off at Freshness Burger, a MOS Burger knock off that.. well, I might actually enjoy it even more. That's a lemonade, made with lemons, and a limeade, made with half a lime and some bar lime for good measure. It's unsweetend, too. So they give you those little packets of sugar syrup that look like dairy creamer, so you can sweeten your drink to your taste.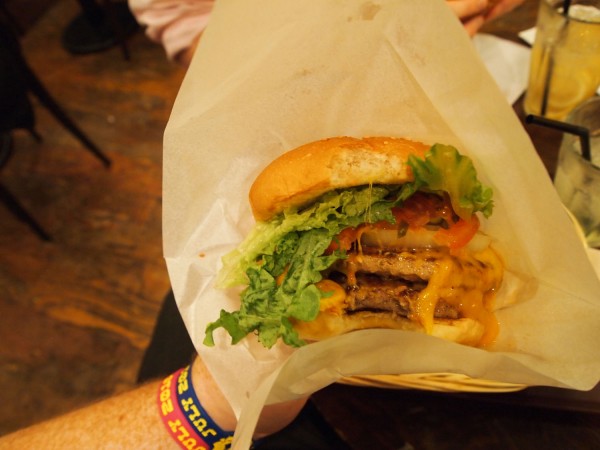 Here's the insane burger I ordered. It was amazing, with a slab of onion and a slap of tomato equally as thich as the two patties and cheese. Delicious dinner!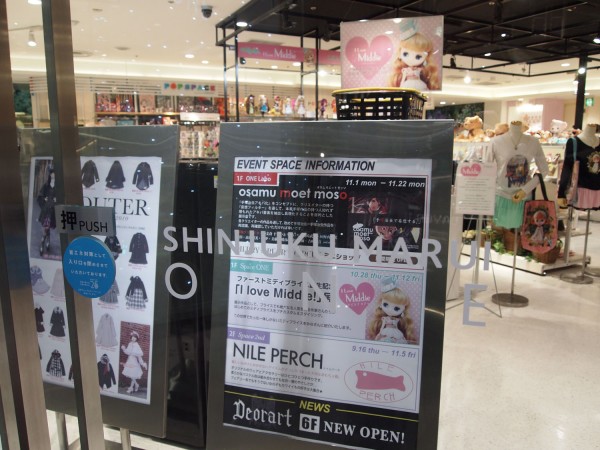 This is the Marui flagship store in Shinjuku, which was at the time home to an exhibit of Tezuka-inspired "Moe" (weirdly called 'moet' in the advertising) art. I never did make it to the store while it was open. :-(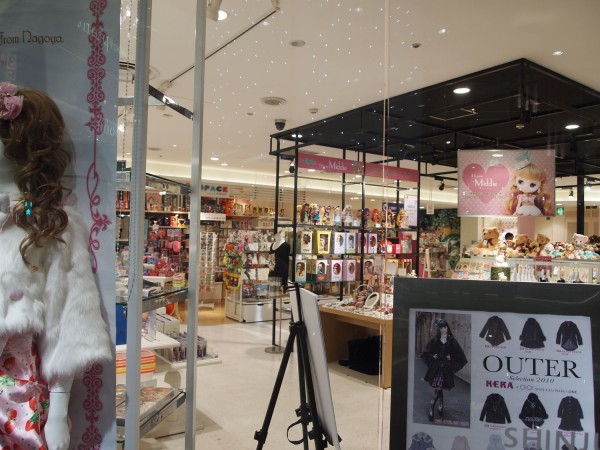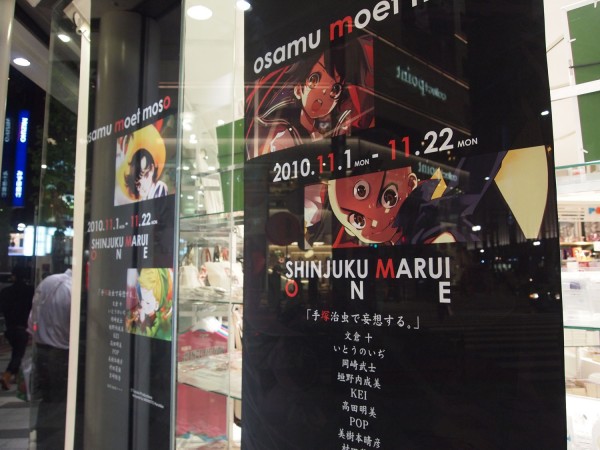 There's an example of some of the art. I would really like to have seen the whole thing, and grabbedthe exhibition catalogue or something. Ah well, only so many hours in the day. :-/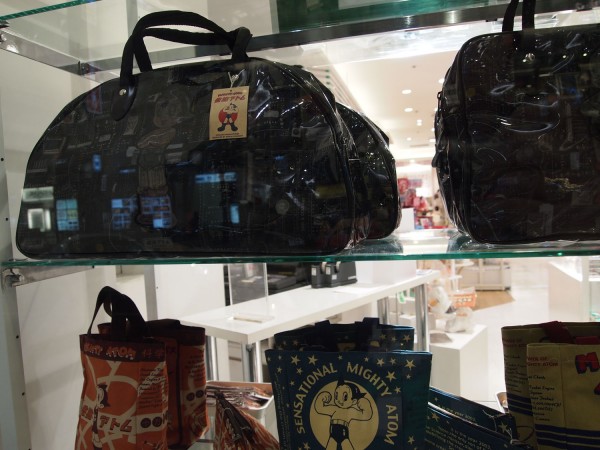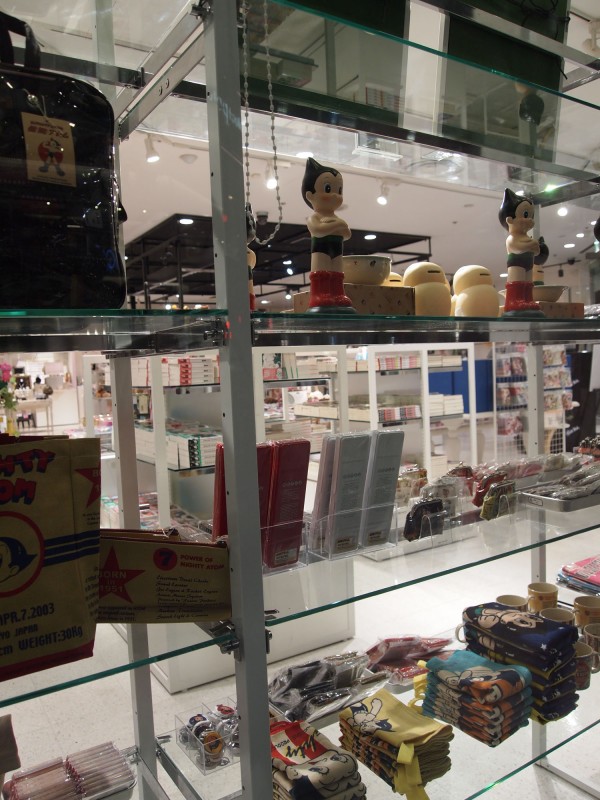 And wherever there's a temporary exhibit of something, there's a massive collection of all of the merchandise available even remotely connected to that exhibit. Like all of these Astro Boy goods.
I consoled myself with the knowledge that I already had a lot of Astro Boy stuff, and it wasn't THAT big a deal that I missed out.
This was a lie, of course.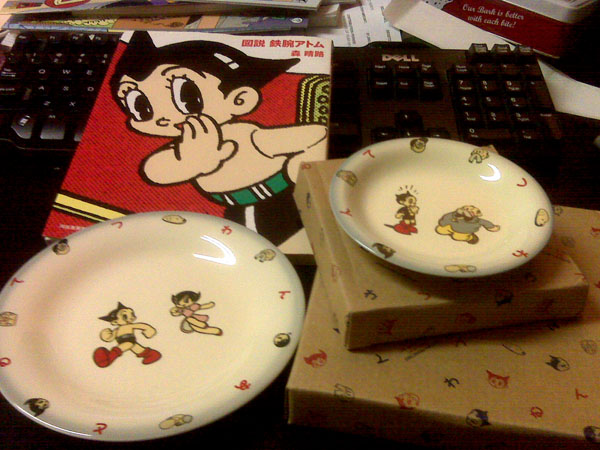 Luckily, I have the single greatest husband in the world, and he visited the store for me while I was off buying smut for The Beguiling, and got me delightful Astro Boy things, and HID THEM FROM ME, and gave them to me at Christmas. Cute little Astro Boy plates, a book (Japanese language) on the history of Tetsuwan Atom, the mighty Astro Boy!
So much colour art of rare books, so very cool. :D
Thanks honey! Love you!
So that little aside, aside, we ended up walking into Shinjuku Ni-chome, the gay district of Tokyo. One of 'em anyway, the easy-to-find one :). Since photographing a bunch of folks that don't necessarily want to be outed isn't cool, we threw our stuff in a coin locker (yes, including the expensive camera–only in Japan would I do this) and headed out into the evening to have a few drinks.
On the way back, we passed by Shinjuku JR and this little restaurant with some truly, truly amazing English on the outside.
Safety guards keep us from accidentally walking through the fence into the dangerous construction area, replete with lighted nightstick and flashing vest.
Headed down the street towards the hotel, and a wave of people coming up to meet us. It's just before the last train of the evening, and these folks have likely decided they aren't heading home this evening… or any time soon. But honestly, I'm happy to be headed back to our cozy hotel room and to sleep.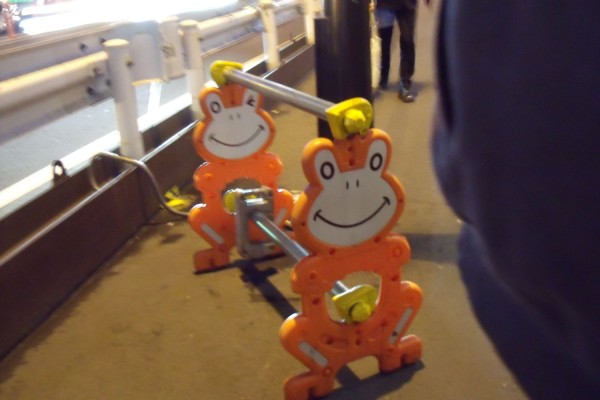 So long from Shinjuku.
- Christopher