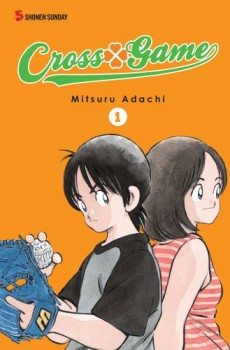 On Cross Game by Mitsuru Adachi:
"I don't really care for sports, and yet, this manga isriveting! This is about a high school baseball team. It has love triangles, fully-fleshed out characters, a story that subverts shonen manga tropes. It's a really naturalistic, slice of life story.

"It's so rare to find a book that just breathes like this one does. It's a wonder to spend time in the world that Adachi has created — a suburban Japan of endless spring and summer. If you hate baseball, if you love baseball, even if you're indifferent about the sport, so long as you like great comics then Cross Game is for you."
Over at manga.about.com, Deb Aoki recaps our Best and Worst Manga of 2011 Panel from the San Diego Comic Con, apparently minus the 'worst' choices. I personally didn't read enough manga last year to have a 'worst', maybe Bakuman would have been my pick for most frustrating, but even then it's incredibly well-crafted and interesting.
I really like Adachi's Cross Game (as you can see above), and me and my fellow panelists go over a bunch of our pics. Go check it out!
- Christopher