Just before the San Diego Comic Con (hopefully explaining the delay!) I got a pretty amazing item in the mail, The Malinky Robot "Box of Things", a limited edition box set of cool items from author Sonny Liew's Malinky Robot, recently published by Image Comics. This was a lovely gift from Sonny and I'm quite happy to have received it. So in the spirit of sharing, I thought I'd photograph the unboxing for you.
Ooo… opening the box!
Oh, and the back of the box because I forgot to photograph it. You can click on everything to see a larger version…! The blurbs from Mike Carey, Gail Simone, and Mike Mignola are quite nice, but my fav bit is the ingredients list on the back. "DISCLAIMER: Not for comics allergy sufferers. Igredients: PICTURES, WORDS, SEQUENTIAL PANELS, WORD BALLOONS, CPATION BOXES, GUTTERS, MOTION LINES, ENEMATA…" very cool.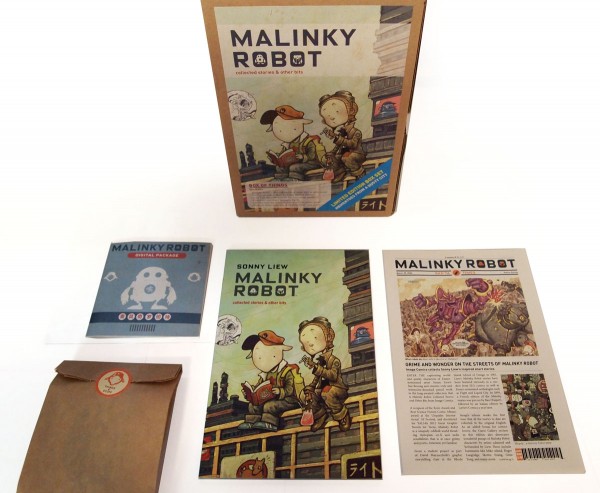 Here's the complete box, unpacked. Clockwise from top: The box, "The San'ya Times" newspaper, a copy of the book (available now from Image Comics!), a mystery bag, a CD!
The inside of the CD booklet is cool, and the CD contains all sorts of neat bonus stuff like reviews, interviews, a digital copy of the newspaper, and a gallery including image like the French Edition cover, as shown here: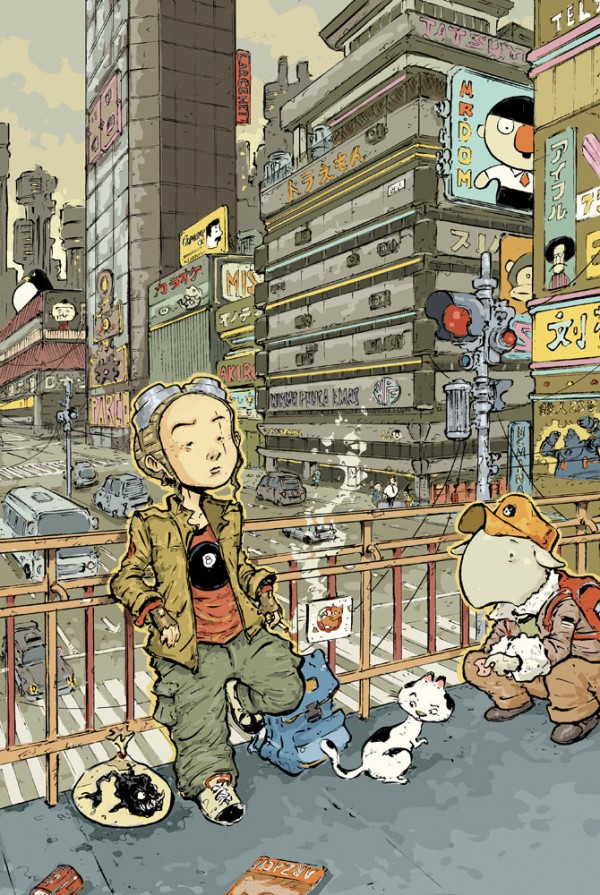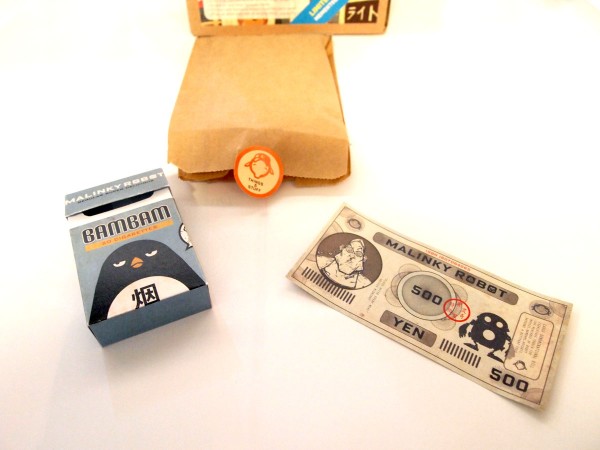 Inside the paper package was a fake pack of cigarettes, and a fake 500 yen note, both from the series. Really lovely looking too!
…and inside the cigarette pack are these trading cards from the series, one for each of the main characters and one for each of the stories. Heh! Super cute.
The newspaper is also cool, with some extra comics, blurbs, pointers to Sonny Liew's other work, and a bunch more stuff. Plus there's that nifty PDF version on the CD.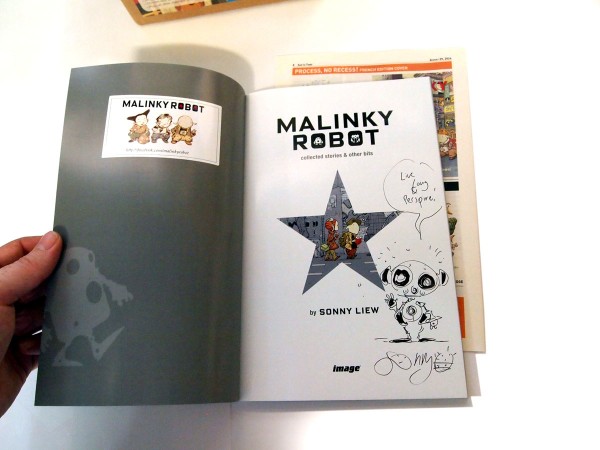 And finally, a copy of the book itself… signed and sketched-in by Sonny with a special little bookplate.
All in all this is an amazing little package, and I'm really grateful to Sonny for putting it together and sending it my way. I've been a fan of Malinky Robot since its very first appearance, and I'm happy to see it collected, and to see that it's still something that the creator clearly loves.
You can visit Sonny Liew's site online at http://sonnyliew.wordpress.com/ and you can buy Malinky Robot wherever better Image Comics trade paperbacks are sold.
- Chris @ The Beguiling