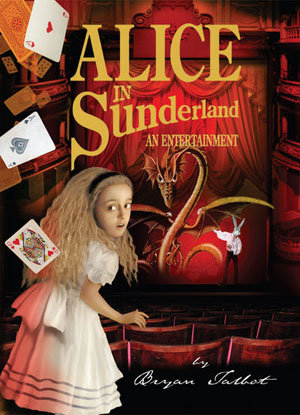 Hi there folks. These are the comics that are scheduled to ship to The Beguiling Books & Art in Toronto, Canada this week. These books may not show up at all retailers at the same time, but if you see a title here it's probably at least worth asking your local retailer about… 
Kind of a small week this week, overall, but there are some really solid books on the list. This looks to be the week that DramaQueen finally starts shipping their manga through Diamond, though due to Canadian customs issues I have no idea if any of their titles besides Audition are going to ship. But as far as graphic novels go, there are a couple of solid, high-profile releases worth noting.
OCT060027Â ALICE IN SUNDERLAND GN (C: 0-1-2)Â 29.95
This is the new graphic novel by Bryan Talbot, but between the digitally painted cover art and the solicitation text that doesn't actually say anything at all, I have no idea what this is actually going to be. It sounds completely outside of Talbot's ouevre, at least so far as I'm familiar with it, and at least the solicit text is helpful enough to say that it's "like no graphic novel before it", so perhaps I'm not alone in feeling lost. The Beguiling is set to be doing an even with Mr. Talbot in April, which admittedly makes me even more anxious about this one, as we have an awful lot of fans of One Bad Rat looking forward to this new book and I've no idea whatsoever if it will appeal…
FEB078049Â BUFFY THE VAMPIRE SLAYER VAR CVR NEW PTG #1 (PP #7Â 2.99
JAN078263Â CAPTAIN AMERICA 2ND PTG EPTING VAR #25 CWÂ 3.99
Just a heads-up, the second printings on these titles are in fact shipping this week. We're now out of our reorder of Buffy first prints, and probably a day or two away from sold-out on the Captain America #25s.
JAN073666Â HOUDINI HANDCUFF KING CENTER OF CARTOON STUDIES HCÂ 16.99
The first 'work for hire' from The Centre for Cartoon Studies makes it's debut this week, a graphic novella on the life of Harry Houdini. Call it 'confluence' if you like, but this morning there was a feature on the news about the mysterious death of Houdini, and a new examination of it. Coupled with the popularity of modern day illusionists like David Blaine and Criss Angel, not to mention films like The Illusionist and The Prestige, and I think there might just be a groundswell of interest in this material, so good on Hyperion for being just at the top of the curve there.
The work is illustrated by Nick Bertozzi over layouts from Jason Lutes, and Lutes' early graphic novel Jar Of Fools features themes of illusion and Houdini, making for a nice companion-piece to this new work. Bertozzi also has a controversial graphic novel named The Salon coming out later this year; my employer has read it and says it's outstanding. So, confluence being what it is, it looks like a heck of a lot of factors are going to go into making this one a success. Let's see if I call it correctly or not…
You can see a preview of the Houdini: Handcuff King as Nick Bertozzi's website, http://www.nickbertozzi.com/comics/houdini/houdini.htm.
NOV063528Â OH SKINNAY HCÂ 24.95
I've had a chance to see this and it's a lovely book; a new edition of the original lovingly restored by Drawn & Quarterly. I've read about 20 pages and it's just sort of… lovely. A gentle, affectionate celebration of youth. Also, in the vein of D&Q's lovely Gasoline Alley reprints, this edition features an excellent afterword on cartoonist Claire Briggs that will be of note to classic cartooning fans. Actually, I may as well just steal the photo from the Drawn & Quarterly blog:
Pictured: Tom Devlin's hand, Claire Briggs' book. Photo by Tom Devlin.
FEB070001Â PREVIEWS VOL XVII #4 (NET)Â 4.50
It's Previews time again… I think I'm going to do a Previews Review on this if it kills me. Hopefully it won't. As for the covers? Fear Agent and Sinestro Corps. At least one of them is creator-owned…
JAN073851Â TACTICS VOL 1 GN (OF 8)Â 9.99
Giving hope to manga fans, TACTICS is one of the many manga started by ADV and then abandoned after a volume or two, when ADV figured out they didn't know what the hell they were doing, and now it's back! From Tokyopop! Rejoice! Maybe ADV will finally drop the license for Yotsuba, and a publisher who actually, you know, publishes, will put out volumes 4 through 6. And maybe a new printing of 1-3… that certainly wouldn't hurt…
The rest of this week's shipping list is behind the cut:
JAN070364Â 100 BULLETS #82 (MR)Â 2.99
JAN073296Â 24 HOUR COMICS DAY HIGHLIGHTS 2006 TP (MR)Â 11.99
JAN073714Â 24 NIGHTFALL #5 (OF 6)Â 3.99
JAN070277Â 52 WEEK #47Â 2.50
DEC060189Â ACTION COMICS #847Â 2.99
OCT060027Â ALICE IN SUNDERLAND GN (C: 0-1-2)Â 29.95
DEC063298Â AMERICAN WASTELAND BLOOD AND DIESEL #1 (OF 4) (MR)Â 3.95
FEB073409Â AUDITION VOL 1 GNÂ 11.99
JAN070257Â BATMAN #664Â 2.99
DEC060182Â BATMAN SNOW TPÂ 14.99
JAN073863Â BATTLE CLUB VOL 4 GN (OF 4) (MR) (C: 1-0-0)Â 9.99
JAN073865Â BECAUSE IM THE GODDESS VOL 3 GN (OF 3) (MR)Â 9.99
NOV060043Â BERSERK VOL 16 TP (MR) (C: 1-1-2)Â 13.95
JAN073868Â BIRD KISS VOL 3 GN (OF 5)Â 9.99
JAN072364Â BLACK PANTHER #26Â 2.99
JAN070283Â BLUE BEETLE #13Â 2.99
NOV063803Â BLUE MONDAY VOL 1 THE KIDS ARE ALRIGHT TP NEW PTGÂ 11.95
FEB078049Â BUFFY THE VAMPIRE SLAYER VAR CVR NEW PTG #1 (PP #7Â 2.99
JAN078263Â CAPTAIN AMERICA 2ND PTG EPTING VAR #25 CWÂ 3.99
JAN070329Â CARTOON NETWORK BLOCK PARTY #31Â 2.25
JAN070262Â CATWOMAN #65Â 2.99
DEC061911Â CITY OF HEROES #18Â 2.99
FEB078016Â CIVIL WAR INITIATIVE 2ND PTG SILVESTRI VARÂ 4.99
DEC063604Â CODE #2Â 2.99
DEC060023Â CONAN & THE SONGS O/T DEAD TP (C: 0-1-2)Â 14.95
JAN070290Â CONNOR HAWKE DRAGONS BLOOD #5 (OF 6)Â 2.99
JAN070368Â CROSSING MIDNIGHT #5 (MR)Â 2.99
JAN072367Â DAREDEVIL #95Â 2.99
JAN073920Â DEVI #9Â 2.99
JAN070370Â DMZ #17 (MR)Â 2.99
SEP063065Â DRAGONS LAIR #3 (OF 4) (NOTE PRICE)Â 3.95
JAN073854Â DUAN SURK VOL 2 TWO HEADED WIZARD NOVEL (OF 11)Â 10.99
JAN071933Â ELEPHANTMEN #8Â 2.99
DEC063456Â ELVIRA #166Â 2.50
DEC064190Â ES VOL 16 FALL 2006 (C: 1-1-3)Â 22.99
JAN072450Â ESSENTIAL X-MEN VOL 5 TP NEW PTGÂ 16.99
JAN073875Â ET CETERA VOL 9 GN (OF 9)Â 9.99
JAN070372Â FABLES #59 (MR)Â 2.99
JAN072368Â FANTASTIC FOUR #544Â 2.99
JAN073398Â FATHOM KIANI #1Â 2.99
JAN070288Â FIRESTORM THE NUCLEAR MAN #34Â 2.99
JAN073462Â FUTURAMA COMICS #30Â 2.99
JAN073921Â GAMEKEEPER GREG HORN COVER #1Â 2.99
JAN073923Â GAMEKEEPER JOHN CASSADAY COVER #1Â 2.99
JAN073922Â GAMEKEEPER MUKESH SINGH COVER #1Â 2.99
SEP063013Â GARGOYLES #3Â 3.50
DEC063605Â GENESIS FIVE #2Â 2.99
JAN073876Â GENJU NO SEIZA VOL 3 GN (OF 13) (MR)Â 9.99
JAN073332Â GLOOMCOOKIE VOL 1 TP (NEW PTG) (STAR12671)Â 18.95
DEC061882Â GODLAND #17Â 2.99
DEC060217Â GREEN ARROW CRAWLING FROM THE WRECKAGE TPÂ 12.99
JAN070293Â GREEN LANTERN #18Â 2.99
DEC060220Â GREEN LANTERN REBIRTH TPÂ 14.99
OCT060033Â GRENDEL DEVIL BY THE DEED HCÂ 12.95
JAN072417Â HALF DEAD TP (MR)Â 10.99
JAN070291Â HAWKGIRL #62Â 2.99
JAN072370Â HEROES FOR HIRE #8Â 2.99
JAN073666Â HOUDINI HANDCUFF KING CENTER OF CARTOON STUDIES HCÂ 16.99
OCT064034Â HTDM SAMURAI & NINJA ACTION SCENE COLLECTIONÂ 24.99
SEP061870Â HUNTER KILLER ROCAFORT CVR #12Â 2.99
SEP061871Â HUNTER KILLER SILVESTRI CVR #12Â 2.99
JAN073877Â ID ENTITY VOL 9 GN (OF 13)Â 9.99
DEC063603Â JOE & MAX #2Â 2.99
JAN070302Â JSA CLASSIFIED #24Â 2.99
DEC063835Â JUDGE DREDD COMPLETE CASE FILES VOL 7 TP (C: 0-1-2Â 26.99
JAN073761Â KOLCHAK TALES FRANKENSTEIN AGENDA #3 (OF 3)Â 3.50
JAN073884Â KUNG FU KLUTZ & KARATE COOL VOL 1 GN (OF 3)Â 4.99
JAN073869Â LILING PO VOL 6 GN (OF 9)Â 9.99
DEC060301Â LOVELESS VOL 2 THICKER THAN BLACKWATER TP (MR)Â 14.99
JAN073870Â MAGICAL X MIRACLE VOL 4 GN (OF 6)Â 9.99
OCT060055Â MAIL VOL 3 TP (MR) (C: 1-1-2)Â 10.95
DEC063218Â MANGA SHAKESPEARE HAMLET GN (C: 0-1-2)Â 9.95
DEC063219Â MANGA SHAKESPEARE ROMEO & JULIET GN (C: 0-1-2)Â 9.95
JAN072426Â MARVEL MASTERWORKS GOLDEN AGE USA COMICS VOL 1 HCÂ 59.99
JAN072425Â MARVEL MASTERWORKS GOLDEN AGE USA COMICS VOL 1 NEWÂ 59.99
FEB070002Â MARVEL PREVIEWS APRIL 2007 EXTRAS (NET)Â 0.99
FEB073612Â MEGILLAT ESTHER GNÂ 18.00
JAN073878Â MITSUKAZU MIHARA THE EMBALMER VOL 3 GN (OF 4) (MR)Â 9.99
JAN074008Â NEWTYPE ENG ED APR 2007 (C: 0-1-2)Â 12.98
JAN070358Â NINJA SCROLL #7Â 2.99
NOV063528Â OH SKINNAY HCÂ 24.95
DEC060265Â OYAYUBIHIME INFINITY VOL 4Â 9.99
DEC061888Â PIRATES OF CONEY ISLAND #5 (OF 8)Â 2.99
FEB070005Â PREVIEWS ADULT VOL XVII #4 (NET)Â 0.95
FEB070001Â PREVIEWS VOL XVII #4 (NET)Â 4.50
JAN073867Â PRIEST VOL 16 GN (OF 16) (MR)Â 9.99
JAN073590Â PS238 #21Â 2.99
DEC062359Â RED PROPHET TALES OF ALVIN MAKER #6 (OF 12)Â 2.99
DEC063471Â RED SONJA FIERY RED FOIL #20 (NET)Â PI
NOV060046Â REIKO THE ZOMBIE SHOP VOL 6 TP (C: 0-1-2)Â 12.95
FEB073511Â ROCK AND ROLL LOVE GN (C: 0-1-2)Â 7.99
FEB071913Â SAM NOIR RONIN HOLIDAY #3 (OF 3)Â 2.99
FEB071882Â SAM NOIR SAMURAI DETECTIVE SPECIAL ED (PP #745)Â 7.99
JAN073872Â SAVER VOL 3 GN (OF 8)Â 9.99
JAN073703Â SCARFACE SCARRED FOR LIFE #4 (MR)Â 3.99
DEC060243Â SECRET SIX SIX DEGREES OF DEVASTATION TPÂ 14.99
JAN072355Â SENSATIONAL SPIDER-MAN #36Â 2.99
JAN073932Â SHONEN JUMP MAY 07 #53 (C: 1-0-0)Â 4.99
JAN073886Â SHOUT OUT LOUD VOL 4 GN (OF 5) (MR)Â 9.99
JAN072391Â SILENT WAR #3 (OF 6)Â 2.99
JAN073928Â SNAKEWOMAN #9Â 2.99
JAN073859Â SOMEDAYS DREAMERS SPELLBOUND VOL 2 GN (OF 5)Â 9.99
NOV061883Â SPAWN #166Â 2.95
DEC061870Â SPAWN ARMAGEDDON VOL 2 TPÂ 15.95
JAN072432Â SPIDER-MAN LOVES MARY JANE VOL 1 HCÂ 24.99
JAN078204Â SPIRIT 2ND PTG #1Â 2.99
DEC060048Â STAR WARS 30TH ANNIV COLL VOL 2 HC JEDI VS SITH (CÂ 24.95
NOV060036Â STAR WARS BOBA FETT VOL 1 TP MAN WITH A MISSION (CÂ 12.95
JAN070092Â STAR WARS LEGACY #10Â 2.99
NOV068124Â STARDUST DC DIRECT PROMO POSTER (NET)Â PI
NOV061881Â STRANGE GIRL #15Â 3.50
JAN071946Â STRONGARM #2Â 2.99
NOV060193Â SUPERMAN ACTION COMICS ARCHIVES VOL 5 HCÂ 49.99
DEC060197Â SUPERMAN CONFIDENTIAL #4Â 2.99
JAN073851Â TACTICS VOL 1 GN (OF 8)Â 9.99
JAN073480Â TAROT WITCH OF THE BLACK ROSE #43 (MR)Â 2.95
JAN070326Â TEEN TITANS GO #41Â 2.25
FEB073734Â TEENAGE MUTANT NINJA TURTLES VOL 1 ATTACK OF THE MÂ 12.95
FEB073735Â TEENAGE MUTANT NINJA TURTLES VOL 2 OUT OF THE SHADÂ 12.95
JAN071921Â TEXAS STRANGERS #1Â 2.99
DEC063820Â TOTALLY SPIES VOL 4 SPIES IN SPACE GNÂ 7.95
DEC063821Â TOTALLY SPIES VOL 4 SPIES IN SPACE HCÂ 12.95
JAN073691Â TRANSFORMERS ESCALATION #5Â 3.99
JAN073697Â TRANSFORMERS WAR WITHIN IDW VOL 1 TPÂ 19.99
JAN073852Â TRINITY BLOOD RAGE AGAINST MOONS VOL 1 NOVEL (OF 6Â 7.99
JAN072347Â ULTIMATE FANTASTIC FOUR #40Â 2.99
JAN072441Â ULTIMATE FANTASTIC FOUR VOL 7 GOD WAR TPÂ 16.99
JAN072350Â ULTIMATE SPIDER-MAN #107Â 2.99
JAN072427Â ULTIMATE SPIDER-MAN VOL 8 HCÂ 29.99
JAN072352Â ULTIMATE X-MEN #80Â 2.99
JAN073873Â ULTRA CUTE VOL 6 GN (OF 9) (C: 1-0-0)Â 9.99
JAN073630Â UNCLE SCROOGE #364Â 7.50
JAN071973Â UNIQUE #1 (OF 3)Â 2.99
JAN070076Â USAGI YOJIMBO #101 (NOTE PRICE)Â 2.99
JAN073394Â VERONICA #179Â 2.25
DEC063962Â VIRULENTS (ONE SHOT) #1Â 4.99
FEB073419Â VISION O/T OTHER SIDE VOL 1 GNÂ 11.50
FEB073420Â VISION O/T OTHER SIDE VOL 2 GNÂ 10.99
JAN073929Â WALK-IN #4Â 2.99
JAN073631Â WALT DISNEYS COMICS & STORIES #679Â 7.50
JAN070351Â WETWORKS #7Â 2.99
OCT061904Â WITCHBLADE #104Â 2.99
JAN071967Â WITCHBLADE TAKERU MANGA GONZO CVR B #2Â 2.99
JAN071966Â WITCHBLADE TAKERU MANGA SUMITA CVR A #2Â 2.99
JAN073460Â WITCHBLADE VOL 3 TP (BANDAI)Â 9.99
FEB073048Â WIZARD MAGAZINE CIVIL WAR FALLEN SON CVR #187 (C:Â 5.99
FEB073047Â WIZARD MAGAZINE GRINDHOUSE PHOTO CVR #187 (C: 0-1-Â 5.99
FEB073046Â WIZARD MAGAZINE SPIDER-MAN 3 MOVIE CVR #187 (C: 0-Â 5.99
JAN072405Â WOLVERINE #52Â 2.99
NOV068198Â WOLVERINE BLACK AND WHITE VAR #52 (PP #749)Â 2.99
JAN070320Â WONDER WOMAN #6Â 2.99
DEC064005Â YAOI VOL 1 ANTHOLOGY OF BOYS LOVE GN (MR)Â 12.95
JAN073885Â ZAPT VOL 2 GN (OF 3)Â 5.99
JAN072447Â ZOMBIE TPÂ 13.99