What's comics about this picture? Give up? It's James Jean, his illustrations bedecking the fabulous organza silk tunic and pant combo, inspiring the colours of all of the outfits, and acting as the canvas upon which these models are laid.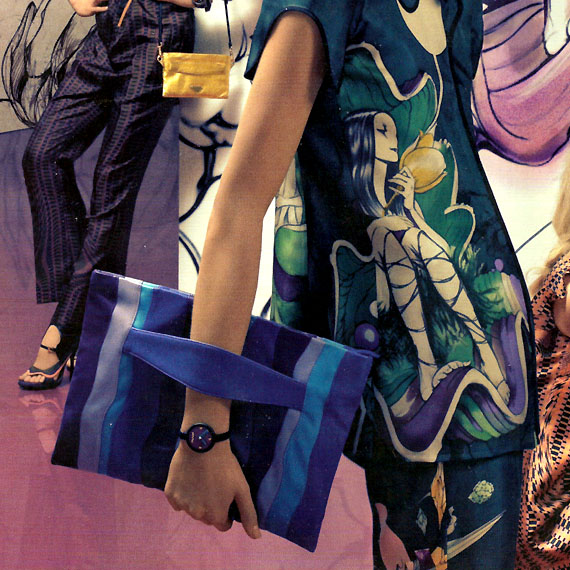 James Jean, cover artist for various popular comic series including Fables and The Umbrella Academy, and a comics creator himself whose work can be found in anthologies including the forthcoming Meathaus: SOS, has his art splashed across the spring collection from Prada.
Jean's first announcement of a collaboration with the internationally renowned fashion house came last summer, when he mentioned on-panel at the Toronto Comic Arts Festival (which I co-founded) that he would be designing a massive mural installation in the New York Prada boutique. The New York gig became New York and Beverly Hills, and the mural became the inspiration for an animated film/commercial for Prada, Trembled Blossoms, a unique animated affair that features the dark faerie designs and illustrations of Jean, set to a creepy ambient trip-hop soundtrack and featuring gorgeous creatures turning into shoes, frocks, and handbags.
The collection is huge, more than a hundred pieces including this organza silk fairy-print top modeled by the lovely Kate Moss and checking in at around $2200. While industry sites had made notice of Jean's mural and film, no one (myself included) seemed to have noticed that James Jean's palette, visual style, and even his actual illustration, is present across almost the entire line, and to be found in the pages of virtually every fashion magazine around the world. No one of course, except The National Post's Nathalie Atkinson, who profiled Jean last month in a huge double-page spread that incorporated his commercial and fine art, as well as the new fashions that bear his art. Unfortunately, the spread that featured the art is no longer online, but do check-out the profile text which is still available.
Curiously, Jean's involvement feels like it is being kept from the limelight, with most of the praise resting squarely on the shoulders of Prada head Miuccia Prada. One of the few mentions I've seen of Jean's involvement came from the New York Times Magazine, both in print and on their website (they loved the collection, by the by). But for anyone familiar with Jean's illustration and comics work, it's hard not to see the inspiration. Jean's work even adorns the "IT" handbag of the spring, much as Japanese illustrator and artist Takeshi Murakami's collaboration with Louis Vuitton defined couture fashion handbags several years ago: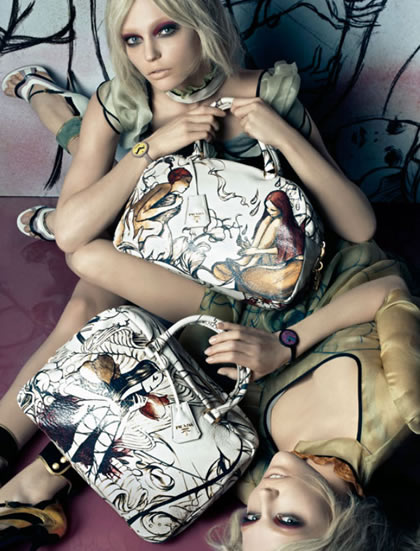 The Prada Fairy Bag comes in square and round versions, and is apparently the must-have item right now. Completely sold out from the New York Prada boutique (the only place you can find it when you can find it), this site estimates that less than 15 people are "walking around the city with Prada fairies dangling off their shoulders." If you can actually find one, it'll run you $2,300.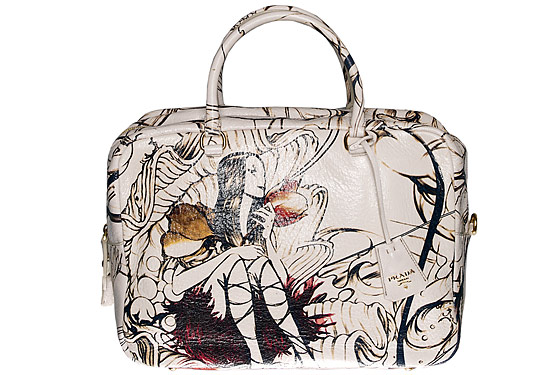 Finally, a piece of James Jean art that will get female collectors with a taste for the finer things as excited as the men. Is that sexist of me? Apologies.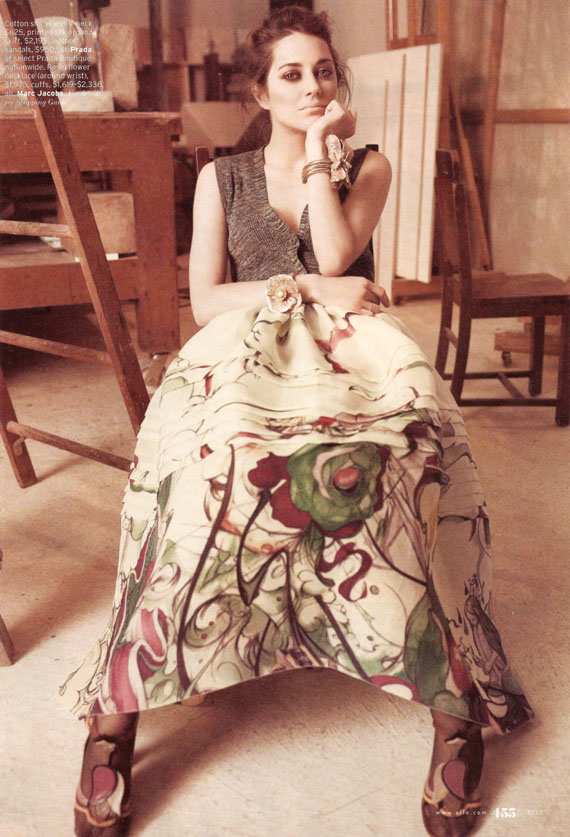 So who's wearing James Jean's prints on Prada this spring? Everybody. Shown above is Marion Cotillard, the actress who tackled the role of Edith Piaf in the film La Vie En Rose, an Academy Award-winning performance. Marion is showing off the printed silk organza skirt, $2,195, in this photo shoot for ELLE magazine.
This chunky-heeled Runway Collection Mary Jane is pretty fierce, incorporating a floral design found in the original mural. A pair of these will set you back $790 from Neiman Marcus.
Now, I've got something of a vested interest in this post. As I mentioned at the beginning, Mr. Jean has been an Honoured Guest at the last two Toronto Comic Arts Festivals, and I hold his work in high esteem. James was even kind enough to accept our commission for a TCAF poster in 2005, and another in 2007 for The Beguiling's 20th Anniversary Ltd. Print. I'm thrilled to see his work being so widely acclaimed. While this post is about his contributions to the world of high fashion, I'm also thrilled to see him moving more and more towards fine arts and traditional media. While I fear it might mean the end of his contributions to illustration (and comics…), it's been fantastic watching him grow as an artist, from all the way back to when I first discovered his work in one of the early Meathaus publications. James' blog is essential reading, and I highly recommend it.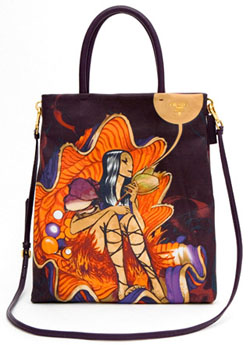 Prada is a big name–and big business! Their Spring line has been covered by everyone in the fashion world, which makes it very easy for you to track down the entire collection (at least online… you'll need a swiss bank account and some very good connections to track it all down in the real world). The folks at Style.com have a fantastic slideshow feature on the collection, with the pictures (including some nice detail shots) and even a review, for those of you that need hand-holding into the world of haute couture.
I did.
Congrats to James Jean on this career milestone; not every comics creator can say they've had such a wide and prestigious distribution of their work (just him, Paul Pope, and Range Murata I believe). And for you die-hard collectors? You've got a whole new avenue of rare art to obsess over…!
– Christopher Butcher
Photo Credits from top: Prada Advertisement, Prada Advertisement (detail), Prada Advertisement, all ©2008 Prada. Kate Moss in Prada, photographed by Craig McDean from UK Vogue. Prada Advertisement, Prada Advertisement, all ©2008 Prada. Prada Fairy-print Bag image from nymag.com, ©2008 New York Media Holdings LLC. Photo of Marion Cotillard by Tom Munroe from Elle Magazine. Photo of Runway Collection Mary Jane by Svend Lindbaek, from Elle Magazine. Beguiling 20th Anniversary Image by James Jean, ©2008 The Beguiling and James Jean. Fairy Canvas Bag product shot. When not explicitly stated, copyright is unknown but is generally assumed to rest with the photographer mentioned.