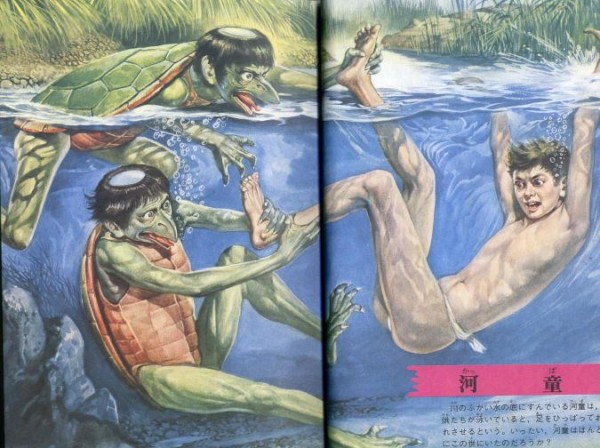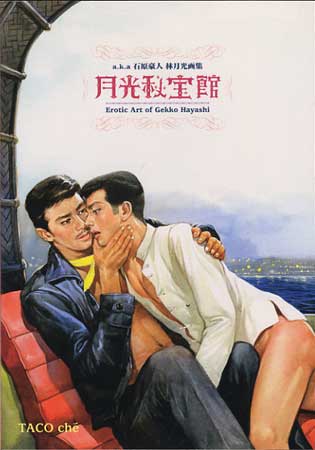 Last week the excellent Japanese Culture blog Pink Tentacle picked up on the story of illustrator Goji Ishihara, a Showa-period Japanese illustrator who is fondly remembered for his children's book illustrations… depicting horrific monsters and violence! This illustration is from the aptly named "Illustrated Book of Japanese Monsters" from 1972, and if you head over to Pink Tentacle you can see 15 other illustrations from that book and a bunch more. They're great! He's clearly an amazing illustrator.
He was also immediately recognizable to me as the illustrator of a lovely little chapbook of erotic illustrations that I picked up at Taco Che, the alternative comic/book store in Nakano Broadway. It's called "Erotic Art of Gekko Hayashi a.k.a. Ishihara Gojin" and it turns out that it was actually published by Taco Che themselves, though in 2005 and is now sadly out of print.
The book is fabulous, focusing on primarily gay erotic works, with some S&M a general erotica thrown in for good measure. From what I can tell, the chapbook acted as a gallery catalogue for an exhibition of his work that the store threw back in 2005. You can still see the event page here.
Looking back at it now with a modern eye, you can see the dedication to the depiction of powerful, lithe, and sexy male forms in his kids illustration work that Pink Tentacle dug up, and it goes to show the sort of coded gay language that was a big part of mainstream culture through the 70s and early 80s.
Unfortunately there's very little information on Hayashi in English anywhere on the net, so far as I can tell, so any speculation as to whether or not he identified as gay would be up in the air. EDIT: I just found this interview at ComiPress that has a great overview of his career (apparently he worked right up through his 70s, including doing gay work until the end of his career, (including some racy stuff!). He also, apparently has a son who is the administrator of his estate (Hayashi passed away in 1997) so… yeah. Gay is still kind of a sliding scale in Japan. 🙂
The other neat thing is that all of the images that Pink Tentacle ganked came grom a site called "Gojin Fech!" which seems to be a massive repository of his work online, which I can't seem to navigate at all, Google Chrome/Translate are utterly choking on it. But maybe check it out for yourself, and see if it works out better for you: http://shun50.cool.ne.jp/gojin.htm
Anyway, if you like really attractive illustrations of the male form from 1970s Japan (and who doesn't?), I highly recommend googling the names "Gekko Hayashi" and "Goji Ishihara", because there are tons of other fabulous examples of his stuff online.
– Christopher