Hi there folks. These are the comics that are scheduled to ship to The Beguiling Books & Art in Toronto, Canada this week. These books may not show up at all retailers at the same time, but if you see a title here it's probably at least worth asking your local retailer about…
Jesus H Christ. I usually try and keep the 'my picks' section to just five books because otherwise I won't get this list up until… well, never, actually. But this is the biggest shipping week in recent history, with a truly shocking number of big books as well. I dunno, I hope you all decide to take out second mortgages before coming into the shop this week. But honestly, there seems to be something for more-or-less everyone on the shipping list and that never happens… So without further ado, here we go.
OCT060255Â AUTHORITY #2Â 2.99
The second issue of Gene Ha and Grant Morrison's Authority is shipping. I don't know if I ever told you my theory of this incarnation of The Authority. I didn't read much on it, but I think the idea here is that they're in "our" world, a world with no superheroes and badly in need of "fixing". The first issue with it's murky "realistic" colour pallette, the shocking appearance of the 'door', the complete absence of the title characters, it all points to a very different status quo, and really the only one that I could think of that would work. Let's see if I'm proven right!
DEC062304Â CAPTAIN AMERICA #25 CWÂ 3.99
This issue! Something happens but we can't tell you what! Maybe someone dies! Maybe not! We've been letting you down for five years, true believer! Let's see how far your faith extends.
DEC063562Â CASTLE WAITING VOL II #5Â 3.95
Continues to be strong. Someone mentioned that this volume seemed a little "off" as compared to the first volume, but Castle Waiting has always been a bit wierd in installments, really only garnering any critical acclaim in its (multiple) collected editions. I do think that Linda Medley is one of the few comics auteurs that you could accuse of "writing for the trade" (or gorgeous prestige hardcover as the case may be), but at the same time I very much feel that without the self-imposed deadline of serialization, this material might not ever materialise at all, which would be the real shame. I certainly hope that whatever format Medley and Fantagraphics decide to collect this new material in, that it's both compatible in both design and formatting with the first hardcover. Mostly because they're getting close to the point where we could see a collection, what with that first issue having been better than triple-sized.
DEC062306Â CIVIL WAR INITIATIVEÂ 4.99
Yeah. I dunno. It's an interesting concept, but then so was Civil War, and look how that turned out. This one shot sort of… explains… the post-Civil War Marvel Universe in a way that was only hinted at at the end of CW #7. To echo Jeff's comments over at The Savage Critic, I really can't see Marvel following this through to its natural conclusion as a publisher, and I don't think Mark Millar in particular is a good enough writer to pull it off either. His idea of satire being "This is the face of me fucking you in the ass." Er, yeah.
DEC062361Â CRIMINAL #5 (MR)Â 2.99
Meanwhile: This? Awesome! Buy.
DEC062364Â DAREDEVIL BY FRANK MILLER & KLAUS JANSON OMNIBUS HÂ 99.99
Christ almight. Both Marvel AND DC are smart enough to capitalise on that Frank Miller movie coming out, but the company who publishes the book its based on can't keep it in print. I suppose I could just quit fucking bitching about how stupid this is, but it is honestly shocking and even a little upsetting to me. Dark Horse, where's the rest of Miller's catalogue? Martha Washington, Hard Boiled, Rusty & Big Guy… This Is Not Rocket Science.
JAN072346Â DARK TOWER GUNSLINGER BORN #2 (OF 7)Â 3.99
That first issue was alright, actually. Looking forward to #2, and I appreciate that it's on time too! I did forget to bring a copy to my dad. Maybe I'll send him the first two, see what he thinks.
DEC063983Â DEATH NOTE VOL 10 TP (C: 1-0-0)Â 7.99
What, you thought the manga would take a week off? The manga never stops. Here's something interesting, we do better with Death Note than we do with Naruto. Why? Because Death Note has not only more cross over potential, but actual cross over with our existing customer base. The people buying Naruto buy a lot of other manga, but generally aren't picking up much in the way of non-Japanese comics. Death Note, on the otherhand, is manga crack, each chapter ending on a ridiculous cliffhanger, leading up to the ridiculous cliffhanger at the end of each book; that's something that no comics reader can resist.
DEC063437Â DISGAEA 2 VOL 1 GNÂ 9.99
This manga has done surprisingly well for us, thanks to it coming out from a smaller publisher (Broccoli) with less distribution amongst comic and book stores, and the fact that the art is just adorable. Broccoli also released an art-book of the series last week that was really pretty too. I have no idea if it reads well at all. 🙂
DEC063785Â DUNGEON PARADE VOL 1 TPÂ 9.95
NBM continues doing God's own work by releasing brilliant graphic albums from Sfar, Trondheim, et al. If you're curious, NBM has even put up a preview of the series at their website. This volume features art by Manu Larcenet, whose brilliant Ordinary Victories was also released by NBM a few years back, an unrecognised gem of a book.
NOV063594Â EC ARCHIVES TWO FISTED TALES VOL 1 HC (C: 0-1-2)Â 49.95
I really hope that the market continues to be healthy enough to bear the cost of these reprint projects. Because honestly, I've never read almost any of this stuff and I really feel like I ought to.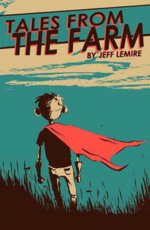 JAN073894Â ESSEX COUNTY VOL 1 TALES FROM THE FARM TP (MR)Â 9.95
Readers of this blog may remember about a month's worth of advertisements for this book on the right side of the screen there, so feel free to assume I'm compromised. I'm not though, because while Tales From The Farm creator Jeff Lemire is a friend of mine and a fellow Torontonian, he's also crafted a pretty excellent graphic novel here, and I'm glad that Top Shelf agreed and picked it up. Lemire's really good at pacing and mood, and espescially at setting, and if you check out the preview at his site you'll see what I mean right away. I'm personally unsure about his figure work, not that I think it's too rough or anything, but I worry that while appropriate for his stories that it's also a little… uncommercial I guess? I dunno. People like to look at other attractive people, generally, so I always worry that Jeff's renderings of awkward and gnarled characters will turn people off before they get to the actual story. If that sort of thing is keeping you on the fence about his work, do me (and yourself) a favour and at least check out the preview, I think it's the kind of thing that readers of quiet, contemplative, small-town set fiction will really enjoy.
DEC060271Â EX MACHINA VOL 5 SMOKE SMOKE TP (MR)Â 12.99
That trade paperback cover is both ridiculous and amazing (see: top). Great reading though, I'm finally caught up on this series and enjoying it a lot. Although this does feature the single most… surprising… full page illustration in a comic from the last 12 months. Enjoy!
SEP062108Â FANTASTIC FOUR #543 CWÂ 3.99
This is, I think, an anniversary issue for the Fantastic Four, featuring buckets of guest artists. This issue Paul Pope does a new Human Torch / Spider-Man story, which is always fun, but really I'm only mentioning this at all because I want to show a gorgeous piece of Paul Pope art from the book.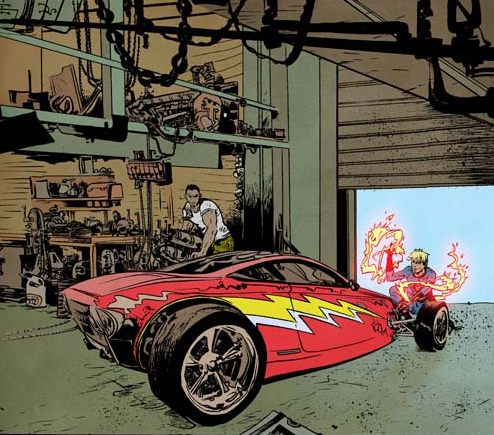 Nice, eh?
JAN073896Â JEFFERY BROWNS FEEBLE ATTEMPTS #1 (MR) (C: 0-1-0)Â 5.00
"Collects some of Jeffrey Brown's favourite anthology and mini-comics stories," according to the Top Shelf website. I hope it includes that really good comic he did about Andrew Bird (musician), because despite not really "getting" his music when I first heard it Brown's story was really compelling, and I want to read it again before settling in with the music. Anyhow, this should be a nice little surprise/bonus for fans of Brown's work.
JUL063808Â KANA DE MANGA SPECIAL SOUND FX (C: 0-1-2)Â 9.99
This should be a cool little book for manga fans. With fewer and fewer manga being released with translated or re-drawn sound effects, who wouldn't want to be able to decode their books with a handy guide like this? I also imagine that now that a hand guide to Japanese sound-effects exists, we'll start seeing a lot more of them in fan and OEL work… Here's hoping there are no humourous errors in this. I can just see a legion of creators adding in what they think is the sound effect for "crying softly in the rain" and instead using the one for "large boobies bouncing in place".
(The humour here is in the fact that the Japanese have a sound effect for everything. Just in case the preceeding paragraph made no sense to you.)
NOV063557Â LIVING AND THE DEAD GNÂ 9.95
Hey, new Jason! Apparently this is a solid, though unspectacular, addition to Jason's catalogue, but the time I spend reading Jason's work is just wonderful, and I'm always looking forward to a new release.
JAN070307Â MANHUNTER #29Â 2.99
This has actually been pretty good. Have I said that already? Anyway, this is one of those "read while exhausted" comics I mentioned a while back, primarily so you don't really need to think about any of the ridiculous implications of the series in a larger, completely broken superhero universe. Instead, you just get to turn off that part of your brain and giggle at Wonder Woman being unable to deal with Hollywood press. I'm glad to hear that the series got picked up for another go-round, Marc Andreyko's a good writer who really deserves a steady gig (if anybody does).
JAN072384Â MARVEL ZOMBIES ARMY OF DARKNESS #1Â 2.99
Fuck, will this week ever end? Anyway, the dude from Army Of Darkness fucks up a bunch of zombie super-heroes with a chainsaw. It Sells Itself.
JAN072385Â MIGHTY AVENGERS #1Â 3.99
Finally, it only took 10 years but we've got another West Coast Avengers.
DEC063972Â NARUTO VOL 13 TP (C: 1-0-0)Â 7.95
…which isn't to say that Naruto doesn't sell phenomenally, amazingly well. It does. A lot.
DEC061863Â NAT TURNER BOOK 2 REVOLUTION TPÂ 10.00
The long-awaited conclusion! Nifty! I hope that I don't get too much blow-back from folks who bought the first two "issues" only to see the series conclude in book format. Because… dude… it's all comics, you know? Anyway, this is a very good thing to even see in print, let alone the quality with which Kyle Baker constructed it. I hope it gets its due, and that Kyle Baker can get nominated in something other than the "humour" category at the Eisner's for a change.
JAN070316Â SHAZAM THE MONSTER SOCIETY OF EVIL #2 (OF 4)Â 5.99
Quote of the week: "Both signings were crowded, and I think everyone at DC was surprised by the amount of kids that showed up." That's Jeff Smith, talking about his signing at the New York Comic Con for the first issue of Shazam: The Monster Society of Evil. I think Tom Spurgeon had something to say about that, but his site is down at the moment. At any rate, yeah, I'm not surprised that DC was surprised, for whatever that's worth to you.
As to the book itself? Perfect.
DEC060250Â UNCLE SAM AND THE FREEDOM FIGHTERS #8 (OF 8)Â 2.99
Last, and probably least of the books listed, is Uncle Sam. I… I've really enjoyed this ridiculous farce of a comic. I think anything with Uncle Sam as a superhero character has to be at least a little over-the-top, and this is that in SPADES. So, yeah, nice art, a crazy story, objectionable characters trying to get their shit together, stupid crazy superhero fun like it should be. I have no idea what's going to happen with these characters next though.
That's what I thought! Rest of the list behind the cut:
 
 
DEC063828Â 1-800 MICE #1 (MR)Â 5.00
JAN070274Â 52 WEEK #44Â 2.50
NOV063801Â ADVENTURES OF BARRY WEEN BOY GENIUS VOL 1 TP NEW PÂ 9.95
JAN071931Â AGE OF BRONZE #25Â 3.50
NOV063961Â AISHITERUZE BABY VOL 6 TP (C: 1-0-0)Â 8.99
JAN070281Â ALL NEW ATOM #9Â 2.99
MAY061721Â ART OF GREG CAPULLO HCÂ 29.95
OCT060255Â AUTHORITY #2Â 2.99
OCT060256Â AUTHORITY VAR ED #2Â 2.99
OCT063714Â AVATAR CINEMANGA VOL 4 GN (OF 6) (C: 1-0-0)Â 7.99
DEC063988Â BACKSTAGE PRINCE VOL 1 TP (C: 1-0-0)Â 8.99
DEC063989Â BEAUTY POP VOL 3 TP (C: 1-0-0)Â 8.99
DEC063311Â BETTY #163Â 2.25
OCT063629Â BLACK BELT CLUB VOL 3 BEWARE OF THE HAUNTED EYE (CÂ 4.99
DEC063971Â BLACK CAT VOL 7 TP (C: 1-0-0)Â 7.99
JAN071920Â BOMB QUEEN III #1 (OF 4) (MR)Â 3.50
DEC063792Â BONEYARD #24Â 2.95
DEC063808Â BORROWED TIME #2 (MR) (NOTE PRICE)Â 5.95
JAN072365Â BULLET POINTS #5 (OF 5)Â 2.99
DEC062304Â CAPTAIN AMERICA #25 CWÂ 3.99
DEC062304Â CAPTAIN AMERICA #25 CWÂ 3.99
DEC063562Â CASTLE WAITING VOL II #5Â 3.95
DEC062306Â CIVIL WAR INITIATIVEÂ 4.99
DEC062306Â CIVIL WAR INITIATIVEÂ 4.99
DEC062310Â CIVIL WAR POSTER BOOKÂ 5.99
DEC063704Â COMPLETE UNDERWORLD TP (MR)Â 24.99
DEC062361Â CRIMINAL #5 (MR)Â 2.99
JAN073723Â CSI DYING IN THE GUTTERS TPÂ 19.99
DEC062364Â DAREDEVIL BY FRANK MILLER & KLAUS JANSON OMNIBUS HÂ 99.99
DEC062363Â DAREDEVIL BY FRANK MILLER & KLAUS JANSON OMNIBUS VÂ 99.99
JAN072346Â DARK TOWER GUNSLINGER BORN #2 (OF 7)Â 3.99
DEC068153Â DARK TOWER GUNSLINGER BORN FINCH VAR #2 (OF 7)Â 3.99
DEC068152Â DARK TOWER GUNSLINGER BORN JAE LEE SKETCH VAR #2 (Â 3.99
JAN071959Â DARKNESS ULTIMATE COLLECTION TPÂ 19.99
AUG063639Â DEAD AT 17 VOL 2 #3 (MR) (C: 0-1-2)Â 3.25
DEC063983Â DEATH NOTE VOL 10 TP (C: 1-0-0)Â 7.99
JAN070258Â DETECTIVE COMICS #829Â 2.99
DEC063437Â DISGAEA 2 VOL 1 GNÂ 9.99
DEC063531Â DK GRAPHIC READERS CURSE OF CROCODILE GOD HC (C: 0Â 14.99
DEC063530Â DK GRAPHIC READERS CURSE OF CROCODILE GODS SC (C:Â 3.99
DEC063533Â DK GRAPHIC READERS INSTRUMENTS OF DEATH HC (C: 0-1Â 14.99
DEC063532Â DK GRAPHIC READERS INSTRUMENTS OF DEATH SC (C: 0-1Â 3.99
DEC063535Â DK GRAPHIC READERS PRICE OF VICTORY HC (C: 0-1-2)Â 14.99
DEC063534Â DK GRAPHIC READERS PRICE OF VICTORY SC (C: 0-1-2)Â 3.99
DEC063537Â DK GRAPHIC READERS TERROR TRAIL HC (C: 0-1-2)Â 14.99
DEC063536Â DK GRAPHIC READERS TERROR TRAIL SC (C: 0-1-2)Â 3.99
SEP063273Â DORK DECADE DORK TOWER 10TH ANNIV TPÂ 15.99
DEC063785Â DUNGEON PARADE VOL 1 TPÂ 9.95
JAN071918Â DYNAMO 5 #1Â 3.50
NOV063594Â EC ARCHIVES TWO FISTED TALES VOL 1 HC (C: 0-1-2)Â 49.95
JAN072449Â ESSENTIAL FANTASTIC FOUR VOL 3 TP NEW PTGÂ 16.99
JAN073894Â ESSEX COUNTY VOL 1 TALES FROM THE FARM TP (MR)Â 9.95
DEC060271Â EX MACHINA VOL 5 SMOKE SMOKE TP (MR)Â 12.99
DEC060297Â EXTERMINATORS VOL 2 INSURGENCY TP (MR)Â 12.99
NOV063396Â FALL OF CTHULHU MAVLIAN CVR A #0Â 3.99
NOV063397Â FALL OF CTHULHU WALPOLE CVR B #0Â 3.99
SEP062108Â FANTASTIC FOUR #543 CWÂ 3.99
SEP062108Â FANTASTIC FOUR #543 CWÂ 3.99
JAN072369Â FANTASTIC FOUR THE END #6 (OF 6)Â 2.99
JAN072354Â FRIENDLY NEIGHBORHOOD SPIDER-MAN #18Â 2.99
NOV063823Â FURRLOUGH #167Â 3.50
NOV063824Â FURRLOUGH #168Â 3.50
OCT063166Â GARTH ENNIS 303 TP (C: 0-1-2)Â 19.99
DEC063990Â GENTLEMENS ALLIANCE VOL 1 TP (C: 1-0-0)Â 8.99
JAN072374Â GHOST RIDER TRAIL OF TEARS #2 (OF 6)Â 2.99
JAN072374Â GHOST RIDER TRAIL OF TEARS #2 (OF 6)Â 2.99
NOV063505Â GI JOE DREADNOKS DECLASSIFIED SAUVE CVR A #2 (OF 3Â 4.99
DEC060263Â GO GO HEAVEN VOL 1 (C: 1-0-0)Â 9.99
NOV063808Â GRAPHIC HISTORY IRONCLADS AT WAR (C: 0-1-2)Â 9.95
AUG063688Â GRIMM FAIRY TALES #12 (MR)Â 2.99
DEC060203Â HELMET OF FATE ZAURIEL #1Â 2.99
DEC063490Â HIGHLANDER #5Â 2.99
DEC063491Â HIGHLANDER B&W HOMS SKETCH CVR INCV #5Â 2.99
JAN073838Â HONOR BRIGADE #1 (OF 6)Â 2.95
JAN072371Â HULK AND POWER PACK #1 (OF 4)Â 2.99
DEC063984Â HUNTER X HUNTER VOL 13 TP (C: 1-0-0)Â 7.99
JAN072377Â INCREDIBLE HULK #104Â 2.99
JAN072379Â IRON MAN HYPERVELOCITY #3 (OF 6)Â 2.99
DEC063985Â IS VOL 12 GN (C: 1-0-0)Â 7.99
JAN073896Â JEFFERY BROWNS FEEBLE ATTEMPTS #1 (MR) (C: 0-1-0)Â 5.00
OCT063911Â JEREMYVILLE SESSIONS HC (C: 0-1-2)Â 39.95
JAN070304Â JONAH HEX #17Â 2.99
DEC060227Â JUSTICE LEAGUE OF AMERICA #6Â 3.50
DEC060228Â JUSTICE LEAGUE OF AMERICA VAR ED #6Â 3.50
JAN070325Â JUSTICE LEAGUE UNLIMITED #31Â 2.25
JUL063808Â KANA DE MANGA SPECIAL SOUND FX (C: 0-1-2)Â 9.99
JUL063046Â KID KOSMOS GN SGN INCV (C: 0-1-1)Â 19.99
JAN073579Â LA ESPERANCA VOL 6 GN (C: 1-0-0)Â 12.95
OCT060029Â LITTLE LULU VOL 14 QUEEN LULU TP (C: 0-1-2)Â 9.95
NOV063557Â LIVING AND THE DEAD GNÂ 9.95
DEC063489Â LONE RANGER DIRECTORS CUT #1Â 4.99
JAN070327Â LOONEY TUNES #148Â 2.25
DEC060300Â LOVELESS #16 (MR)Â 2.99
JAN073304Â MABURAHO MANGA VOL 2 TPÂ 9.99
JAN070307Â MANHUNTER #29Â 2.99
JAN072382Â MARVEL ADVENTURES SPIDER-MAN #25Â 2.99
JAN072384Â MARVEL ZOMBIES ARMY OF DARKNESS #1Â 2.99
DEC063993Â MEGAMAN NT WARRIOR VOL 11 GN (C: 1-0-0)Â 7.99
JAN070349Â MIDNIGHTER #5Â 2.99
JAN072385Â MIGHTY AVENGERS #1Â 3.99
DEC062368Â MS MARVEL VOL 2 CIVIL WAR PREMIERE HCÂ 19.99
DEC063972Â NARUTO VOL 13 TP (C: 1-0-0)Â 7.95
DEC061863Â NAT TURNER BOOK 2 REVOLUTION TPÂ 10.00
JAN072388Â NEWUNIVERSAL #4Â 2.99
JAN070360Â NIGHTMARE ON ELM STREET #6 (MR)Â 2.99
JAN070264Â NIGHTWING #130Â 2.99
DEC060185Â NIGHTWING BROTHERS IN BLOOD TPÂ 14.99
NOV062311Â ONSLAUGHT REBORN #3 (OF 5)Â 2.99
NOV062311Â ONSLAUGHT REBORN #3 (OF 5)Â 2.99
JAN070310Â OUTSIDERS #46Â 2.99
OCT061880Â PHONOGRAM #5 (OF 6) (MR)Â 3.50
DEC060267Â PIECES OF A SPIRAL VOL 7 (C: 1-0-0)Â 9.99
AUG063136Â PLANETARY BRIGADE ORIGINS #2 (OF 3)Â 3.99
DEC063977Â PRINCE OF TENNIS VOL 18 GN (C: 1-0-0)Â 7.95
NOV063262Â PUBLIC ENEMY #3Â 2.99
DEC063991Â PUNCH VOL 3 GN (C: 1-0-0)Â 8.99
JAN072412Â PUNISHER #45 (MR)Â 2.99
DEC063469Â RED SONJA #20Â 2.99
DEC063470Â RED SONJA CHEN B&W CVR INCV #20Â 2.99
JUL060045Â ROMAN ALBUM SAMURAI CHAMPLOO TP (C: 1-1-2)Â 17.95
JAN070380Â SCALPED #3 (MR)Â 2.99
JAN070056Â SECRET #2 (OF 4)Â 2.99
DEC063571Â SEEING THINGS SCÂ 16.95
JAN070316Â SHAZAM THE MONSTER SOCIETY OF EVIL #2 (OF 4)Â 5.99
JAN073554Â SHEENA PREVIEW CVR AÂ 0.99
JAN073555Â SHEENA PREVIEW CVR BÂ 0.99
DEC060242Â SHOWCASE PRESENTS HOUSE OF MYSTERY VOL 2 TPÂ 16.99
DEC063992Â SKIP BEAT VOL 5 TP (C: 1-0-0)Â 8.99
DEC063320Â SONIC X #17Â 2.25
OCT061883Â SPAWN #165Â 2.95
JAN074109Â SPECTRUM 1 SC NEW PTG (C: 0-1-2)Â 27.00
DEC068078Â SPIDER-MAN REIGN 2ND PTG ANDREWS VAR #2 (OF 4)Â 3.99
JAN072443Â SPIDER-MAN SAGA OF THE SANDMAN TPÂ 19.99
OCT063015Â SPIDER-MAN SINISTER 6 VULTURE MED STATUE (C: 1-1-4Â 85.00
JAN072394Â SQUADRON SUPREME HYPERION VS NIGHTHAWK #3 (OF 4)Â 2.99
DEC060046Â STAR WARS LEGACY #9 (C: 1-0-0)Â 2.99
DEC063220Â STRANGERS IN PARADISE #88Â 2.99
DEC061866Â STRONGARM #1Â 2.99
DEC060193Â SUPERGIRL CANDOR TPÂ 14.99
OCT060169Â SUPERMAN BATMAN #32Â 2.99
DEC063759Â TEMPLAR CHRONICLES THE HERETIC #1Â 3.50
JAN072448Â THOR ETERNALS SAGA VOL 2 TPÂ 24.99
DEC063402Â TOMB RAIDER VOL 3 TP (BANDAI) (JUL068428)Â 9.99
JAN073698Â TRANSFORMERS GENERATIONS #12Â 3.99
DEC063644Â TRANSFORMERS PRIME DIRECTIVE MOVIE PREQUEL #1Â 3.99
JAN073809Â TRENTON DOYLE HANDBOOK (MR)Â 6.00
DEC063986Â ULTIMATE MUSCLE VOL 16 GN (C: 1-0-0)Â 7.95
JAN072349Â ULTIMATE SPIDER-MAN #106Â 2.99
DEC062289Â ULTIMATE VISION #3 (OF 5)Â 2.99
JAN072410Â UNCANNY X-MEN #484Â 2.99
DEC060250Â UNCLE SAM AND THE FREEDOM FIGHTERS #8 (OF 8)Â 2.99
JAN070355Â WELCOME TO TRANQUILITY #4Â 2.99
JAN070356Â WELCOME TO TRANQUILITY VAR ED #4Â 2.99
JAN070343Â WORLDSTORM #2Â 2.99
DEC063978Â ZOMBIE POWDER VOL 3 TP (C: 1-0-0)Â 7.99
DEC063702Â ZOMBIES ECLIPSE OF THE UNDEAD #4 (MR)Â 3.99