So here's a cool thing! To celebrate The Louvre (the renowned Museum in France), the Louvre and a French Publisher co-published a series of graphic novels with The Louvre as the subject. Comics / bande desinee / graphic novels / manga, calll them what you will, these works have been fascinating to read and enjoy and have to date included Nicolas DeCrecy's Glacial Period, Marc-Antonie Matthieu's The Museum Vaults, Yslaire's Sky Over the Louvre, abd Liberge's On the Odd Hours.
Now NBM brings us the first Japanese co-production, and it's got a hell of a pedigree. Created by Hirohiko Araki, author of Jojo's Bizarre Adventure, comes Rohan at the Louvre, featuring 'Rohan,' a super-powered manga creator from the Jojo's series in a stand-alone, spin-off volume. Araki is known across Japan and Europe for the Jojo's series as well as for his fashion and art works, including a 2011 collaboration with Gucci to celebrate the brand's 90th Anniversary this year.
This is kind of a big deal! The solicitation text for the book, as well as a preview of the volume, follows.
More at http://nbmpub.com/
—
ROHAN AT THE LOUVRE
Hirohiko Araki
After Glacial Period and The Sky Over the Louvre comes another completely original story with stunning art by a leading mangaka. Rohan, a young mangaka, meets a beautiful mysterious young woman with a dramatic story. Seeing him draw, she tells him of a cursed 200 year old painting using the blackest ink ever known from a 1000 year old tree the painter had brought down without approval from the Emperor who had him executed for doing so. The painting meanwhile had been saved from destruction by a curator of the Louvre. Rohan forgets this story as he becomes famous but ten years later, visiting Paris, he takes the occasion to try and locate the painting. Little does he know how violently powerful the curse of it is until he has the museum unearth it from deep within its archival bowels?
7 ¼ x 10 3/8, 128pp. full color hardcover, $19.99 ISBN 978-1-56163-615-0
—
Preview Page One (read right-to-left):
Preview Page Two: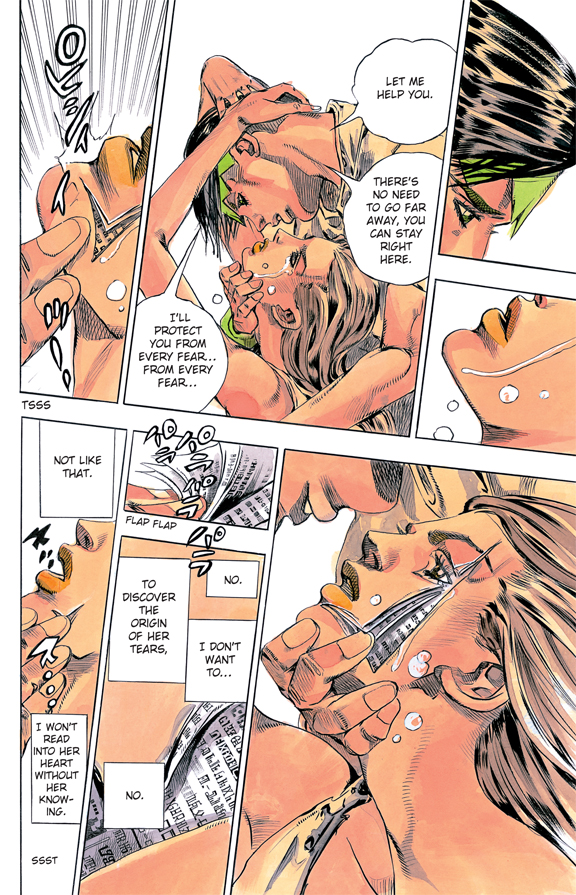 See the complete 4-page preview at http://www.nbmpub.com/comicslit/rohan/pre1.html.
– Chris @ The Beguiling