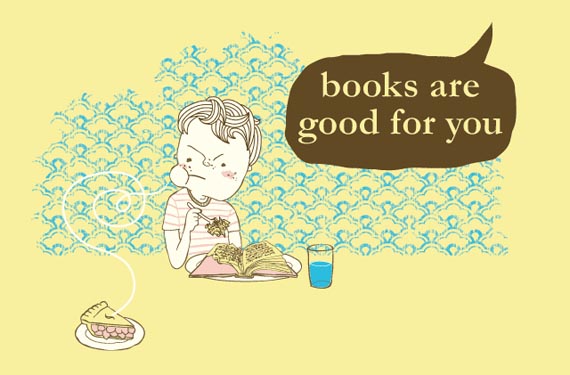 Books Are Good For You T-shirt design by Nury Lee at Threadless.com. 
Just as we're all clibming out from Christmas Debts, one of my fav online t-shirt designers Threadless has to go and have a $10 sale. Most of their excellent, democratically produced T-Shirts are now just 10 bucks, which is too good to pass up. I personally wanted a couple which are already sold out, and the sale only lasts until Monday the 12th, so hurry your buns up and visit http://www.threadless.com. They even have a handy stock chart that you can search by size, to see what's available in your preferred fit. Ginchy!
By the way, I'm not affiliated with Threadless or anything, and this is clearly not a comics post. I just like T-Shirts with the slogan "I'm A Noun!" on them is all. And so should you.
– Christopher