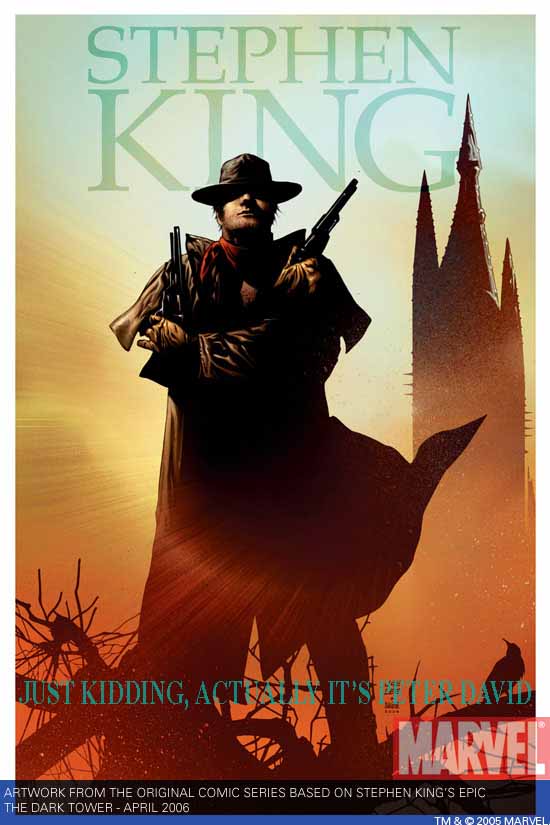 Hello everybody.
I'm sorry I had to take last week off, it wasn't any better for me than you. Not getting the shit in my head out onto the internet is one of my #1 reasons for grumpiness, and so this has been a 'grumpy' week. To make up for it, I'll be blogging straight through the New York Comic Con from this point. Reviews! Comments on how stupid comic books are! Passionately imploring you to buy good comics! It's all coming down the pipe. Plus? Conmageddon ][ in 3 weeks. Sure, Tom said it's just a con, but it's sort of like "When is a door not a door? When it's ajar." New York, baby.
Meanwhile, the Peter David/Stephen King to-do came out this week. As Jog mentioned, as a comic it was a wonderfully successful outting. A little too wordy, a little too computer-coloury, but easily the nicest-looking "event" comic in 5 years. I'm not one to get up and cheer for Marvel, but on every front they seem to have done this one correctly. I'm even going to buy a copy for my Dad, a big King/Dark Tower fan, as I think he'll appreciate it… his comic reading has slowly atrophied since I left home, and as an admitted comics crusader it's my duty to force these things into the hands of anyone who might read them. I just wish there was a Danielle Steele-esque manga for my mom… Or maybe the #1 Ladies Detective Agency.
Speaking of which, even though I wasn't necessarily 'blogging' I was reading, and David Welsh hit on a universal truth this week. Courtesy of David Welsh, it's every manga author's note in one paragraph:
"They're working really hard, and they're sorry they're behind on their fan mail. This volume isn't as good as they'd have liked, but they're trying, and reader support keeps them going. They wish they had a kitty. That sort of thing."
After 14 volumes of Fushigi Yugi, I found that uproariously funny. Maybe you had to be there…
So tonight? Well, after I post next week's shipping list anyway, is my long-delayed review of CASANOVA #1. Author Matt Fraction sent me a preview copy months before the issue came out, and I really wanted to review it, and then I guess I just fell apart. But I think I communicated that I liked it? Heh. Anyway. The finally issue of Casanova ships on Wednesday, and so between now and then get ready for reviews of every issue. They're even pretty non-spoilery, as these things go. It's not Casanova Week so much as Casanova 4.5 days! Doesn't have the same ring to it, but that's reviewing for you. For what it's worth, I'm in whole-hearted support of Johanna's take on the subject from earlier this week.
So, yeah, I'm pretty excited about the next little while, there's a lot going on and a lot to talk about. Maybe I'll get to preview a few pages out of the stuff I'm working on…
Thanks for continuing to read.
– Christopher!